HOH: Derek X
HAVENOTS: Christian, Xavier, Alyssa
Nominations: Britini and Sarah
Power of Veto Players: Sarah Beth, Britini, DX, Claire, KY, Alyssa | HOST: Hannah
Power of Veto: Britini
Power of Veto Ceremony:
Prize / Punishment VETO Results:
– Sarah won 5k
– Derek X bathroom punishment – he has to unlock the washroom every time someone needs it for the next 24 hours
– Alyssa won a phone call
– Ky – has to make clubhouse sandwiches
FYI – Teams are done, Wildcard comps are done, Twist next week with Fan involvement
Big Brother 23 Houseguest Rankings – – RANK THE HOUSEGUESTS –
View the previous day ranks on the – Ranking Grid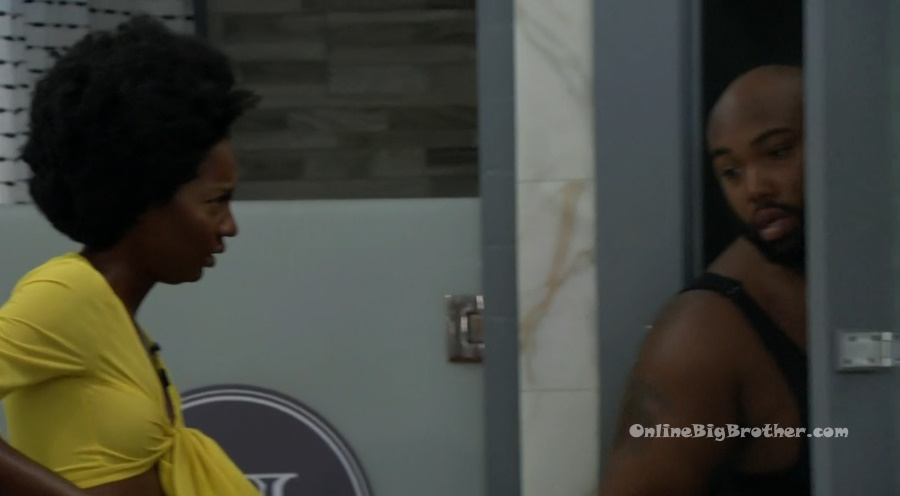 Bathroom – Azah and Big D.
Azah – I still don't know how SB was the right move for this BRA. I don't get it. I don't get why that was Hannah and Tiffany's move to be honest. That was the best move for them. No other member of the six. Christian was coming for Kyland. Christian was coming for Hannah. Same with Alyssa. But we going after SB .. okay!? Big D comes out of the washroom. Azah – do you get what I am saying? Big D – Oh I didn't hear what you said. Azah – oh okay… for me I get that a king is leaving but I still don't get the aggression for SB. The only person SB was coming after was Hannah. Meanwhile Christian and Alyssa was coming for multiple members of the six. Big D – I know that. But she is working Christian and Alyssa in case she needs protection. And I am going to make sure they put her a$$ up as a pawn. Azah – Oh no Alyssa is going to put Tiffany up and Hannah. Christian would put me and Hannah up. Azah – Alyssa don't like me, I can see that. That's why I said what I said yesterday because I know this decision wasn't Derek .. it was Hannah and Tiffany. That's why people be out here looking stupid when you put up a pawn for the third time. That's why you don't realize that you igniting something in her (Brit) like when it came to this veto and Derek the first week. People out here aren't stupid. People just think, ah lets put Brit up again .. y'all don't think that girl is going to fight!? Big D – right. Azah – you think she is going to just sit back and chill!? Like I know what we're here for .. I know what our mission is but when people do this manipulating sh*t or treating people like people are just something expendable .. I don't like that sh*t. So when people fight back .. see that's what you get! Now you trying to figure out what you're going to do. What you going to do is going to make you look bad because if one of us go up that is going to look bad on her. I am going to give her (Hannah) the side eye. That's what you told Derek to do, when you had all these other choices. Okay! Real recognize real! I see you there! Big D – right, that's how I feel. Azah – This running scared game.. Big D – I came to play so lets play! Azah – I agree. I see that Derek is being distant from me today. If he puts me up, real recognize real! I'm going to remember that! That's all I have to say. He needs to stop playing other peoples game. We could have had a king go home without any of this manipulation. Tiff thinks SB and Ky know each other.. I'm just like ummm okay!?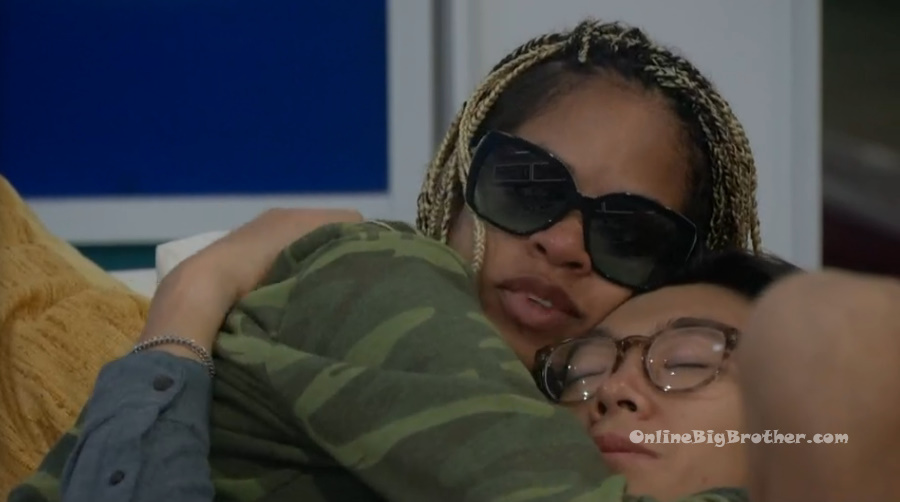 12:45pm Living room. Azah and Xavier.
Azah – I feel like me or Big D are going to go up. If I go up okay, but I don't like that. I do hope they are not telling him and pushing him to do that. Xavier – why is that? Azah – why can't he put a king up?! Xavier – well I know he promised me and Alyssa that he wouldn't put us up. Azah – and there's only Christian left. Xavier – he could. How does that make sense for his (DerekX) game though (putting up Christian). Azah – so it makes sense for his game to put me up? Xavier – not necessarily. I am saying for him from a competition standpoint there is only one person that is more of a competition threat than him. If he takes him out, he just became the biggest target and next week he can't even compete. Azah – so it makes sense for him to put me up?! Okay?! Xavier – that is not what I am saying. Azah – I know that's not what you're saying.. it makes more sense for him to put me or Big D up. Does he need that goating to do that?! Or can he come to that decision by himself? Xavier – I don't know, I think he can come to that decision on his own.. he is not stupid. But I am letting him come to his decision .. I am not pushing sh*t! Azah – me too. I would hope that everyone else is the same way. Xavier – I don't see him putting you up. You guys have a close relationship. Azah – Big D? Xavier – if it was between you and Big D going up, I think it would be Big D. They talk about SB taking the 5k. Xavier – 5K is a spit in the ocean compared to 750K. Brit went out there and played her heart out. That was amazing. Azah – that was amazing. Brit is my girl, I want her off the block. I will ask questions later on who the replacement is.
1:45pm Christian and Britini are playing chess. Claire, Big D, Azah, Derek X, tiffany and Sarah are sitting around the kitchen table talking about documentaries on Netflix.

Bathroom. Kyland and Xavier.
Xavier – I know he has already told me that Big D is going up. Kyland – given the conversation I had it would not be any member of the six. Xavier – how does that benefit him? For us taking out the biggest competitor, yeah that's cool but for him I don't see how taking out the biggest competitor right now benefits him. Kyland – for him the thought process is its the optimal shot that is the right time for it to hit. And I think this week it would hit. Xavier – possibly. But if it doesn't hit, Christian is coming after him. Ky – and that is still not the six. Worst case it would be me and him which also has to be done at some point. I think at this point its best to keep the six off. Xavier – I am thinking from Baby D's perspective if he takes that shot (at Christian) and missed, I can't protect him. Ky – nobody can, that's the whole point. Literally no one can. Xavier – if he puts up another King, the royal flush is done! KY – exactly! Xavier – if he puts up Christina and one of them goes home.. That person and Alyssa are both expecting me to go after his (DX) a$$. And if he puts up Big D, we're not voting him out. Ky agrees.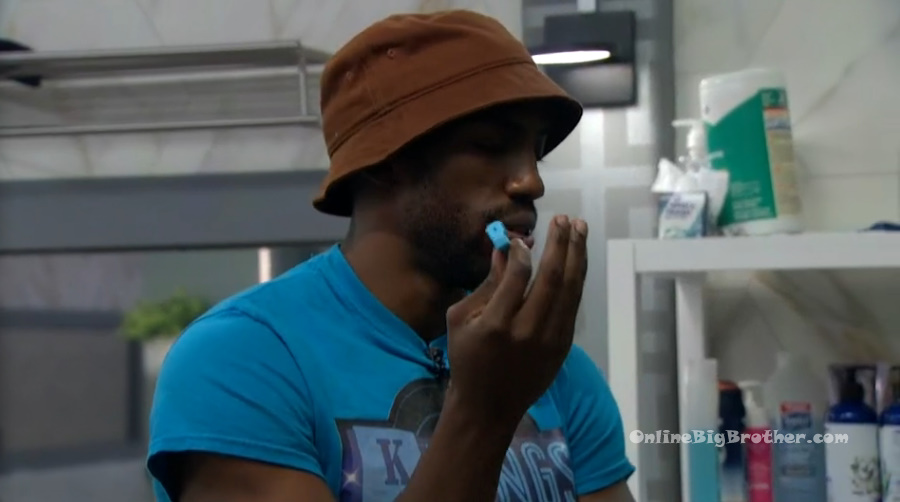 Show your support with a tip 🙂 Without your support this site and these spoilers wouldn't be possible.
Your tips keep the madness going.