POV Holder:
?
Next POV
?
POV Used
?
POV Ceremony
July 5th
HOH Winner Team 1:
Becky
HOH Winner Team 2:
Shelli
Nominations 1 :
?, ?
Nominations 2:
?, ?
Battle of the Block Winner
Next HOH/ Next BOB
July 9th / ?
Original Nominations:
?
Current Nominations:
?, ?
Have Nots
Steve, Jason, James and Meg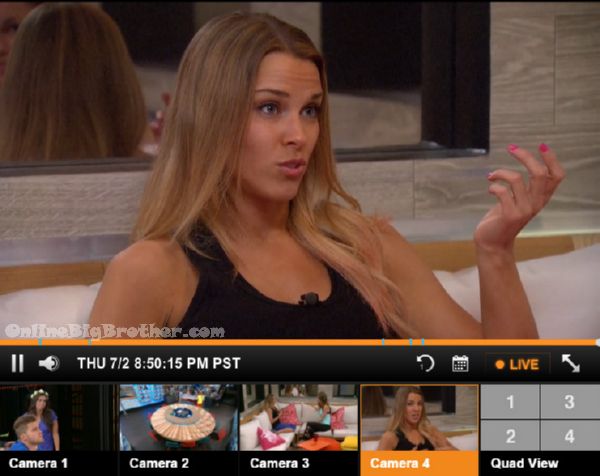 8:51pm Hammock room Shelli and Becky
Comparing notes about Audrey sound like it was Audrey that started the fake story about Becky being racist. Becky won HOH becuase she wants to get rid of Audrey it's personal for her.
They agree neither of them want JAckie or Clay up. Becky wants to put up Steve and Audrey in case Audrey wins the POV then Steve can go someone that the house doesn't like. Becky stressing she wants Audrey out.

8:52pm Storage room Clay and Jeff
Clay says they have to make a deal with Audrey, "Day is the biggest target right now.. if day leaves I trust JAson way more "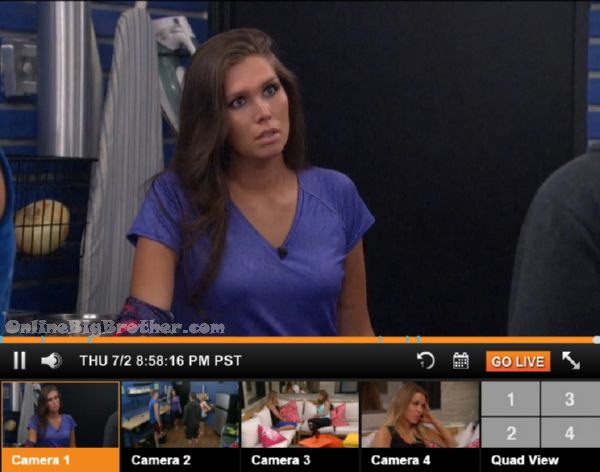 Feeds cut when we come back Audrey is there with Meg. Audrey is saying Jeff told Jace to blow up her game.
Clay says Audrey and Jace have been close these last couple days. "It was weird how Jace all of sudden started targeting Jeff"
Audrey – Do you think he was getting everyone worked up to get out Jeff
Clay – No
Clay thinks it was someone else getting Jace all worked up to get out Jeff.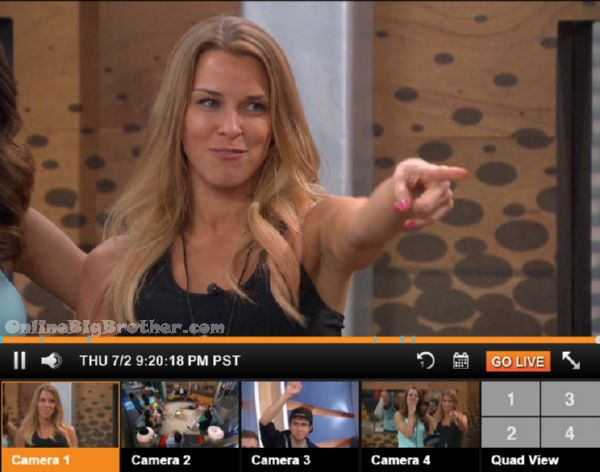 9:22pm
Picking Have nots Steve, Jason, James and Meg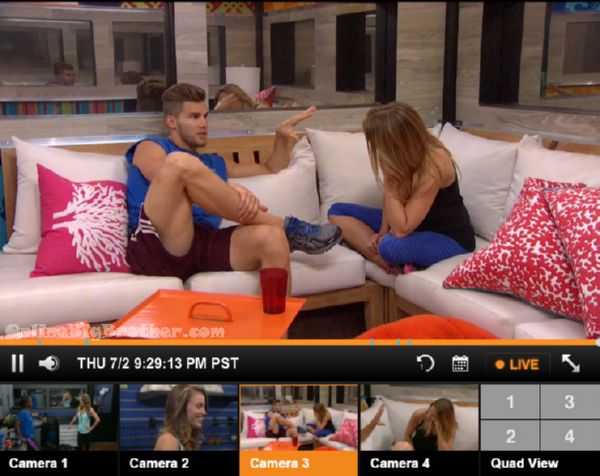 9:23pm Hammock room Clay and Shelli
Shelli fills him in on Becky's plan to get rid of Audrey and use Steve as the pawn. Says that Day's words are coming out of Becky's mouth.
Clay says that DAY is really worried about getting backdoored that show she has no trust with you
Shelli – She's my target
Clay stressed if DAY and Jason win HOH they are going up .
Clay – Audrey is a f****g liar she just lied to us again
Clay wants DAY out it's best for their game, "You can't nominate DAY.. if it presents itself we backdoor DAY otherwise we send Audrey home
Shelli – so I don't nominate her
Clay – I would not if you nominate DAY you draw a line..
Shelli doesn't think they have the votes to get out DAY. Clay is certain they do "We don't need Jason"
Clay – If you nominate her you're saying F*** you were not with you.. that's OK it's going to happen but not happen right now
Clay – put up Floaters
Shelli – Becky wants to backdoor Audrey
Shelli says becky's "Girls" is Jackie. She brings up walking in on Jackie, Becky, DAY, Meg and John in the HOH .
Clay – I'm backing you whatever you want to do
Clay proposes she puts him and DAY up so he can throw the BOB. Shelli refuses says it's too risky. Clay is really worried DAY being in the game is bad for them.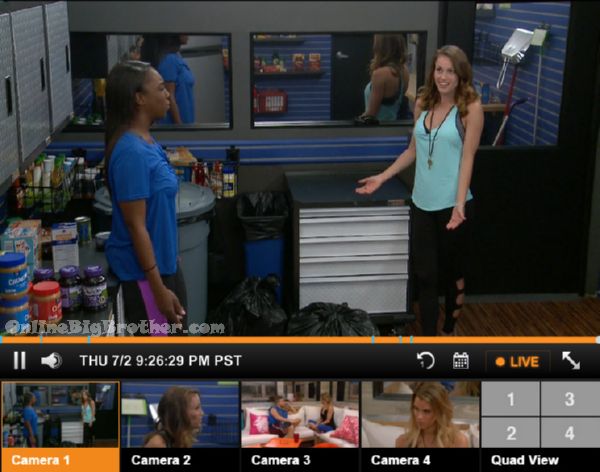 9:23pm Storage room DAY and Becky
Day says her target is Audrey then Steve followed by Austin. Becky reassures her becky will not be putting her up as a pawn.
Becky – I would rather work with you
Becky says DAy will be the social side and Becky will be "The beast on the court"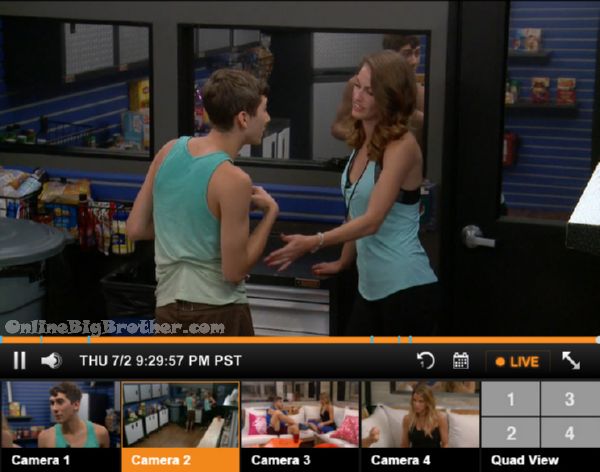 9:30pm Jason and Becky
Becky says the plan is to backdoor Audrey the HOH's are on board
Becky says the plan is to backdoor Audrey if that doesn't work she's going after Steve.
Becky is going to nominate Jason and Steve.
Jason – I'm not worried about it
Becky – the whole house is against Audrey
They agree the whole Shelli, Clay Jeff thins is weird and hard to trust.
Jason – you know who Shelli is putting up
Becky – not at all.. right now I don't have numbers to go after a big target like Jeff and clay
Becky makes it clear she's not good at the social aspect but she'll be a beast in competition that is why she wants to work with Day and Jason.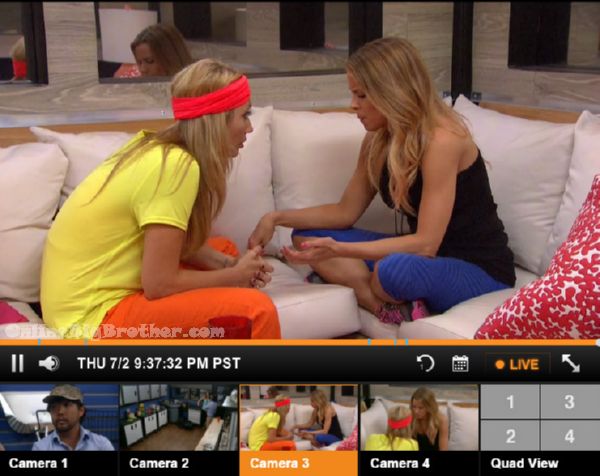 9:36pm Hammock room Vanessa and Shelli
Vanessa says she trusts Becky.
Shelli – She's with DAy.. she wants to target Audrey I want to target DAY"
Vanessa thinks backdooring Audrey is risky
Shelli says John is with Day.
Vanessa says she can use some of the things Audrey told her as ammunition to put DAY up, Vanessa "Are you scared to put DAY up"
Shelli – I'm not afraid to makes big move.
Vanessa – you have to put up someone weak to throw the competition
Shelli points out it's obvious that Becky wanting to get Steve out second if Audrey can't get backdoor is Becky doing Day's dirty work.
They agree they cannot let Becky know the target is DAy.
Shelli says she's not going to put up Jeff, Clay, Vanessa, Jackie and Austin
Shelli – I don't want JAson to come after me..
Vanessa – you scared to put James and Meg up
Shelli – I'm not putting Meg up .. she's close to Jeff and Clay
Vanessa proposes JAmes goes up
Shelli – James won't throw a competition
Vanessa – Steve and John
Shelli – Becky's plan is to put up people that will let her backdoor Audrey
VAnessa – let her think that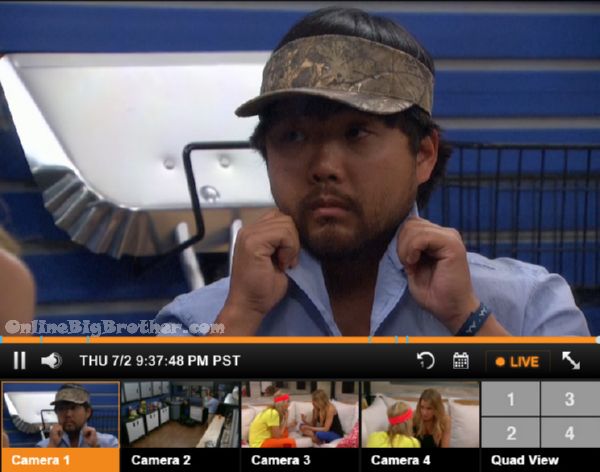 9:40pm Becky and James
Tells him he's not her target she likes him and respect where he is in the game and the people he's with. Tells him Audrey is the backdoor target.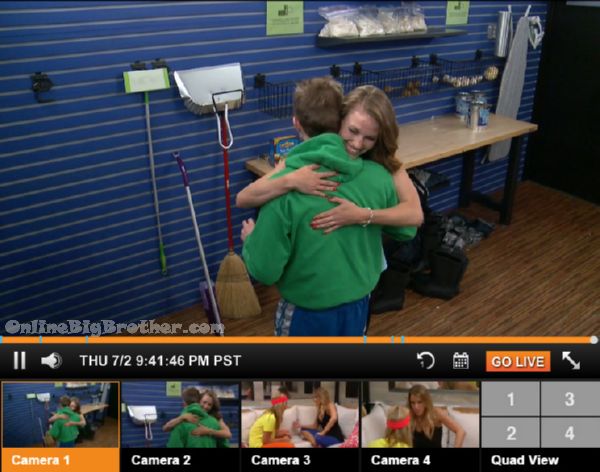 9:43pm JOHNNYMAC and Becky
Tells him the plan to backdoor Audrey "It's Jace part two" Adds that Shelli is in on it.
Becky mentions the 8 person alliance.
John – I just hear about that..
Becky thinks it's cracking and isn't a huge threat. Adds that she's going to nominate one person from inside the 8 person alliance and one person outside.
9:44pm Shelli and Becky called into the Diary Room
[envira-gallery id="118463″]
10:00pm They get their HOH room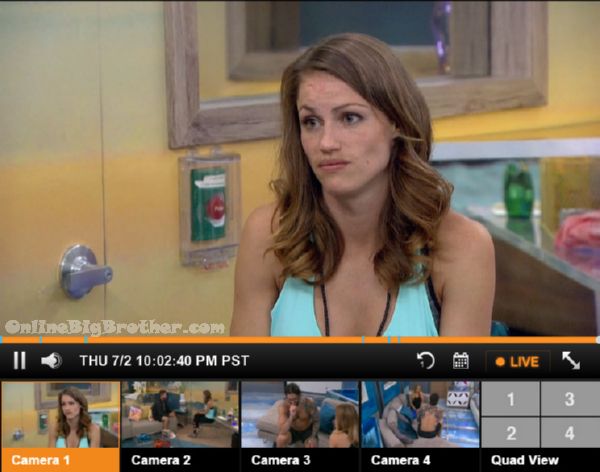 10:03on HOH Becky and Jeff
Jeff telling her there is no alliance of 8. Adds he doesn't think Shelli is going to get rid of Audrey so if they want Audrey out Becky will have to do it.
Jeff is very much on board to get Audrey out.
10:03pm HOH Austin and Shelli
talking about Nominations. He tells her she need to put a person up with Day that she knows will throw the BOB.
Shelli – Becky wants to be the one that send Audrey home
Austin proposes they put up DAY with Johnnymac and convince JohnnyMac to throw the BOB.
Shelli – I want to make a move know
Austin – I like that you should.. you get rid of DAY we'll be the power in the house
Austin says if Anyone used the POV they put Jason up.
Austin – I can recruit numbers from that have
Shelli asks him about Liz.
Austin – she's scared she doesn't know what she's doing in here.. She's a super loyal people.. the only person that doesn't lie to be other than you and Clay is her
Shelli – I don't see her talking and scheming
Austin – She doesn't' know who to talk to … you should talk to her one on one.. she's looking to work with a group
Sheli says Liz is safe points out that Liz was the only one that didn't come up to her to talk after she won the HOH.
Shelli – this is teh week to turn the house around in our favour.. that 8 person alliance clay and I were brought in that night it's soo fake.
Austin about Audrey – She's like the exorcist she freaks me out"
They are both scared of working with Audrey
Austin proposes Jackie going up against Day
Shelli refuses to put Jackie through that again.
She tells him Johnymac is working with DAY she can't put him up as a pawn he won't throw it.
Austin says he would do it but if something happened he would go home, "I'm too big"
Shelli agrees.
Austin doesn't think Meg will do well in competitions.
Shelli warns her that Jeff and Meg are working both side.
Austin doesn't think DAY and MEG will win the BOB if they went up.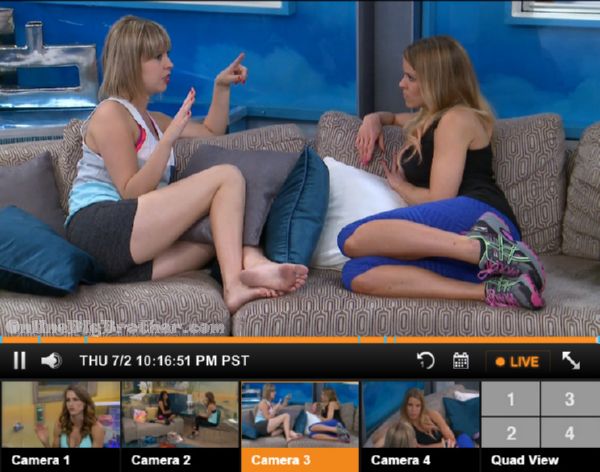 10:17pm Shelli and Meg
Meg trusts Jason, Clay, Jerff and her.
Meg says she doesn't trust Jason with DAY
Meg – just show you know she (DAY) expects to be backdoored this week
Meg has personal issues with Audrey.
Meg – I'm willing to do what you guys want this week
Shelli – is day with John
Meg – I don't think so, they've never talked to me, Jason and DAY are ride or die
Shelli – James is tied with them
Meg – James will choose Jeff and m.. james has issues with DAY's gameplay
Shelli says Audrey is 100% Audrey's target.
Shelli says if Day wins POV she will have to put Jason up. She's going to tell Jason that before the POV tell him her target is DAY and if he uses the POV he's going up.
Shelli – Who do I put up against her to throw the competition to keep her on the block
Meg – who are the options
Shelli – Steve or John, Steve isn't going to throw the competition
Shelli adds she caught John and DAy talking game.
Meg asks about Asutin
Shelli – Austin is trustworthy he's with us
Meg – but he doesn't want to throw it
Live Feed subscription gives you CBS All Access thousands of archived shows. Live Shows like Big Brother, all the Big Brother Seasons, and 24/7 coverage of what is happening inside the Big Brother House. Plus there's flashback that lets you go back to any second of the feeds and rewatch what happened. Simon and Dawg will index the season just watch the parts worth watching.
All this for $5.99 a month try it out 1 week free. Support our efforts and get your feeds via a link on this site. Live feed subscription Sign up

Share it YO!!
Tweet