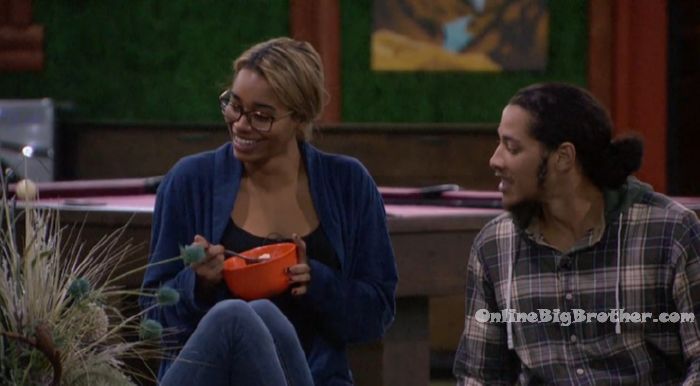 9pm Backyard – Danielle joins Justin and Jason. Danielle – they (the plastics) did something really nice for me. Jason – they really thinking you're going home. Danielle – they gave me some of the ice cream I like. Justin – they didn't give you the whole thing though? Danielle – no. I didn't even expect this. Jason – they must really believe I want you to go home and they're like this is Danielle's last week, lets be nice. How dumb are these girls?! How dumb would they have to be to believe that. I'm hoping they're just being nice to be nice and not because they believe that. Big Brother blocks the feeds. When the feeds return – Justin, Danielle and Jason are in the kitchen talking about a BB alarm going off telling them this is a lock down. Please go inside the house. Justin – did you see anything? Jason – no, but it was kind of like we had an intruder or something. Danielle – it was like something was going on in the neighborhood or something. Jason – that lock down was scary.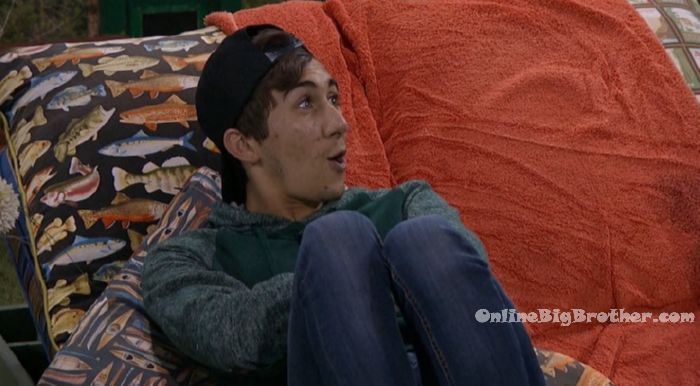 9:40pm – 10:20pm Kitchen –
Danielle, Jason, Justin and Kryssie play the never have I ever game. Kryssie burps. They all start with their fingers up and put them down if they've done what someone says. Justin – never have I ever rode a scooter. How does this work?! Danielle – you say things you've never done. Justin – oh. Damn this is hard. Danielle – never have I ever had s*x on a balcony. Justin – puts his thumb down. Jason – does a porch count? Justin – no, I'm talking about over the balcony both t*tties giggling. Jason – never have I ever had a boyfriend. Justin – never have I ever … so never ever done it?! Kryssie – I've got one for you .. never have I ever had s*x with a man. Justin puts a finger down. Kryssie – no you don't put your finger down! They all laugh. Kryssie – Never have I ever had a threes*me with more than 1 dude. I didn't say never have I ever had a threes*me because that would be a lie. Danielle – never have I ever ate a girl out. Jason – never have I ever que*fed. Justin – this is so difficult for me. Never have I ever had to squat to pee. Danielle – never have I ever licked a t*tty. Danielle – never have I ever ate out a blind girl. Jason puts a finger down. Jason wins that round. Alex, Morgan, Whitney and Shelby join them.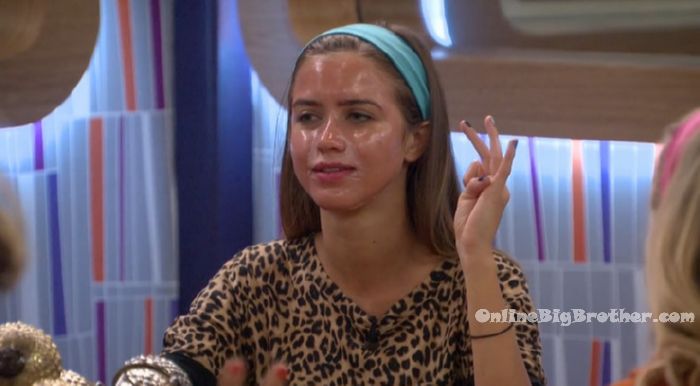 10:30pm – 11:30pm They all hang out in the kitchen chatting about random things.
12pm The havenots are no longer havenots and they get corona beer. The house guests are all eating and joking around in the kitchen.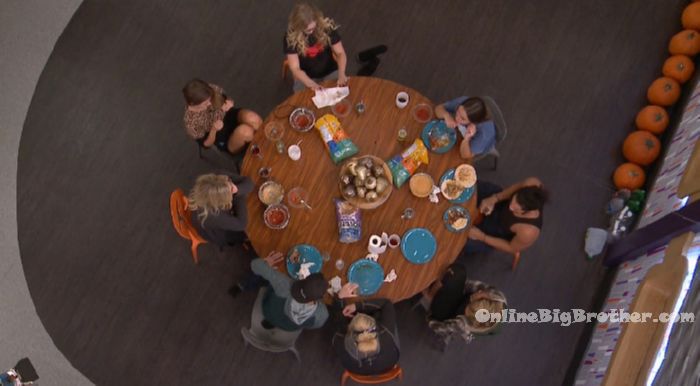 12:50am In the bathroom – Shelby and Morgan are talking. Morgan – he (Justin) is getting on my last nerve. Shelby – I've been saying that for weeks! When everyone was talking he was like bla bla bla bla… it is not your turn to talk .. there are 8 people here .. shut the f**k up! Morgan – he is so annoying. Shelby – I'm actually pretty annoyed that Alex didn't tell us he farted on our food. Morgan – he is gross. I am freaking irritated. Shelby – make sure you bring it up in your next.. Morgan – my thing is that when I ate the cheese it an hour after I was a havenot because I forgot. The thing is with him he knew he was eating it and he told Jason not to tell anyone and he ate another one. Shelby – and they don't do anything about it. And he gets to nap because he eats himself into a food coma. He acts like he is so tough but be can't eat some oatmeal?! Morgan – so they let him sleep all day because he doesn't eat the slop that he's supposed to. Well no you shouldn't be worried about him being sick when he used to eat what everyone else is eating. I just think its stupid. Shelby – I know. I'm just in an awful mood right now. My whole HOH got messed up. He gets to do whatever he wants. Morgan – he's going to be America's favourite player and for what .. not reading the directions on a veto and people think its funny?! Shelby – nut sack, fart, I sh*t myself today … you're not f**king funny .. you have the humor of a 7 year old and you're 20 f**king 7. Morgan – yeah I just think the reeces thing is irritating. Like he had the easiest week as a havenot but he can't follow the rules like everyone else!? Shelby – I think he should have to be havenot for longer or he should get a penalty nom… and I'm going to keep bit*hing to them (BB) until they do something about it. Morgan – and me to .. or can I get a reeces if I'm a havenot because they don't do anything?! Shelby – yeah you better.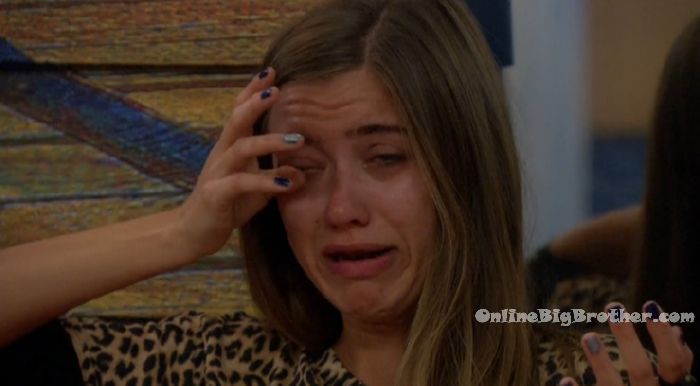 Watch the BBOTT Live Feeds FREE for 1 WEEK!
Click here for your: FREE Trial!

Shelby – I already lost it in the DR. Shelby starts crying. – I thought this was going to be fun. This isn't fun! This f**king sucks. I hate being HOH .. like this whole experience just sucks .. I hate these people so much! I can't even express to you how much I hate them. They're so annoying! And then I finally get a room to be away from them and it gets taken away from me. And then I was upset that I didn't get something from my family and then I just got some random letter talking about burgers from my friend. Why didn't you give me something from my family! Morgan – I'm sure they were just trying to show the humor in it. Shelby – but everyone else gets something from their family and mine is like oh we're going to go out and get drunk and eat burgers… and then my whole thing gets taken away from me. Morgan – the end is near if we can just push through this. Shelby – and Alex can't tell us if someone is farting in our food. I'm just sick of people that can't speak up for themselves. Alex joins them and asks if everything is okay? Shelby – NO! I'm sick of this and I hate these people! Alex – it does suck but its a game. Shelby – its not about the room .. I want to put up my own targets and I don't even get to do that! Morgan – hopefully America will help us out and put up one of them and hopefully still make this work. Shelby – my biggest fear was going home on a double eviction and now next week I can't even be HOH. They make it look like its so much fun on the show and its not! Morgan – just keep pushing .. you still have power. Alex – this game has highs and lows. Shelby – well I didn't know that the rules only apply to some people so that is making me pissed off. Morgan – there is still hope to get one of them out. We don't know what America is thinking. Yeah they suck but if we can stick together .. 250K. Shelby – this will be the hardest 250K.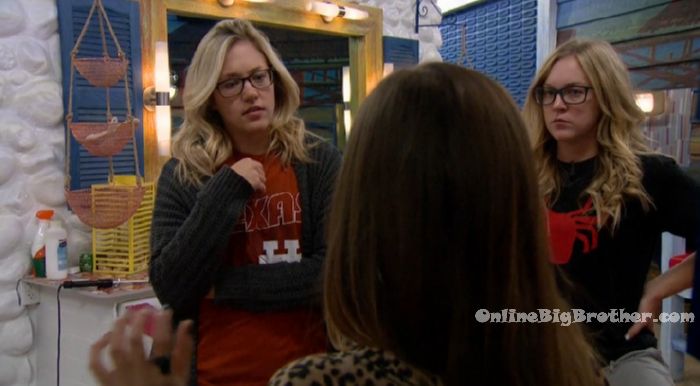 1am – 2:20am In the bedroom – Morgan talks to Alex about how pissed off Shelby is. Alex – is she really pissed off?! Morgan – I think she is real pissed off about the farting thing. Alex – she knows how dumb these people are. Alex – people need to suck it up! Morgan – you have to remember we have each other. It would be different if we didn't have each other. Alex – I am just sick of criers. I'm sick of people who cry because the lose comps, cry because they're havenots. Like man up! Morgan – if she puts up one of us and America doesn't put up one of them we're going home. She wants to put up Justin if we get the veto. Alex – this week she (Shebly) doesn't have power ..she needs to focus on getting out one. Morgan and Alex go to bed.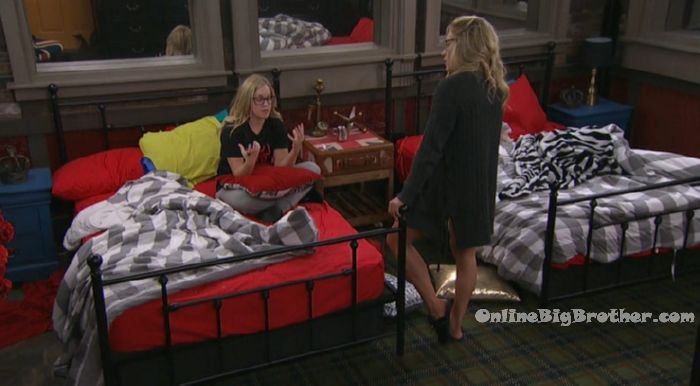 2:50am HOH room Jason and Shelby. Jason and Shelby talk in the HOH room. Jason – if Kryssie was to win HOH during the double eviction she wouldn't go after you.. she would go after anyone of those other girls. Shelby – she won't go after Whitney over me. Jason – maybe that's why you put up Whitney because if she goes then you're guaranteeing that if Kryssie does get power she's not coming for you. She would be going for Alex and Morgan. They gave Alex safety when Kryssie was in power because they (America) knew Kryssie was gunning for her.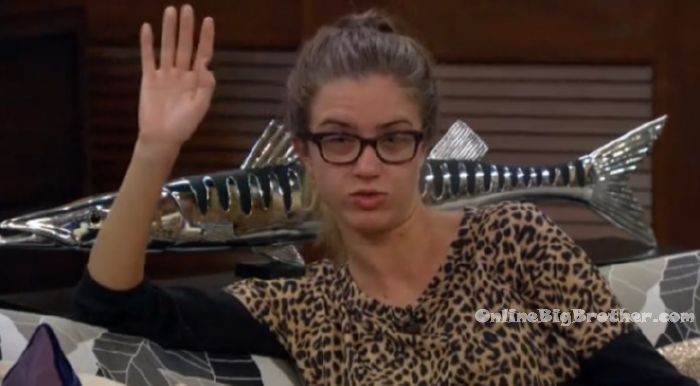 4am All the house guests are sleeping..