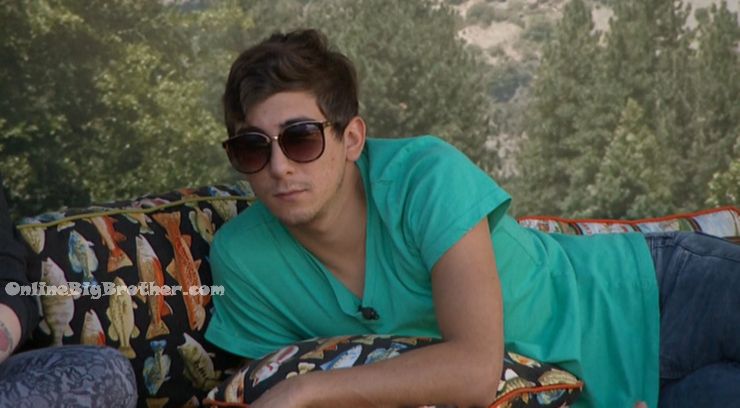 12:10pm LNJ
Jason says Whitney is really nervous because she's "Their" target. Explains that the other side will get rid of them first before Whitney but she's still their target.
They watch Justin working out. Jason comments that Justin lose some muscle during his have not week. Before his have not week he was looking "Swole"
Jason says Shelby thinks the last care package will be a buy in to the finals.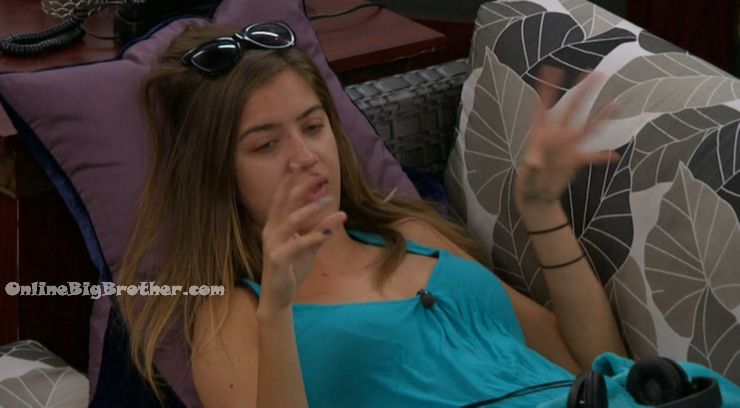 1:45pm HOH Whitney and Shelby
Whitney – were you able to talk to JAson
Shelby – we want to take out someone big that can win and he wants me to throw one of you guys under the bus.
Whitney – he's saying he wants Danielle out is that true
Shelby says yeah .. everyone wants her to leave it's great
Whitney says Danielle doesn't know she's the target.
Shelby knows says they have to keep it hush hush
Shelby says Jason wants Alex to be Nominated.
Shelby – I want to pull deals with Justin and Kryssie about not voting out whoever I put up and obviously.. I want to be the tie breaker… it depends. We have the numbers to get Danielle out
Whitney – right
Whitney – I have felt ever since I was taken off the block last week there has been a wall between .. especially me and Alex i never really get to talk to her.
Whitney – I kinda explained myself to Morgan because she was the one that went up but I don't know..
Shelby – If you want me to be completely honest with you we thought you made a deal with them
Whitney says she talked to Danielle just campaigned to her to use the veto because Whitney felt there was a chance she would be evicted.
Whitney says the reason she felt in danger last week was because of Scott's and Alex's behaviour
Whitney – that is why I felt so threaten being up there.
Whitney – I knew I was going home if I was up there with Scott.. At least a possibility
Jason comes in….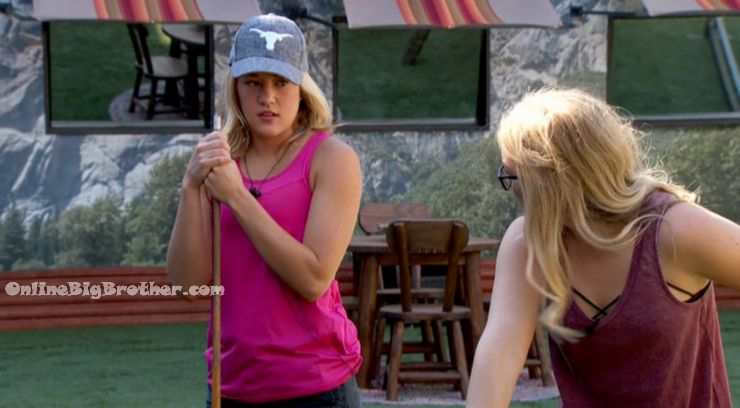 1:53pm Pool Alex and Morgan
They walked in on the LNJ game talking.. They say Jason and Justine holding up fingers counting votes.
Alex – I feel like they don't want Danielle out
Alex says if they wanted Danielle out they wouldn't be counting votes they would know they have them.
MOrgan – I could be wrong..
Alex – I do not believe they want Danielle out that is too good to be true
Alex – I wouldn't be surprised that Jason made a deal with Shelby saying I'll put Danielle up she's the real target you put Alex up
Alex says They are trying to trick Shelby that they want Danielle out but really they will blindside her.
Alex – I know this kid.. I don't trust him
Morgan – I don't trust him either
MOrgan – maybe he wants Danielle out
Alex – no he wants me out
Alex says Shelby would be really stupid to put Alex up.
Alex – you HAVE to start making deals with people
Morgan – not yet.. I don't want to0 be caught in a lie
Alex – Jason is going to want to take Shelby to the end
Morgan – what about me
Alex – you have a care package waiting
Alex thinks Jason wants to take Shelby or Kryssie
Alex says Justin is the person she trusts most on the other side of the house. It's scary because he's so untrustworthy. They agree there's not point making a deal with Kryssie but the rest are possibilities if the scenario is right.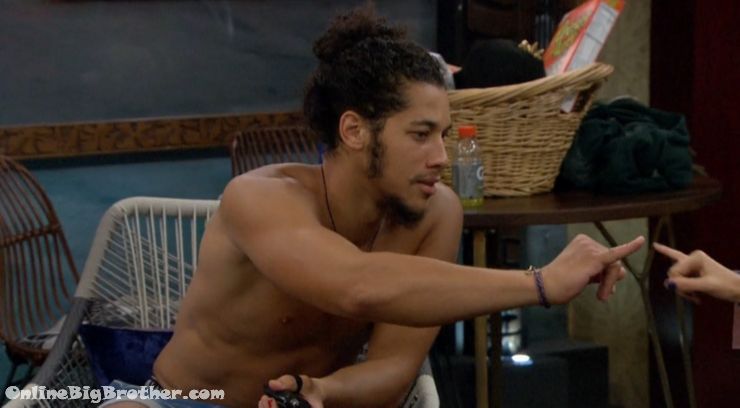 2:19pm Shelby and Justin HOH
Shelby says she heard he was targeting her this week
Justin says that was just "Shit" he told to Morgan.
Justin says during the double eviction he's gunning for Alex and Morgan.
Shelby – OK
Justin pinky promises her that he's not Gunning for her during the double.

Whitney joins them.
Justin – If Danielle is on the block Danielle is going home
Whitney – I believe that ./.. Danielle has been in everyone's mouth
Justin says if it's Danielel and Whitney on the block.. Danielle is gone, "Especially of she doesn't win veto" (LOL)
Justin says Alex is gunning for Shelby
Shelby – when
Whitney – I already told SHleby I had suspicions last week
Whitney says she was on the block mainly because of Scott but suspect maybe Alex was part of it.
Justin says Alex was part ofit "Her and Scott were in an alliance.. that is why it was important to get one of them out"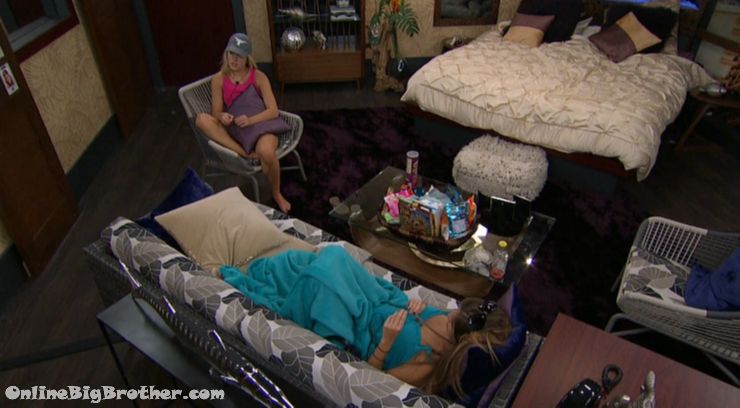 2:46pm HOH Morgan and Shelby..
Talking about there two choices of noms are Alex and Whitney.
They want to try and Get Daneille out.
Shelby – it's got to be Whitney ..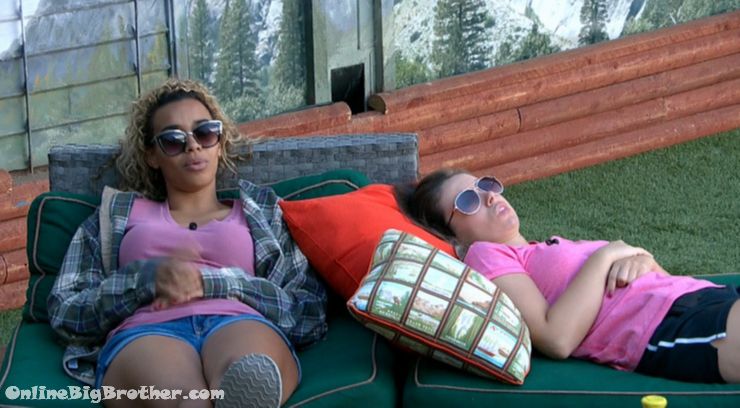 2:55pm Jason, Danielle, Whitney, Kryssie
Danielle says Monte was disgusting.
Jason brings up Caleb doing a youtube about not wanting gay people to get married.
Danielle says he was cute on the show
Jason says he hears crazy things about Devin "on the outside… I hope I never meet him"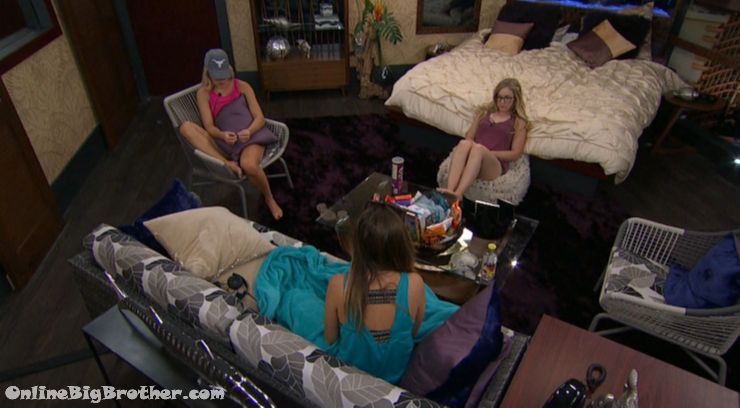 3:13pm HOH Shelby, MOrgan and Alex
Shelby tells Alex she needs to smooth things over with Whitney.
Alex wants Jason out before Justin. THey agree Justin has no idea what he's doing and is lucky Jason was in teh game to help him. They go over all the things Justin has said that have damaged his game.
Alex – America's nom is so huge this week.. Imagine if it's not me and MOrgan..
They suspect it'll be one of them as America's nom, Maybe it'll be Kryssie. (Burping to the finale vote Kryssie for everything!)
The girls laugh that when Alex was HOH they threw Shelby under the bus and when Shelby is HOH they all throw Alex under the bus.
Alex says Jason has been sneaking around wheeling and dealing the problem is nobody has been in a position of power to do anything.
They agree Danielle is a lot smarter than everyone thinks plus she has the story back home to "pull on the heart string of America"
Shelby says she talked to Jason about Justin not needing the win.. apparently "he's a trust fund baby" he doesn't need the money at all.
Alex – I would rather Jason win over Danielle
Morgan – yup
Shelby – same
Alex says during Jason's season his strategy was being "sucky at big brother"
They agree Justin is the biggest suck up.
Alex – I think Kryssie is sitting really pretty.. because shes someone they think they can beat
Shelby – she needs to win a lot of comps to make up for all she's done… win a comp for every attempt she's made to quite this game
They laugh that Justin flat out told Shelby to her face he didn't like her and is now trying to cover it.
Shelby – i'm not looking forward to putting Whitney on the block
The bring up how Justin is acting like they all have crushes on him
Alex – that whole side of the house
Morgan – is delusional
Alex says Whitney will play the middle until final 3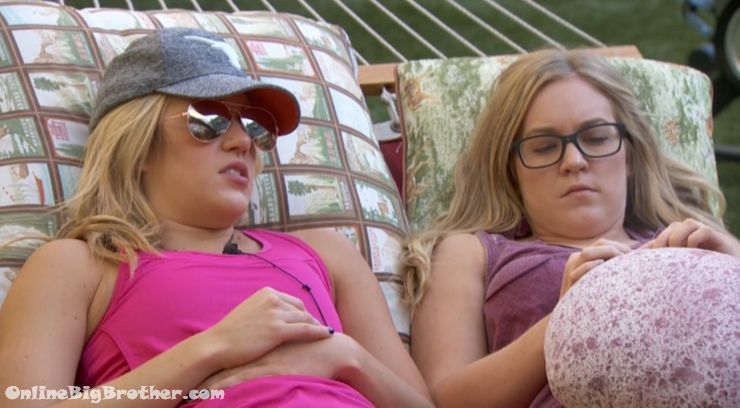 4:45pm Morgan and Alex
Morgan saying that Shelby thinks she's more loyal to her
Alex says she was branded the big fish and Morgan has been branded the little fish.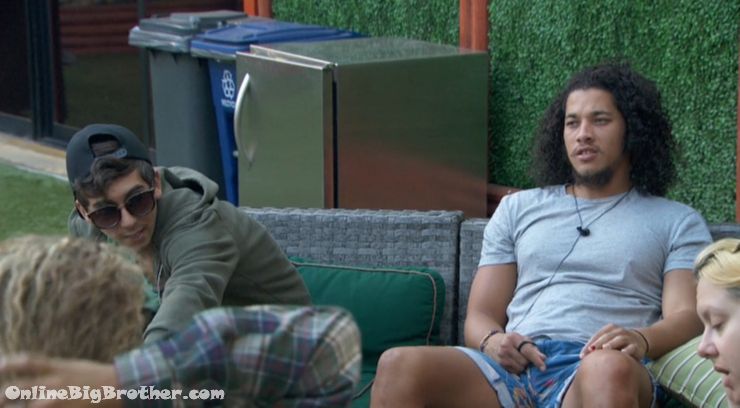 5:24pm Jason, Kryssie, Danielle
Chit chat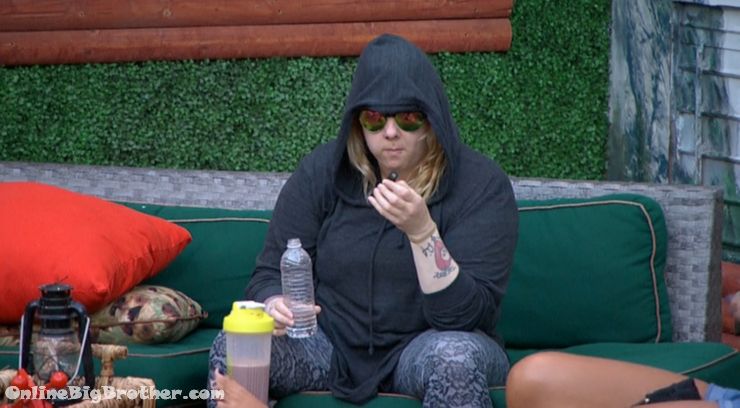 5:32pm LNJ talking about how their A$$holes felt after the spicy food.. Now they talk about how Kryssie is into "Freaky Sh1t" but not into @nal.
Whitney joins them says their side had a alliance name "Monte's pythons"
Justin – what a f****g douche bag"
Jason says Monte is the type of person to go to rallies and punch people
Justin – I cannot accept his ignorance
Whitney about Monte "He is not very bright"
Whitney – he would say stupid stuff like hey guys I can be your leader
Whitney calls Monte a "Fruit loop dingus"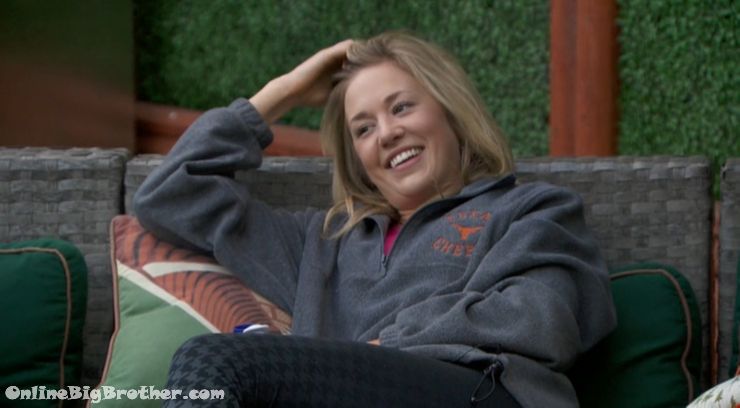 Morgan joins them
Whitney – did you enjoy being a python
MOrgan – ohh god no… but he loved it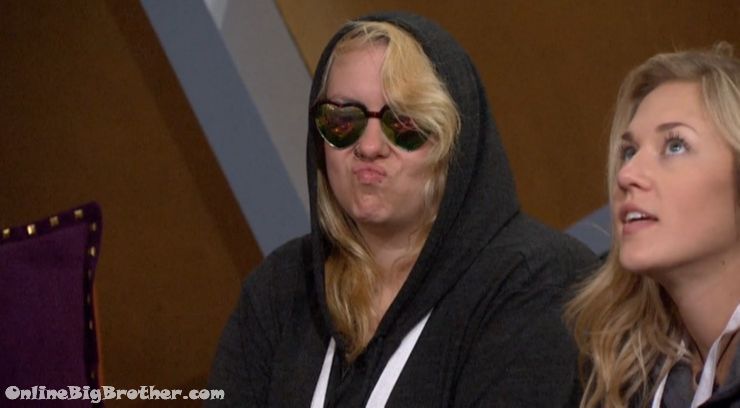 7:00pm Safety ceremony
Shelby picks Morgan safe
Jason picks Kryssie safe