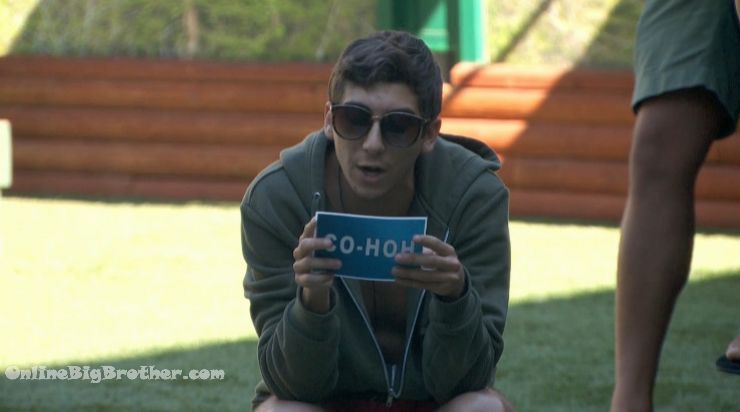 1:02pm Jason wins the Care package
Jason – thanks America.. I got Smores stuff and a best friend necklace..
Neither Shelby or Jason get to compete in the next HOH. They share the HOH bedroom. Big Brother will explain how the safety ceremonies go later.
They both Play in the Veto in the event of a tie during Eviction the person that performs best in the veto will break the tie.
1:49pm Storage room Morgan and Shelby
Agreeing it might be alright that Jason got HOH this week as long as they can get their target out this week. This means that next week Jason doesn't compete in the HOH.
Morgan – he'll want to take out a care package..
Shelby – Now I have to think about how to get out my target.. and I don't have a backup target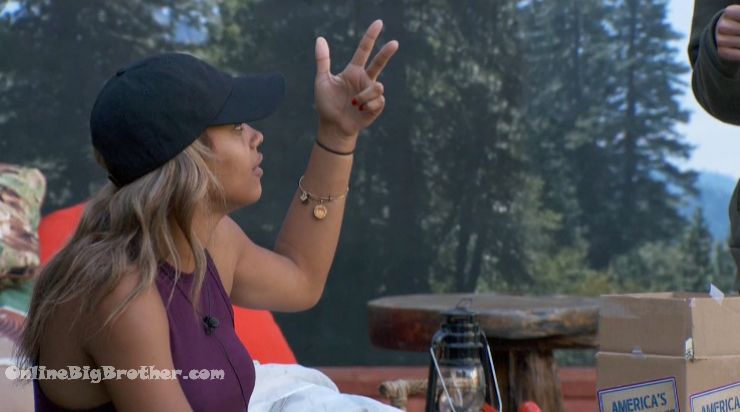 1:11pm LNJ
Danielle says she's so happy for Jason.
Kryssie – and you were worried about going home
Danielle wants to get Alex out this week next week Morgan after that Shelby which leaves there 5 intact.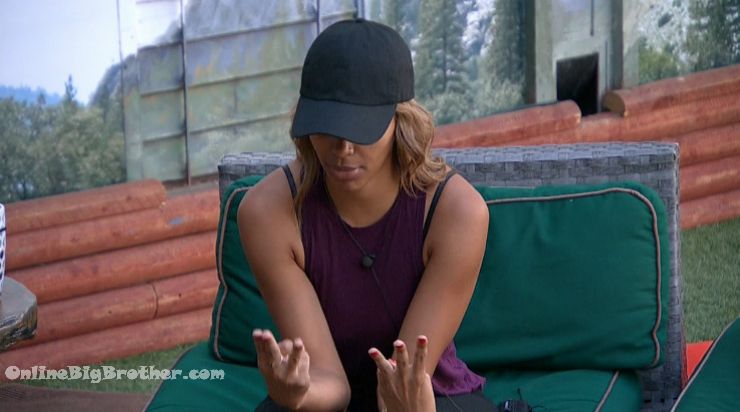 1:40pm Danielle with her LNJ crew + Whitney – Jason
Justin – hopefully America's nom is Morgan..
Whitney – I think Alex
Danielle going over the numbers of votes they have in the event that America's nom is one of them.
Danielle – say Shelby is the one that nominates Whitney.. Jason nominates me I win Veto I come down and now Jason gets to nominate Alex.. BOOM ..
Danielle – now it's 1 of use Whitney and Alex.. we have 3 votes in the house and America has 1 vote..
Danielle says the votes will be tied so it comes down to whatever HOH performs better in the veto. Says hopefully "Shelby doesn't get lucky a second time"
Kryssie – so are you volunteering going on the block because you have the best chance to win the veto
Danielle – no
Whitney – she's saying if she goes on the block one of America's nom will be one of them.
Danielle says she doesn't see America nominating Kryssie or Justin so if She's off the block America will nominate someone from the other side.
Whitney says she'll have to talk to Shelby says that Shelby will nominate her no "one of you guys"
Whitney runs upstairs because "Alex is up there"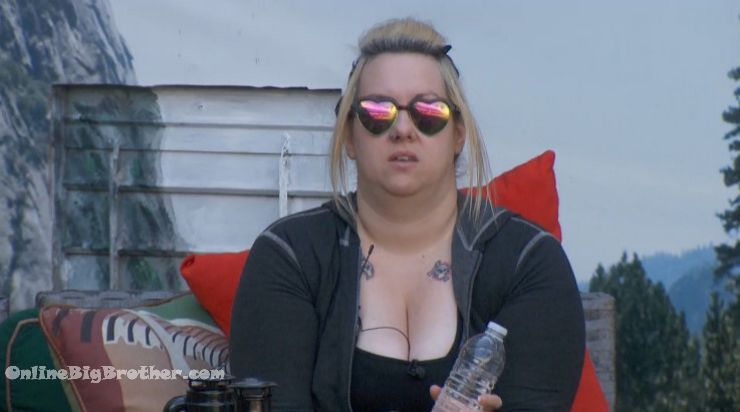 They want to get Alex out this week.
Kryssie – you gotta act shock when he nominates you though.. You have to act pissed..
Danielle explains that Shelby will have to nominate Whitney because of how the safety ceremony will work, "He picks someone she picks someone hes picks someone she picks someone"
Kryssie says she will do a Cartwheel if America nominates someone from the other side
Justin – "Wow this is very complex"
They all comment how the other side isn't smart enough to capitalize on this week .
1:42pm Ball smashers asking America to please not nominate them.
1:53pm Jason's HOH room reveal..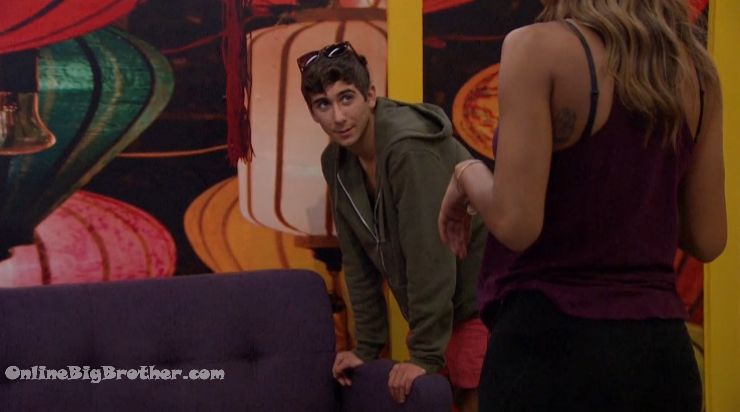 2:10pm Danielle tells him he has to beat Shelby in the veto.
She fills Jason in on her plan to be nominated. Danielle says the other girls are not smart enough to figure themselves out of this week.
Jason – they are going to try and nominate their strongest player.. they might do that to protect Alex from being America's nom..
Danielle says Alex won't volunteer to go up they'll put Morgan up.
2:17pm Danielle takes Jason outside with Justin where she's outlines her plans again.
Justin – you gotta beat Shelby bro.. you gotta kid (in the veto)
Danielle – I have to go on the block so we can Backdoor
Jason – she'll save Alex first.. I'll save Kryssie.. she'll save MOrgan next i'll save Justin and that will leave you 2 (Whitney and Danielle)
Danielle says Shelby will want to nominate her
Jason won't let her 'I'll fight her on it"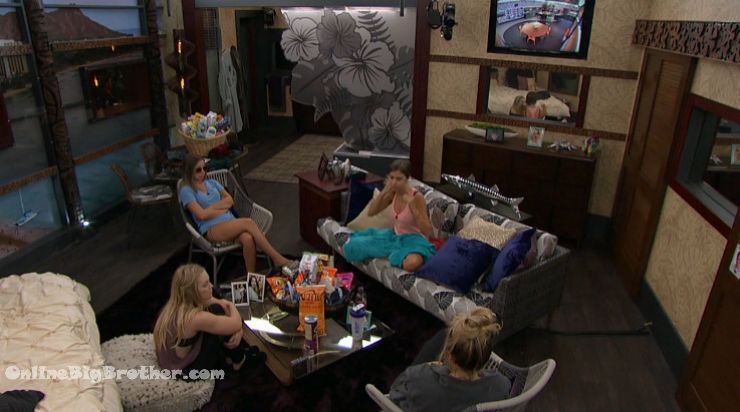 2:18pm BS in the HOH
Going over the safety wall.. No major game since Whitney is in the room.
Whitney mentions if Danielle is nominated she might throw the Veto to Jason.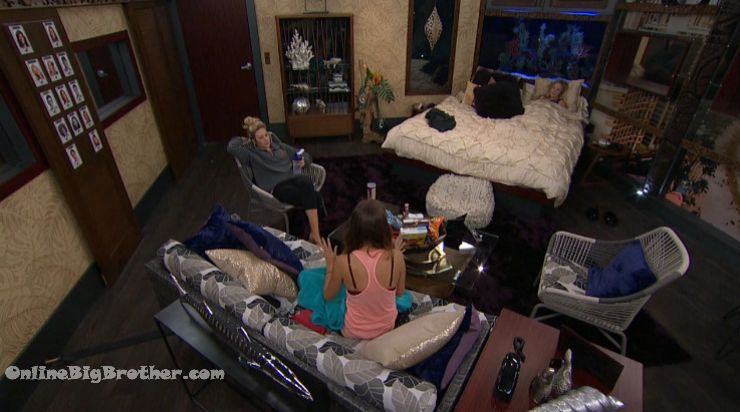 2:47pm Smashers going over scenarios (Circle talking)
They have figured out that Jason might want to nominate Danielle to make America's nom a unknown. They also go over making Whitney safe.
They consider if Morgan and Alex are have nots and listed before Danielle Shelby should nominate one of them.
They wonder if it's Whitney and Danielle on the block if they would pick Whitney. Alex and Morgan seem to think they would vote out Danielle.
Alex thinks Whitney may be their best bargaining chip
Shelby – I bet he (Jason) wouldn't mind getting Whitney out .. he wants control back on his side of the house.. Whitney will probably take him out in the double eviction and he can't play
Morgan mentions Jason can't play in the next HOH that's 1 advantage.
Shelby – now Whitney is probably on the other side of the house trying to be safe
Alex – yup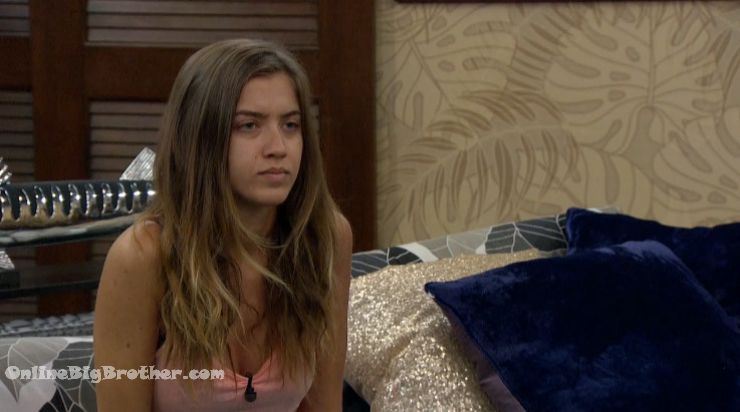 3:00pm Jason and Shelby HOH
S – we know who each others friends are in the house
J – that's why America did this
J – I want to nominate someone from my own side
S – why
Jason says they're "lingering issues" with Danielle he wants to put her up.
J – you have to nominate one of your people if I nominate mine
They agree it's hard to decide what they will do until
J – I'm fine if Danielle goes
S – don't you see her as someone you can beat at the finale
Jason warns her that Danielle is "Crazy good" at the strategy stuff .
J – She might not be the most likable.. If Danielle is playing the best game even if she's annoying she'll win
They think the Have nots will be reduced to 2.
Shelby says if that Jason wants to take Daneille out she'll work with him to do that
J – I'm fine if Danielle goes
Jason asks her if there is anyone from her side she wants out.
Shelby thinks she can't beat Whitney or Alex.
Jason says Morgan is getting no air time (HUH?)
Shelby says Morgan is the one person she can beat in the end she doesn't want Morgan to go this week.
Jason admits Shelby's Care Package wasn't a huge benefit to her. And agrees when she says the jump from Care package 4 and 5 was huge. Jason says everyone has been on the show long enough that his fan advantage isn't a issue. Thinks that if he had such an advantage he would have won the first care package it took him weeks until he got one. Shelby thinks Kryssie must have a lot of fans. Jason agrees then adds Kryssie care package was more of a care package for him.
Shelby – it'll be Whitney or Alex depending on the have nots.. I trust Alex more but she's a beast and she's kinda implied she's not taking me to the finale.
Jason says Scott and Alex were playing everyone in the house last week, Scott and Alex wanted to take Kryssie to the end. Warns her that the 2 biggest power players in the house are Danielle and Alex.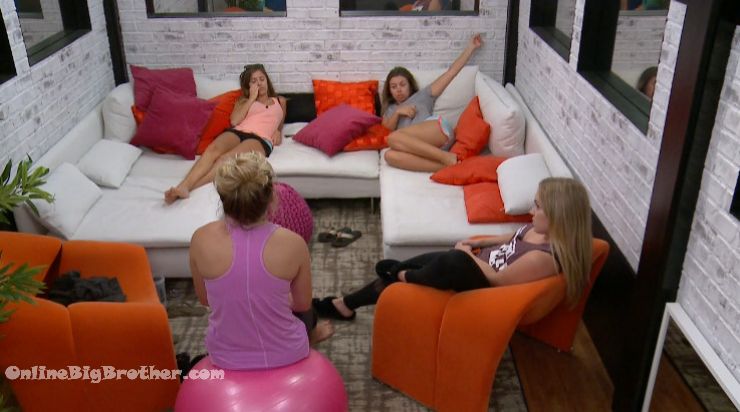 5:25pm Ball smashers
Whitney – so he (Jason) said If he wins he would keep her (Danielle) up there..
Shelby – ya but he was lying
Whitney – ya because imagine how they would feel if they put the three of us up.. that's a huge move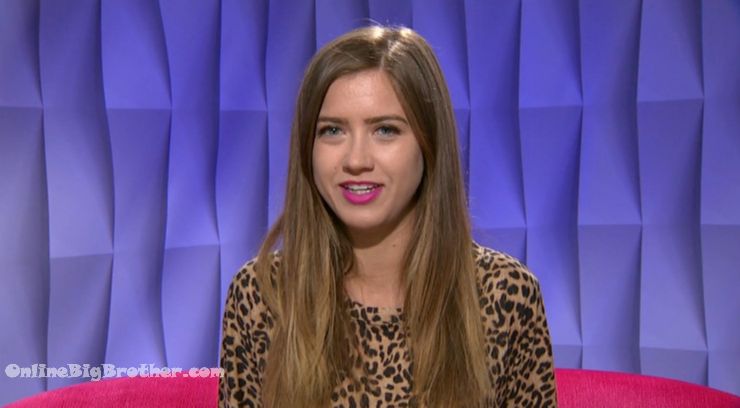 7:31pm Live Diary room
Shelby says Scott was her ally and her friend but better him over her. Points out that Scott prioritized Alex over her SO MUCH, 'Sorry Scott.. I know you are probably watching"
Shelby says Jason annoys her the least out of everyone on the other side. Shelby says Jason wants to take Daneille out but she's not buying it.
Watch the BBOTT Live Feeds FREE for 1 WEEK!
Click here for your: FREE Trial!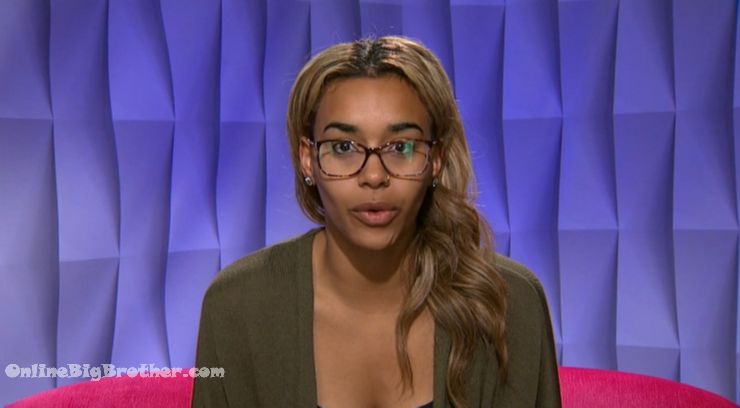 7:45pm
Message from CBS about the have nots
Due to this week's #BBCarePackage winner, only 3 HGs are eligible and will be the final Have-Nots