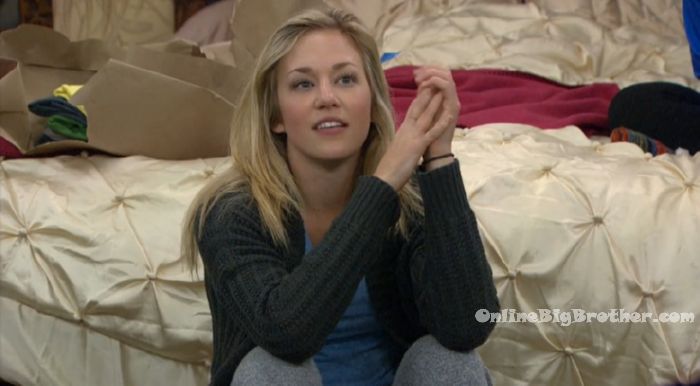 9:35pm – 11:35pm HOH room. Scott, Shelby, Whitney, Alex. and Morgan. Alex – going over line? Morgan – yeah. Shelby 11. Morgan – House guests its going to be a hot one today put on your sunscreen. Shelby – 12. Morgan – Remember house guests the only constant is change. Shelby – 14. Morgan – House guests did you know that more than 1500 batteries have been used this summer to power your wireless microphones? Shelby – 15.2. Morgan – House guests you should know the tallest building west of the Mississippi is 73 floors above the ground. Shelby – 15.1. Morgan – House guests remember to enjoy yourself today, these are the good o'l days. Shelby – 13. Morgan – Just so you know house guests ___ lanterns are nice to have while camping.
Shelby – damn girl! You have those down pat. Alex – if it is that competition you've got it. Whitney – I think it might be for HOH. They talk about how Shane knows what's going on. He was sad in the kitchen. Morgan – Danielle knows too. Whitney – knowing that the HOH also has the care package you would have to be stupid to think he would put up is targets knowing the veto could be used 3 different times. Alex – I think it could be me (America's nom). Shelby – I expect it to be me. I hope its not. I don't think you did anything hate-able. I feel like I'm the b***h of the house. So it could be me but I think that could make things entertaining. Morgan – we need anyone pulled (to play in the veto) other than Shane and Danielle. Whitney – if Shane would win the veto use it on Neeley. Alex – he wouldn't because then Danielle would go up. Shelby – they (Shane & Danielle) would both have get picked to play and both have to win the veto for one of them not to go. Alex – that's like a 1% chance. Shelby – its just so funny how Kryssie has no idea what is going on.

Watch the BBOTT Live Feeds FREE for 1 WEEK!
Click here for your: FREE Trial!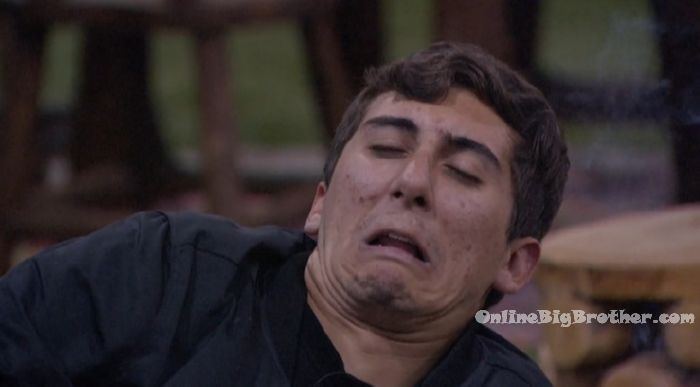 10:35pm – 12:30am Backyard –
Shane, Danielle, Kryssie and Jason. Danielle – if we put up Scott and Alex up next week and one of them come down, then we put up Whitney and get her out. Jason – no, put Whitney up as a pawn but you've got to vote Scott or Alex out because why wouldn't we vote for them if they're still here. Danielle – turn. Danielle – I'm so worried about Shane.. Like crying in the DR scared. Neeley – you can't be we just need to go out and win it. The conversation turns to talking about Jason's season and other random conversations about nothing.
12:40am All the house guest are sleeping..
[polldaddy poll=9552040]