POV Holder:
Next POV
Aug 1st
POV Used
?
POV Ceremony
Aug 2nd
HOH
James
Next HOH
Aug 6th
Original Nominations:
?
Current Nominations:
?
Have Nots
?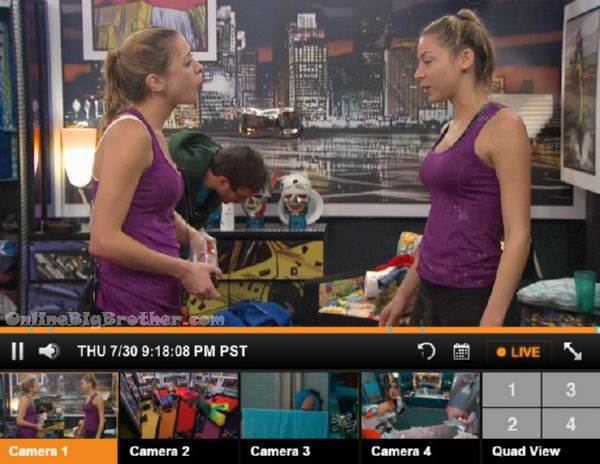 9:17pm Julia and Liz
Liz – Julia, I need to talk to you about a lot of stuff
Julia- I know
Liz says Austin doesn't want her out it was all Jason wisting it.
Liz – He would never jeopardize us
Julia – I believe it..
Liz – we're really f****d right now James just won.. we're in a really bad spot I'm freaking out
Liz says James threw the BOB and she had to win it by herself. James threw it.
Austin comes in says it was a big setup.
Julia – You never told him my name was Julia
Austin – I did
Liz – We talked about it
Julia – you never talked to me
Liz – it never meant to be shady Julia
Austin says telling the house her name was Julia was his mistake. Stresses Jason twisted and manipulated things around, Austin told liz everything about the conversation. .
Julia- I believed you wanted to get me out.. I had ill will towards you.. I thought we were friends
Austin – we're beyond friend.. I made an emotional decision, I made a mistake it wasn't a bad intention.
Julia – you shouldn't have had that conversation with im
Liz – we realize that now
Austin – definitely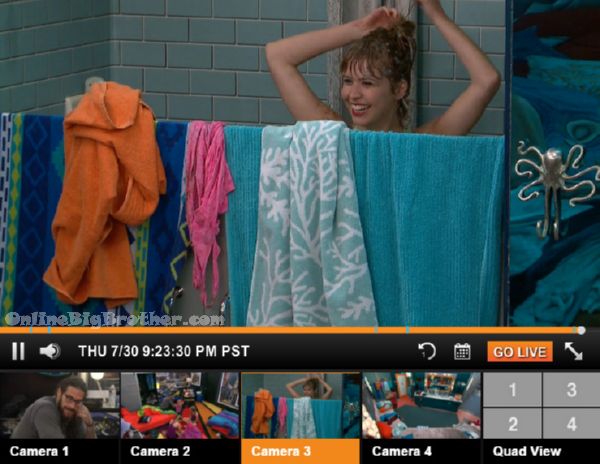 9:20pm
Meg – I was trying to not be an a$$hole and cheer for you all the time
Meg – You don't even need to fight to get power you're f*** HOH
James – "time to fight back time to rattle the cage"
Meg – Ya .. Ya Fight back for sure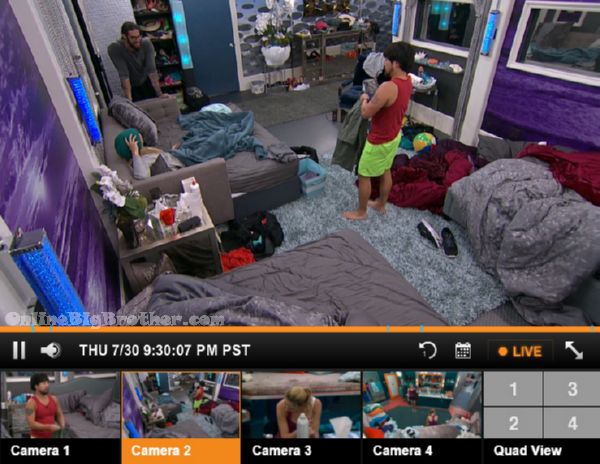 9:30pm James, Vanessa and Austin
James says if you can squat down that was your comp. His forearms were burnt but legs were good from squatting.
James points out he could see Production with notepads taking notes.
Feeds cut
9:43pm Clay and Austin
Austin thinks he's going up with a twin or the twins are going up. Austin is asking Clay to help him with James. James and Clay are close and Austin is worried about going up. Austin wants Clay to say James needs numbers and Austin is trustworthy, "I think you guys can convince him to make a separate move"
Clay – we'll definitely steer him away
9:48pm Vanessa and James
Talking about the HOH competition apparently the eagles were really nasty
james about the eagle hitting jackie "That eagle was tearing her chest up "
Vanessa – World's worst motor boat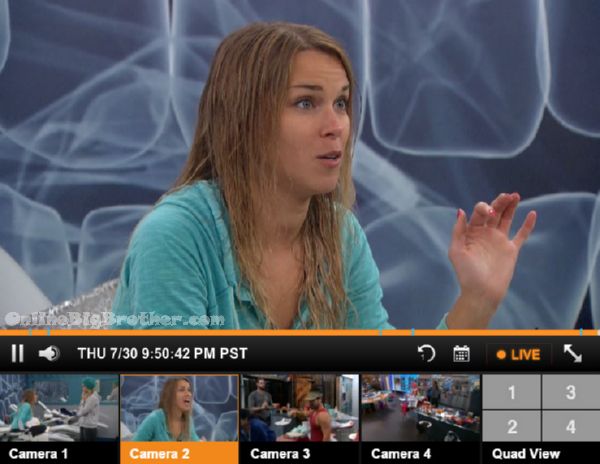 9:49pm Shelli and Vanessa Have nots
Shelli going over the competition says during it she was wondering "Do I really want to win the HOH" She thought it would look bad if she's won 3 HOH's.
Shelli made a deal with James to keep her and Clay off the block. She's upset she didn't include Vanessa.
Clay comes in
Vanessa says she's shouldn't be upset she made the best move for her game.
Shelli doesn't want the twins targeted.
Vanesa – He's going to it's either them or me
Vanessa – you gotta keep your game together even if you made a deal
Shelli says she regrets not winning the HOH she could have kept the sixth sense safe.
Vanessa leaves
Shelli is saying James winning is their worst case.
Clay – No Jackie was
Shelli – I could have stayed up there
Clay – I could have too
Shelli – we're going to lose one of them (Austin, Liz, Julia) or Steve that's my fault
Clay – you can only do so much
Shelli – Austin was the first to fall..
Clay – there's tiers of loyalty there's you and I and Vanessa
Shelli says Austin and Vanessa were rooting for her
Clay says they only wanted her to win because they think they were target
Shelli just wants to make sure they can protect Vanessa
Clay – you can only do so much without risky your game
Clay says they are still good with James' side he's certain James will keep the deal.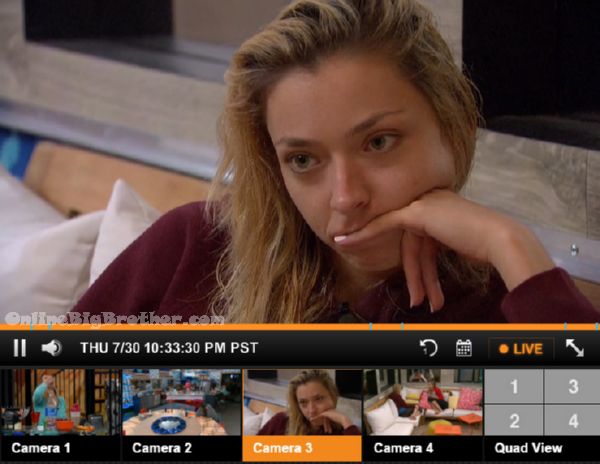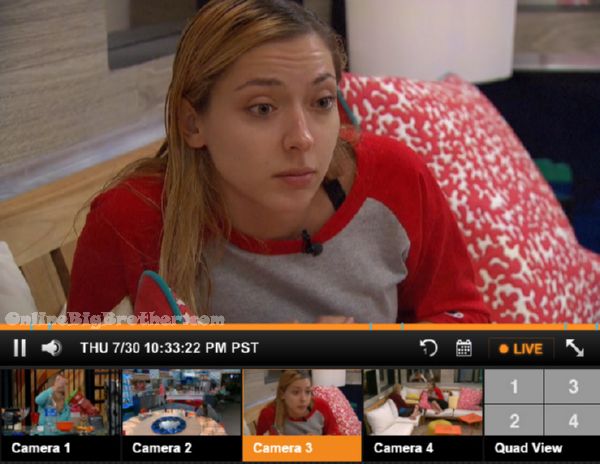 10:10pm Julia and Liz
Jullia says she hopes Liz is more loyal to her than Austin
Liz – obviously
Julia – I don't trust him he disgusts me I don't believe anything he says
Liz says she's been waiting for Julia to come in so she can get some relief from Austin.
Liz tells her to suck it up even though she hates Austin they need him in the game.
Liz says she hates James him winning HOH is the worst thing.
Liz gives her a recap of the BOB competitions. She says James threw it because after he won he wasn't excited at all. Liz is going to tell James if it wasn't for her they would be on the block last week, she kept them off the block.
Julia says how pissed she was at Austin
LIz about the Austin Jason conversation "Jason manipulated the conversation and twisted the words"
Julia – I don't trust him.. He lied..
Julia – how do I act with im
Liz – act normal, he's our alliance
Julia – F*** liz he's going to put one of us up
Liz – he's going to put me up
Julia says She hopes they do target Austin it's better than them. Julia hates Austin.
They're nervous because they put James up, why didn't they put up Steve. Liz is certain she's going up.
Julia says James cannot vote, Becky and Johnnymac will vote for her. Julia thinks Austin will go
Julia – how do we act in this house
Liz – I don't knoooooooooooooooooooooooooooooooooooooooooooooooooooooooooooooooooooooooooooooooooooooooooooow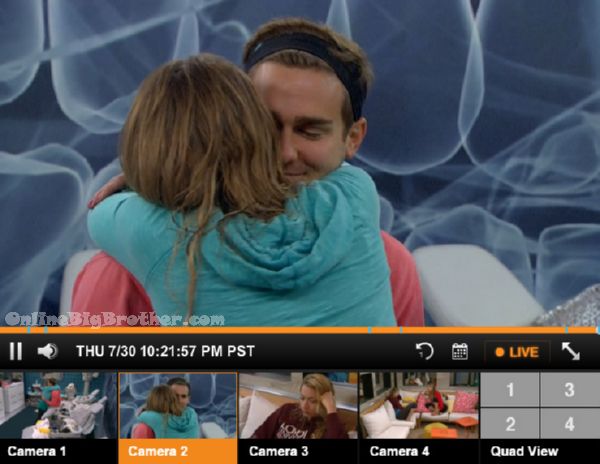 10:21pm CLay and Shelli
Shelli says she's "so hungry"
They start talking about playing the middle.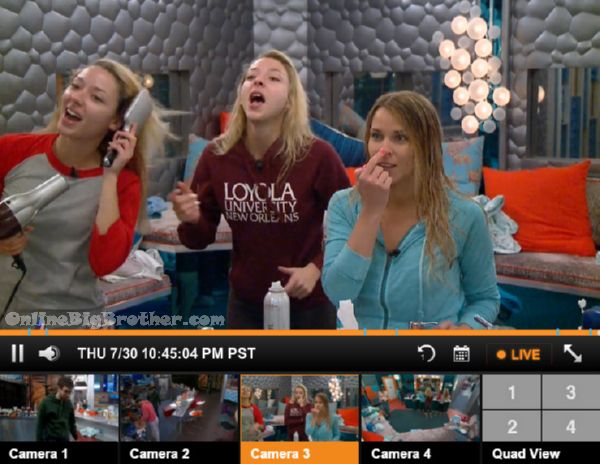 10:46pm Shelli says Liz has a button nose and a rounder face
[polldaddy poll=9004995]
Share it YO!!
Tweet