Quick Big Brother Spoilers
Head of Household:  Taylor
Nominees: Turner & Brittany
POV Players: Taylor, Brittany, Turner, Monte
POV Winner: Monte
Veto Ceremony:
Lock your ranks in before midnight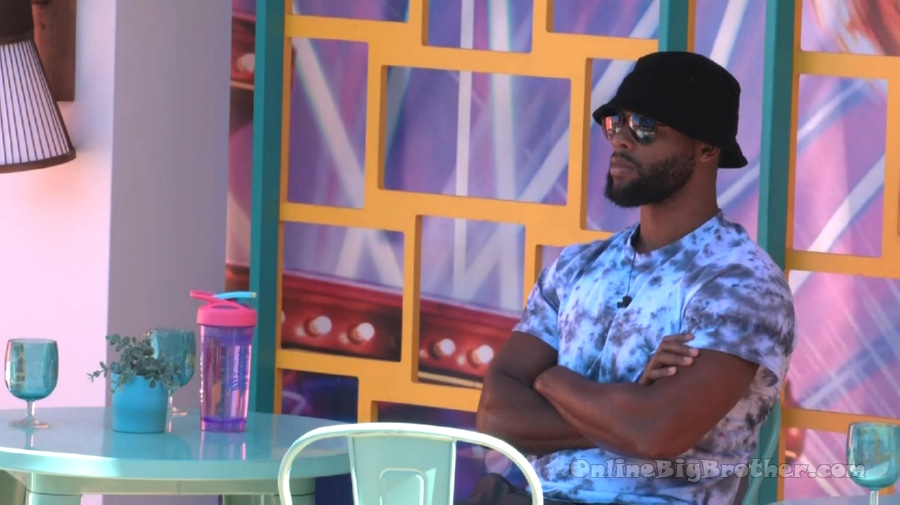 11:50 am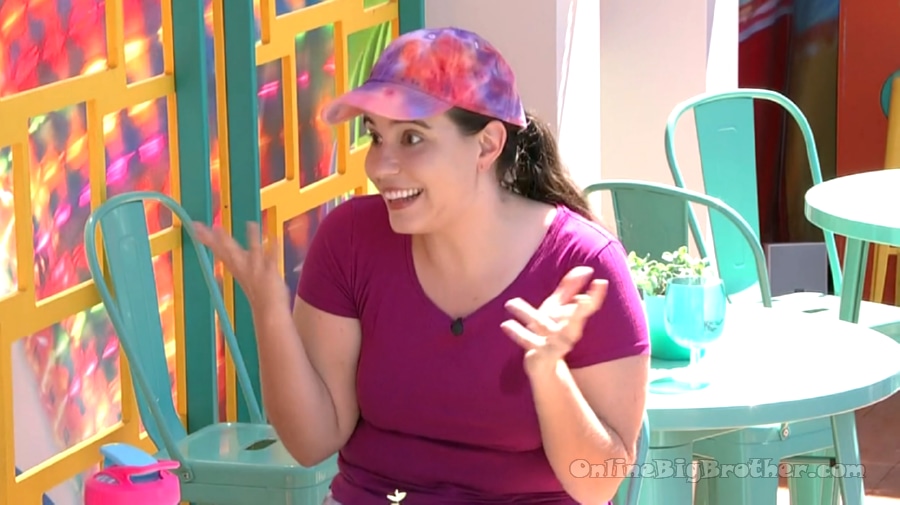 12:19 pm Brittany and Monte (Brittany campaigns for a solid 50 minutes all the points she's been making to Taylor these past couple days)
B – I wanted to Approach you in a unbiased manner
B – there's reasons to evict Turner there's reasons to evict me. I'm not going to bullshit you by pointing out certain sides.
B – there's two major moves left in the game and you are the only one with the opportunity for both.
B – as you are looking at this i'm sure you are thinking, Okay how do I set myself up if and when you get the opportunity for the second move. That you are surrounded by people you need at the end. say you win that final HOH you could Bring TUrner, you could bring taylor you could bring me. if you are going to bring Turner that would mean he would need to stay this week. What are the pros of that?
B – the pros if you brought Turner.. Ummm..
Brittany can't think of any so she's going to list the cons. "You have very similar games from an outside perspective. Both founding members of Leftovers. Both involved in some of the BIG moves like getting Michael out."
B – I see Turner as having been the one that MADE a lot of the bigger moves.. right.. He's the one..
She lists off all the big moves, Kyle, Michael, Ameerah.
B – he's taken on more of the direct risk
Brittany makes the analogy that it's like Fish. Turner got Michael then Monte gets Turner. "If you were to do that all of a sudden some of those differentiating factors they bounce over to you"
Brittany points out the big moves he DOESN'T make will speak more than Bigger moves Turner already made. "And he's still here"
Brittany brings up not knowing what deals Monte and Turner has but warns him Turner's "hallmarks" to his game have been BIG FLips. So she questions what Turner would do If he won the final HOH.
B – say you want to bring Taylor to the end. You will win in a landslide against Taylor
B – People like to vote for people that share similarities in their game.
Brittany brings up her poor Competition performance. "if you look at you and I you have won MANY more comps.. Physically you know this I do not work out"
B – Turner and I are somewhat comparable when it comes to how many mental comps we've won. I'm just a overweight out of shape Turner. You want to go against an overweight Turner or a normal Turner?
Brittany rambles on about everyone's competition performance highlighting how shitty she is at them.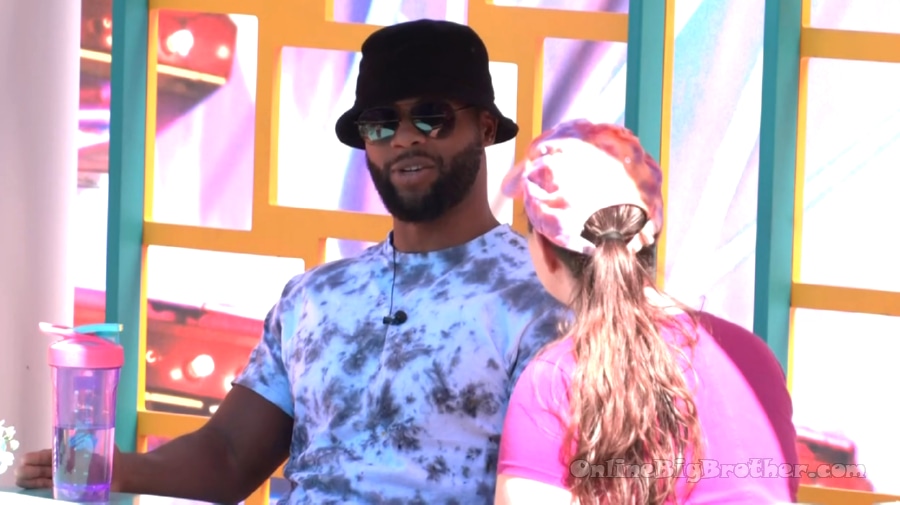 B – If you were betting on yourself and your ability to win and pick who you wanted to go forwards. It would be smoother slash easier If I were still in the game Versus Turner. Just because there is more of a toss up with you and Turner. The move would CINCH the deal for you in the Jury's eyes.
B – If you bring him you won't get much credit in that.
Brittany reminds him she came on the show for 45K so she can have a baby.
B – If I am here the probability of you winning that final HOH shoots up exponentially.
Monte says he feels he has a better chance to beat Turner in the final HOH than Brittany.
Monte – the biggest risk is not even making it to final 2.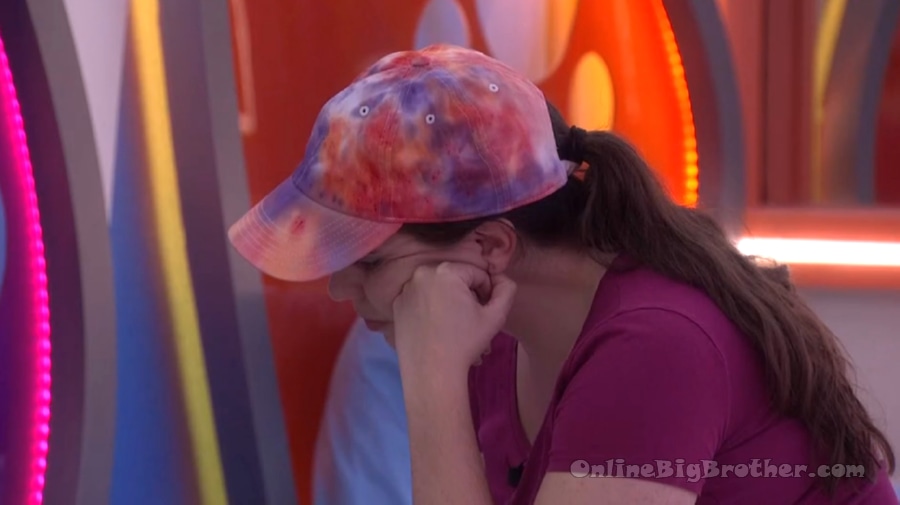 1:10 pm Sad?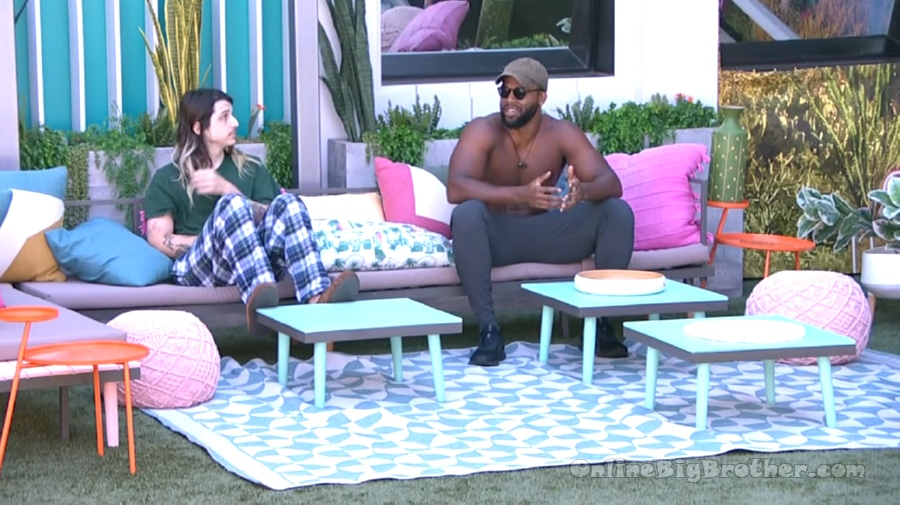 1:20 pm Turner and Monte
Monte giving Turner the debrief after his conversation with Brittany. "She goes on this whole Rant how umm.. She thinks I should fear you as a competitor vs her and how like.. She thinks it will be a smooth easy path for me to make it to final 2 with her as opposed to you or whatever have you."
Monte – I'm just like K I hear you but at the same time we've all beaten each other in competitions. All of us. You can't sit here and say one person is better than another. I will say Yeah we've had better performances based on the competitions we've had in the past versus Brittany. Brittany has been showing up recently. It's not like she's been losing any brain cells.
Monte says he told her he would rather Trust in Turner to make the decision to take him to final 2 than Brittany. "You are obviously going to choose Taylor"
Monte mentions how she brought up Turner's game style being "unpredictable" this whole season and he might not take Monte to the end.
M – I was like what are you talking about? Every decision he's made has been from input that You also put in.. First of all the leftovers was a collective thing we all decided to do to put up ameerah and Terrance. It's not like he just went rogue.
They laugh about her saying that Turner is unpredictable when it's been the opposite in their eyes because they've been involved in all of Turners game moves.
Monte – so many holes in her argument..
M – just as homies. I had a conversation with Taylor last night as you saw I woke up in the car room.
T – I did notice that
M – the boy is back.. I don't know.. the whole thing with my goddaughter. what was that about? She was like I was just making an observations. No we haven't seen her.. Dude you don't understand that is unnecessary.. She was like yeah I guess it was unnecessary. I was like what if you said you have seen your grandmother you entire life and I jumped in not for the past three months.
M – she was like Yeah.. seeing my grandmother made me feel more aware of that. I've been hypersensitive to that sort of stuff. She apologized up and down about it or whatever have you. I'm glad she didn't take the Kyle approach overtly try to deny that she said anything wrong.
M – I had the conversation with her about the f***ing headphones
T – what she say?
M – she was like OHH I was talking to Brittany about how you and Turner just coming up in my room and mi casa es su casa I was trying to prove to her by me talking off your headphones this is your place to.
M – Taylor you didn't give her the headphones you just took them away and just.. what was that for? It was a power trip I felt like you were on.
M – I also told her just as a friend, Maybe this is stuff people have been telling you about that you rub them the wrong way.
M – If you are willing to say those things to me someone you have recently became intimate with I can't imagine what you've said to other people.
M – so we just had that talk. I told her I'm going to take a step back from staying over in her room.
T – was she doing alright after that?
M – I Mean she .. I don't think she wanted that to be the case. She was asking me how I wanted to move forward as opposed to what she thinks we should do. She's open to either route.
Turner – I can't believe they let me sleep until 1.
Turner wonders if that is it for Brittany or she'll try again later in the week.
Monte thinks she's presented all she has.
They talk about all the lies Brittany has spun this season "She's A smart person but socially she can't hang"
Neither think she would have survived the backstage twist If Paloma hadn't blown a fuse.
They reminisce about the first week. If Paloma hasn't left Brittany would have been evicted and the Po's Pack may have been the dominated alliance.
Monte – if that whole old skool thing would have happened the week
Monte thinks Paloma would have done good in Competitions. "Those tiny legs be pushing"
2:00 pm Brittany has joined them.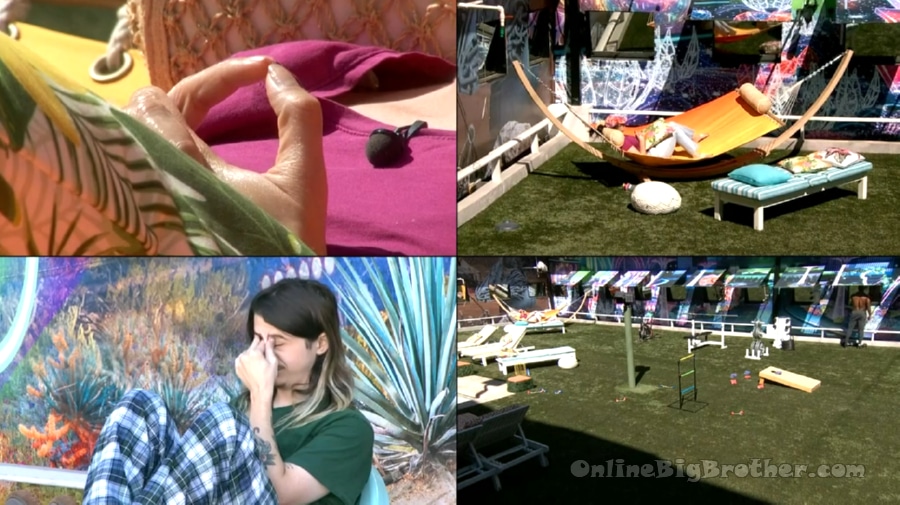 2:35 pm Quiet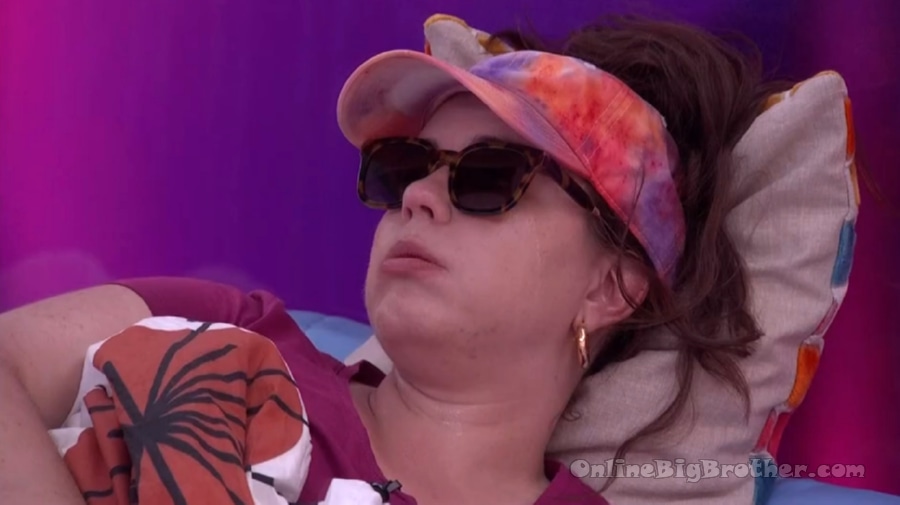 3:17 pm Brittany whimpering about how she needs the money She overheard Turner and Monte talking about not needing the Big Brother social media boast to start a podcast touring around the country.
"It just hurts.. If 29 thousand dollars is so easy for you then why are you here? I would so anything for that"
"I want to keep playing.. I'm not going to stop playing until I am outta here. "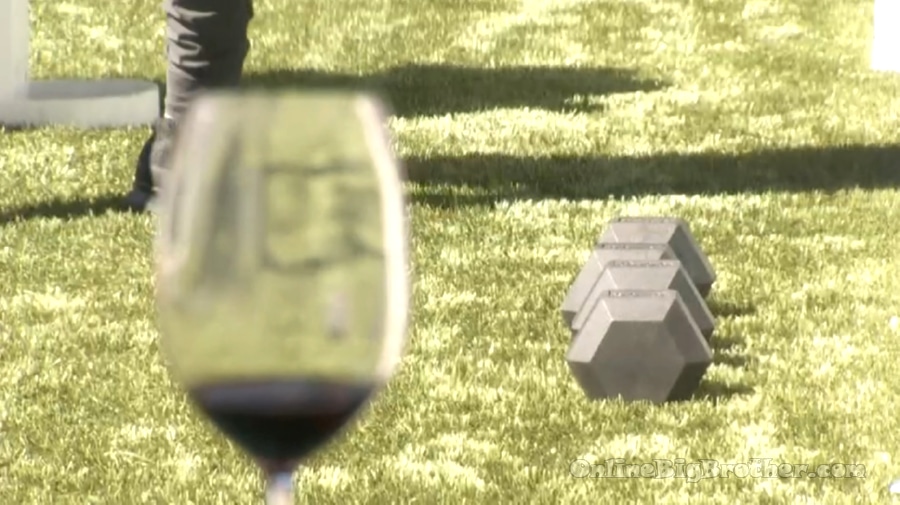 3:43 pm Leftover wine from last night.
3:50 pm Brittany fills Taylor in on her conversation with Monte.
4:20 pm Brittany building her tie dye shirt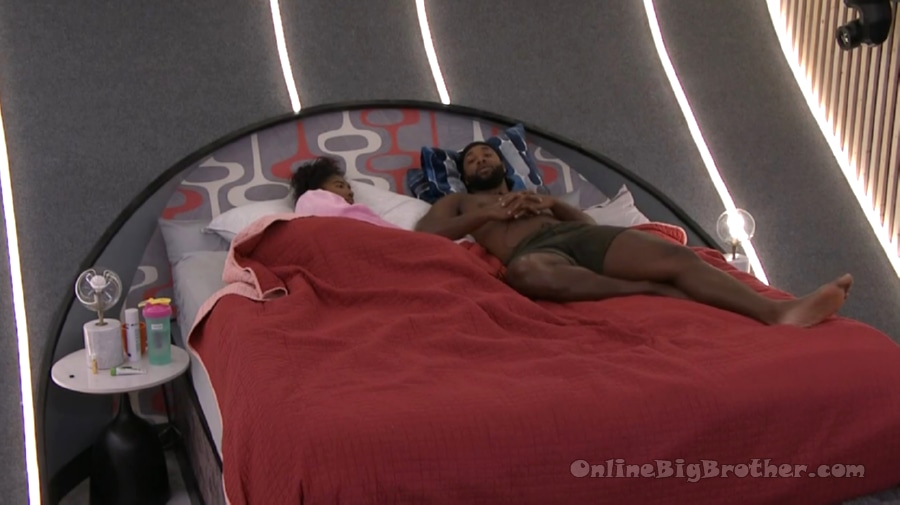 4:40 pm Monte and Taylor are having a showmance conversation.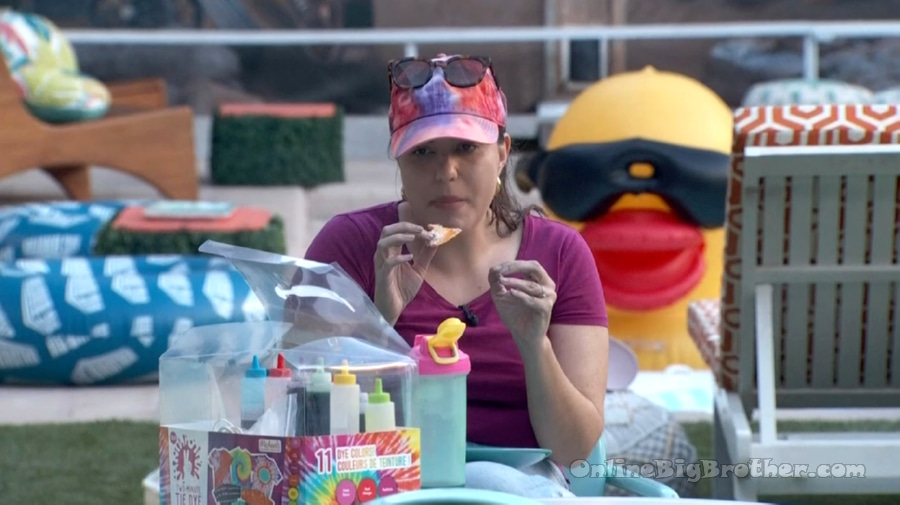 6:00 pm Quiet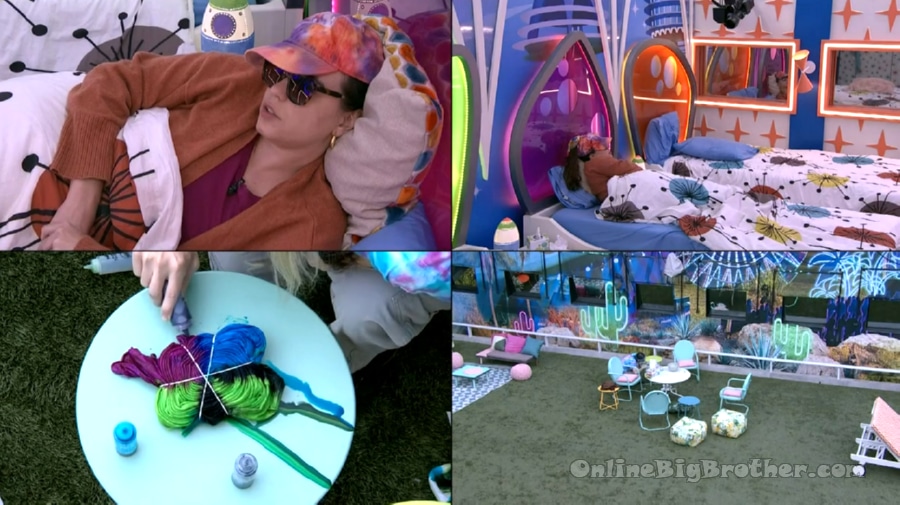 6:40 pm Brittany is talking about how Monte didn't play a great game. Taylor has her vote.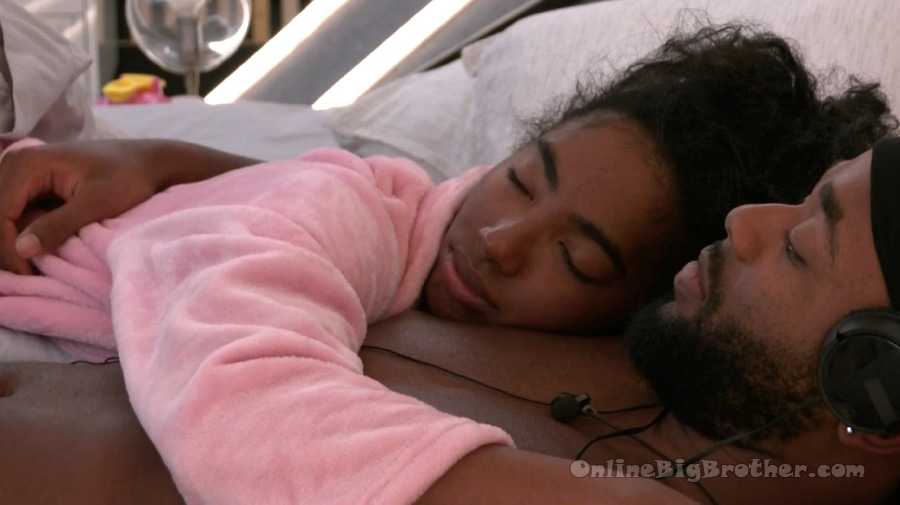 6:51 pm