Head of Household Winner – Cody
Have nots – Nicole
Nominations –
Power of Veto Players are –
POV Host: –
Power of Veto holder –
Power of Veto Ceremony –
Live feeds —-> Grab your Live feeds here. Try it free.
Rank the houseguests —-> Big Brother 22 Ranking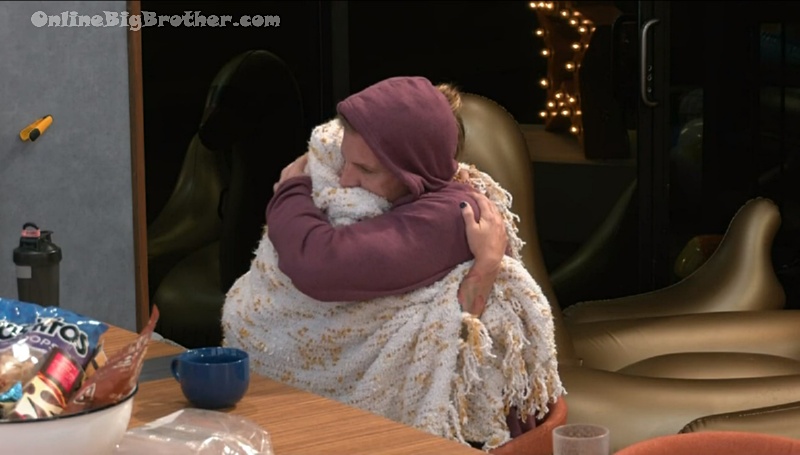 9:30 am Christmas and Memphis hug. Christmas cries..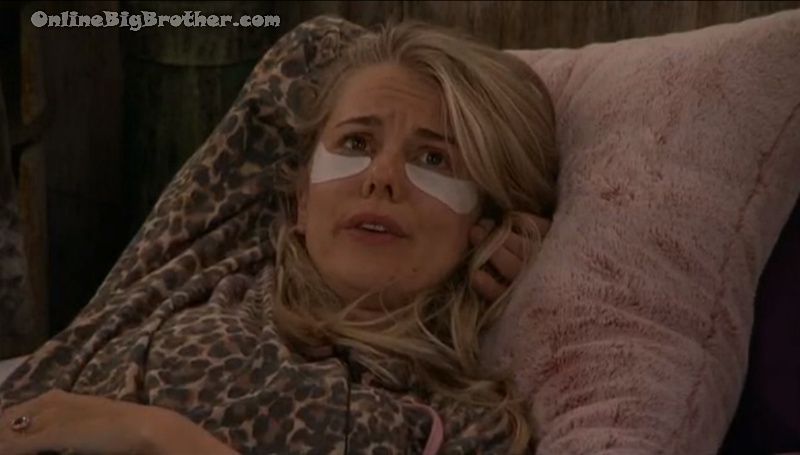 10:07 am Coins
N – I'm staying on here all week
N – I apologize Dom I thought Dani was talking about me behind my back with the sly 5 and the final 2 with Cody. I made a huge mistake I cannot stand Christmas this much ..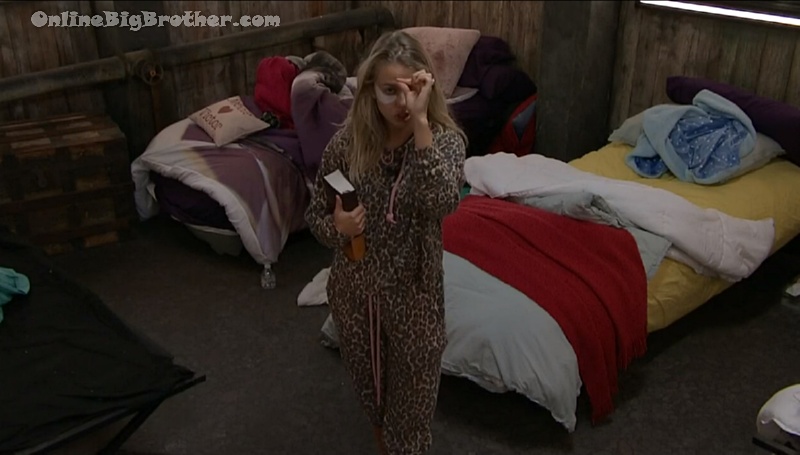 N – I'm over it. I really didn't tell her information she didn't know all I did was set myself up for sitting next to her in the double that's it
Feeds cut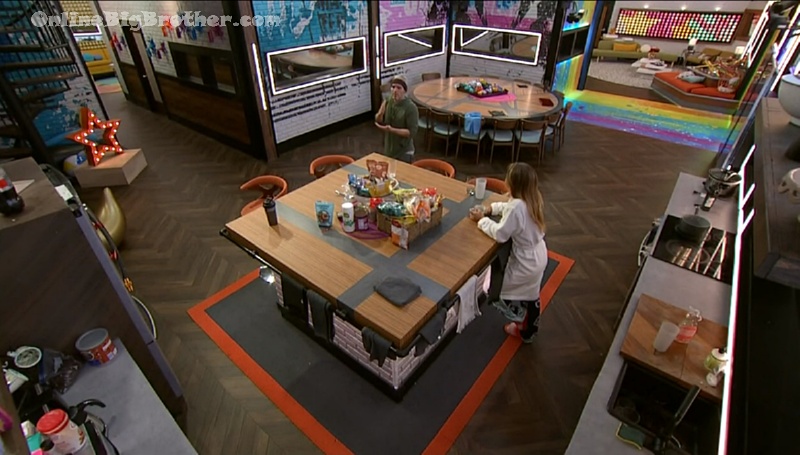 When we're back Christmas and Enzo are talking in the kitchen. Christmas is complaining about what Dani said last night. Outing her about the power
Christmas – she played sloppy
Enzo – she was all over the place YO
Christmas – if you are going to zing somebody on the way out make it f**ing good
Enzo – this jury is going to be bitter as f***
Of course, the conversation changes to complaining about David going for the 10K.
Christmas – he's got more money that us right now
11:16 am Just chit chat around the kitchen.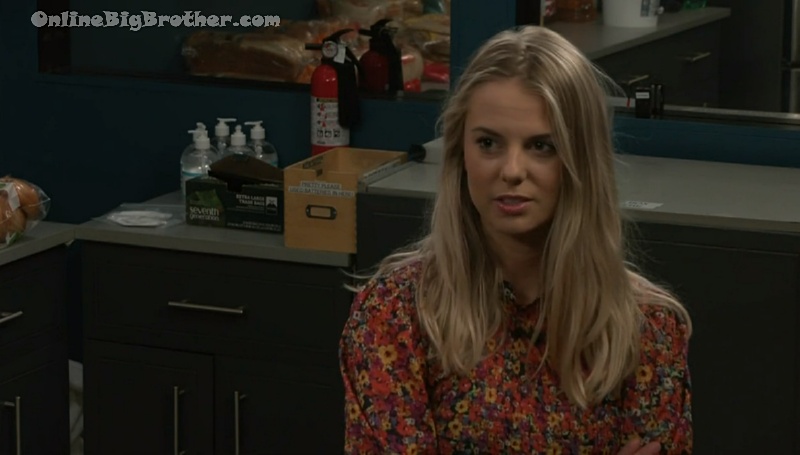 11:24 am Nicole and Cody
Cody says the last thing he told her before the first vote to evict last night was "you're going home" he was joking but when the vote came out 2-3 he as worried "Ohh sh1t she's going home"
Nicole – I can put on a fake face.. I hate them so much I can't even look at them
Cody – What was she like when she was sleeping in the room was she trying to talk to you
Nicole – she started crying she cried herself to sleep because I think she feels so guilty. I hope it eats away at her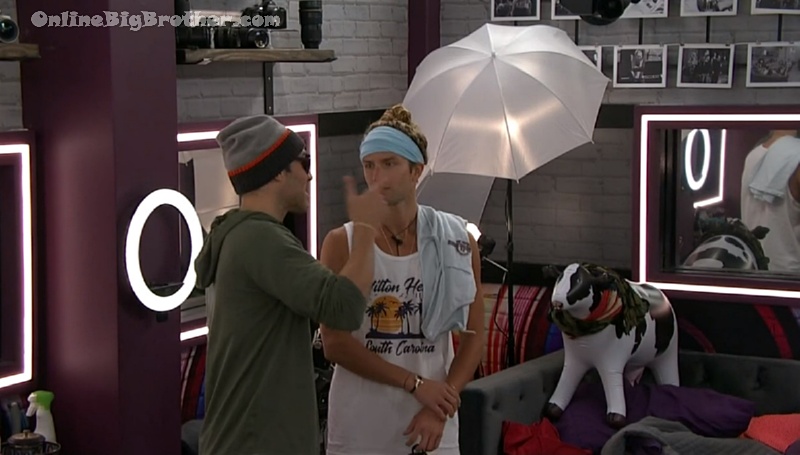 12:20 pm Enzo and Tyler
Tyler – is he putting me up
Enzo – I don't know I just don't know like .. he's like YO what is up with that vote this and that. I'm like YO she's a champion YO that's it. It is what it is.
Enzo – the only reason I didn't do it is he's tight.. he's tight with Nicole
Tyler – it makes it look like I was trying to go against him
Enzo – when you go up there have a good story come up with some sh1t bro I need you in this game
Enzo – I want you here when we're at the end of this f**ing thing then we'll go to war YO. I don't give a F** about Nicole I don't care YO I did that because of him
Enzo – I was YO she's a champion that's a target to keep in the house I talked to him last night he was iffy about it.. F** it there's other people in this house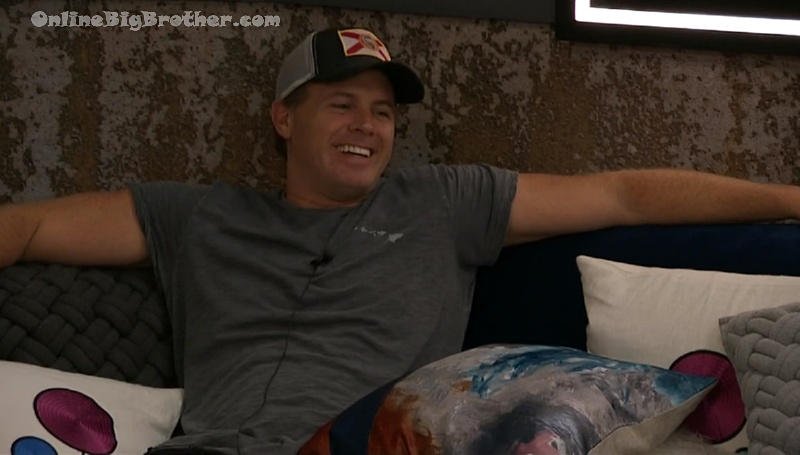 12:26 pm Cody and Memphis
Broing up.. "we're in such a good place"
Cody says they didn't need to win the comps during the triple that's how good of a spot they are in
Memphis points out that after winning the veto Christmas talked to Tyler first.
They talk about Tyler and Christmas trying to flip the vote on Nicole. Memphis mentions how that's great because that means they have no idea about the two of them and Enzo.
Tyler says this entire game Christmas has had a "False sense of power" because she was part of the Committee.
Memphis says Christmas overplays.
They agree if the Veto was played on Nicole or Dani one of them would have gone up.
Cody gets called to the Diary room
Memphis – who is more dangerous to us in the game?
Cody says they are both beasts
Memphis – Christmas loses her cool… I don't want you me, Tyler and Enzo in the final four.. this kid is too good.. this kid has ice in his veins.
Cody – let's see how this veto goes.
1:00 pm Cody is back from the Diary room and they are continuing to talk about Splitting Tyler and Christmas up.
Memphis – if we can get me you and Enzo to the final 4
Cody says that Enzo mentioned to him Christmas and Tyler's voting out Nicole makes it easy for him to now know who the targets are.
Cody doesn't know what he'll tell Christmas and Enzo. They briefly talk about breaking the news to them.
Memphis leaves – well have fun with that.. I'm glad you won it now.
Tyler comes in and the feeds cut.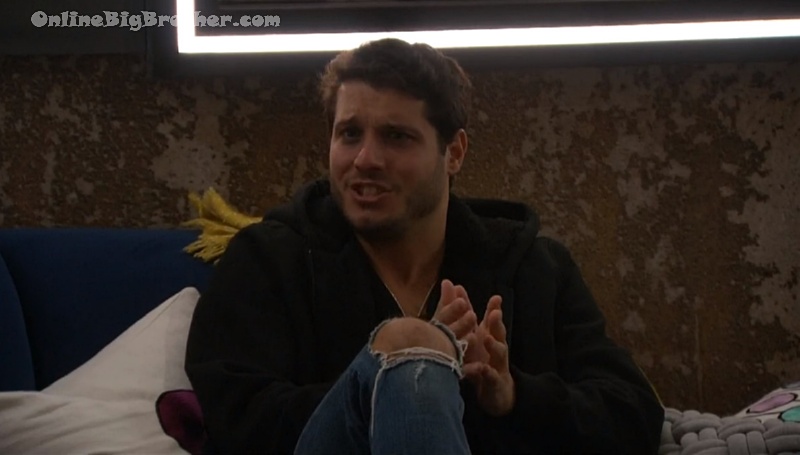 1:05 pm Tyler and Cody
Tyler – I f***ed up .. I don't know let me say I f*** ed
Cody – If I'm being honest it kinda makes I feel like it like has a look in teh house I know where you're at but like to other people like there's like a F*** look i mean if I could be completely transparent with you it just gives it something like easy to do even though like there's no way anything goes wrong with you you know what I'm saying this week like there's no way there's no scenario because I'm in control of it and it's like someone. like. there's always going to be someone.. something I have control of like who's off or whatever which way like you know what I mean but like. I just felt like it was like it was just weird how like that whole thing was and I think honestly I think it was a lot of her (ZOMG)
Cody tells him that Enzo isn't voting out Tyler over Christmas.
Tyler says Christmas was trying to get him to tell this elaborate story he just wanted to tell the truth he f** up.
Cody says Chiorstmas has lied to him a lot.
Cody – I'm not sending you out in this game.
Cody – please don't spiral into oblivion that I'm turning on you. I'm straight up. I feel personally connected to you. you are someone I can see myself chilling with
Cody – I'm not trying to make you a target this is how it is .. My thing with her this is the easiest thing for me so she doesn't blow up and snap
Cody says Nicole is "so pissed" with Christmas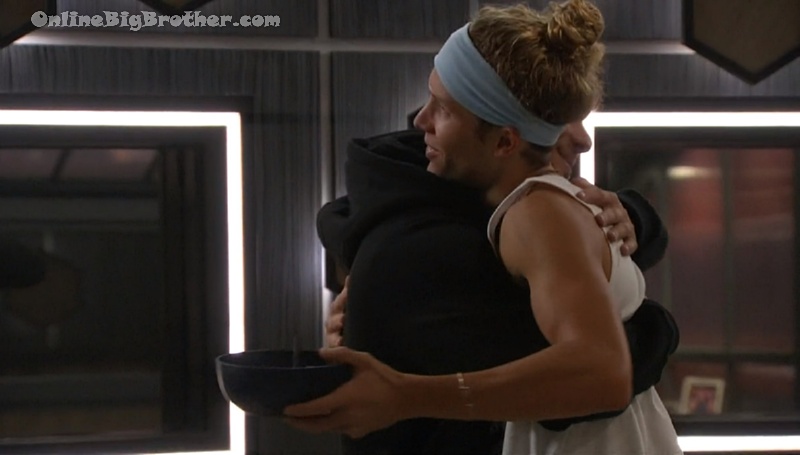 They hug it out..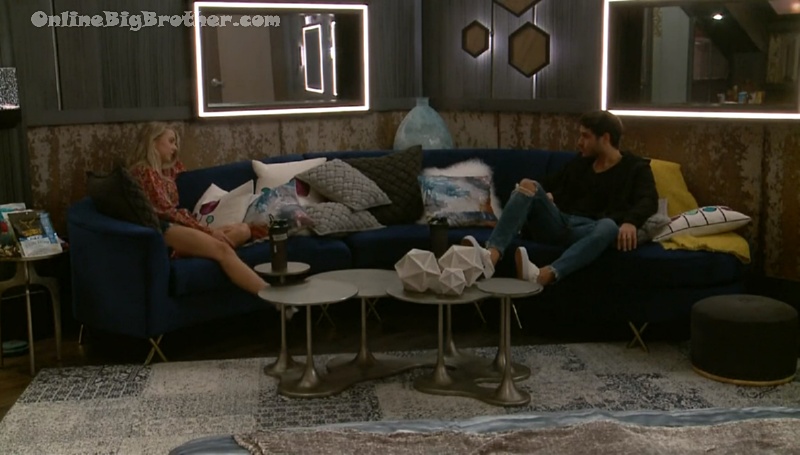 1:23 pm Cody and Nicole
Rehashing a lot of what went down during the triple. Nicole says Tyler and Christmas have a final two.
Cody – one of them is going
Nicole – and Memphis will 100% not use the veto
Cody – there was no way he was in on it at all.
Nicole – she feels so guilty she's following me around I'm like leave me alone ..
Nicole – they're idiots.. this was really messy gameplay on their part they voted me out and I'm still here they're dead to me. Number two Tyler showed you that he doesn't care about you he wanted you and dani thrown out Number three they don't care what Memphis the HOH wants when he specifically was looking at them..
Cody brings up Tyler saying "What are we going to do just do what Memphis wants"
Nicole says Keeping Tyler in the game keeps a target for Memphis if it's Christmas left in the house Memphis won't target her.
Nicole – Christmas made a final 2 with me week 3.
Cody says that Christmas is always talking about the moves she's made.
Nicole – I'll never vote for her in the end..
Nicole complains about Christmas being guilty for voting against her is always following her around, "leave me the hell alone you are going home"
Cody says he's leaning towards wanting Christmas gone.
Nicole – he [Tyler] comes in here with his damn cookies..
Cody – I feel bad for the kid
Nicole- why do you feel bad for the kid ..
Cody – he's a liar and aa snake
Nicole – they messed up there's nothing else we can do about it. Easy peasy lemon squeezy
Feeds cut..
1:30 pm in the bathroom Tyler tells Christmas he's going up "We f***ed up"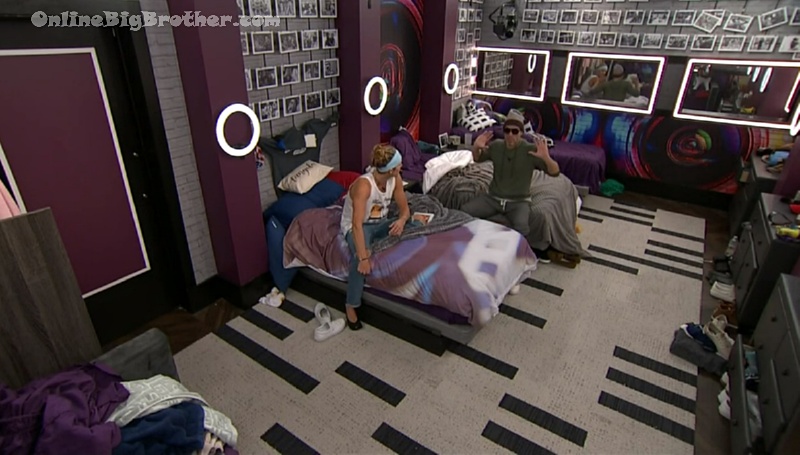 1:35 pm Tyler and Enzo
Enzo says he's got his votes. Warns him that Memphis won't vote against Christmas.
They talk about if Veto is played Christmas comes down and Nicole goes up. Enzo says there's a chance Nicole goes up "we get rid of F***ing Nicole" (you had a chance less than 24 hours ago to do just that)
Tyler thinks Memphis and Christmas will vote him out over Nicole.
Enzo – if Memphis wins POV takes Christmas off
Tyler – he won't use it. I don't think he will use it
Enzo – if you're on the block it ain't over. I know if I win the POV he doesn't want me to use it
Tyler – that's the only way to save me
Enzo – If I use it I know. If I win it I'll be like Cody YO gotta make a move.. gotta make a move in this game YO
Enzo – we need the numbers going into the final 5 YO C'mon.. Nicole ain't winning sh1t YO she's getting carried YO .. I'll be like YO I did this for you Cody I saved Nicole for you now save Tyler for me that's it that's what I'll do YO
Tyler – that's not good..
Enzo – Cody what are you going to do if I use it;.. you ain't coming after me bro. Get rid of Nicole YO she's a champion
Tyler – he said he wants Christmas to go
Enzo – if he's putting you u over Memphis he's got something with Memphis or he's scared of him because he's brilliant he's a comp beast. he's winning mental sh1t to he's a F**ing terminator in this game (LOL)
Enzo – it's unreal I didn't think he was that smart he's smart as f**. Cody's like we gotta jump on his back go to the end with him F** it
Enzo =- Putting you up over a vote.. over a vote c'mon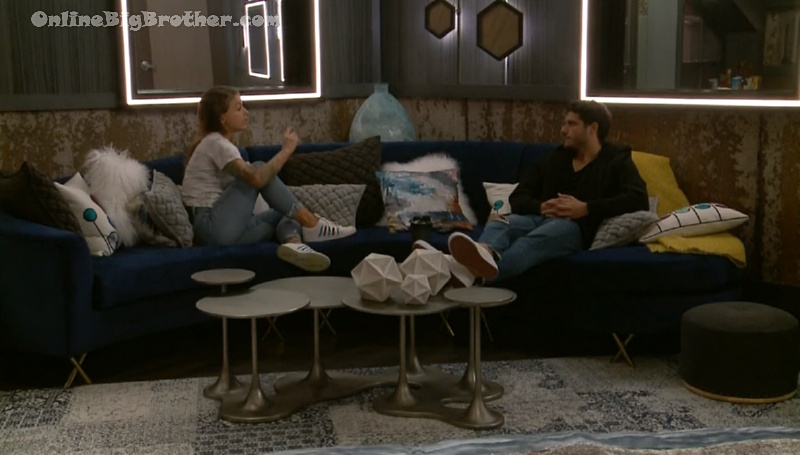 1:50 pm Christmas and Cody
Christmas – yesterday was a sh1t show.. it was a sh1t show
Christmas – in the moment you are spinning and it's so bizarre the whole time.. I'm still just like the aftermath .. Where do I start I want to explain the Nicole vote
Christmas says she adores Nicole int his game.
Christmas says Memphis didn't want her to use the veto and Nicole was fine with her not using it.
Christmas says that Tyler talked to her right before they voted and said "It's flipping." She asked Enzo is this happening he replied something like "let's go"
Christmas goes on about hearing that a flip is happening and she didn't have time to process everything. Sys she loves Nicole.
Cody says he feels like there was an agenda and it got shot down putting them on opposite sides.
Christmas goes on about explaining herself.. (I've left out the Christmas part and just put Cody's contributions)
Cody – yeah.. right.. yeah.. right… yeah.. yeah… right .. I know yeah.. yeah.. yeah.. yeah .. yeah.. yeah.. it's definitely it's tough and I can 100% level with you one that
Christmas – I was betrayed to betray somebody I trusted and trusted me.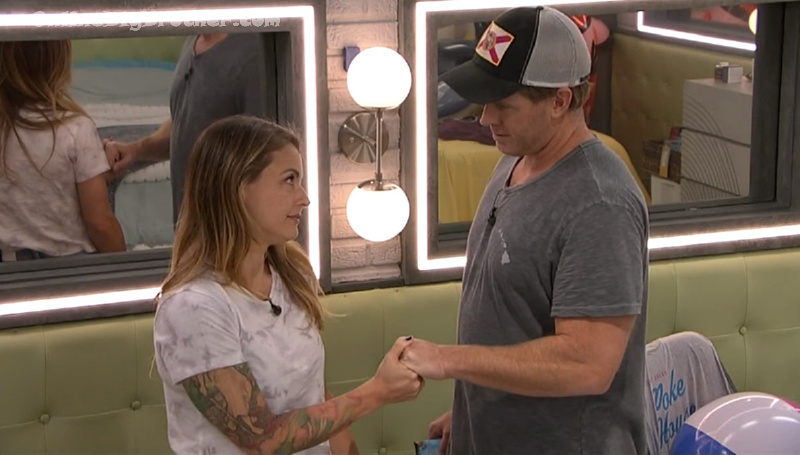 2:21 pm Christmas and Memphis
Christmas – If I go up next to Tyler. He cannot win the veto..
Memphis – He cannot
Memphis – we're all gunning for it.. I'm gunning for it
Tyler – he's just really good at it
Memphis – he's just one person you have multiple remember that
Christmas – Yes.. thank you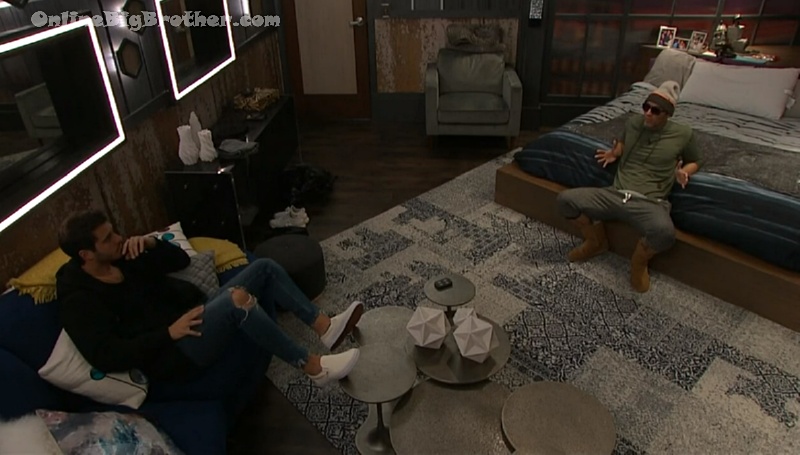 2:25 pm Enzo and Cody
Bro.. likes.. and YO's
Talking about how it's the two of them and Memphis to the end. They want Christmas gone this week.
Enzo – I'm going to tell him flat out I said Memphis I'm doing this because I want you to myself I'm telling him straight the f*** up that's how I'm doing it .. I'm like YO I want you to myself I don't want nothing in between our relationship. I'm getting rid of that I'm trimming the fat.. I don't give a f*** Yo I'll tell him whatever I need to tell him..
They agree they need to win this veto. Enzo is worried if Veto is played by Memphis Nicole will go up and she will be evicted "Our games are f**d"
Cody doesn't think Memphis will use the veto on Christmas.
Cody – says if it's Nicole against Christmas. Memphis and Tyler will vote Nicole out.
Cody – in that situation he'll go on the block..
Enzo – you know you're safe you're good.. Enzo will vote for you I'll vote for you.. We're good
Cody says Memphis, Tyler, and Christmas are dead to Nicole.
They talk about the Christmas and Tyler vote against Nicole.
Enzo – They were like you wish you would have talked to me.. I'm like BRO. I felt like saying you guys didn't come to me. you guys went to each other so what do you want from me? I played my cards right you didn't yo and that's it you want me to help you play your cards right nah.. you played the your cards.. you showed your cards I showed my cards my cards were better than yours this week. that's it. It is what it is YO. That's it you played your jacks … your pair of jacks I had QUEENS YO up my sleeve taht's it that's all it was .. YO .. Next week you might have better cards.. we'll see YO
Enzo – we're going to be called BLOCK BUSTERS yo we've never been on the block YO
Enzo – you know what the committee rhythms with shitty. the shitty committee.. the core three yo

Enzo says the reason he's wearing sunglasses is because it's so bright in the house with all the camera lights.
COdy agrees they complain about the lights.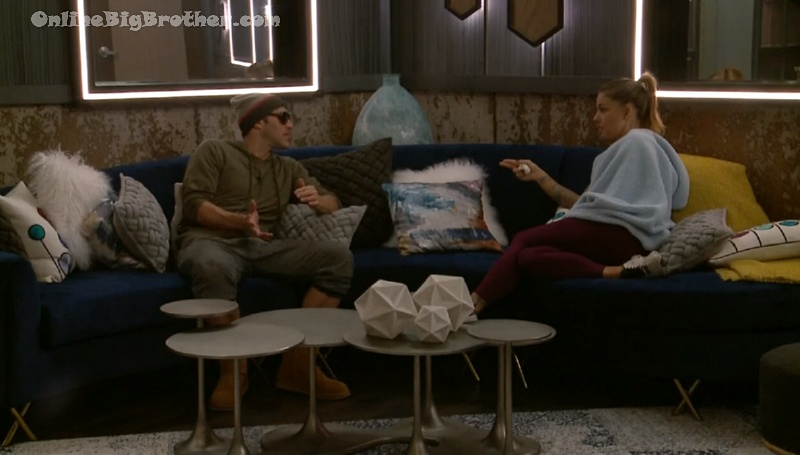 2:43 pm Enzo and Christmas
Enzo tells her she has him and Memphis if she's nominated.
Christmas says she expects to be nominated.
Christmas – Honestly If I win it I won't F***ing use it
Enzo – no you gotta us it on yourself. you have to
Christmas – Why?
Enzo – take yourself off
Christmas – Ok I'll think about it .. but I would love to show I know who should go home.. Like taking a stand no on else has to go up in my place.. you know what I mean
Enzo – just think about that ..
Christmas says she'll tell Nicole and Memphis she doesn't want them to go up so she won't use the veto on herself but they better vote to keep her.
Enzo – that's a ballsy move
Enzo says that Cody doesn't know about the wiseguys but he knows about Cody and Nicole being close.
Enzo – we're good. could have been the worst you could have been a have not.
Feeds go to stars.,
Christmas – I can handle the hot seat
Enzo – that's it you got the veto and you got us.
Christmas – game on.. I dot best under pressure
Enzo says the jury this season will be "So bitter YO"
Christmas – if Tyler goes this week
Enzo – which is a really really really good chance
Christmas – Cody can't play..
Enzo – yes
Christmas – Nicole
Enzo – she's weak
Christmas – it's me yo and Memphis..
Enzo – we're golden that's it f** it it is what it is ..
(Enzo's social game is insane YO.. Still dead to me for not voting out coins)
Christmas says that Cody is carrying Nicole through this game.
Enzo says Cody is doing all the damage and if he makes ot to final 2 with Nicole the jury will be bitter and give her the win
Christmas – that's insane.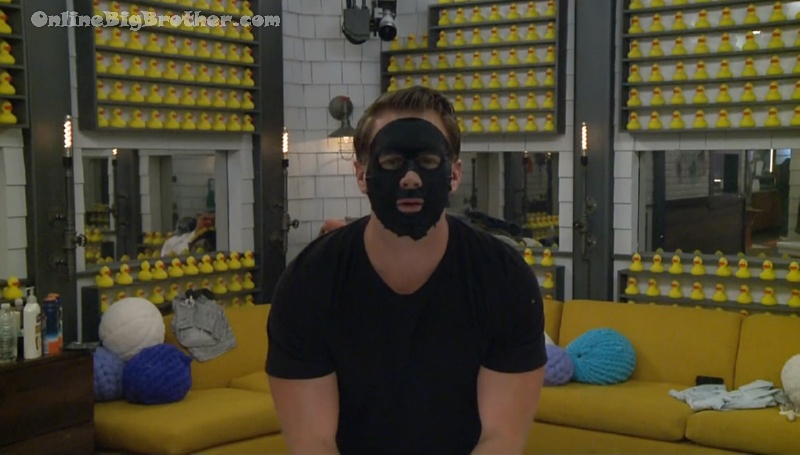 3:31 pm Memphis experiments with skincare wonders if he should scare Nicole.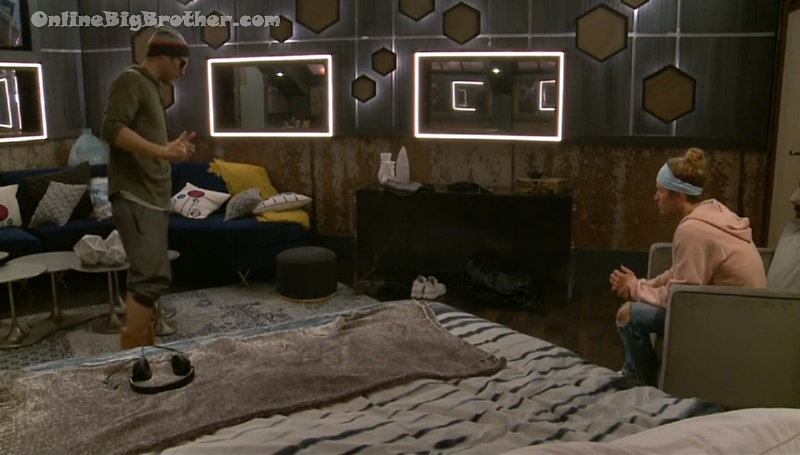 3:46 pm Tyler and Enzo
Enzo full on YO talk and i've hit my YO quota for the day.
3:55 pm Feeds on stars
4:10 pm Feeds go to the same kittens we saw last night. They're sleeping. Christmas and Tyler will be nominated.
4:40 pm Feeds down yo