Head of Household Winner – Cody
Have nots – Nicole
Nominations – Christmas & Tyler
Power of Veto Players are –
POV Host: –
Power of Veto holder –
Power of Veto Ceremony –
Live feeds —-> Grab your Live feeds here. Try it free.
Rank the houseguests —-> Big Brother 22 Ranking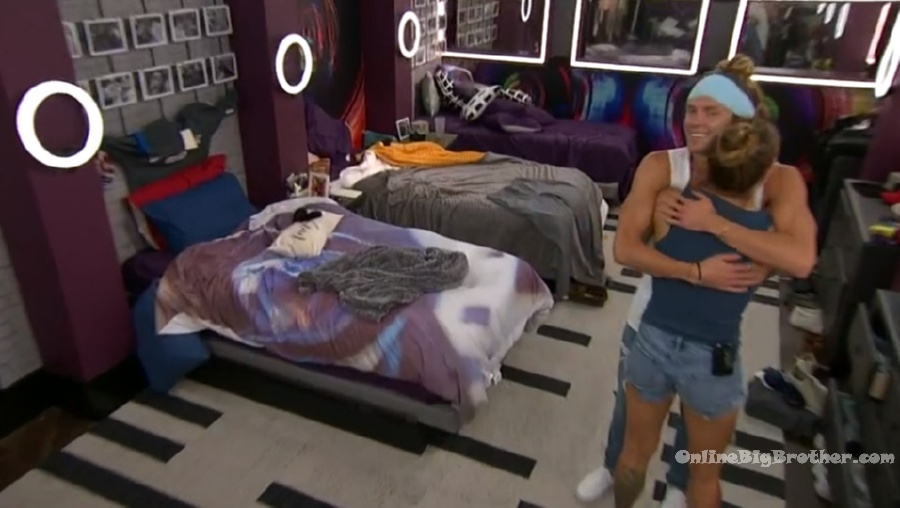 4:10pm – 5pm Big Brother blocks the feeds for the nomination ceremony.
Bedroom. Tyler and Christmas.
Tyler – what up block buddy! Christmas – If F**king Enzo hadn't .. Tyler -he'll be mad at himself now that he did it. Christmas – It didn't make sense for him not to. He's been terrified of Nicole the whole time. You know!? I just don't get it, unless he's working with them. You know?! I mean you put up Nicole. Memphis put up Nicole. Like there is a common denominator. And I know they came in with a final four. Tyler – they're definitely final two. Christmas – I'm like don't act nervous. (Nicole) You know. Tyler – one of us win the veto .. come down and sent the other one (remon) off. Whoever goes up .. it would probably be Memphis. Christmas – because Memphis is going to do whatever they tell him. Tyler – Or Memphis wins veto and takes one of us off. Or Enzo wins the veto and pulls one of us off and Memphis goes up. Christmas – no matter what happens he's not putting up Nicole. Tyler – exactly, that's his last option. Its still possible, we can still do this! Christmas – yeah. I'm not mad about it. I mean I knew it was going to f**King happen. IF you play the game right.. I'm not popping off. You come at me personal and with bullsh*t, I'm going to pop off! Tyler – exactly! Christmas – but he did it right. I mean I respect his game so much. Tyler – he is a good player. Christmas – And he is protecting his girl. I respect that. And she (Nicole) is staying. Christmas leaves the room.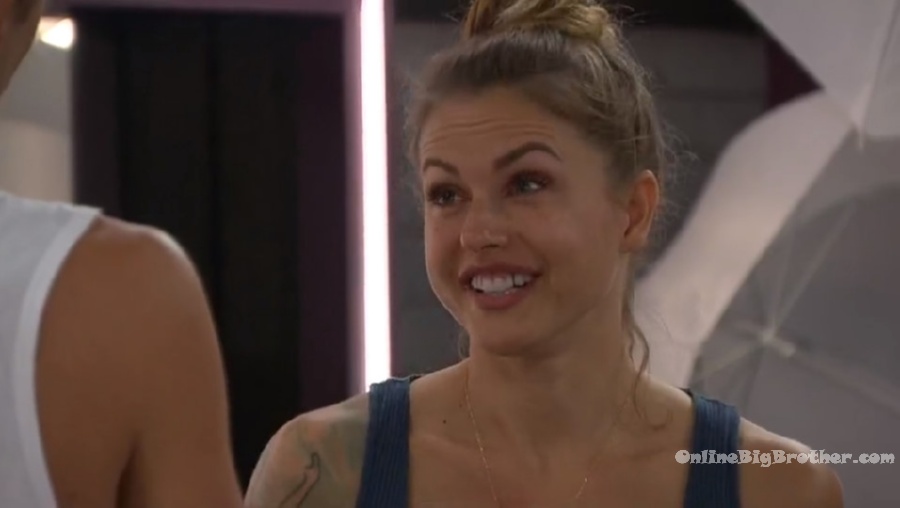 HOH room. Nicole and Cody.
Nicole – you were really nice! Cody – what was I supposed to say? Nicole – no that was really good. You spoke like really well. I would have been .. not like that. Its good that you play like you do. Cody – what would you have said? Nicole – like you guys tried to vote me out. Cody – well obviously two completely different situation for me. Nicole – Christmas came and talked to me and blamed it all on Tyler. Cody – I know she did the same to me. Nicole – I kind of believe it. She was crying and everything to me. Cody – they're both lying. When she was telling me the story she was like I didn't talk to Tyler until last. And I was like .. you talked first. Like right when we won the veto and they came in side. .. they went right to the love room so like and I saw that. Now granted you know how when you're like coming up with something and it is frantic it might not be a calculated lie. But Tyler was saying a lot more to me that made it seem like this was your plan. Nicole – see she is blaming it on Dani. Where did Dani come into this? Cody – I went right up to her and was like did Dani try to get it to go that way? Nicole – what did Dani say to Tyler that was questionable? Cody – I don't know. Nicole – because Tyler told me that she said something that was really alarming but he didn't tell me what it was. Do you think that he planned this because immediately after the vote .. She goes I told you. And she had a smirk on her face. Cody – What I think happened was she told them yes and then flipped exposing them. But if that did happen Tyler would have said. Nicole – so she actually was innocent. Cody – in that situation. Don't make her out to be innocent. Nicole – but they're still saying her name. Cody – because I said something to Christmas… I was like why did you guys vote opposite. She said no I just thought that the votes were flipping. And I was like from who?! Nicole – she said me and Tyler don't talk a lot of game so when he says something I believe it. What does that even mean? That doesn't make any sense. Cody – we need to win the veto. Then we figure out .. like you know. Nicole – she said the only person in the house that gave her confirmation was Tyler.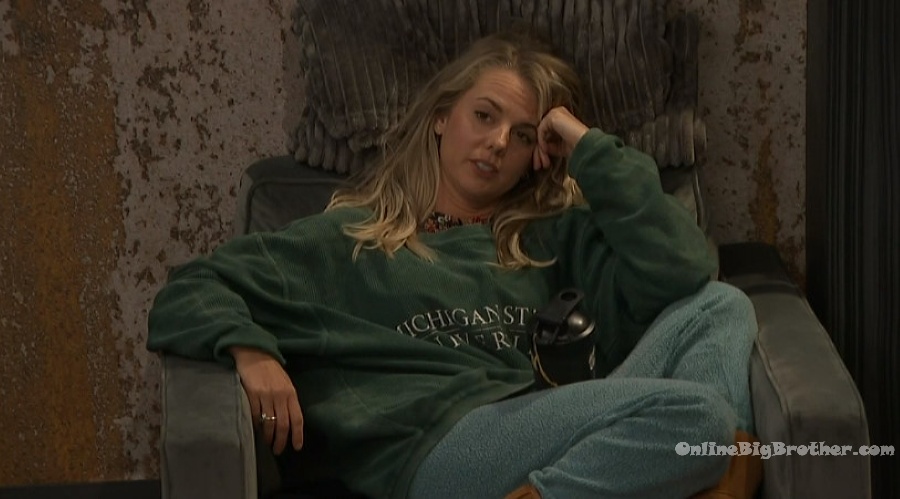 HOH room. Christmas and Cody.
Christmas – you said everything in your speech. Cody – I don't have it out for you. Christmas – yeah I don't feel that. I already explained to you my experience. If you have fallout conversations.. Cody – no, I feel like you're straight up. I feel like you had the most to lose. Christmas starts to get upset. – I totally respect you and think that you're the best. I know I pop off some times but I pop off when people are dumb about things or coming at me. You've played this game with such respect. I am not taking this personal even if I am emotional. Its just been a rough couple days. Cody – no, I totally get you. I respect you as a person first and then this game has reassured that. I just feel horrible. Christmas – no you had 5 people to choose from. Cody – Its the nature of the game. Christmas – yay we have veto tomorrow and I get to play .. but everyone does. You will hear me make a lot of jokes at myself but just know its not digs at you. Its just me coping. I understand why you put me up.. I am not a Kevin .. this isn't a tit for tat. I want to stay and play this game. Cody – no I know you do. Christmas – if anyone other than me or Tyler win veto .. I know the noms will stay the same. And if I do win it.. then we'll have a conversation. I wanted to let you know that I am not mad at you. I am not taking this personal. And I am going to fight for the veto. I've respected this game the entire time and I feel super honored to be here. Cody – no I see that. The bitter sweet is that I won HOH but this sucks! And I love Ty this sucks. They Hug. Christmas – it is what it is. Christmas leaves. Cody – oh god this game is the worst! Oh gosh, that was horrible.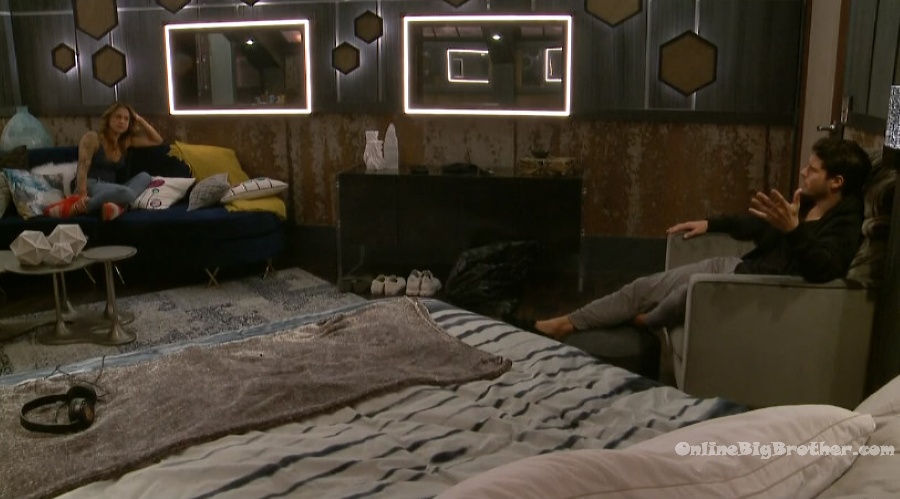 Bedroom. Enzo and Tyler.
Tyler – I never thought he (Cody) would do that man. Enzo – over a f**king vote YO! Tyler – its not over a vote. Enzo – I should have just voted her out. Tyler – we just have to win the veto. Well then he might put up you.. Enzo – something about the vote isn't sitting well with me .. its a f**king vote! You voted her (Nicole) out .. you didn't vote him (Cody) out. Tyler – best case is you win the veto .. and take me off and then that forces him to put Memphis up.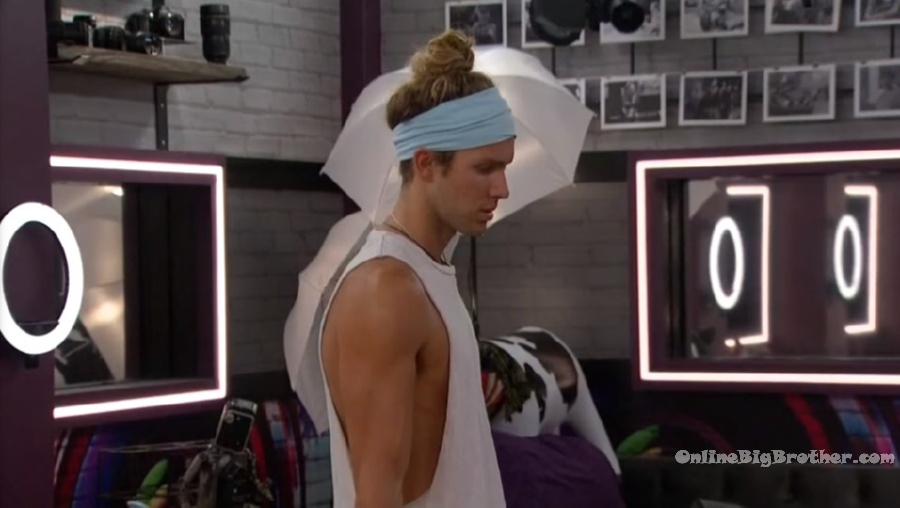 6:08pm Memphis and Christmas.
Christmas – Only one person can't win it. Memphis – that's it. Christmas – I don't even care if I stay up there. I will get to say hi to my baby. Just he can't win it. And I know that.. like if you win the veto .. I don't expect you to use it because I don't want you to be exposed. Just make sure the votes are locked! Memphis – You know the votes are locked. Its me and Enzo. That's it. You know that. Christmas – I know. I don't even care to come down. Memphis – we are going to win the veto. Christmas – then next week it is me, you and Enzo against Nicole. Memphis – I know!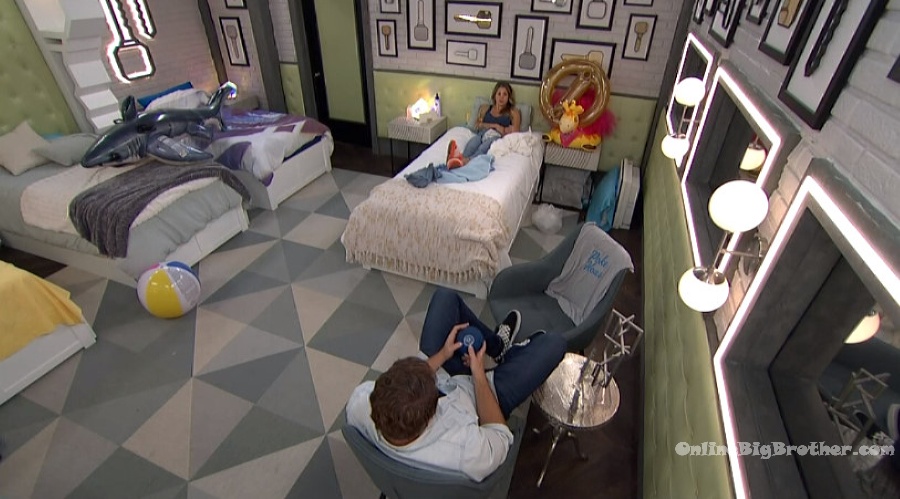 7:35pm – 8:12pm The house guests are hanging out playing backgammon, chatting, eating and sleeping..
8:25pm – 8:42pm Bedroom. Christmas is talking to herself. Nicole has had a lot of blessings in this game. Cody is incredible. Nicole, I freaking love that girl. I love her. Enzo can't go to the end, he will win. Nicole can't go to the end, she will win. At this point I am not sure if I would win at all. You know?! Nicole and Cody had more numbers before they even came into the house. How do you play with people before .. like not even in the same alliance. Don't think I am stupid! I am not f**king stupid! Nicole is saying that she will do anything.. because she is a gamer and her voting Ian out wasn't her doing what needed to be done .. it was to protect Cody and herself. If Enzo wins, I really want him to use the veto. I just don't want to be let down again.. I am so frustrated. I should study.. I have a whole lot of butt to kick this week! Yeah!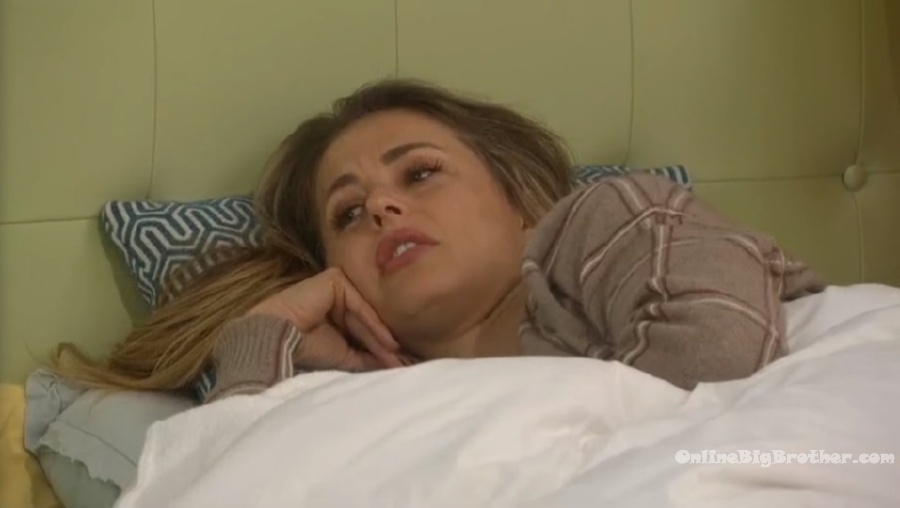 Havenot room. Nicole and Cody.
Nicole – Enzo definitely wants to keep Tyler which makes sense and I think it makes sense too. Cody – honestly, Nicole .. if Enzo was like we should keep Tyler .. we should keep Tyler over Christmas but .. I can't get my head around.. Nicole – I know. Nicole says that she was thinking out all the scenarios. Nicole – and it seemed like Tyler staying was better. If Tyler never puts Enzo up we're in a good place but we need to make sure that .. Enzo needs to play into.. Cody – That is what I f**king said to him. I said Bro you need to be f**king on it. If Tyler is going to stay you have to make sure that you will never be on the block. There is a chance that Nicole and I could go up and if one of us win the veto .. you need to stay off the block. It cannot be you that goes up. Nicole – he has to become Tyler's new number one. Cody – we need to win this veto.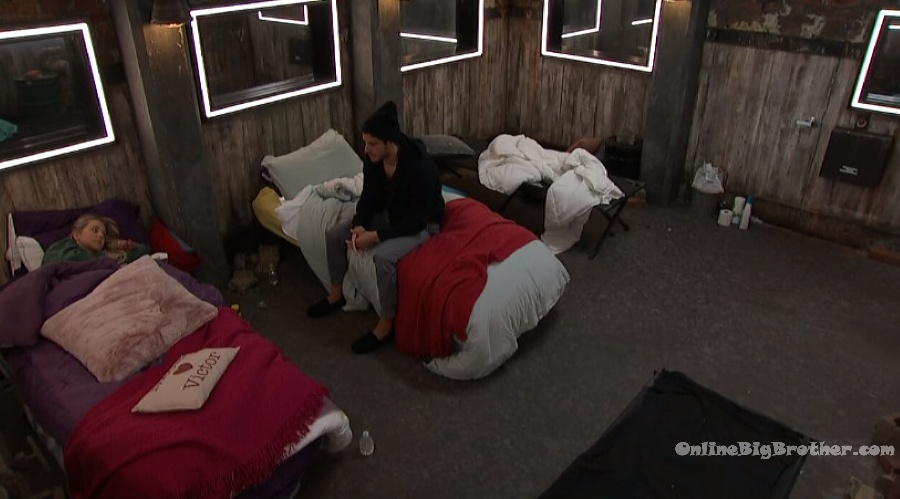 8:54pm – 9:17pm HOH room. Enzo and Memphis.
Memphis – we need to GUN for the Veto. But its almost like for me and you… Wise Guys till the end .. its almost better if Christmas wins the veto and pulls herself off .. which at that point he is going to put up Nicole as a pawn .. and Tyler goes home with all our votes. If we win, they stay the same .. Tyler still goes home but we can't throw any red flags to Cody. So what if he is like guys Christmas has to go.. then we're in a tough bind. And we have to say no, Tyler has to go. Best case scenario is if Christmas wins. if Cody wants Christmas to go.. I don't want to ..like we can't go against him (Cody).. but I think we can convince him (to get Tyler out). I think he will be fine with Tyler going because he is a beast. Some times you just have to push people the way you want them to go. If we can get this veto.. the next week its Me, You and Christmas against Nicole in the HOH next week. Cody joins them. Memphis – with Christmas I am trying to keep the peace because I really want to tell her to go f**k herself. The rehash the events of the triple eviction. They all agree they need to gun for the veto. Cody – we need to make sure Tyler doesn't win. We need to beat him.
9:50pm – 10:40pm HOH room. Cody, Memphis, Enzo, Tyler and Nicole.
They're reminiscing about past events of their previous seasons. Nicole talks about her experience on The Amazing Race with Victor.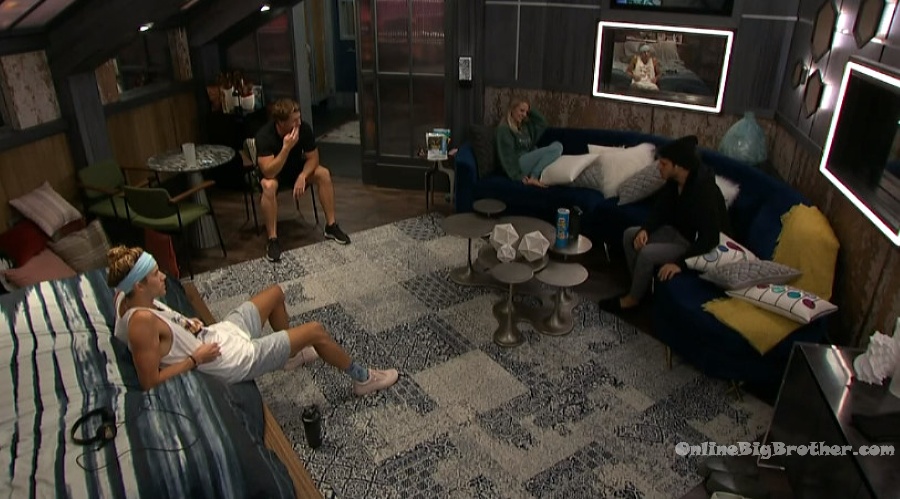 10:45pm Bedroom. Memphis and Christmas.
Christmas – I just don't want you to go up in place of me. Memphis – yeah but we have the votes. Christmas -I know and trust me, I want all the wins I can get. I think after the veto and the noms are locked I think its important to figure out the hiearchy and what happens next week and who should stay and who should go because at this point I think about not next week but the week after. Memphis – I am not thinking that far ahead. Christmas starts talking out what if scenarios for next week and the week after. I just want you to think about it. Memphis – I think about it .. right now I am just focused on tomorrow.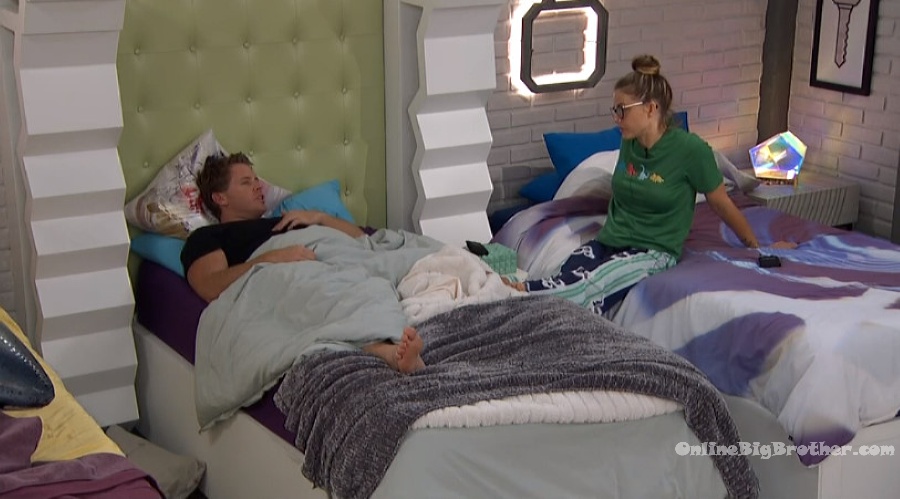 11:30pm – 12am All the house guests are in bed. Enzo and Tyler talk about what the veto comp might be. Enzo – did you talk to Cody about noms? Tyler – no, not really. Enzo – you're like f**k it, right!? Kind of upset! I am upset by it too man. I am upset that everyone is f**king going. Enzo – tomorrow is the POV and then from there we take it. I'm not scared. Tyler – I'm not scared. Enzo and Tyler go to sleep.
12:05am Cody comes out of the diary room and heads up to the HOH room. Big Brother calls Enzo to the diary room. All the other house guests are sleeping..
12:30 am Cody reading his HOH letter from home.
12:50 am to 5:20 am Everysleeping YO
9:30 AM everyone up.
Show your support by making a donation.
If you're enjoying our live feed updates this season, please consider donating.
Any amount is greatly appreciated! Your donations go directly to paying the fees required to run this site.