Head of Household Winner – Cody
Have nots – Nicole
Nominations –
Power of Veto Players are –
POV Host: –
Power of Veto holder –
Power of Veto Ceremony –
Live feeds —-> Grab your Live feeds here. Try it free.
Rank the houseguests —-> Big Brother 22 Ranking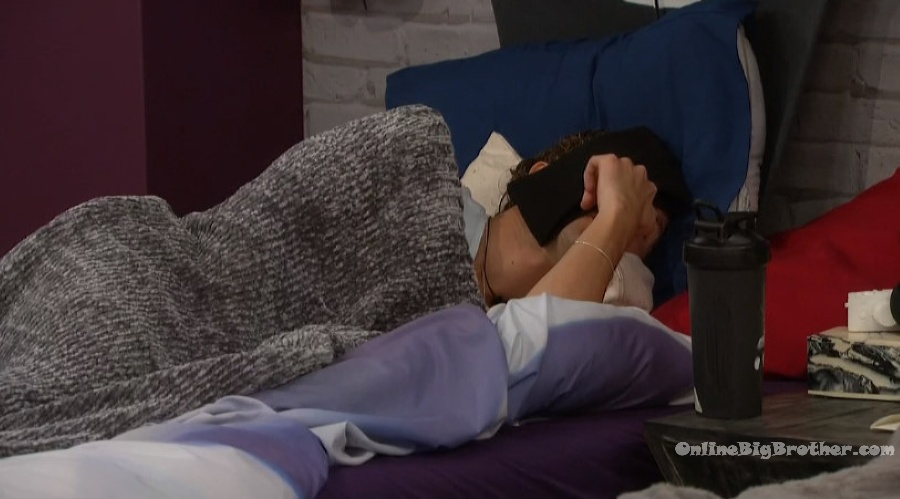 10:09pm The live feeds return.
Tyler – I was honestly just thinking that I didn't want Nicole winning that next HOH. I was just putting Dani up because I wanted to get Dani out. Enzo – but what are you upset about? What happened? Tyler – No I just feel like sh*t because I voted different than you two. Than you and Cody. Enzo – why? Whatever the f**k YO! I just want what Memphis wanted. I was like I don't want to ruffle any feathers. She's a champion! I get it! I was like I ain't f**king with Memphis. I'll just take the easy road out. Go with Memphis and that is it YO! Tyler – I just thought you guys were thinking the same thing. I didn't get a chance to talk to Cody. Enzo – it is what it is. Thank god Cody won! Enzo – yeah.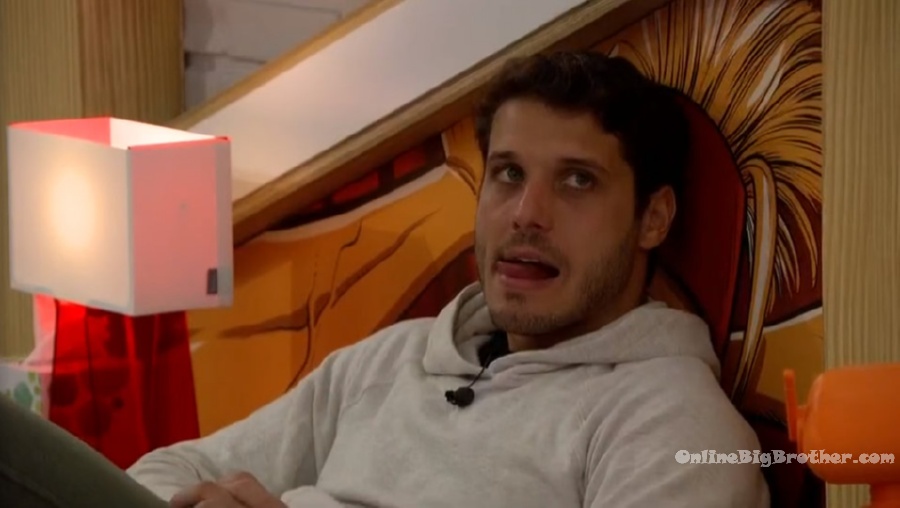 Bedroom. Cody, Christmas and Nicole
Nicole – he was first HOH so maybe they're giving him a basket. Cody – who? Nicole – Memphis. Cody – I really hope they don't give me all that junk again. I don't know what else I would get .. I just don't want all that candy. Nicole – tell them to give you healthier options. Cody complains about all the candy he still has left over from his last HOH. Nicole – oHhhh.. that is a terrible problem to have!! I just have too much junk food because I keep winning.. ahhhhhggg.. Cody – don't take out your frustration on me. Take it out on yourself .. don't take it out on me. Nicole – I'm NOTTTT!!!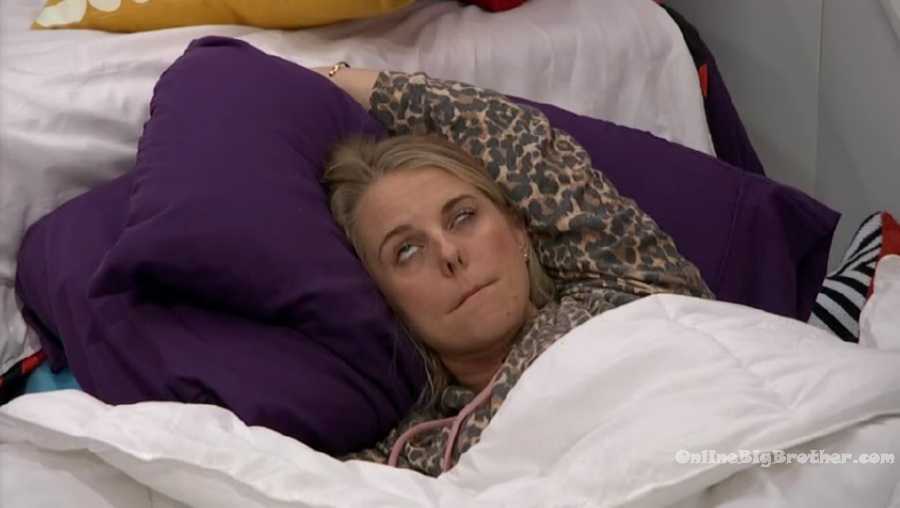 10:25pm – 10:40pm Memphis comes out of the HOH room and joins them. They talk about how Victor got evicted 3 times on his season. Nicole – that's why he got America's Favorite .. he was the underdog that just kept coming back. Memphis – who is winning America's Favorite? Nicole – DaVonne or Enzo. Cody – I think Memphis has a good shot. Memphis – yeah right!?!! Yeah right! That would be a cold day in f**king hell!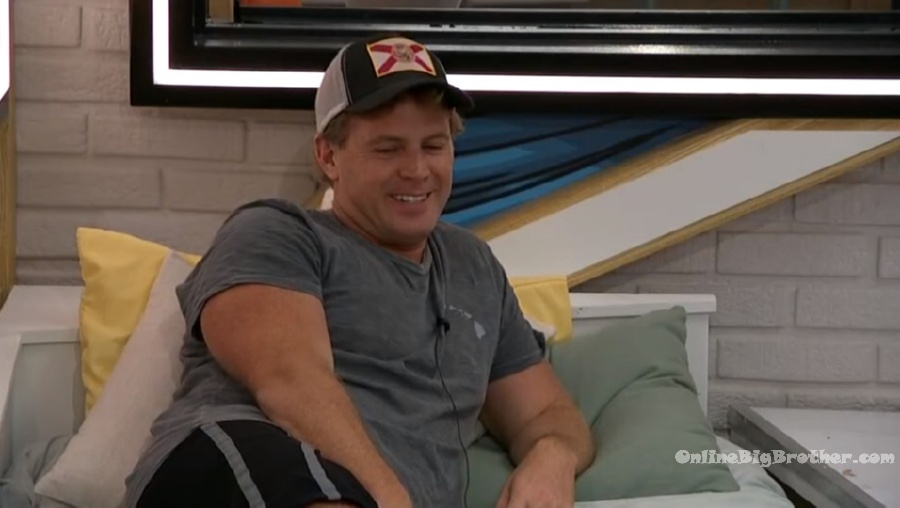 10:46pm – 10:51pm Bedroom. Enzo and Tyler.
Enzo – when its your time .. its your time! That's all I know. YO! When its my time ..I'm a be a little upset and I'll walk the f**k out. That's it. Tyler – it happens man. Enzo – that's it. Yo! Only one person wins this sh*t. That's it YO! Tyler – just have to win comps now Bro! Enzo – the best thing you can do is win POVs. Man you want to be in that final 4 HOH. You want two cracks to get into that final 3. Tyler – bro that is kind of crazy not to make it. Enzo – say you win next weeks HOH.. then you can't play in that final 4 HOH. That's why I was like Damn. So then you only limit yourself to that POV.. that's it. It doesn't matter whos on the block at that point ..everyone is gunning for that POV. And then you have the power to pick who the f**k you want too! Tyler – we're so f**king close! Enzo – So close! I would never put you up YO!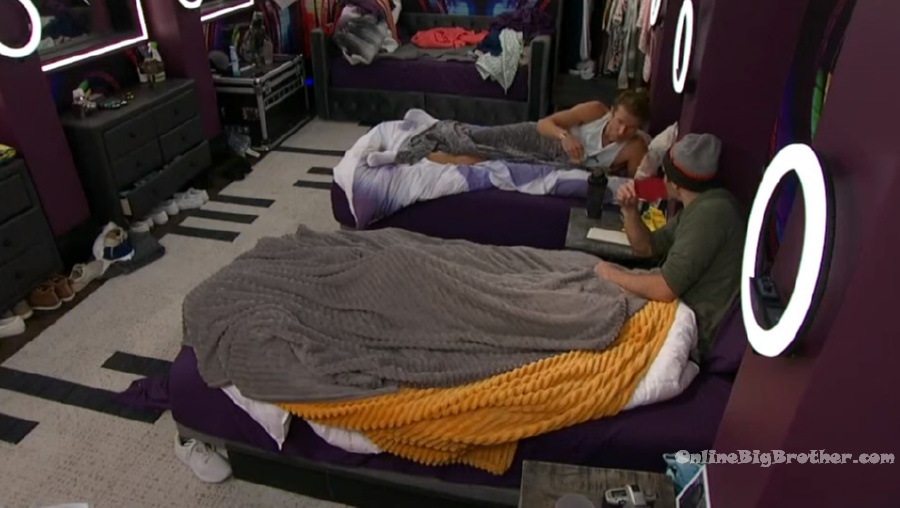 Bedroom. Cody, Nicole, Tyler and Christmas.
Christmas – people on the outside world and having millions of opinions on a fraction of what they saw. Cody – that sh*t doesn't even phase me in the slightest. Certain things I'll be like oh that's annoying but I'll brush it off in like a minute. The people don't understand because they're not in here constantly. Like they have no idea what its like in here for any of us. You can watch the feeds as much as you want .. but you're not under the duress and psychological duress that we're under. We are in a situation that takes anything normal and makes it un-normal. Seeing people talk and seeing people hang out.. and seeing people going into a room messes sh*t up inside our heads. We're living in a fantasy world and people that watch the feeds think they get it .. and they just don't! Or they watch the live show which is like a percent. Christmas – or not even ..like half a percent.
11:10pm Enzo and Tyler get their HOH baskets. They bring them out to the living room to show everyone what they got. Memphis reads his HOH letter and then Tyler reads his.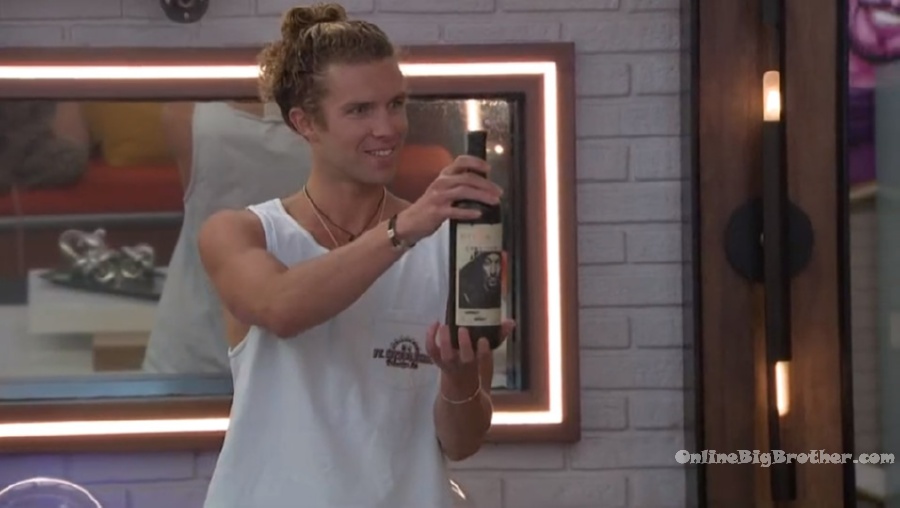 Nicole gets a little emotional in the bathroom.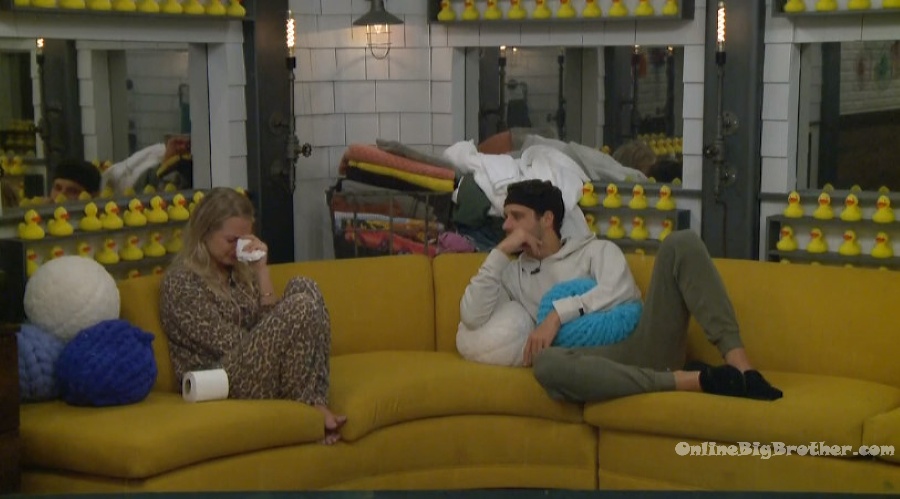 11:30pm – 11:40pm Bedroom. Nicole and Cody.
Nicole – Will Memphis take one of them down do you think?! Cody – That is what I am nervous about. That is why it is just important to just win the veto. Nicole – He is so good at comps .. I don't get it! Cody – he is incredible. The thing is .. the only positive thing is I think he really wants Tyler. I really want Christmas. I am going to have to bullsh*t him. But the veto is just as important this week. Because right now we remain in control of the votes. If he wins it and pulls someone down .. then we don't have control. He has control. I don't care what your other competitions have been like .. get it together. Nicole – I know! Cody – short memory .. like you have to forget about everything else. I want to apologize when you were on the block next to Dani .. I had no desire to win the veto .. I wanted it to stay that same. Nicole – that's fine. Cody – I wanted her to go home. Nicole – well she almost won so.. Cody – no Tyler smoked her and then I passed her. Nicole – oh okay. Cody – I just think this veto is important .. then we send home Christmas and then Memphis is going to want Tyler. Enzo is going to want Tyler out. And then we'll do that .. OR Memphis. Like which ever one.. I think both are good. We could send home Memphis or Tyler. Cody – I want to clip her (Christmas) from all of them. I want to clip her from Enzo, Tyler. Nicole – I can't stand her. Cody – Enzo wants her out bad. Nicole – I can't stand him (Tyler)! He makes me vomit! Cody – he does the same things as Dani too. Nicole – He's so boring too. He is the worst. I am dead serious. I already didn't like him. Cody laughs. Tyler joins them and the conversation ends.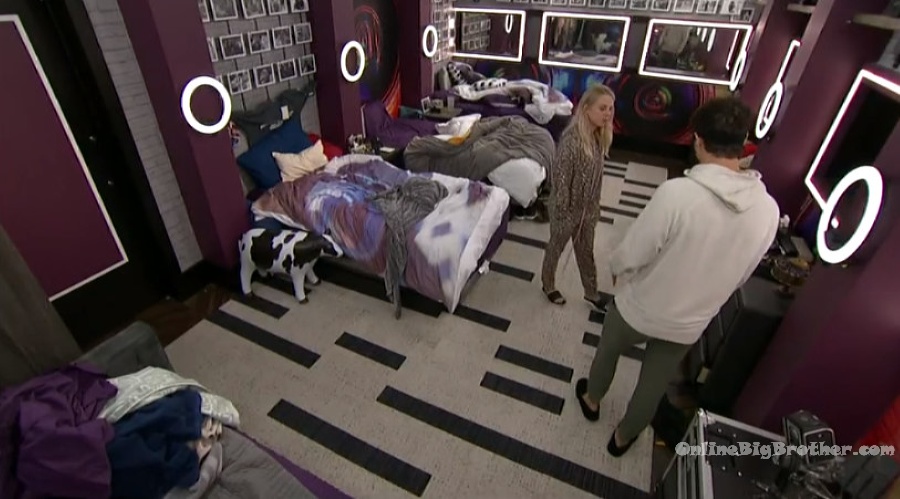 11:50pm – 12am Bathroom. Enzo and Memphis.
Memphis – I don't know for sure but I think he is going to put up Christmas and Tyler. Enzo – I think so too. We have to gun for that F**King veto! Memphis – that veto is HUGE! And then we leave Christmas on the block and just say hey.. We're the votes so it doesn't f**king matter. Enzo – and then you and I decide whatever the f**k we want to do. Memphis – we just have to make sure Cody is on that same page but we have to do it very lightly. Enzo – would you have been upset if Nicole went? Memphis – I would not have given two f**ks. It does not matter to me one bit. Nicole has won before so she is easy to vote out. Ezno – yeah keep her for now.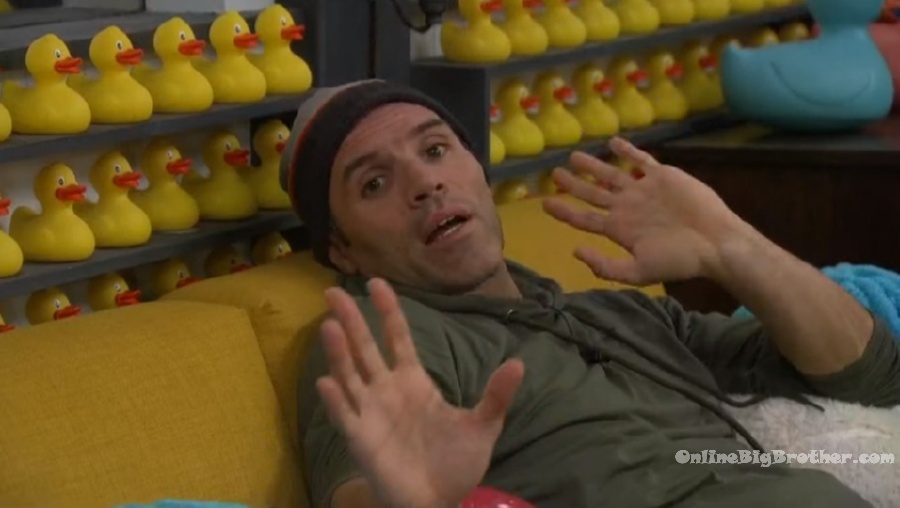 12:17am The feeds come back from being blocked. Nicole is the only havenot for the week. She is in the Havenot room all alone. Nicole complains about how she doesn't even like sleeping by herself at home. Memphis – should we take shifts. Cody and Christmas agree. Tyler says that he would stay with her. Christmas – every night one of us will sleep up there with you.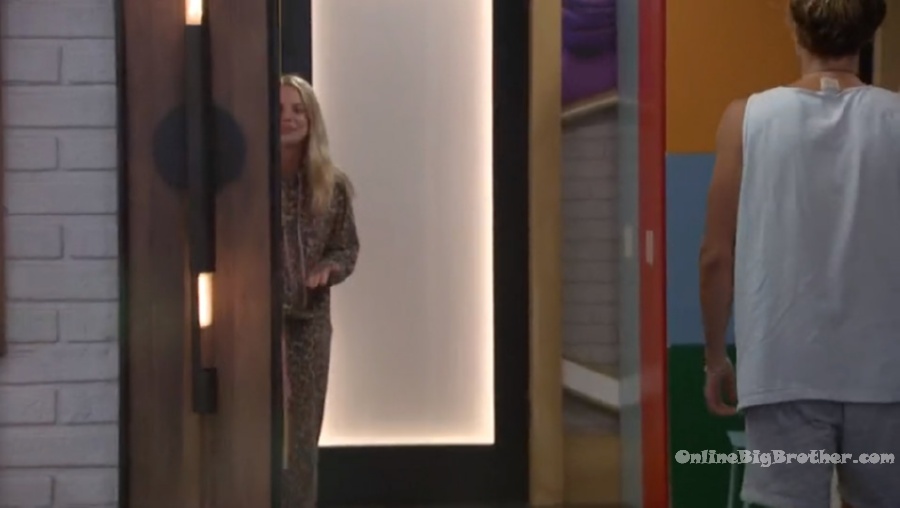 12:20am Havenot room. Enzo and Cody.
Enzo – Tyler is shook yo! He's shook! Cody – he f**ked up! He did he f**ked up and he's going on the block now. Enzo – Memphis is already talking to me like Yo we got to get rid of Tyler. I was like Na dude chill the f**k out! Cody – na .. he ain't getting rid of Tyler. Here is the thing that would make me nervous.. do you think that he would use the veto on her? Enzo – he better not because then he would have enemies with me and you. F**K that! He said he is not. He is gunning for the POV to keep the noms the same. That is what he is saying. That is what he is telling me. Enzo farts and stinks up the room. Memphis, Christmas, Tyler and Nicole join them and complain about how much it stinks.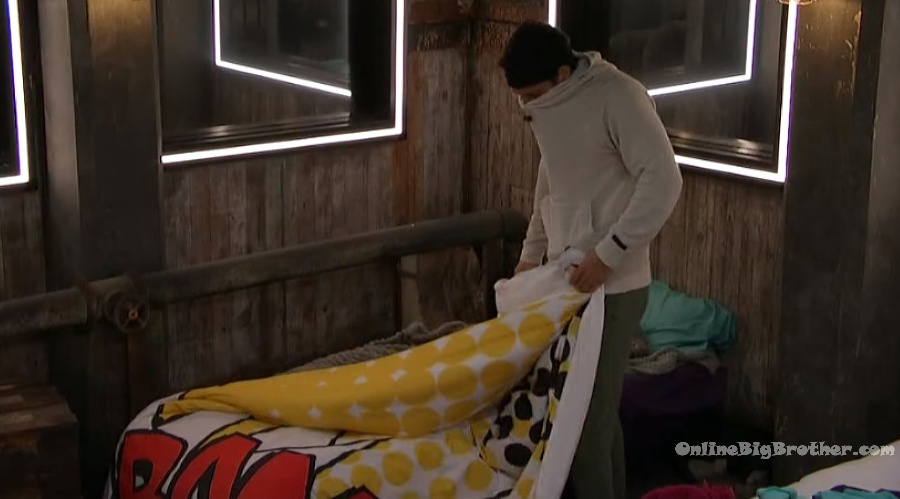 12:30am Bedroom. Nicole and Cody.
Nicole – it is fine because I know I am supposed to be safe this week but the veto is very important. But like why make me weak for the veto!? Cody – its all in your head. I won the veto on the havenot. If your mind is there .. your body will follow. Nicole – don't let me lose it this week. Cody – this is a very important veto. Nicole – I know. Cody – if you want these f**ker to pay.. Nicole – I KNOW! Quit trying to threaten me it clearly doesn't work. Cody – I am not trying to threaten you .. its lighting a fire in you. Nicole – a fire has been lit .. trust me! I feel like you don't believe in me and that is why I am sucking. Cody – that is so untrue. I am sorry that comes across that way. Nicole – I already know that I've been sucking and then I feel worse because I've been letting you down. Cody – you're not letting me down. Nicole – yes I am! Cody – am I still here?! Nicole – yes. Some weird a$$ .. I don't know how! You're really good and I've done nothing to help you. But if alls I can do in this game to repay you is take you to final two that is how I will repay you. Cody – don't even worry about final two. Lets just win the veto.
12:45am – 1am Havenot room. Cody and Nicole.
Cody and Nicole talk about the past events of the triple eviction and how its being virtually impossible to get through the game without being on the block. Enzo joins them. Enzo – YO we're here YO! Three against three! F**k it! They already took advantage of you. Cody – so they're (Tyler & Christmas) going to go up and we just need to win the veto and then we'll send her (Christmas) a$$ home and then Tyler will follow. Enzo – that's it! Cody – and then that final four veto is so f**king important. Nicole – that is more important than the HOH. That is usually the dates. Enzo – yo they wanted you (Nicole) out YO! Nicole – I know they did! They're dead to me. Cody – what did Tyler say about me? Enzo – he didn't say nothing about you. Oh in the bedroom.. he said I should have just followed you and Cody and voted umm.. Nicole – he is the one that tried to flip it. He is a dumba$$! Enzo – then he was in the hallway being like vote out Nicole .. Nicole. Nicole – what was their reasoning? Enzo – we just found out that Tyler and Christmas are very f**king close. Cody – he was always saying I am not that close with her. I want to target Christmas over Tyler. Enzo – she is too much yo! Cody – which one do you think? Enzo – at this point Christmas is all over the place yo! Nicole – if you would have picked her (Christmas) for havenot .. sh*t would have hit the fan!! Enzo – I don't want to deal with that no more. Cody – it is going to come down to .. with Christmas and Tyler on the block who do you feel more confident you can beat. I think its Christmas over Tyler. Enzo – in what? Cody – anything. Even though I want to clip her. Tyler and Christmas join them. Tyler – they're going to go from two people in the jury house to five!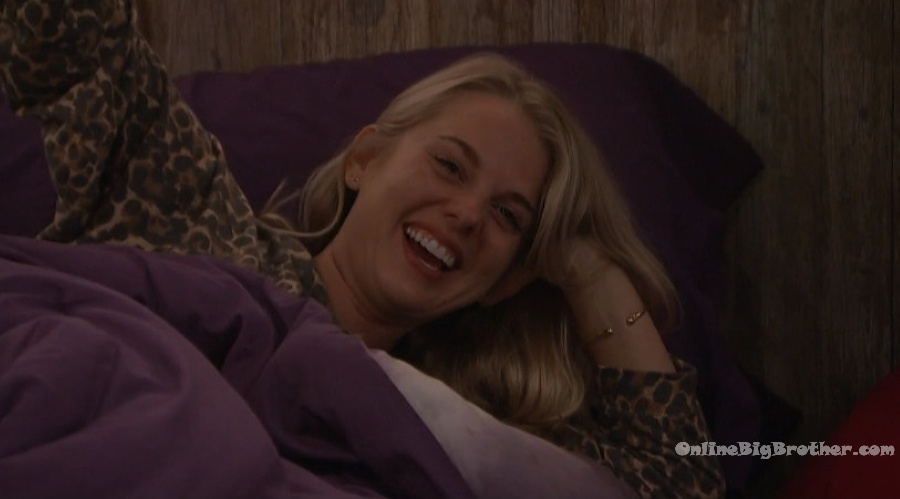 1:20am Big Brother blocks the feeds.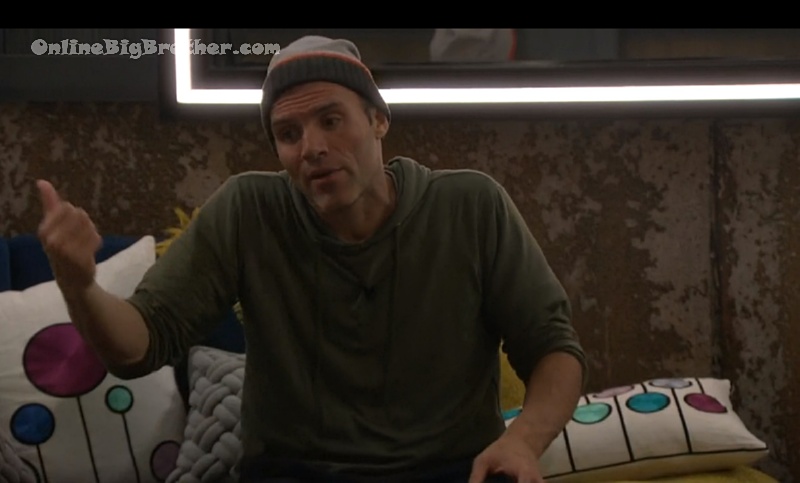 2:20 am Enzo and Cody
Enzo – we're knocking Christmas out this week.. she's done I don't trust her no more. Tyler will be a little salty to us. He might have the balls to put us both up if he wins HOH if we keep him.
Cody doesn't think so if the vote goes his way this week. Cody adds it might however show Tyler that him and Nicole are tight.
Cody says that Tyler will ask Enzo if he knew he was going up. Enzo needs to be straight up to him and honest.
Cody brings up the vote to get out Nicole.
Cody is going to make it clear to Tyler he's not voting him out.
Cody – this is how I'm going to play it with TY be like BRO that whole vote thing it is what it is you now made it easy if I don't nominate you everybody is going to be like what.. Memphis will say something Nicole
Enzo – and Nicole is voting out Christmas it is what it is yo you're straight Christmas is the target this week.. yo. I've had enough of her shenanigans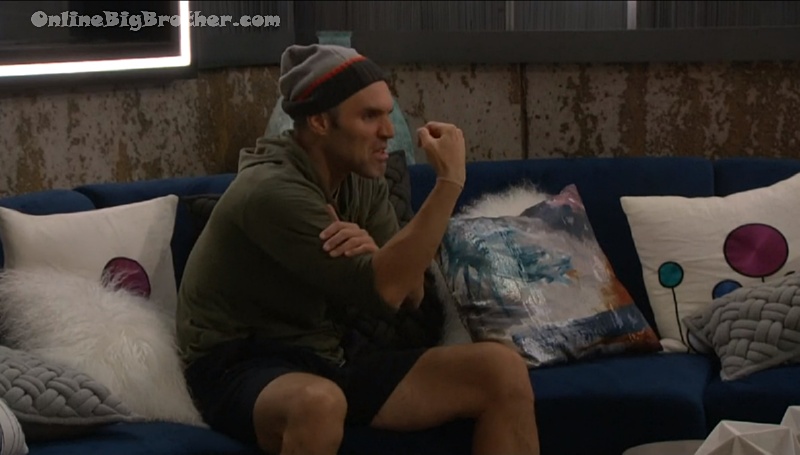 Enzo – She went like this.. when it was Dave versus Nicole.
Enzo explains it was in the hallway going into the DR. "when I'm about to cast my vote"
Cody – ohh because of the sh2t .. Dani called her out..
Enzo – she was like to Dani (Making that arm gesture)
Enzo – I was like calm the f** down
Cody – yeah yo don't be doing that sh1t she blows you away as a f**Ing player
Enzo – I kinda laughed.. but I was thinking this girls crazy yo.. she's crazy yo.. I don't agree with that I do love Dani yo that wasn't cool
Cody says the perfect events would have been Dani winning the second HOH last night taken out Christmas then Tyler would be able to take out Dani this week.
Cody says he loves Nicole her mom and Nicole's mom talk all the time
Enzo says he thought Cody came into the game with an alliance with Nicole already.
Cody – no her mom and my mom talked like a bunch we haven't talked at all (BS)
Enzo – yeah?
Cody – Dani was invited to her wedding before this that's how tight they are.. Derrick was invited there were people in my cast invited I didn't get invited.
Cod y – I just didn't connect with anybody on my season other than Derrick.. and Zach.
(Manic YO bro talk about the triple eviction)
Cody – in that second one
Enzo – she picks my name Enzo Enzo .. like what the f** are you doing yo don't make it that f***Ing obvious YO.. F** yo .. she's like I pick Enzo .. she's like wait do I still get Enzo she's like wait I picked.. I was like YO calm the f*** down YO I was like YO someone has got to go home yo I can't o more with this sh1t I was like YO we're just about to get out of the triple eviction unscathed beautiful .. like YO get the f***.. I'm like C'mon yo I was shook.. she's like I still get Enzo right I said it first. I said it first
Enzo – I'm like YO
They talk about the second Veto competition.
Enzo says he would only use the veto on Cody nobody else he doesn't give a sh1t "YO"
Enzo says he likes Tyler and Memphis but they are not Cody "yo" he says Tyler might try to chop him because he knows he can't compete against their relationship.
Cody says he's nominating Tyler.
COdy – Christmas went to Nicole and was like do you think he'll keep the girls off the block this week.. what nominate you Memphis or Tyler That's that three people I'm going to nominate are you nuts
Enzo – she's going to have a bird that girl YO.. she's scares the sh1t outta me now she's got the stink now she's like Dani now and I don't want to say anythign to her no more.. I don't
Cody – that fact that she didn't come to you with Tyler it shows where she's at she's. The thing she doesn't know is you've known about the committee this entire f**Ing time
Enzo – no one knew.. That alliance is sh1t now. Slick 6 was sh1t
Cody – YO these big alliances did exactly what these big alliances did carry you to this point
Enzo goes on about not trusting Christmas anymore "She's got the stink I want her out that's it"
Cody says Memphis is in a tough spot now because someone he's with has rubbed Cody the wrong way "Like Tylers a beast but Christmas has been running around doing a lot of sh1t and now that Christmas had this thing with Tyler they need to get split up and I think it's Christmas"
Cody – right now I'm 60-40 for Christmas, to be honest .. Tyler if he's on the block like I feel way more confident we beat Christmas than beating Tyler"
Enzo – why not put Nicole up as a pawn. Nicole and Christmas
Enzo – if Tyler is that tight with Christmas and wins the veto and pulls Christmas down and Memphis is going up I don't want to be in that situation because Tyler and Christmas have the votes to send out Nicole
Enzo – yeah..
Cody – I would rather put up Tyler and Christmas and one of them have to f**Ing go
Enzo – if we keep Christmas in this house.. Christmas and Tyler to me are like .. they don't give a f** they'll come after us.. I feel like I don't trust Christmas no more Ther'es a little bit of trust with Tyler
Cody – at this point protecting Nicole has been a liability
Enzo – she's not winning nothing I told her that today I wanted you to win this HOH
Cody – she's very fragile mentally so you have to be careful she's beating herself up.
Cody goes on about how Nicole feels horrible because she's not winning.
Enzo – she's getting knocked out sooner or later that's another reason why I wanted to keep her in this house that's a decoy for us we can hide behind..
Cody – yeah .. yeah ..
They start talking about Cody's music he got Papa Roach
Cody says playing Big Brother with Enzo has been world-class.. "YO YO YO"
Enzo – I play the game perfectly.. YO
YOYOYOYO YOY OYOYO YOYOYOOYOYOYOYOYOYOYOOYOYOYOYO OYOOY OY YO YO YOY O YO YO YO YO OY O like like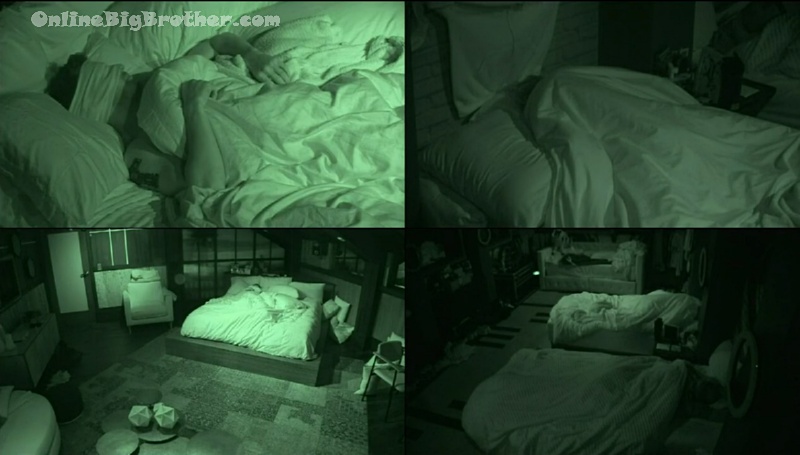 3:33 am Sleeping yo
7:46 am Sleeping yo
Show your support by making a donation.
If you're enjoying our live feed updates this season, please consider donating.
Any amount is greatly appreciated! Your donations go directly to paying the fees required to run this site.