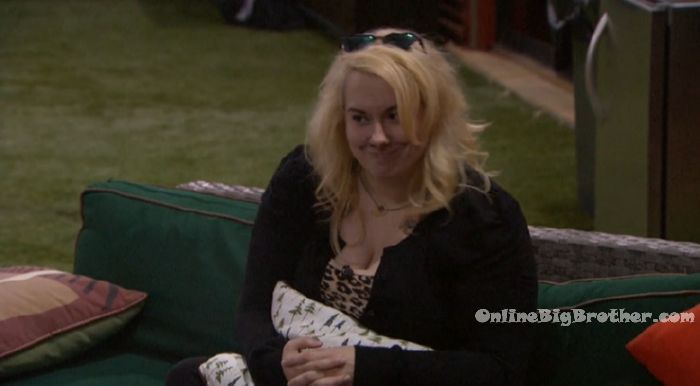 8:35pm Backyard – Danielle, Neeley and Kryssie are talking. Kryssie – I campaigned my d**k off! And I made it a point to point out that Cornbread is not campaigning. Danielle – I think we'll be okay. Kryssie – We better be. You can't go and neither can I. Neeley – I think you played your part perfectly and I think it worked. Danielle – I think just continue to stay positive and let it ride. Kryssie – she (Neeley) was right .. I had a crow sandwich today. Neeley – I think its going to work out. Danielle – just chill. Kryssie – Other people are rolling over and dying and I'm not going to do that. Shane, Justin and Jason join them.
9pm Monte and Whitney are talking. Monte – if you do win, we have to get Danielle out ASAP! We're got to get that group down. You might even be able to pull Kryssie. I can't, I put her up. Whitney – I don't think so. I'm just so upset that Cornbread is going home. That's not good for my game or your game. I said I do not want to vote house majority. Monte – then don't. Whitney – even is the house does switch I know they're gunning after Shelby. Monte – we need to win this HOH. It is monumental. Does Shane trust me? Monte – yeah, he's not going to touch you. I think we've got a good group. Monte – we need to get Justin and Danielle out of here. Shane wants to go to the end with me. If that's what he wants then he is going to have to get rid of Danielle ast some point. Shelby joins them.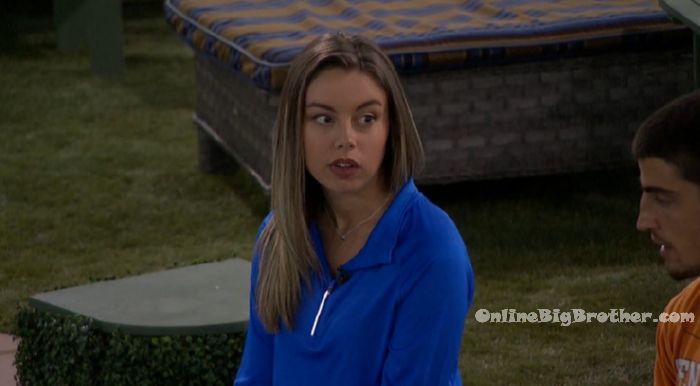 10:30pm Bathroom – Jason and Shane are talking. Shane – I'll vote out Cornbread. No, he's gone dude! I want Kryssie to be here. Jason – Scott b-lined it before I could talk to him. Shane – Scott is on board. We have the votes. Justin joins them. Jason – but if we don't have Scott and America votes with us its a tie. Shane – then Monte will pick Cornbread. Jason – no he won't. He was upstairs and Monte was saying I have to vote Kryssie out. That's what the house is doing. Shane – really? SO he lied to me? Justin – Kryssie f**king with us though… that's why he doing that. Justin – I don't trust Monte because he's tight with the girls and the plastics. Jason – now he (Monte) has nominated 3 people and not one of them is going home. He's scared as f**k. Shane – we're the night crew. We have each others back. Jason – Monte told me you've got to vote with the house and the house is voting Kryssie. Justin – Cornbread was saying racist sh*t. Shane – I don't want him to go home and be hated because he said one thing. Can I just settle something between us if you or I get nominated by America it isn't necessarily a bad thing. I'm glad you told me about Monte. I'm going to act cool. Justin – the girls are in his head. The plastics. Shane – What happens when you cut the head off the snake? Jason – that bit*h is gonna die.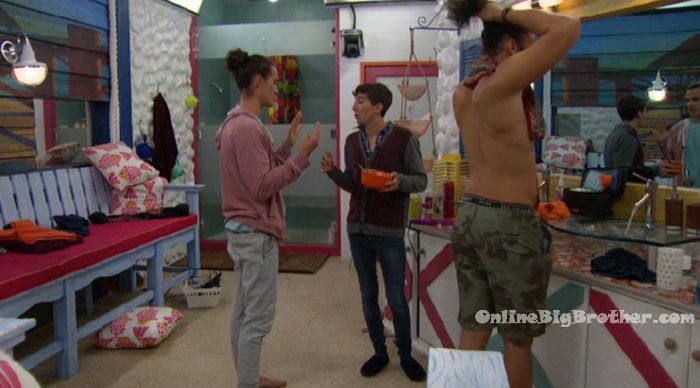 10:45pm HOH room – Monte – we're losing Cornbread on our team but he was probably the easiest member to lose. Jason – he is going to go after Kryssie and Shelby. Morgan – are you winning to split up Danielle and Shane? Monte – yeah. I'm worried about Whitney and Alex. Monte – we gained a good vote with Shelby today. Morgan – are you willing to split up Shane and Danielle? Monte – yes, I want to work with him without her. No one is going to target you. I haven't heard anyone say anything about you.
12am – 1:30am Hot Tub. Danielle tells Shane – I'm just going to let it play out. If it comes down to a tie… then Monte is really going to show where his cards lie. It is going to show his entire game because then we will know if he is lying to us or not. Shane – I'm going to freak out at him. Danielle – you cannot get emotional. You can't get mad at him. This is the week to get him out. Everyone is like Monte is a snake we have to get him out. He is the ring leader on that side of the house. Once he is gone the girls are going to be like what do we do!? Shane – they look to him for protection but his protection ends tomorrow. Danielle – whatever happens tomorrow happens. We should just act cool with Monte. Justin joins them. Justin – I would put Monte up. Shane – backdoor Monte. Danielle – we don't want to happen to Monte what happened to Jason. Danielle – one of us or Jason needs to win (HOH). Kryssie and Jason join them. Shane – this next week is going to be f**king crazy. Jason – he was saying America's going to put you up. Danielle – America loves showmance. They don't want us to go home. He (Monte) can't play HOH next week. This is the time to get him.
Watch the BBOTT Live Feeds FREE for 1 WEEK!
Click here for your: FREE Trial!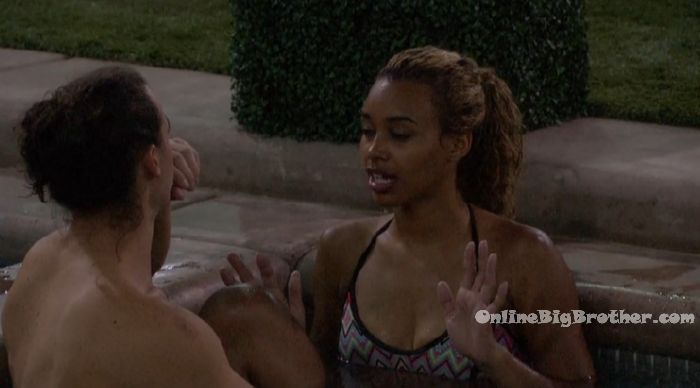 1:40am – 2:20am Danielle tells Kryssie – they should have used Jason to their advantage. America is watching and obvious they like Jason otherwise they wouldn't have put Cornbread on the block. America has more power than anyone else. America will see that I've been loyal. They respect that just like they respected Derrick for staying loyal to Victoria. Jason – I gave him the keys to the castle and he didn't want to do it. Shane – I just had an idea of who I want to put up and how I want to do it. It's amazing.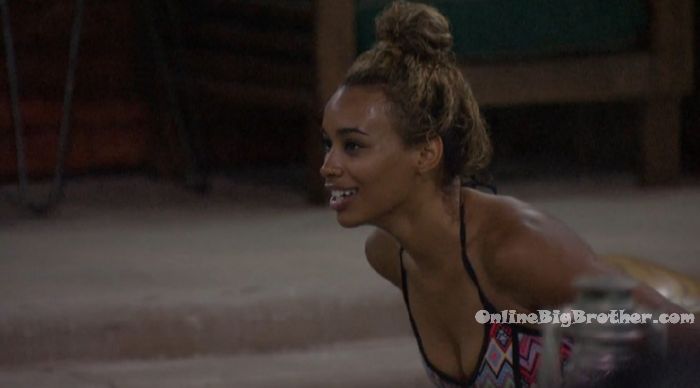 3am Lounge room –
Shane, Danielle, Kryssie and Jason are talking. They talk about the BB board the last house guests left for them and wonder if they will be asked questions about it. They talk about other things they should study.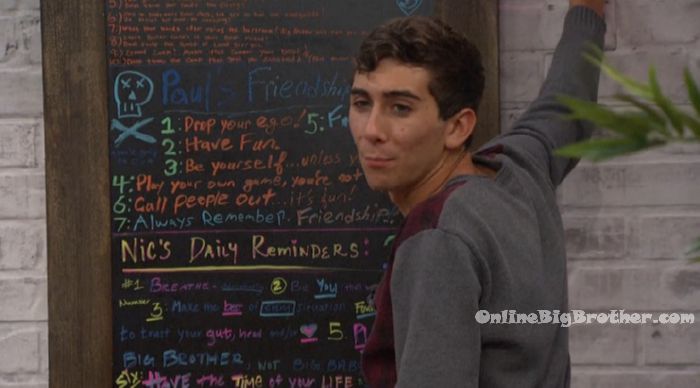 3:50am All the house guests are sleeping…