POV Holder:
Victor
POV Competition
Aug 13th
POV Used
?
POV Ceremony
Aug 15th
HOH
Victor
Next HOH
Aug 11th
Original Nomi1nations:
Paulie AND Corey
After POV Nominations:
? AND ?
Have Nots
Michelle AND Nicole
Watch the next week of the feeds for FREE – 1 week Trial!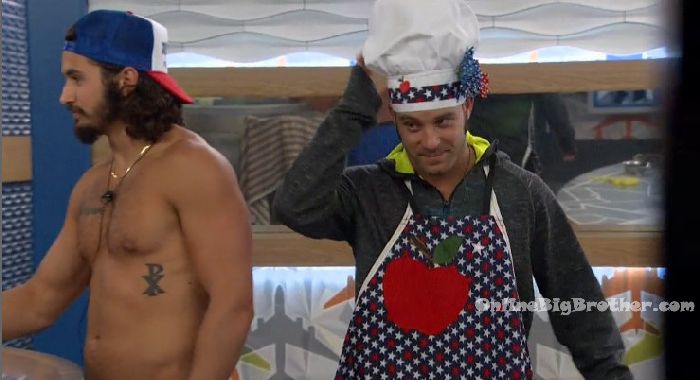 7pm – 7:25pm Paulie comes out of the diary room to make some pies as his punishment. He has to make a pie every time a noise goes off all summer long. They gave him a basket full of baking ingredients. Vic says he has to set the timer for 40 minutes and wave the flag until the timer is done. Vic also reads that Paulie has to wash all the baking dishes and put them back in the basket. Paul says FOOLS A BAKER! BAKES! They tell him to get baking. Paulie says he has to wait. They say fo the song or something? Paulie says yeah. Big Brother plays baby zingbot singing "O say can you see" Paulie says I've never baked a pie in my life! Paul asks can I see that roller? Paulie hands it to him and says can you just smack me over the head? Paul says imaging if they make you bake one back to back. They will make you do that. Paulie says well they will be sorely disappointed. Paul starts talking about crowd surfing at concerts. He says people will try and hurt you. This one girl started pinching me hard. …I kicked her. Big Brother blocks the feeds.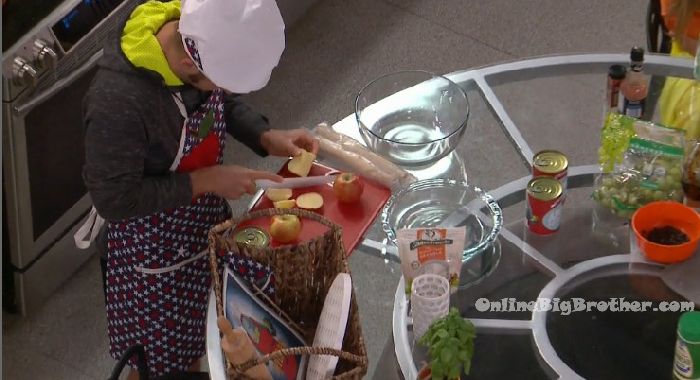 7:45pm – 8pm The feeds return to Paulie crying while waving his flag. Paulie says his ex told him they couldn't be together if he came on here. Paul says to deny that you don't have feelings. To act like the tough guy. When you get your heart broken it sucks. I don't care what stigma is out there that guys can't cry. I cry a lot. You're not a baby, you're a human being dude! Paulie says exactly. Paul says honestly it makes me sad because I know you're a good person and I know there is someone out there that wouldn't put you through that. If she didn't say yes to you, there is someone else out there that would. Paulie says with my family and group of friends I'm always the tough guy. Nat says crying isn't a weakness. Paulie says I am a crazy f**king romantic when it comes to my sh*t. Part of me wants to say f**k all of this and go home where I have my family support system and go up to her door… Big Brother blocks the feeds. Paulie says I'm going to need a good work out… balling my eyes out about my god damn ex again.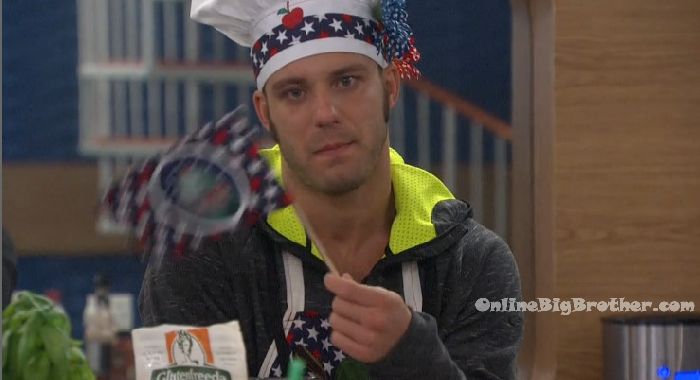 Paulie crying over his ex while he waves his pie flag@bigbspoilers #bb18 pic.twitter.com/mTxTYLeyzi

— Dawg (@DawgsBigBrother) August 15, 2016
8:10pm Pie is done!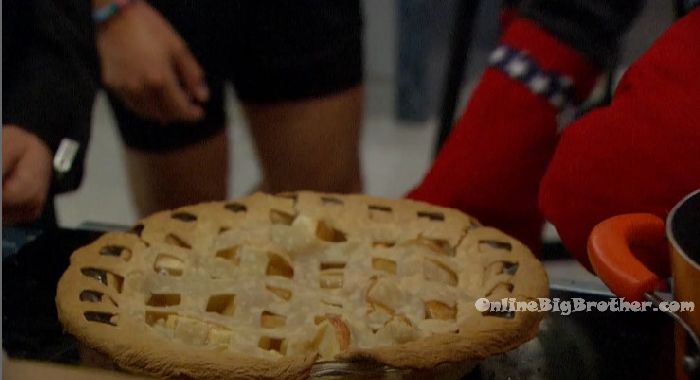 8:18pm – 8:30pm Big Brother plays the zingbot "O say can you see" – Time for Paulie to bake another pie. Paulie says it's fucked up because I ain't going to do it. I'm going to workout. Paulie starts running with Vic. (Looks like Paulie will get a penalty vote against him if he doesn't follow through with the punishment.) Big Brother plays "O say can you see" again. Paulie continues to workout. Corey asks Paulie are you not going to do it. Paulie says nope working out. Big Brother calls Paulie to the diary room. Paulie continues to work out and says can't a man work out! I told you I needed it! Big Brother blocks the feeds.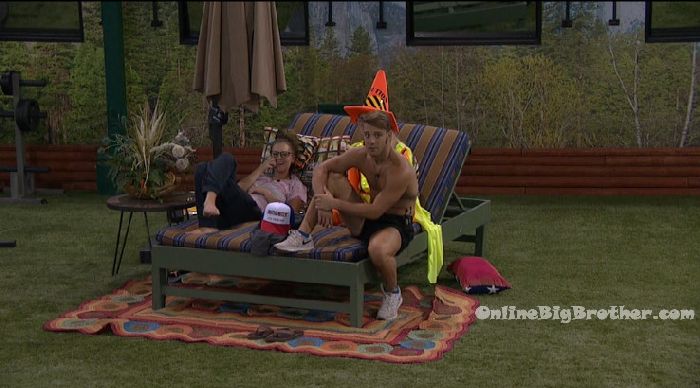 8:40pm – 8:50pm The live feeds return to Corey giving Paulie a pep talk in the kitchen. Corey tells Paulie the odds of me not winning aren't good. DOn't do this to yourself. Kill them with kindness. I've been through sh*t with my ex too. But you have to decide to be happy. You have a lot to be happy for. You're on a bomb a$$ tv show. You've got friends and family that love you. You signed up for this dude. You knew someone was going to screw you over. I knew I would be. Go out there and smile. Please stop. One of us is going home. That's fine. Yeah it sucks I'm f**King hurt by it. One of us is going out the door and I want one of us to be happy going out. We got screwed over. We thought we were winning this. I don't want you to go. I don't want to go either. If you go I am probably going next week. If I don't win HOH, I'm screwed. Paulie says I can't help but wear my emotions on my sleeves. The live feeds don't want to see you like this. They want to see the bada$$ Calafiore brother. Paulie says I will do it for you. Corey says I can't see you do this all week brother. Corey says What if you turn around and come right back in .. you got to save that face. Paulie says I definitely don't want to be that guy that is moping around. Its just been a crazy couple days. Everything is going to be okay. Corey says its all pride. Paulie says its the pride that we were feeling untouchable. Corey says Cody is sitting there saying don't be soft! Don't let one game determine your career. This you can only grow from. Paul asks are you exempt from one pie? Paulie says ah no. Paulie goes back out to run in the backyard. He says I'm not in trouble but I'm not going to be that D-hay.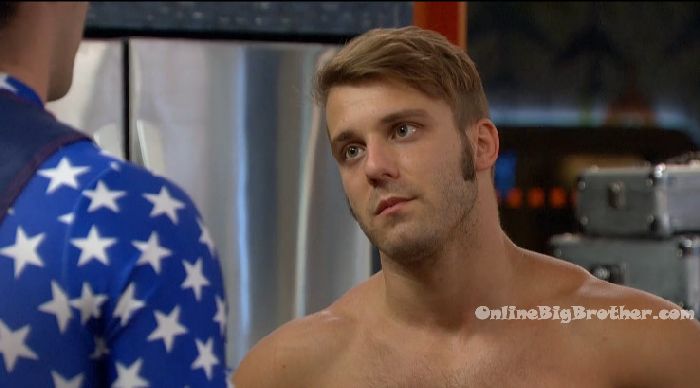 8:50pm – 9pm Big Brother plays the "O say can you see!" Paulie heads into the house to bake a pie. He says where the f**k are the extra pie sheets. He going to the storage room to grab them. Paulie starts baking his second pie. He says no one even ate the first one. Corey says he's about to eat some. Paulie says now I'm going to cry just because you're the man. They fist bump. Paulie says maybe I can convince him (Vic) to put James up. Corey says well if you do it, do it with a smile on your face. No one wants to see you unhappy. Paulie says I'm going to be a pro at baking pies.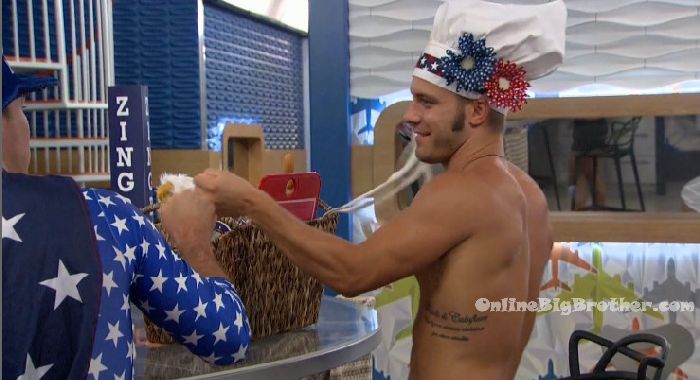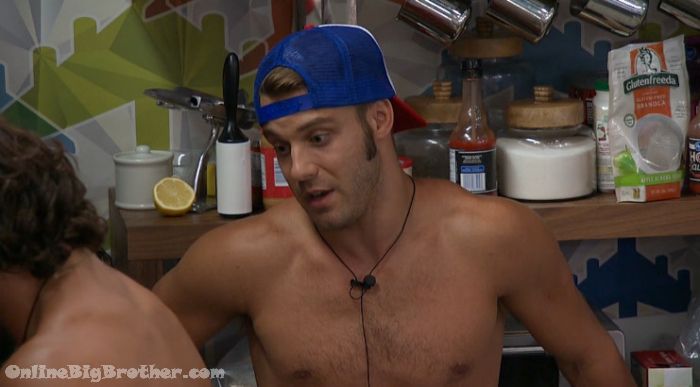 10:13pm Paulie and Victor
Paulie is swearing on his aunt whose dieing of cancer that he's not putting Victor or Paule up next week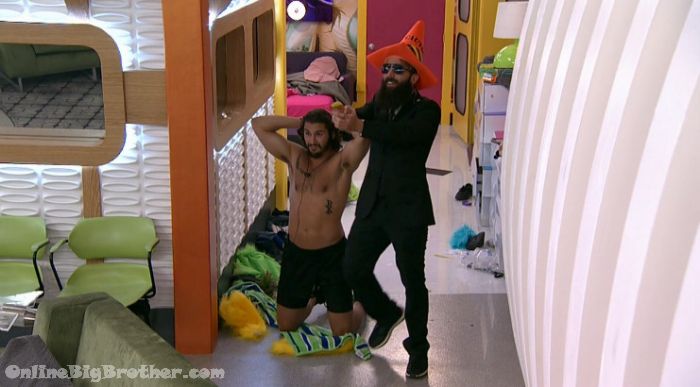 NON Stop check point clearing…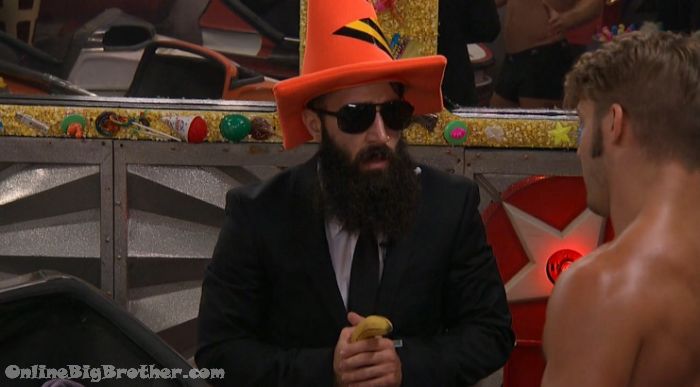 10:38pm Paulie and Paul
Paulie – I tried to make one more deal with Vic
Paulie says he swore on his aunt whos got cancer let him compete in a HOH he'll keep paul and Victor safe.
Paulie – I can't do 5 weeks in the jury house i'll go insane.. 3 of 4 I can f****g handle I don't wanna ruin the integrity of the game. If you and Paul make it to the end \
Paulie – I know I fu***d up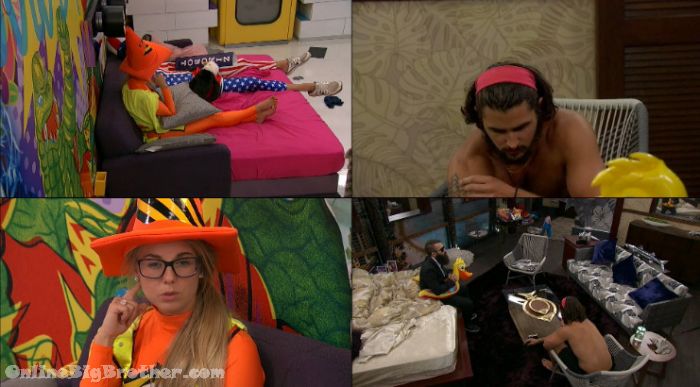 11:11pm
Nicole and Corey in the Tokyo room talking about the deal Paulie is giving Victor being good deal for Victor.
Nicole – he trying to get the boy back together minus james.
Victor and paul in the HOH talking about Paulie's deal being complete shit. They think Pualie should stop bringing up his aunt with Cancer.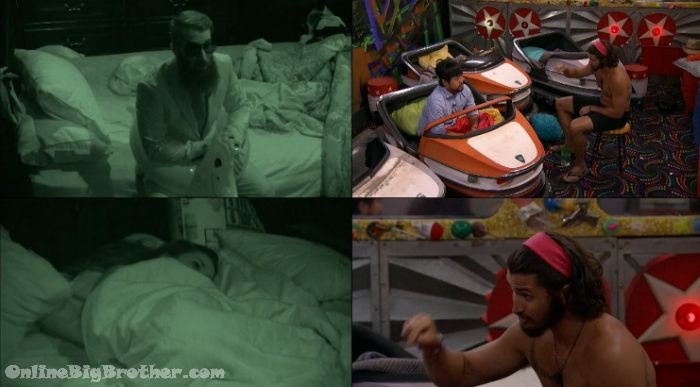 11:20pm
Paul telling Natalie Paulie is goign around saying he's after the person that stabbed him in the heart.. (James)
Victor telling James he's not falling for PAulie's deals
11:29pm Nicole and Corey in the Tokyo room still talking about how the deal Paulie gave victor is a good deal.
Nicole – Paulie will do anything.. are you ok
Corey – ya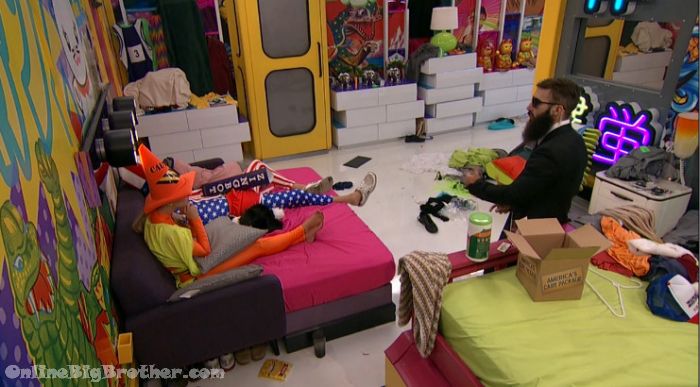 11:40pm Paul telling Corey and Nicole that nobody is buying into Paulie's campaigning and him using his aunt's cancer is just a mistake.
Corey is getting pissed that paulie is tryingt o get James put up and Nominated. Corey is not part of that plan.
11:50pm Natalie, James and Paul
Paul is warning them that Nicole and Corey are grilling Meech telling her all these lies that Bridgette made about both sides of the house but none of it is true.
Paul Corey is shitting his pants because ,… it's exposed again. he's saying I'm not on board … i'm not on board. I don't believe any of it. (Paulie's new plan is to get the POV to be used on Corey and James goes up)
Natalie says Nicole and Corey are desperate.
Paul- just make sure you tell Meech (To watch out)
Natalie – I'll talk to her tonight.
Paul – do it now that it's fresh because if it seeps in she'll go rogue.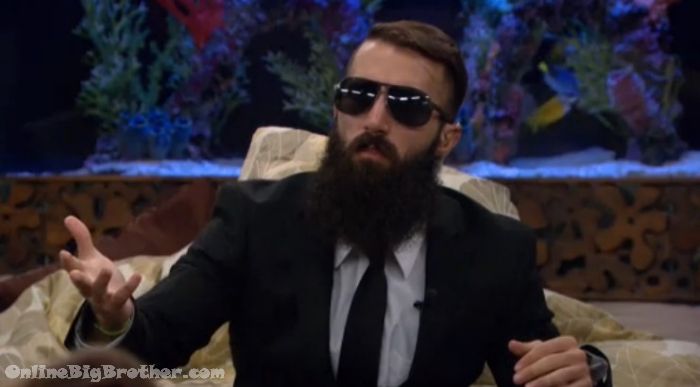 11:58pm HOH Paul, Michelle and Victor
Paul – you shouldn't believe Corey and Niocle..
Micehlle – I don't believe any of them
Michelle he's told me two plan Natalie and james
Victor says Paulie is guilt tripping him about his aunt that has cancers swearing on her that he's not targeting paulie or Victor next week. Paulie wants to go after James and Corey/Niocle do know about it they are just claiming they don't now.
They laugh at Paulie's argument he can't handle to be in the Jury house for 5 weeks but can handle 4 weeks.
Paul – Paulie says he needs the money for his family his aunt with Cancer..
Paule and Meech are wondering if they should blow Paulie up again.
Help Support Online Big Brother
Show your support and appreciation: Support OnlineBigBrother.com
HELP keep the spoilers coming. Show your support by making a donation.
"CO-HOH"
WEEK 4 – August 14th to August 19th
This winner automatically becomes Co-HOH, sharing all HOH perks and responsibilities for the duration of the week, including choosing 1 of the 2 nominees.
[polldaddy poll=9496376]