POV Holder:
Vanessa
POV Competition
Aug 22nd
POV Used
No
POV Ceremony
Aug 24th
HOH
Austin
Next HOH
Aug 27th
Original Nominations:
Steve and Jmac
After POV Nominations:
Steve and Jmac
Have Nots
No have nots this week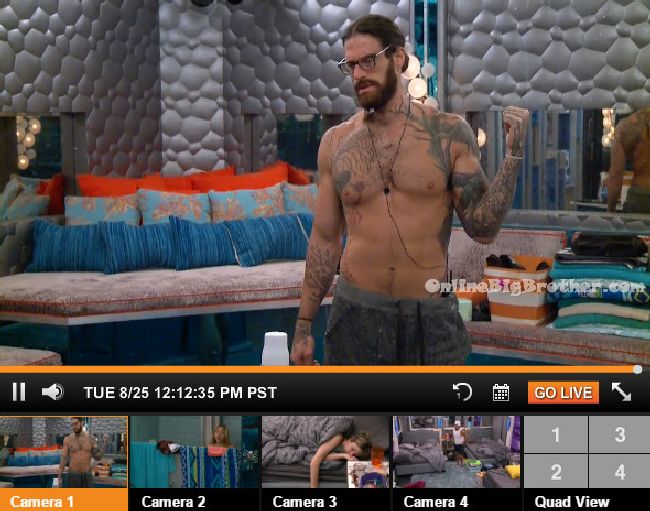 12:10pm Austin joins Liz in the bathroom after finishing his HOH blog and getting the camera from the diary room. Austin says that he gave a shoutout my friends & family, my wrestling friends and to the Bold and the Beautiful. Liz says oh my god! You want to be on there? Austin says yes. He says he talked about Judas and how he hope he is being precieved well. And talked about you and I. Liz says how we started out as friends. Austin says and talked about your Zing of course. Vanessa and Julia join them. Liz comments on how their (Julia & Liz) makeup is locked in the HOH room. Julia says I hate you.
Watch the NEXT WEEK of the Live Feeds for FREE! Click here for your: 1 Week Trial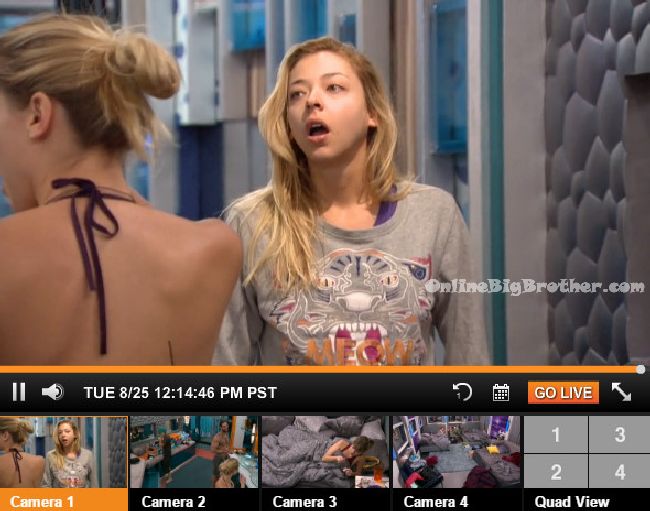 12:20pm – 12:35pm The other house guests start getting ready for the HOH camera photos.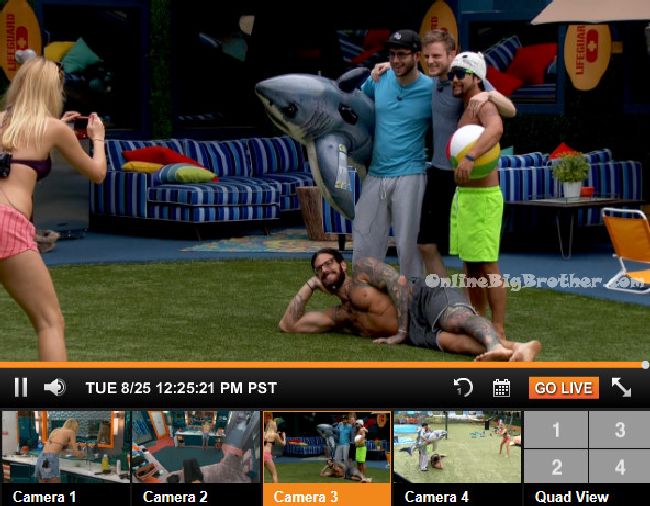 12:37pm Kitchen – Johnny Mac asks Vanessa did your talk with Steve go well last night? Do you want to talk any more? Vanessa says we're okay now. He's going to say the right things because he's on the block. But I'm not an idiot. Johnny says I'm going to say all the wrong things to you. If you ever want to talk. Vanessa laughs and asks you're going to say all the wrong things? Johnny says yeah, pretty much how I feel now .. I want to know .. like you're saying you want to move forward with me just for a jury vote I won't be mad at you because .. Vanessa says no dude! I've been saying it for weeks. Johnny says if I just go as it is now, you've got my jury vote and if I come back I am not coming after you. So if that's all you're worried about. Vanessa says no because logically its like you've said.. if you stay Meg and James have each other .. we have to work together or we're stupid. Johnny says and they have Steve a little closer than us I think. Vanessa agrees. Johnny says and pretty much my thing if I come back .. I have been screwed over by pretty much everyone in this house at some point or another. I can just put it on a hierarchy. There are 3 people that did it to me.. James & Meg did it to me.. and like we've had our differences but.. Vanessa says I do want to talk and I have some questions for further clarification which I think could definitely clear some things up.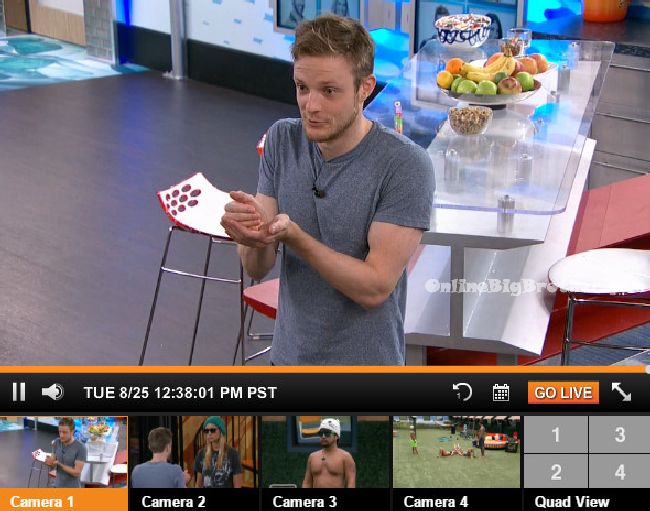 12:43pm Shameless Tresemme shampoo photo plug..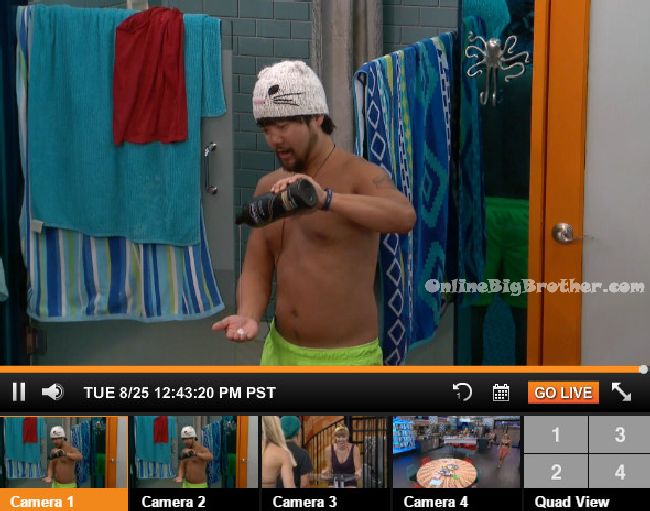 1pm – 1:30pm Kitchen – James asks Liz what's the most romantic sweetest thing a guys done for you? Liz says a guy took me to a trampoline thing and then had rose peddles leading up to the bedroom. James says WHOA! Liz says I haven't had many romantic boyfriends. Liz tells James to ask Austin that question about what he did for Jen (Austin's girlfriend coming into the house) last year for valentines day? Julia asks is he going to break up with her when he gets out? Liz says I don't know, I don't even want to think about it. Austin joins them. Liz asks who would be hated out of all of us? Julia says Steve. Liz says no Steve would be loved. The talk turns to whether or not someone will come back from Jury this Thursday. They all agree when you're at home watching you want someone to come back but being in the house they don't want someone to come back. Liz comments on how no one from jury has ever won. Steve brings up how Gary from BBCAN1 came back and almost won but Topaz mistakenly voted for the wrong person.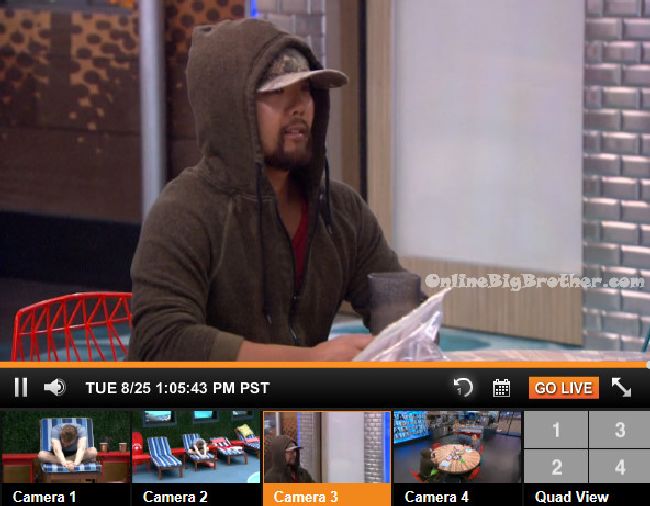 1:05pm – 1:40pm Backyard – Steve joins Johnny Mac. They talk about religion and voting. Johnny says he's never voted. Steve tells him he needs to vote. Johnny says I'm okay with the way things are going. They continue to talk about random things and then Steve heads inside. Johnny hits around the pool balls and then moves over to watch Austin work out.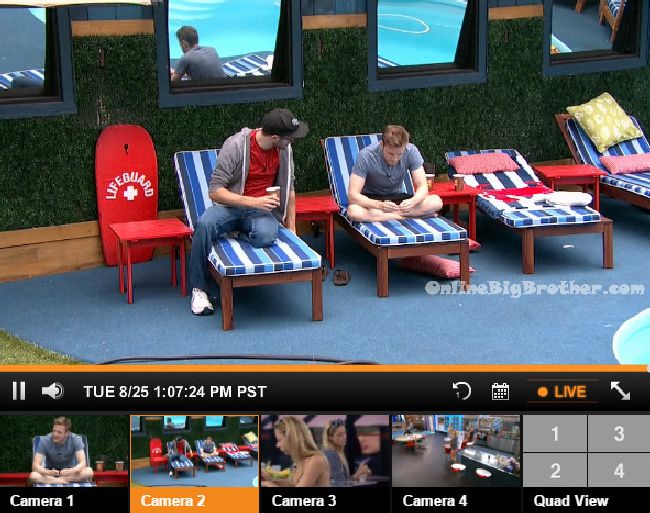 1:40pm – 2:10pmJames and Meg come out to play a game of pool. James says I'm going to hurt you so bad in this game. Julia says don't threaten her! James says I dont take it easy on you when we go camping so why would I take it easy on you in pool? Meg complains about how Steve kept going in and out of the havenot room last night while they were sleeping. I almost yelled at him.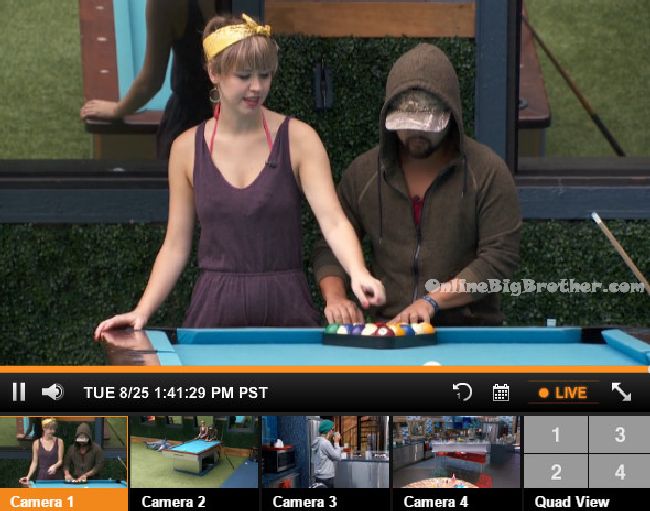 1:43pm – 1:50pm Bedroom – Vanessa tells Steve that I think you and I need to continue to hate each other. Look at how they handled you and Johnny. Steve says you had every right to feel the way you did. Vanessa says its better if I act like I don't forgive you. Steve says I kind of already got the impression that you were doing that. Vanessa says no I was really mad. You hurt me the worst of anyone .. motherf**ker. Steve says I'm sorry. I just avoid confrontation. Vanessa says that Johnny is campaigning. He doesn't realize I'm voting with the girls. Vanessa asks do you think Johnny is trying to bait me to use it against me. Steve says he is a doctor, he doesn't know big brother. Steve asks can I ask what he is saying? Vanessa says no because you're on the block and you have incentive to go tell other people. Vanessa says I don't know if I should go tell those people.. Steve says I don't know what he is saying. Vanessa says she will probably keep it to herself. I actually think its best case scenario if he come back. Steve asks why? Vanessa says because he is willing to make big moves. Vanessa leaves and goes into the comic bedroom.