POV Holder:
Big Meech
POV Competition
July 23rd
POV Used
NO
POV Ceremony
July 25th
HOH
James
Next HOH
July 28th
Original Nominations:
Frank AND Bridgette
After POV Nominations:
Frank AND Bridgette
Have Nots
?
CBS All Access: Live feeds are only $5.99 per month – Try it FREE for 1 WEEK!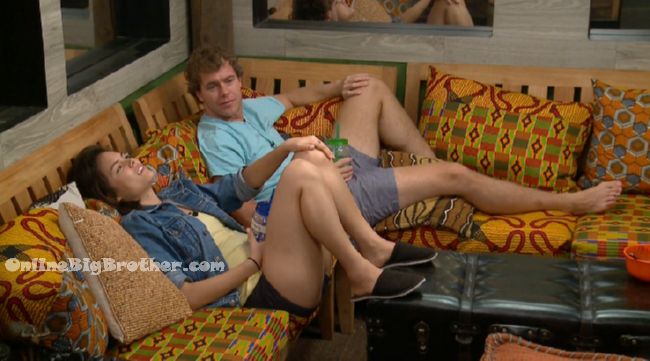 8:00pm Bridgette and Frank
Frank – I hope they all eat sh1t and die.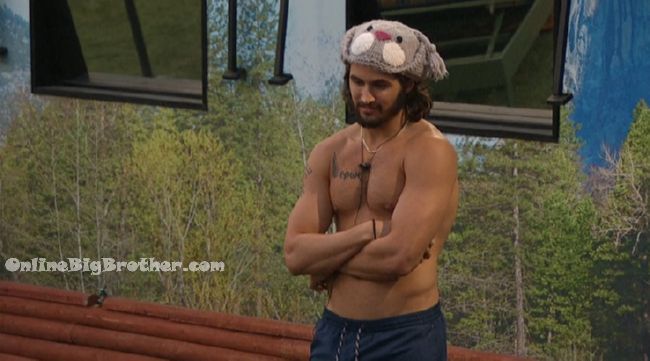 8:02pm Victor and Paulie playing pool
Victor saying that they can use Bridgette to do the dirty work for them.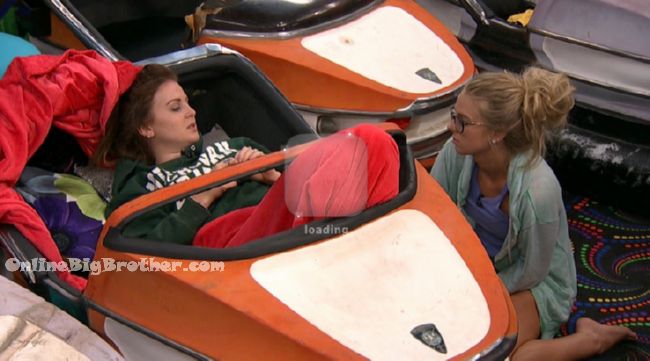 8:04pm Have nots Michelle and Nicole
Talking about Frank probably coming back into the game.
Nicole says she wanted to wake people up but everyone told her not to.
Michelle says she was second to last to go in.
Nicole – there was a huge line.. I didn't know the answer.. Nat told James right away.. People were looking over other people's shoulders.
Nicole had to get Victor to enter the code in.
Michelle – I'm so glad I missed it
Nicole mentions that Zakiyah and Da'Vonne are on the hammock.
Michelle brings up Bridgette talking to Z, her and Da
Nicole says he went to those people and told them not to trust me
Michelle – I trust you 1 hundo
Nicole – i trust you 1 hundo
Feeds flip to Victor and Paulie in the Storage room.. Chit chat.
8:12pm Back to the girls.
Nicole – it's hurtful he's going to my friends talking Trash.
Nicole says Frankie did it during her season.
Nicole says the things Michelle said about Bridgette are not bad, mentions the Bridgette Crocker comment.
Nicole says Cody used to talk about her zits and Derrick said something about her body not being nice.
Michelle says she feels better if Derrick said something.
Nicole says she loves Derrick she's not mad people say things in the house.
Michelle starts rehashing all the BRidgette conversation from this morning.. Seems like Michelle still feels the same about Bridgette..
Nicole says the worst thing that has been said in this house Is what Bridget said to Michelle and what Michelle says like Bridgette Crocker is cute.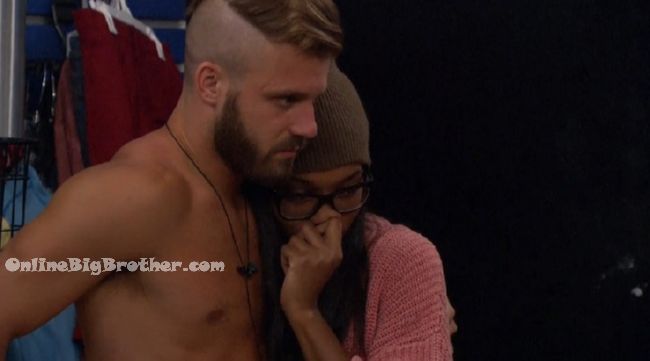 8:19pm Zakiyah and Paulie
Paulie has been speculating whether or not Frank/Bridgette have it.
Paulie saying the HOH needs to be won on Thursday so there control on their end.
Zakiyah says she's been hearing things around the house, not about Paulie.
Zakiyah says Frank told her only trust PAulie don't trust Nicole.
Zakiyah – I don't know… I know't know if he's saying that sh1t putting mess in my head.. She said she had a final deal with Frank and Bridgette.. She's riding the fence..
Paulie – is it something I should talk to Corey about
Zakiyah – I don't know
Paulie – I wouldn't believe anything they say
Zaiyah – that hurts my feelings I trusted her..
Paulie – he wants to give Bridgette the best chance
Zakiyah – I still want her gone
Paul comes in..
Paulie says he'll talk to Frank and then Corey about it
Paule – Nicole?
They nod
Paulie says he's got suspicions about Da
Zakiyah says Da wants Bridgette out.
Paul – we got to be smarter who we tell sh1t too.. If it wasn't for Natalie and Vic ….that wouldn't have happened.. why are you so f***g stupid
Paulie – Homeboy has got to go (Homeboy = vic)
(Paul says Natalie and Victor helps Frank and Bridgette find out how to get into the phone booth)
Paulie says it doesn't matter they all have a 1 in 12 shot.
Paul – Today Nat was trying to get Michelle to mend things with Bridgette..
Paul – next week I'll put up Bridgette and Natalie
Zakiyah – ya why not
Paul – or maybe not
Zakiyah – I would
THey are all pissed off that Frank and Bridgette even say the "Clues" on the TV screen earlier today. Apparently the screen only hinted of a secret for a certain amount time.
Paul says after he entered the code and the message was played. Corey who was listening in asked him "What Tunnel" Bridgette and Frank were right there.
Paul goes on and on about how there's three people in this house they could have hidden the secret from.
Paulie – maybe we need to change our strategy get those people out sooner..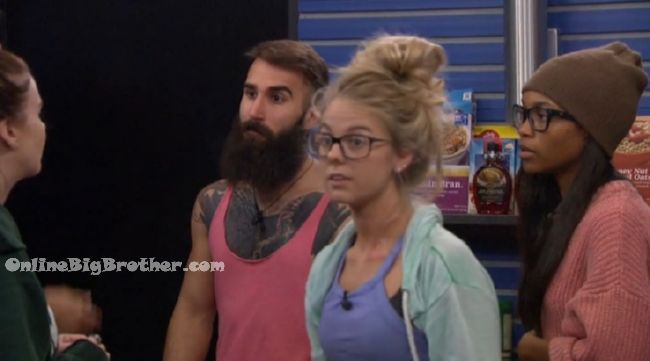 8:37pm Storage room Michelle, Paulie, Nicole and Paul
Paulie – Don't be upset over that fu***G sympathy Card
Telling Michelle she's not a bully to Bridgette this is Big Brother.
Paulie leaves..
Paul going on and on Frank and Bridgette finding out about the secret room.
Paul – I told you when the time is right and our targets are gone… F** them both.
Feeds cut when we're back Michelle and Zakiyah talking about Frank telling her not to trust Nicole.
Michelle says Frank told her not to trust Da
Zakiyah – I'm just not going to trust any f***G thing he says
Zakiyah says she's not good with Bridgette she still doesn't trust her a$$
Zakiyah – I trust you and Paulie
Da'Vonne comes in.. Zakiyah says everything is going to be fine she's not going to stress herself.
Michelle says this has been an emotional day.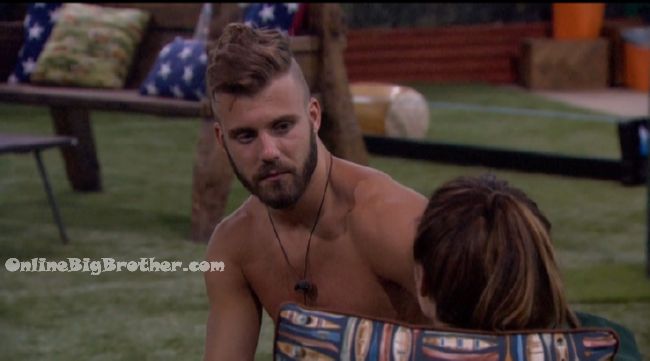 8:50pm Paulie and Michelle backyard
Paulie says Bridgette is trying to make her feel bad says Michelle is a sweetheart she's not a bully.
Paul jumps into the conversation says he's going to unleash hell on Bridgette and make her feel like a idiot.
Michelle asks how they said F*** U
Paul – they were like you gave us the wrong numbers.. I was like sorry.. And they said F*** you
They are going on and on about people telling Frank and Bridgette the code to the phone booth.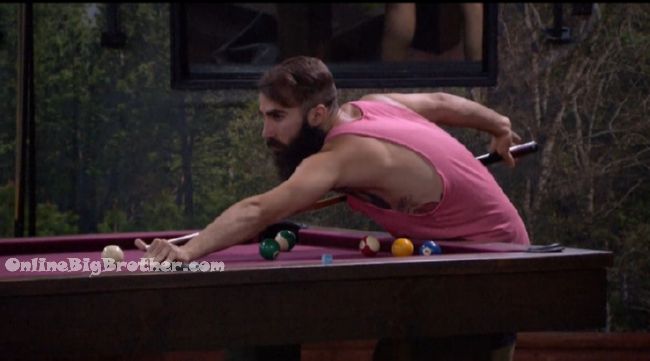 8:55pm Pool table Michelle, Corey and Paul
Corey says he's going to distance himself from Nicole a little bit for getting mad at him for not telling her the code.
Paule – you should
Paul – the only reason he got it he peaked over Paulie's shoulder he's a cheater…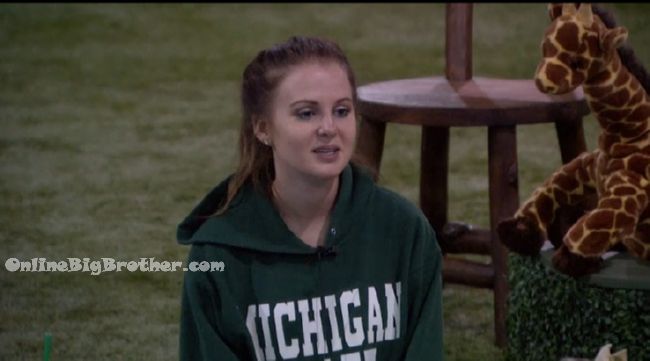 8:57pm Michelle and Da'Vonne
Michelle is complaining that Victor only made salad for Corey, Paul, paulie and himself.
Da'Vonne is happy that Zakiyah is in the game because she's the one that woke up her, Michelle and Paul.
Michelle – thank god she woke up Paul.. who told her to not wake us up
Da'Vonne 100%
Da doesn't know who was saying to let them sleep
Da says Nicole is making something that might be vegetarian.
Michelle – I'm not hungry I had cereal
Michelle – Victor reminds me of Devin..
They talk about Bronte, Michelle thinks she was wrong with that girl. Thinks she was just socially awkward.
Michelle says Tiffany remembered her saying that Bridgette reminded her of her ex roommate.
Michelle doesn't know why she doesn't like those type of people she just doesn't.
Da about Tiffany – She was reaching
Da goes on about how Tiffany was trying to get people to work with so she was spilling things to everybody.
Michelle – why do you want to hurt people.. (Tiffany Telling Bridgette)
Michelle – I'm not ripping your hair out.. or personal things.. You remind me of my old roommate.. your game is fake.. you're close to Frank…
Da'Vonne says she checked BB15 Aaryn's twitter account.
Da'Vonen – she's got a lot of damn followers.. for who she is
Michelle says Aaryn has a popular you tube channel that has nothing to do with Big Brother.
Da'Vonne says it's weird that Bridgette has only seen the seasons with nurses in it.
Michelle thinks Bridgette is lying she's seen more than that many seasons.
Michelel doesn't want past houseguests to hate her because of Bridgette..
Feeds switch to the safari room..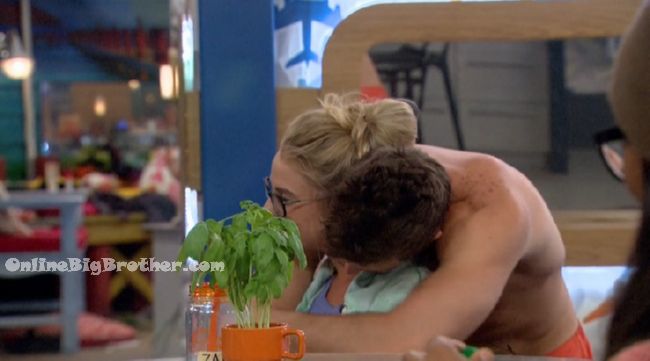 More showmancing from these two… So much for distance..
9:32pm they move to the backyard..
Nicole – I'm not mad i'm sorry…
Corey says he didn't know they could tell people the answer.
Corey – Paul worked hard to win that thing.. I didn't want that to blow up in his face
Nicole – I would have told you straight up..
Nicole says after he came out of the tunnel she went into the "room" and waited 45 seconds for him
Corey – 45… BIG WHOOP
Nicole says Frank and Z told her the code.
Corey apologizes for not telling her the code. Says if he was 8th he would have said something. Corey adds that he was one of the first popel to figure it out on their own.
Nicole – There was 5 at that point.. Natalie had already told James and was in
Corey – I was after Natalie
Corey – are you mad at me
Nicole – I'm not mad at you at all.. I'm having a bad day..
Nicole – Frank is clearly after me.
Nicole says Paulie wouldn't let her wake COrey up and now Da is mad at her for not waking her up.
Nicole is upset with Victor "Every single day he does something.. vic is cool but.. "
Nicole explains that Victor told her the code then made a big deal about being the one that told her in stead of Corey.
Corey is sick of this stuff getting on TV.
Corey says Frank and him talked this morning goes over the conversation he had with Frank.
They have a laugh that Frank thinks Nicole and Da'Vonne are close.
Nicole – couldn't be further than the truth.

9:50pm
Michelle says she got the Number 5 card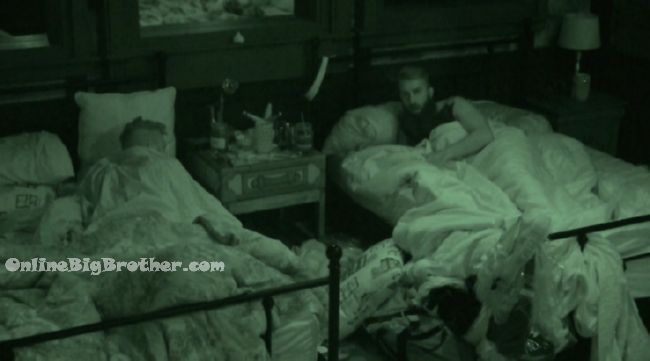 9:55pm Paul and Paulie (PP)
Paulie – PP is crusing
Paul – PP is chilling
Paulie – there like these guys are enjoying life
Paul – Z and Da are tripping at Nciole
Paul – Corey hates Vic, Vic is oblivious to life.. James is a hommie.. Natalie is a idiot..
Paul says Natalie doesn't deserve to be this far in this game.. try to collect a balloon.
Paul – pissed
Paulie – Pissed
Paul wants to toss the HOH to Victor.
Paul doesn't think it matters because Bridgette is still in the house and everyone will go after her.
Paulie – I wonder what is up with Nicole
Paul – Nicole is digging a grave. I think we should fuel the fire.
Paul says Da'Vonne is pissed at Nicole.
Paul – we got to keep Michelle and James safe out of Friendship
Paul Bridgette Frank are gone than Day and Vic.. Nat, Meech?
PAulie – we never have to worry about Nat winning anything
Paul – she's trying to band together with Bridgette.. She really is.
Paulie James is a hommie and Corey is a hommie as long as he cuts Nicole.. Z I have not problem.. we'll crush Z out.. I wouldn't mind Z being the last girl.. (LOL of course you would)
Paul says he's find with that.
Paulie didn't want Da'Vonne, Vic, Bridgette or Frank to get the
Paul – I hope Natalie got it and we just roach her back out
Paulie – It was me guys
Paul – I wold put her right back on the wall..
Paul – If frank goes out and walks back in I might just PUNCH BRIDGETTE IN THE FACE
They're pissed that Bridgette and Frank are all giddy now.
Paulie says once Frank doesn't come back in Bridgette will be crushed.
Paul – I'll pots of pans her ass every f***g morning.. I'll make her last week here a living hell
Paul pissed that Bridgette told Michelle that someone close to her said something horrible.. Paul says it was the buzzlight year comment he made about Michelle early in the game. Nobody knows for sure what Bridgette means because she refuses to tell Michelle.
10:31pm Bathroom Zakiyah, Nicole, Da'Vonne and Michelle
Michelle says Vic has got to go.
10:41pm bathroom Michelle and Z Michelle thanks Z for being so nice to her.
Michelle brings up Victor only making enough salad for Corey, Paulie, paul and himself.
Michelle says she bought her hair extensions on eBay for $50
11:03pm Zakiyah and Michelle splatter Paul and Paulie's heads with shaving cream.
Michelle – we got to get you back for throwing apples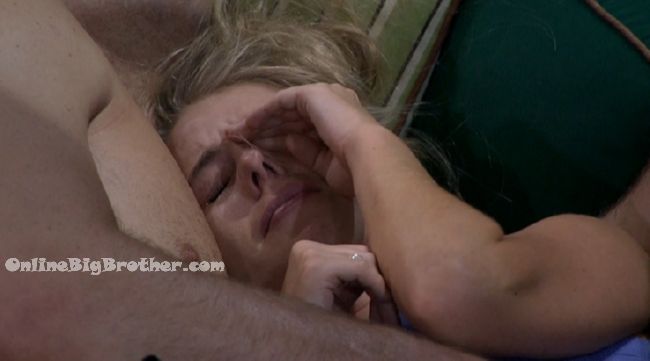 11:17pm backyard Nicole and Corey
Nicole is pissed that Frank is going around saying she had a final 2 with him.
Nicole – Bridgette says FU to everybody right to their face.. why don't we talk about that..
Corey – they don't show all your DR's do they
Nicole – no.. but there's a chance.. I look like a little snake i'm not..
Nicole starts to cry… the reason is she thinks their "Fight" will be aired and made a thing on the regular show.
Corey – I was laughing about it
Nicole – it's fine.. i'm just going to start my menstrual cycle
Nicole says Bridgette and Frank are telling Corey, Zakiyah and Michelle not to trust her.
Nicole says thing will have to start to pick up in the house. There's 42 days left.
Nicole – there might be a triple eviction.. I'm just not ready to go…
11:35pm backyard Nicole and Michelle talking about how awkward the day was.
rehashing the day.. Nicole is whining about everything.. Michelle eating popcorn.
Michelle – you know who is a really sweet person.. Natalie.. she's so nice..
Nicole says she was weirded out becuase she liked Corey day 2 then went on a date with Victor
Nicole – when it comes to game she has no idea what's going on.
Michelle says Natalie was excited she figured out the secret third, comments that Natalie doesn't win any competitions so she told everyone.
Nicole – Vic is really sweet too now
Michelle – he is he's just a little bossy
Michelle _ I think Corey should be the one that takes out Vic
Nicole says a lot of unnecessary things are happening with Victor being back
Michelle – he's the saboteur.
Corey – he says the weirdest thing
Corey tells them Victor was in the kitchen saying he needs a catch phrase, "FIT VIC"
Corey – like his instagram
Michelle – why would you say that.. … I feel like i'm relly fit vic today.. wanna go fit vic
11:50pm still in the backyard.. talking about how weird Victor is
Corey – it's the weirdest thing.. He'll like get into bed get right between us.. and be like ahhhh can you feel my dick.. I'm like…
Nicole – did he say that…
Corey – he literally said that got in the middle and said that.. I swear to god.
Nicole – If I heard that I would have gotten up
"He'll (VIC) get into bed right between us and be like ahhh can you feel my dick" @DawgsBigBrother #BB18 pic.twitter.com/jqKuGzbKsM

— OnlineBigBrother.com (@bigbspoilers) July 26, 2016
[polldaddy poll=9477458]
[polldaddy poll=9477456]