| | | | |
| --- | --- | --- | --- |
| POV: | Brett | Next POV: | Aug 18th |
| POV Used | ? | POV Ceremony | Aug 20th |
| HOH: | FES | Next HOH: | Aug 23th |
| Noms: | Brett & Scottie | Have Nots | |
A real easy way to support the site if you are an amazon shopper is to make your purchases through our link. You pay the exact same thing but we get a small % commission. It doesn't cost you anything and helps us out.
Amazon Canada
Amazon USA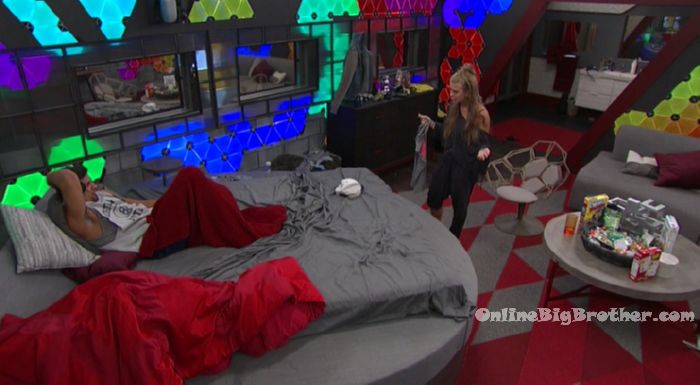 3:22pm HOH room. Fes and Haleigh. Haleigh – so what's going on? Real quick? Scottie just said when I get out of the DR I need to talk to you. Fes – I don't know what he needs to talk to you about. Haleigh – He's not involved in all of this? Fes – I don't know if I should talk to you before Scottie or let Scottie tell you what he has to tell you. Haleigh – what is it all about? Fes – Just talk to Scottie first. Haleigh – just give me a blanket statement about what its all about. Fes – you're getting thrown under the bus. Haleigh – By? Scottie? How? Fes – he called you Kaitlyn 2.0. Haleigh – he did? To who? Fes – to me. Haleigh – when? Fes – this morning in the kitchen. I told him I'm sorry you were never my target and now I have to come up with a replacement nominee. He said yeah I want to talk to you about that but not in the open. He said I think we all know who if you put up the whole house would vote out.. Kaitlyn 2.0. It was just like Kaitlyn was playing you and Tyler. Now its Haleigh with me and you. Haleigh – that is interesting. Fes – don't tell him. Haleigh – I'm curious what he has to tell me. Fes – and Kaycee came up here and I told her that its out of her, Tyler and Angela. I think I want to do Kaycee. Big Brother blocks the feeds. Fes – Kaycee told me that Scottie's speech tomorrow is going to be crazy. He wants me to put you up as the replacement nominee Haleigh. And the reason he is doing that is because its his only chance of staying. That's why he jumped ship. Haleigh – I'll be back..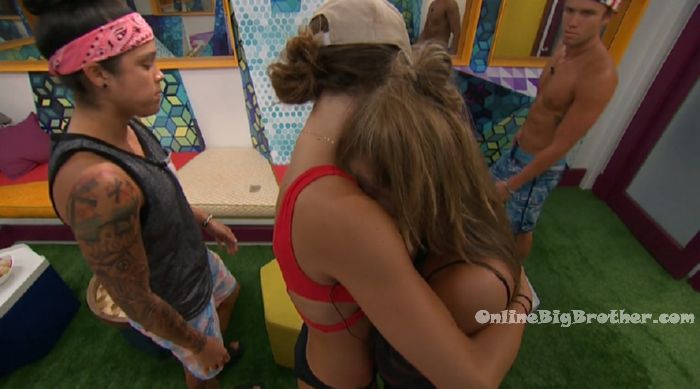 3:30pm Lounge room. Haleigh comes into the room crying. Tyler follows. Angela hugs Haleigh. Kaycee puts her arm around Haleigh. Haleigh – I have been the only one that has defended him. Haleigh continues crying. Tyler – did you talk to him upstairs? Haleigh – no Fessie told me. I have literally defended him and any time Fessie brought it up … I would say you need to hear the whole story. I have literally defended him this whole time. I'm his friend. Tyler – he is doing whatever he can to save himself. Its not good. Haleigh – I am the only one that he has in his corner and I told him that. It doesn't make sense. Tyler – you and him need to talk. Haleigh – to say what? Tyler – he is doing whatever he can to save himself right now. Haleigh – he asked me if I would play for him in the veto. Like I don't understand! I don't understand! Kaitlyn 2.0 are you f**king kidding me!?? Tyler – did he say that?! He said that I am playing him and pitting him and Fessie against each other. I literally had nothing to do with this. It just hurts my feelings. Kaycee – of course! Haleigh – the whole time I've defending him and giving him the benefit of doubt. Kaycee – it will be okay. Tyler – we all have never heard you say a bad thing about him. Haleigh – he said he wanted to talk to me .. What is he going to say .. I need to call you Kaitlyn 2.0 its the only way to say myself?!!? I couldn't even finish my DR. I don't even want to talk to him. Tyler – I've got your back. Haleigh – you don't have anyone in your corner so you go after the one person that you do?!
Tyler – I know for a fact that its nothing person. Its just game. Kaycee – to f**k up her game. Haleigh laughs. Its just a game. A stupid game. Tyler – lets go lay by the pool.
FLASHBACK and watch everything you missed: Live Feed 7 day FREE Trial!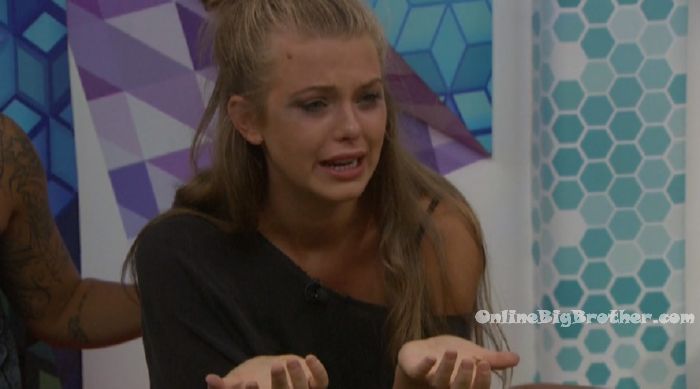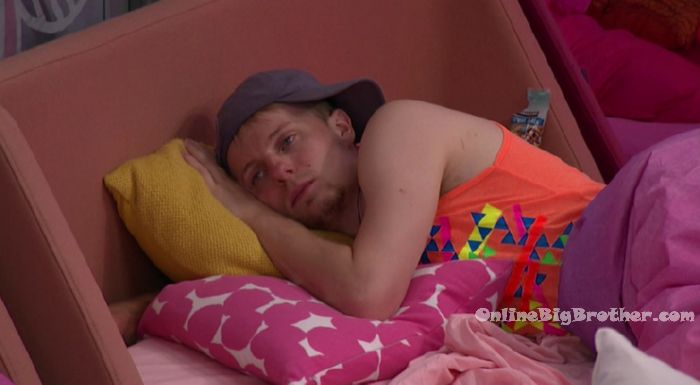 3:34pm Bedroom. Scottie sitting alone ..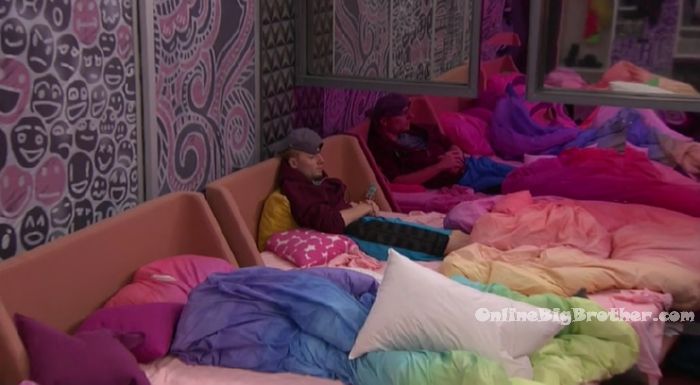 3:50pm Haleigh suntanning…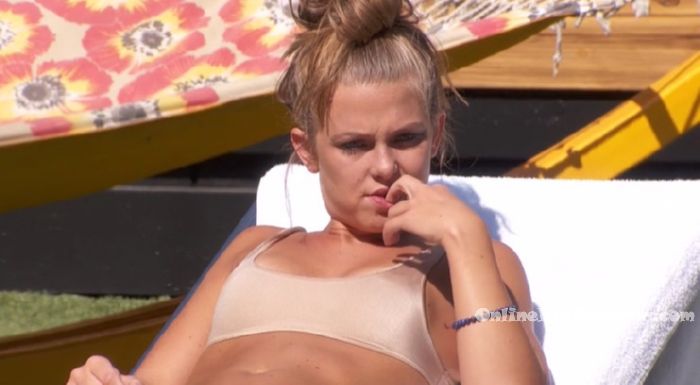 3:47pm Havenot room. Kaycee and Angela. Angela – I think he is making a bad move. I don't think we should say we are okay with this. Kaycee – lets say it is one of us. I am actually considering it because it will build trust with Fes and Haleigh. Angela – But everyone wants to get Tyler out. Who knows maybe they would flip on us. Sam doesn't like me right now. Brett joins them. Brett – so essentially his target is Scottie goes. It doesn't matter who goes up, we are fine either way. Angela – are we? He is concerned about Sam's vote. Brett – so right why would he not put Sam up. Angela – he wants me and Kaycee to collectively decide who goes up .. but you can put that on us to do your dirty work. Kaycee – he said that Sam has been acting crazy so to ensure Scottie goes one of us has to go up. Brett – Sam said we should convince Fes to put up Haleigh. I told her I would chain smoke her entire pack of cigarettes if she could get him to do that. You're out of you mind. Angela – I am not comfortable sitting on the block next to Scottie. I don't want him to stay on good terms with Sam. And for us to just bow down to him. And to say we will sit on the block for you and do you a favor.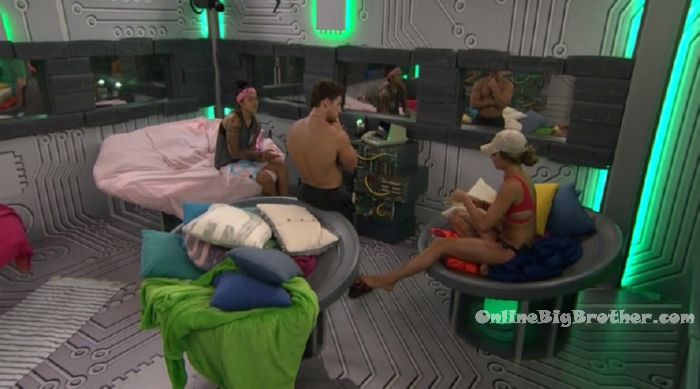 4:20pm Scottie and Brett playing corn hole.
HOH room. Haleigh and Fes. Haleigh – my feelings are hurt because I've been running around trying to defend him. Fes – I know. People don't care in this game. The guy you stay up all night and talk to and told me in the room I think you made the wrong move. The moment he doesn't win the veto, the first thing he says is the replacement nominee should be.. Haleigh – what exactly was the conversation. Fes – before I had the conversation with Scottie.. this is what is really going to make you upset. Right then the door bell rings and Tyler and Angela join them.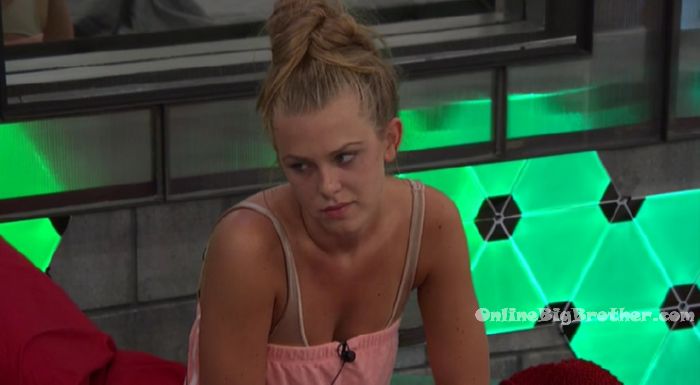 Fes – I talked to Kaycee and I told her its going to have to be one of y'all three. I am thinking Kaycee because she was so smooth on the block last week. Kaycee for sure has y'all's two votes. For sure has JC's. Tyler – and yours. Fes – I am really close with Haleigh and the move has already been made on Scottie. Fes talks about how Scottie threw Haleigh all the way under the bus. It was bad. Fes explains his conversation with Scottie this morning about Scottie calling Haleigh Kaitlyn 2.0. Haleigh – I just don't understand that ..what because I'm friends with him? Because I'm defending him?! Because I'm not mad at you? Fes – I don't know. Tyler – it just makes no sense for him to say that. Fes – you think I am sketched out by Scottie… JC is the number 1 person sketched out by Scottie .. he will vote him out. Haleigh – are we even sure Brett uses the veto on himself? He and Scottie were real close last week. Tyler Brett is a lone wolf right now he would never risk that. Fes – so this is what's going to happen. Scottie is going to come up with a crazy a$$ speech but it isn't directed towards Brett. Angela – he already tipped me off about it.. He said he is going to get up there and say all these things about you (Haleigh). I said Haleigh has always looked out for you best interest. Haleigh – I will hear what he has to say and say if you want to do this Scottie and throw me under the bus that's fine but I want you to look me in the eye the entire time and know that you are throwing someone under the bus that has had your back the entire game. And you are getting rid of the one person that wants you in this game. Angela – It makes me question his character even more. Haleigh – he was up all night with Sam so was this a plan they came up with? Fes – I think Sam knows if Scottie goes this week she will be out in the open.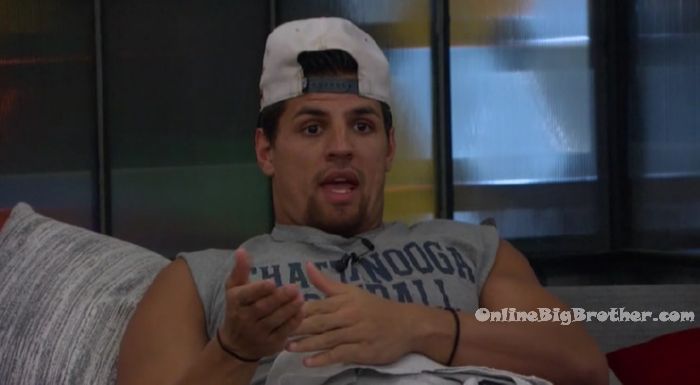 Angela – you have my vote for Scottie to go. If you could convince Sam that she is the pawn and that this would build trust with her. Fes – the number are getting slim and you two are tight .. you used the vetos on each other and her and I are tight. We don't we make it to the end and then best man win? Tyler – all these other people think we are going to just shoot at each other. Angela – I think the people that just cruise on by and don't do anything .. is bullsh#t. Fes – I don't know how committed y'all can be with that. Fes – If Scottie has been accused of 10 thing.. he might not have done 10 things .. but I bet my left nut that he's done at least 5 things. Tyler – even if Fes was like f**k it Haleigh go up on the block. You still wouldn't go home. Haleigh – Scottie told me if he won HOH he was going to put Tyler and Angela up. After he said that it made me think .. because you two have been so close. Fes – the truth doesn't come out until you're on the block. He talked one day about his DR and how he was laughing like an evil genius.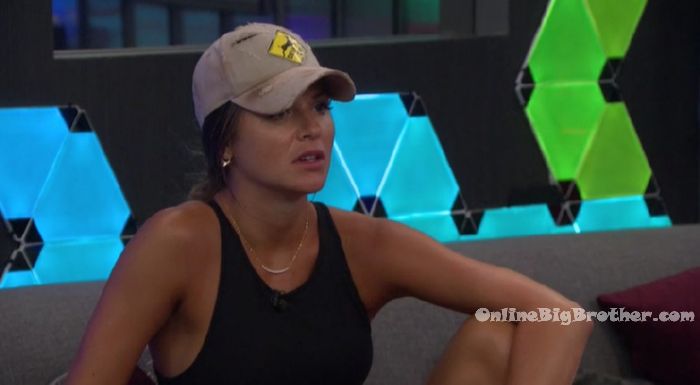 If you're enjoying our updates please consider making a donation. All donations go directly to pay the considerable costs associated with running this site. Any amount is greatly appreciated.
Rank the houseguests!
Easiest way to Rank the house guests use link below