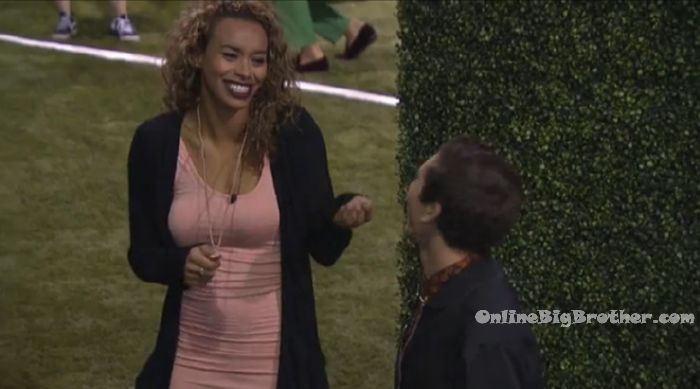 9:30pm In the backyard after Danielle had just won the HOH competition. Jason and Danielle are whispering off to the side. Danielle – Alex can't get a damn care package. Jason – they're f**ked! Danielle – they're F**KED! They all head inside. Danielle – from the baseball pictures.. I have to get dressed more often. I was in pajamas in every single one of them.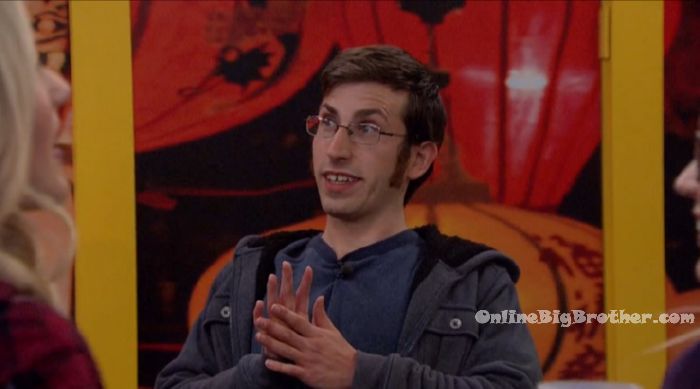 9:35pm In the bedroom – Scott talks to Morgan, Alex and Shelby.. Scott – don't get down, don't get down. There's a lot of game left to play. I haven't counted the votes yet. Morgan – America's nom and the care package could go to anyone of us. Shelby – you're (Scott) the most screwed, then you are (Morgan), then me. Scott – America, I think I'm going to have trouble getting Danielle out this week! Morgan – I'm just glad we got America's vote and got Neeley out. Shelby – they can't all go our way. They head into the storage room. Alex – we need America to put up Kryssie as America's nom! America if you want to keep helping us out. Kryssie for America's nom!
Jason, Danielle and Justin are talking in the bathroom. Jason looks at the camera and says to the live feeders – thanks for letting us know which side you're working with. Much appreciated. Danielle – I'm so happy to have Kryssie's boob key. Where else did other people put it?! Danielle – not only am I athletic I'm smart too!
Storage room – Justin & Kryssie. Justin – one of them is going home this week. Kryssie – maybe, it depends on who America noms. They have the numbers especially now that one of ours is HOH. Justin – you can't think like that. Hopefully they (America) puts Shelby up. Jason – America must really love Scott.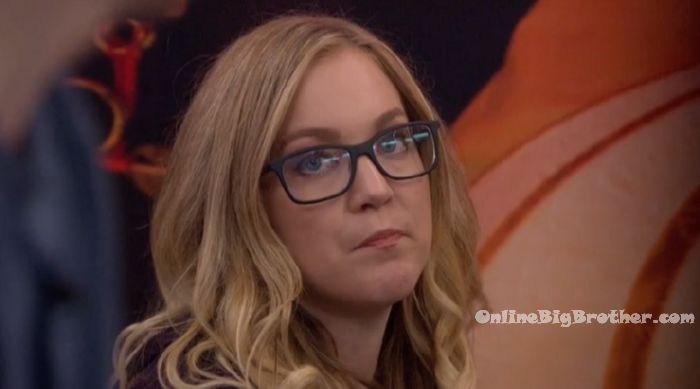 9:50pm – 12am Bedroom – Scott, Alex, Shelby, Whitney and Morgan are talking. Scott – I'm such a big target. I'm going to stay on the block unless I win the veto. Shelby – what you've been proving over and over again is that you're a lucky guy. You're not going anywhere. Scott – that's right. If I go home this week .. you girls keep it tight, keep locked… because they're willing to stoop to some low blows. Low blows .. psychological warfare. You girls do your best. Keep fighting, never die. Alex – I am so thankful that America voted with us. Alex – I just have a really good feeling that I'll be a target before you. My name has been brought up by everyone. Scott – if she puts us up together and I win the veto. I'm taking you off. Alex – thank you. Shelby starts crying. I would rather be the target and go out then be the pawn each week. Scott – I know how you're feeling. Because I do not want to be here alone with them. Scott – let them think they're in power. America is running this show.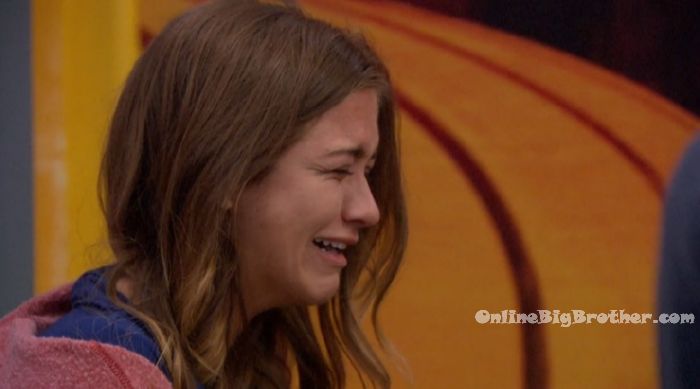 12:18am Danielle gets her HOH room. All the house guests head up to the HOH room. They all check out her photos and other HOH perks. Danielle then reads her letter from her Mom. "Everyone is praying for you from the church" After the letter all the plastics head out of the HOH room.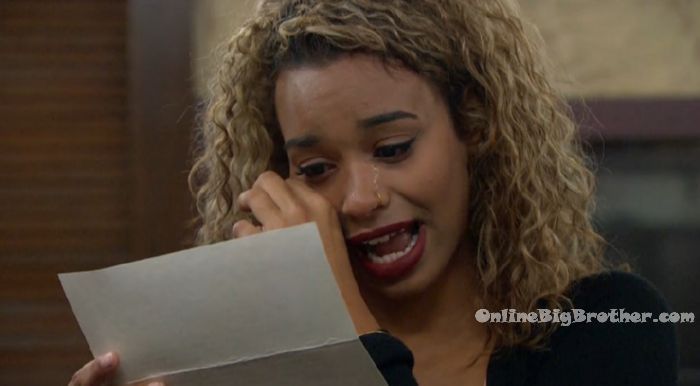 12:45am HOH room – Danielle, Kryssie and Justin are talking. Kryssie – now those girls are forced to talk to you. Danielle – I know, they've forced to talk game with me. Jason – lets see what they have to say. I was like now they're going to throw Scott under the bus. Danielle – I would be like I don't want to hear about Scott. I'm not nominating him. Next! Jason – you're not going to nominate Scott? Danielle – no. Personally he irritates me but I don't give a f**k about him in this game. He is going to write his own grave. I'm not nominating him. I'm not nominating Justin or Jason. Jason – I would be like f**k Alex, f**k Shelby. Power hungry Danielle is going to snatch so many wigs. Jason – Kryssie's HOH didn't turn out so well but we had fun. Kryssie – I hope Neeley doesn't blame me. Jason – you didn't nominate her! Kryssie – she made some comment about how she (Neeley) didn't feel like we were doing enough campaigning for her. Jason – I want to send them all home. Jason – I hope that America will see what these other people are like.
12:50am HOH room – 1:50am Kryssie – You know my vote goes where ever you want it to go. I don't think America would nominate me but I don't know, they've been all over the place. Danielle – we have one of ours go. Kryssie – who do you want to go? Danielle – Alex. They can all go. The bottom of my list is Whitney. I think she is the most compassionate of them. Kryssie – she is the only one that we could make work for us. Danielle – Morgan is a liar, Shelby is a liar, Scott is a liar, Alex is a liar, Whitney is a liar. Kryssie – Whitney asked me to put her up. She said in the event those girls flipped she didn't want any part of it. Danielle – I would love to see Alex walk out that door. I would want Shelby and Scott to go but that's a personal reason. Game-wise I want Alex gone. I have not broken my word or lied. They can't say that.
Watch the BBOTT Live Feeds FREE for 1 WEEK!
Click here for your: FREE Trial!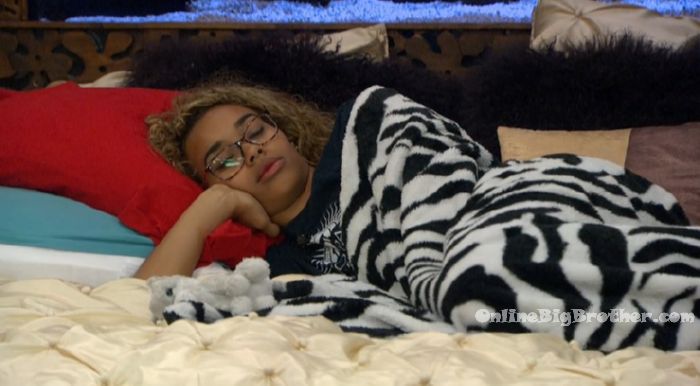 2am – 2:30am London room – Morgan – everyone has an ally on that side. I'm going to stay on Justin's good side. Neeley was mine and she went home. Alex – Danielle doesn't have anyone from our side so you might want to sneak in there before Whitney. Morgan – she is playing smart but I think people realize she can't go to the end. Alex – I think the only untapped source is Danielle. Morgan – she is really close to Kryssie and she is going to tell her don't trust Morgan. Alex – it would be sweet if America gave you co-HOH with her so you could get in with her. Alex and Morgan head to bed.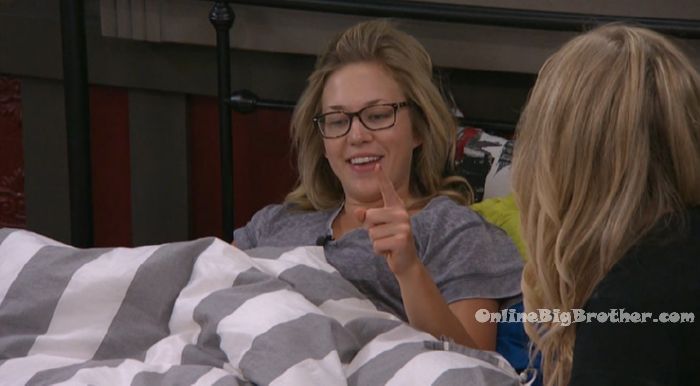 3:30am Backyard – Scott is walking around by himself while Jason smokes on the couches.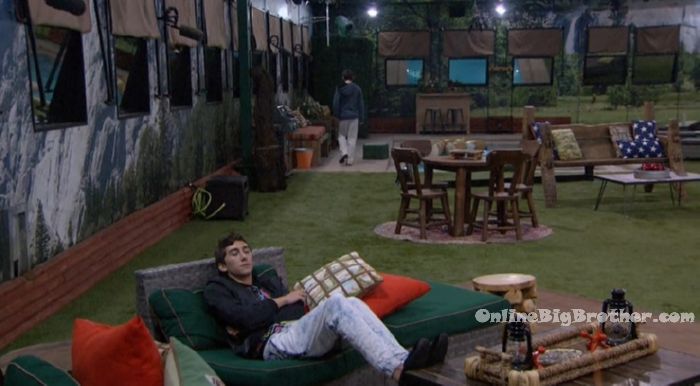 4am All the house guests are sleeping..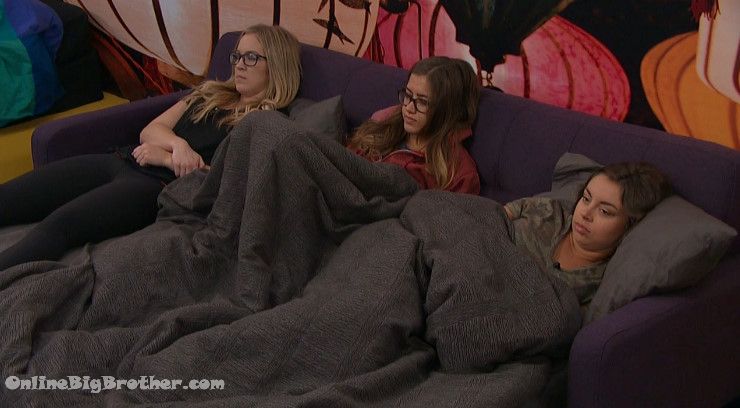 3:06pm Thursday.. Really not much has happened in game terms.
We find out that SCott eats the peel of kiwis.. Shelby saw YKK on her zipper thought it was KKK at first.
Jason thinks that America is only Targeting his side conveniently forgetting the first 2 weeks.
[polldaddy poll=9563060]