POV Holder:
Sarah
Next POV
May 15th
POV Used
Yes
POV Ceremony
?
HOH Winner
Ashleigh
Next HOH
May 13th
Nominations:
Sarah Brittnee & Godfrey
Have Nots
Canada voted for: Sarah & Brittnee (They will compete for the Secret Power)
POV Players
VETO PLAYERS PICKED: ASH, Sarah, Godfrey, Zach, Brittnee, Bruno
HOST is Pili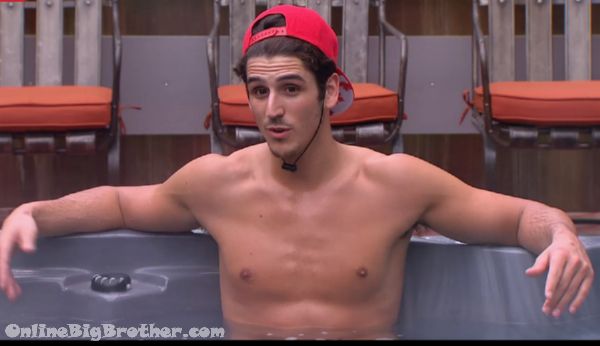 6:00pm Hot Tub Zach and Bruno
Zach says for the next two days it's going to be like a tug of war with im on one side Brittnee/Sarah on the other with Ashleigh And pili in the middle.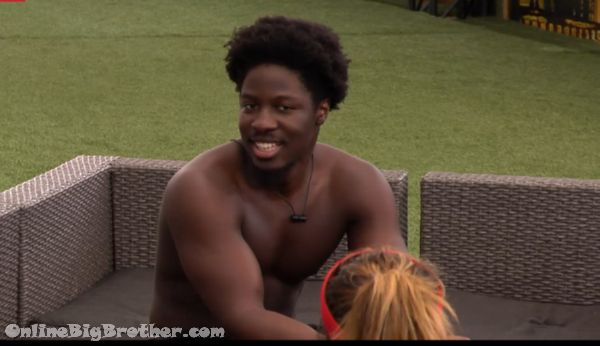 6:00PM Hammock Sarah and Brittnee
Comparing notes about the nominations
They call Godfrey over..
Sarh – this f***g sucks man
Godfery – it does
Brittnee – I don't trust them
God – neither do I
Sarah – I'm so torn and in the middle.. Britts my girl.
Godfrey thinks Bruno will vote for him but he's thinking Zach will vote him out. Brittnee doesn't think so, "He won't go against Zach". Godfrey points out Bruno has gone against Zach before when he voted out Jordan.
Godfrey says Bruno is in the middle if the power shifted to Brittnee/Sarah he'll come running back to them and if Zach gets power Bruno will stay with him.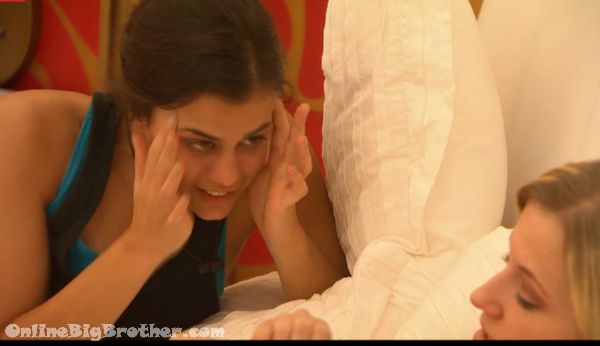 6:03pm AShleigh and Pili HOH
Comparing notes about Bruno/Sarah. Ashleigh is going to see what she can get from Zach about bruno so they can plan for the following week. Pili mentions that Zach never talks game around her.
Pili – once he's gone i'll be the happiest human being..
Pili says every single thing Buno says bugs her.
Ashleigh reads out her Letter..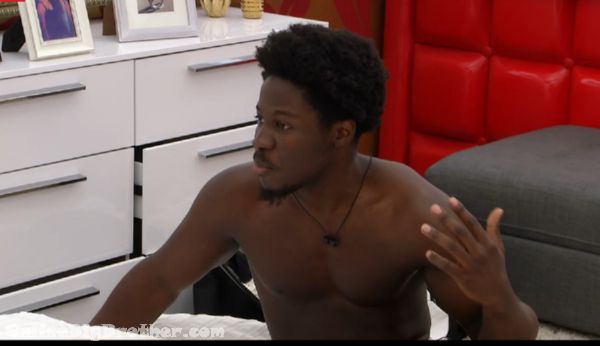 6:11pm HOH AShleigh and Pili
Ash saying they're looking good if they can get Godfrey out over Sarah next week. Ash is sure Zach will gun for Sarah.
Godfrey rolls in
Pili asks him what he would do if he won HOH.
Godfrey says one of Sarah, Zach and Bruno will go home.
Pili – out of those three who do you want gone the most
Godfrey – honestly I'll want Sarah out the most.. she's so smart.. look at the control she has over B yo.. B has never made a single decision alone..
Ash and Pili agree
Godfrey says he's never trust Zach at all. God points out that Bruno has been spending a lot of time with Zach lately, he thinks they've made a deal.
Godfrey says if Sarah can't pull Pili and Ash in she's going to go to Zach and tell him ASh and pili are taking each other. She'll get Zach turning on them. "She's Smart"
Ash and Pili agree Sarah is dangerous.
Pili – if it was Sarah or bruno and it was a tie
Bruno – Sarah.. I'm telling you she's smart man she's really smart… I'm telling you right now man.. me at the end vs Zach I lose.. 100% JP in the Jury yo.. Kevin.. Willow..
Godfrey says he can't beat Bruno in the final two "The guy has a family he's never been on the block.. I'm telling you man I can't beat him"
Godfrey noticed how strong Bruno was at the POV he beat Kevin and Bruno has that busted up thumb.
ASh mentions how Sarah goes around taking stories with a bit of truth and multiplies it by ten for her favour.
Godfrey – the only way I stand a change is sitting next to you two.. I'm serious YO I'm totally serious yo..
Godfrey thinks once Sarah goes the Guys are going to try and break up the goblins or target him.
Godfrey leaves.. \
Ash says "He's throwing the next HOH.. he's not going to compete for us"
ASh – I don't want Sarah gone next week and that's who he's going for.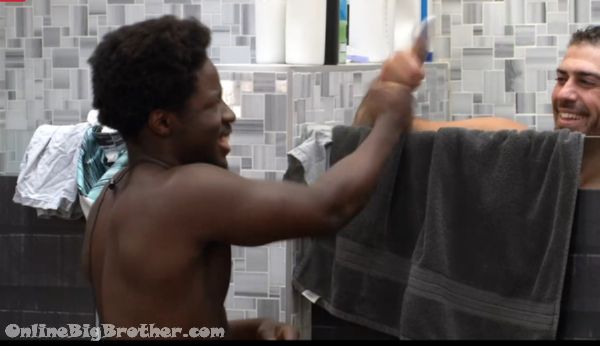 6:30pm Bruno and Godfrey bathroom
Godfrey tells him about his meeting with the goblins. he said his nominees next week will be Zach and Sarah. They agree the best plan is to have Bruno go to the goblin and say Godfrey/Sarah are his nominees. (Audio cuts out for most of this conv..)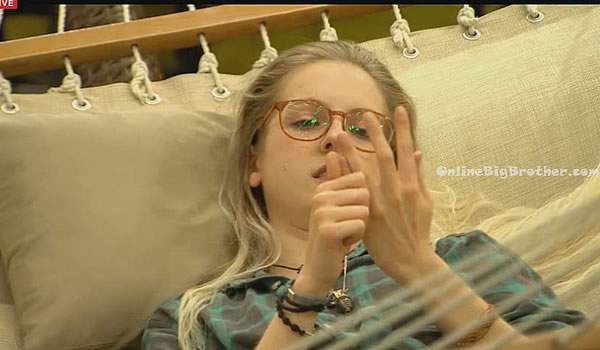 6:30pm Hammock Sarah and Brittnee
(Sarah is very up beat)
Sarah – no matter what we won
Brittnee – Trying as hard as we can but still proud as heck
Sarah – fighting.. fighting our way through
They start counting the numbers
Sarah – We gotta bring Bruno in
Brittnee – I'm so over him
Sarah – If I won I would so want to put Bruno and Zach up .. but we can't..
Brittnee – it's going to be a backdoor situation
Sarah – we're trying so hard with these girls but they're running back and telling everything to zach.
Brittnee – "I thought Godfrey would be the more obvious target
They agree Bruno/Zach are fighting hard to get Brittnee voted out.
Sarah says if they put up Bruno/Zach and POV isn't played Bruno goes home.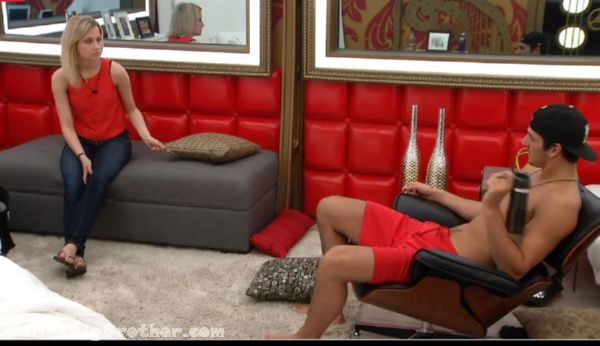 6:36pm HOH The Diapers
Pili saying she doesn't trust Bruno.
Zach – Sarah, B are going nuts right now pitching their lives in this game.
Pili – I'm not keep B though.
Zach says they don't need to stress any more.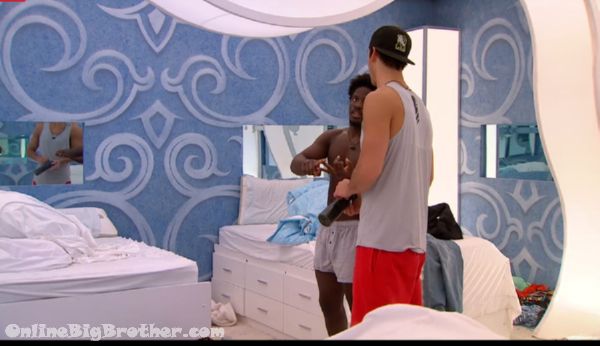 6:40pm Godfrey and Zach
going over his conversation with the girls
Godfrey – Bro they were grilling me man they were grilling me .. they're relentless
Godfrey – make sure you tell them who you are going to put up say Sarah and Godfrey
Godfrey told Bruno the same thing.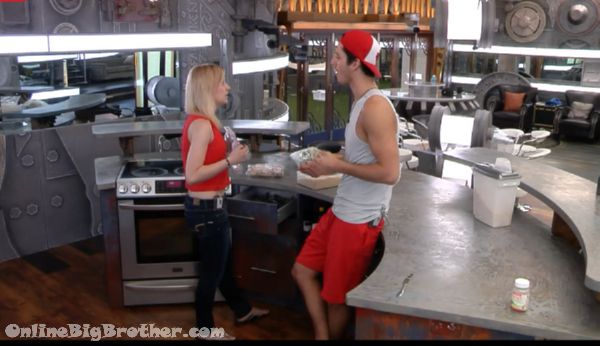 6:43pm Ashleigh and Zach
Ash says she wants Brittnee out this week. She says Godfrey will put up Zach and Sarah.
Zach – that's alright
Ashley thinks Godfrey will throw the next hoh
Zach agrees.
6:45pm Bruno and Zach Storage room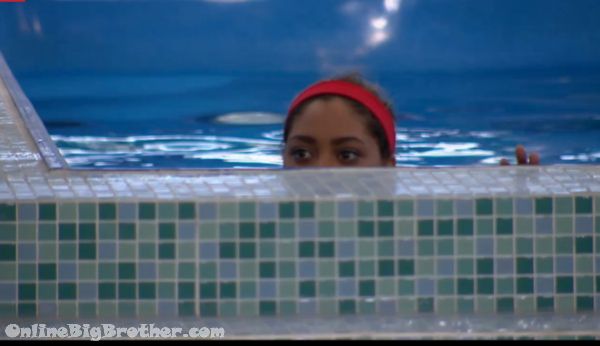 7:00pm Sarah and Brittnee
Sarah can't find Willow's ring. they were given a list of Willow's things to find. (This may be the ring Willow gave her right after she was evicted)
Pili comes by she's finding some of Kevin's things.
Sarah asks pili if she's seen Willow's ring – that silver ring she had.. Square
Pil – Willow's?
If you enjoyed this site's content please consider a donation or checking out our How to support OnlineBigBrother.com page. Any help is appreciated, this site is only here because of your support.
[polldaddy poll=8849979]