POV Holder:
Sarah
Next POV
May 15th
POV Used
Yes
POV Ceremony
?
HOH Winner
Ashleigh
Next HOH
May 13th
Nominations:
Sarah Brittnee & Godfrey
Have Nots
Canada voted for: Sarah & Brittnee (They will compete for the Secret Power)
POV Players
VETO PLAYERS PICKED: ASH, Sarah, Godfrey, Zach, Brittnee, Bruno
HOST is Pili
7:12pm Poolside Sarah and Brittnee
talking about if they are this season's Rachelle and Sabrina.
Sarah – do you think if we make it to final 2 you'll finally kiss me
They laugh, Brittnee – I'll plant a big one on ya final 2
Sarah wonders why the other players aren't looking at them as perfect final 2 candidates. "Like a dog looks at a juicy bone.. who's going to vote for us Sindy.. sindy and Willow.. Not Willow for you"
Godfrey joins them . They talk about nobody should call them a floater at this point. Sarah says Any from BB15 was the best player she's ever seen Godfrey agrees.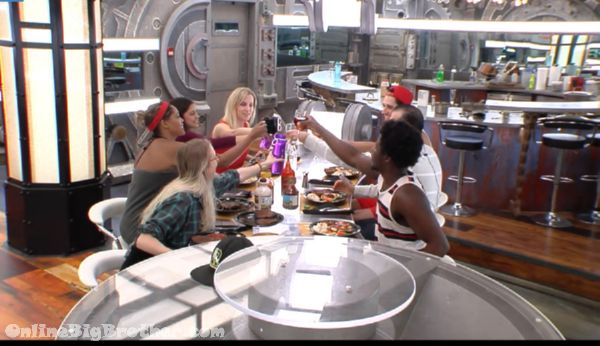 7:30pm Dinner.. They toast to MOM and making this far.
They talk about Sindy saying Twitter was calling Neaha "Slayha"
Bruno brings up Sindy telling him that Andy from BB15 was saying the cast this year was a bunch of idiots.
Sarah says Andy is the sassiest person on his twitter feed, points out that Andy got a lot of hate after his season was over. Pople called him rat and floater.
Sarah says Sindy wasn't allowed to say any tweets about them.
Zach – She said something about Willow thought
Sarah – they were related to her.. wasn't game play just comments.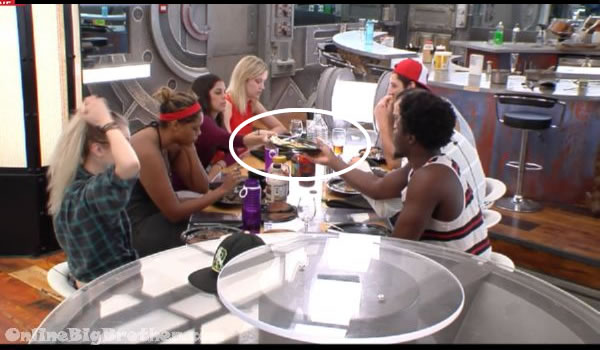 As usual Godfrey eats all the remaining food off the girls plates. Godfrey says eating chicken bones is because of him growing up in Zimbabwe.
Zach thinks people don't appreciate food as much in Canada. Godfrey says it makes sense when food is so plentiful.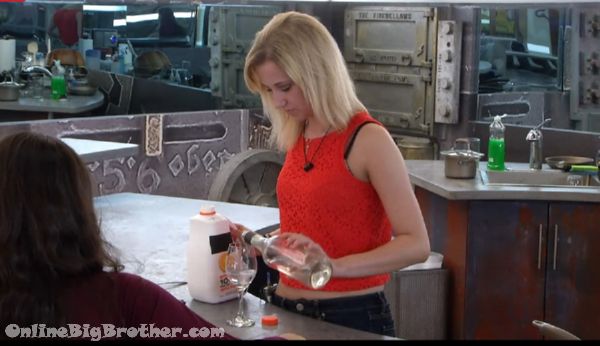 8:17pm HOH Ashleigh and Pili
Ashleigh says he's going to make a drink for them.
Pili – The goblins drunk I can't wait… Ash yo know what i've been thinking.. there's only two weeks left come Thursday.
They agree to not stress the next 2 weeks and just have fun.
Ashleigh 0 at this point what happens happens.
Pili – If I went home .. I'm going to be so happy that I got to be here… Have fun whatever happens.. even competition.. they're important. but .. have fun
The goblins head downstairs to pour a drink.
Ashleigh pours them each drink takes a sip 'Tastes like a creamsicle"
The goblins tipsy start roaming around the house…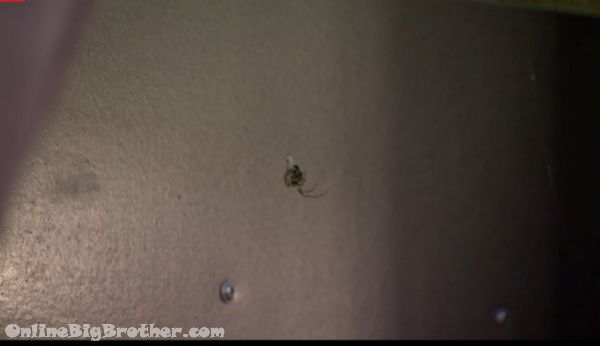 8:24pm Hot Tub Godfrey, Sarah and bruno
They find a spider spinning a web..
Godfrey – It looks like a mom man look at that a$$
Everyone really excited about the spider.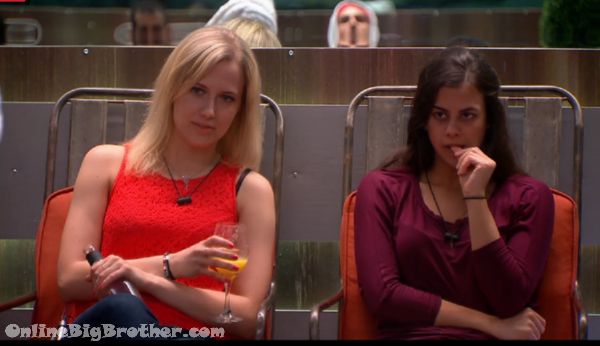 8:49pm everyone clustered around the hot tub. Lots of random chit chat..
Godfrey – Big Brother should bring us like cats yo just for a day..
pili – casts
Sarah – ya
Godfrey – Kitties and puppies we play with them..
Godfrey – Or a turtle a turtle would be the perfect pet
Ashleigh – a hamster
(The picture below shows Ashleigh's face after Godfrey suggested they get some cat and turtle pets.. LOL)
They talk about how easy it is to buy Twitter followers. Zach says that popularity in high school is based on how many Instagram/twitter followers you have.
Godfrey "in Zimbabwe we had no Goths yo"
Brittnee thinks it comes from ther UK because they are 'Fashion forward"
Sarah says its from the punk community says some days she goes goth, 'All my friends in muiddle school where goth"
Godfrey – "One of my friends was like i'm going goth bro yo.. he had the stater kit and everything
Godfrey says a lot of the styles that are around ripe off Goth style.
Godfrey has noticed people use to get roasted for having the big lobe earing but now it's gaining popularity.
Sarah goes to explain all the process of stretching your lobe "you're ear is always trying to heal itself.. there's puss"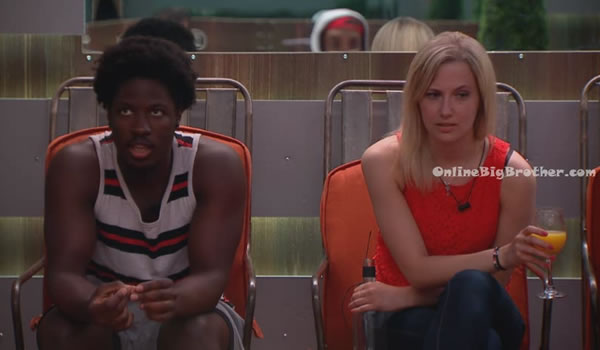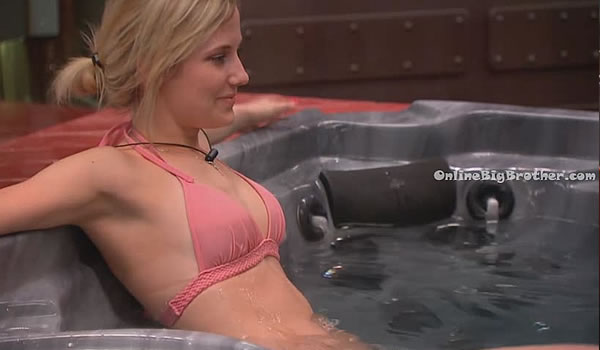 9:39pm Hot Tub
Pili – What does POV Stand for (Half way through the video)
Everyone yells Power of Veto
Godfrey and Bruno – 'It's day 50'
Sarah – I love you Pili
Godfrey what do you think it stands for.
Zach – Point of view.
Godfrey – I know what you're talking about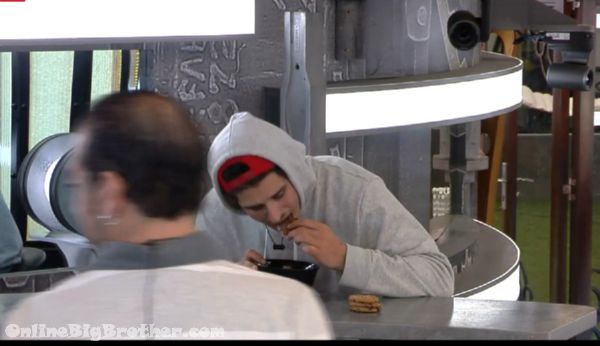 9:40pm bruno, Godfrey and Zach
laughing about them being Final 7 and Pili asking what POV stands for.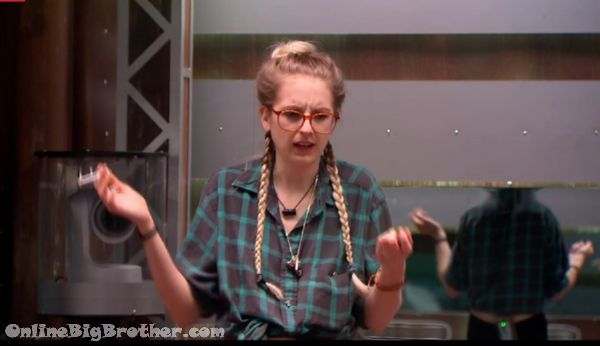 9:45pm Brittnee and Sarah
Getting the feeling that Brittnee is the target this week because nobody has talked to her yet.
brittnee – No I know how people feel.. I've been a pawn so many times .. I know there's a lot of shady stuff behind the scenes.
Brittnee doesn't trust Godfrey up. Sarah thinks putting Zach and AShleigh up beside each other will be the best bet.. we gotta think non emotionally.
Zach joins them. Brittnee asks her where his vote is. Zach says he doesn't know for sure if he's getting rid of Godfrey.
Sarah says the three closest people in the house was Bruno, Godfrey and Graig.
Zach thinks Godfrey has been solo
Sarah leaves.. Brittnee and Zach. Brittnee telling him how good he's been at making sure the jury members are good with Zach. Brittnee says Godfrey is no joke he's faster and quicker and he's goign to bring it these next 2 weeks. Zach says Brittnee is also strong. Brittnee is quick to point out she's not good at endurance.
Brittnee says 'This is real talk" bruno will win in the final 2 claims 'Bruno's played a phenomenal game" Brittnee really stressing at how nobody will beat Bruno in the final 2
(Video uploading)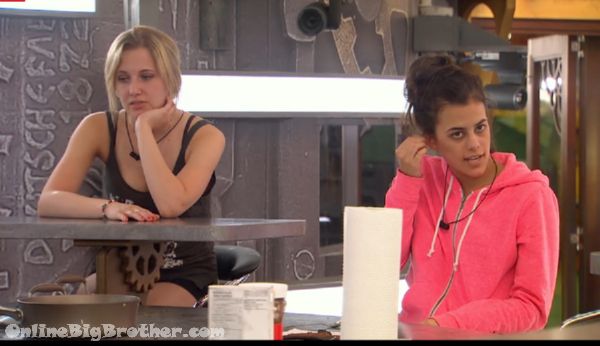 9:55pm Kitchen the goblins and Black/bru
Godfrey says bruno is doing better in competitions since he hurt his Thumb .
If you enjoyed this site's content please consider a donation or checking out our How to support OnlineBigBrother.com page. Any help is appreciated, this site is only here because of your support.
[polldaddy poll=8849979]