POV Holder:
Sarah
Next POV
May 15th
POV Used
Yes
POV Ceremony
?
HOH Winner
Ashleigh
Next HOH
May 13th
Nominations:
Sarah Brittnee & Godfrey
Have Nots
Canada voted for: Sarah & Brittnee (They will compete for the Secret Power)
POV Players
VETO PLAYERS PICKED: ASH, Sarah, Godfrey, Zach, Brittnee, Bruno
HOST is Pili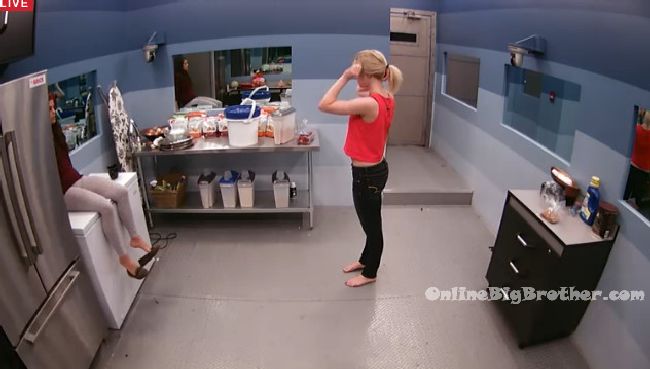 4pm Storage room – Ashleigh says they're going to be so pissed. Pili says you're not even voting. You'll be the tie breaker. No it will be 3 to 1. She has good points but Godfrey will take us further than Brittnee would. She put us up. I trust Zach over her. They head out of the storage room and go to the kitchen. Ash tells Zach – Sarah is campaigning hard. Zach says of course she would campaign hard. Pili says if we keep B she is not going to come after the girls and Godrey is all over the place. Zach says she can talk all she wants. Zach says She (Britt) put you (Pili), Kevin and Me .. they wanted to break up the couples. Zach says this is her 5th time on the block.
Out in the backyard – Bruno asks has B asked you anything yet? Pili says no just Sarah. Godfrey says she will do all the BS talking. Bruno says she is going to talk, and talk, and talk. She is going to be attached to you all week. Pili says I know. Its just hard to hear different stories from everyone. Bruno says that's what her trick is. Godfrey says she used to hangout with me all the time and now she won't because I'm on the block because she has no reason to talk to me.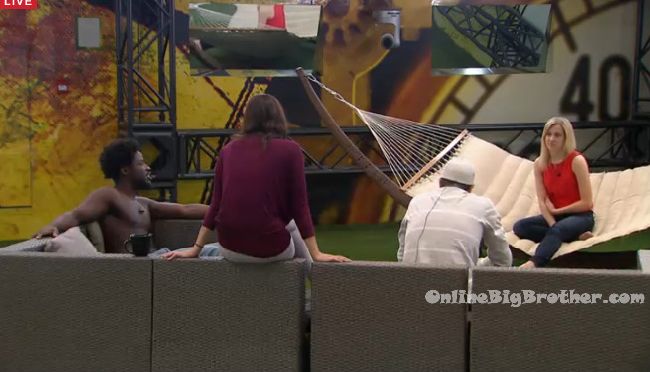 4:30pm Backyard – Zach talks to Ashleigh. She says that she's just stressed. I was the driving force in getting B up. I just don't like awkward situations. Zach says she knows the only way to get rid of me or you is to put us up together. If she put me beside Bruno, you guys would keep me. They're just totally discounting your relationships. She thinks you're going to square off but you don't have to. Ash says she sells her move. Zach says Well Sarah you're not going to get your way this week. Ash says she was saying that she would put up you and Bruno .. if the veto was used she would put up me or Pili but that we would still have the numbers. Zach says as much as I want to get Godfrey right now .. it just doesn't make sense because they they would come after us. Bruno joins them. Zach says she is just relentless .. she won't stop. Its going to be a long 3 days. Zach tells Ash ..there are only 3 more HOH's and only 2 of them matter because the last one its the POV that matters.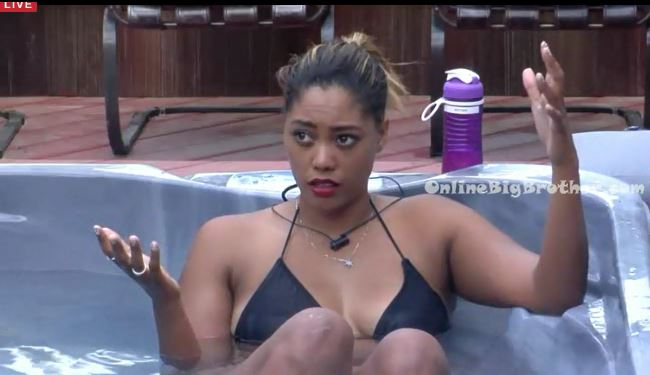 5pm Hot tub – Sarah talking with Ashleigh again. Sarah says I would have gone home for sure this week eh?! Ash says Godfrey has been my target… Sarah says Godfrey wouldn't have voted for Pili unless I had told him to. Sarah says I am just glad I won something because if I go next week at least I won something. Brittnee joins them. Sarah talks about how she saw JP and Kevin make a symbol to each other (The Fortress symbol) and it wasn't the chop. The Kevin tried to send JP those juggling sticks (see photo below) but that Big Brother wouldn't let him give them to Sindy to give to JP. Ashleigh says "The Jugglers" That gives me goose bumps. Maybe that was their name.

5:25pm Hot tub – Zach, Bruno, Brittnee and Ashleigh are hanging out in the hot tub room. Meanwhile in the backyard – Sarah is talking to Pili about how Brittnee is stressed out. Sarah says that Britt asked Ash if she was still the pawn and Ash says she didn't know where people were at. Pili says I wish Kevin was still here so I could just talk to him. Don't know what to do, don't know what to think! Sarah says just go with your heart, go with your gut. Its just a game. Sarah says I know on Wednesday I'm going up and I'll be going home. Pili says you don't know that for sure.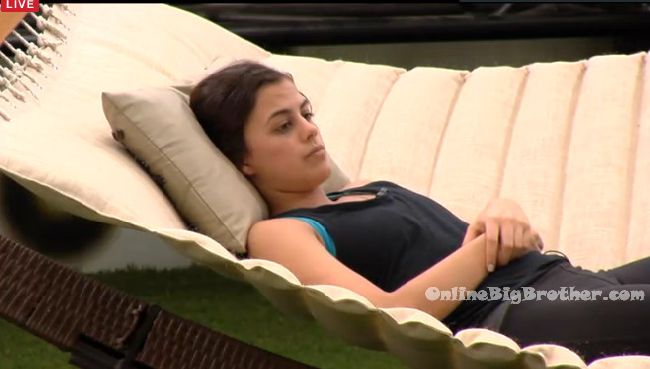 5:50pm – 6pm Hot tub – Zach, Bruno and Ash talk about Sarah campaigning. Bruno asks Ash do you think Pili will budge at all? Ash says no. Bruno says you think about it Brittnee sent home Graig, Willow and Kevin … she almost sent you (Zach) home. She's the giant slayer. Zach says I am going to bust my nuts trying to win this next HOH. Bruno says we're both going to go ham for it. He tells Ash they'll keep her safe. Ash heads inside. Zach & Bruno fist bump on finishing out the season winning back to back HOH's.. Zach talks about how its like a tug of war with Ash and Pili in the center and I have to keep reeling them back in. Pili's the one that wants to believe everyone.
If you enjoyed this site's content please consider a donation or checking out our How to support OnlineBigBrother.com page. Any help is appreciated, this site is only here because of your support.
[polldaddy poll=8849979]