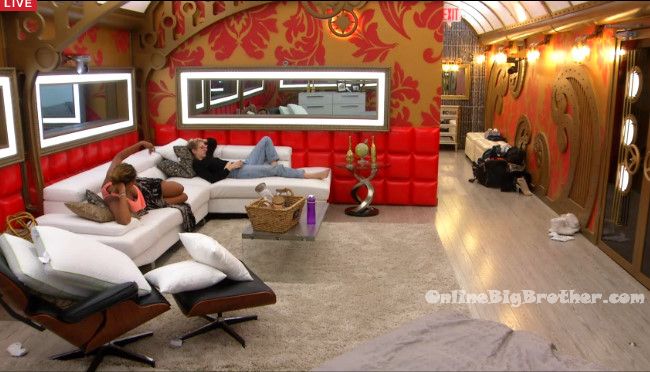 4:30pm – 5pm Sarah and Britt head up to the HOH room – Sarah says I don't even want to pretend to them any more. Maybe I should make it more obvious that those girls are coming after me. Like to make God trust us more. Like Pili I am putting you up because you're Ash's closest ally and I know if roles were reversed I know I would be up. Sarah says it sends the message to Godfrey that Pili is more disposable to me than he is. Britt says touch on the fact that its a numbers thing and that if it was reversed you would be up there and because of her loyalty to Zach. Its not mean its just pointing out the obvious. Britt says I would way rather go to the end with you, me and God than go with those girls. Sarah says yup, me too. Sarah gets called to the diary room and Pili joins Britt.
5:15pm – 5:50pm Zach and Ashleigh are in the main bedroom chatting and kissing. They continue to talk about random things like drinking stories. Meanwhile up in the HOH room. Brittnee, Pili and Sarah are lazing around. Brittnee says she doesn't feel well. Sarah talks about her boyfriend Scott and the job she had before coming into the house.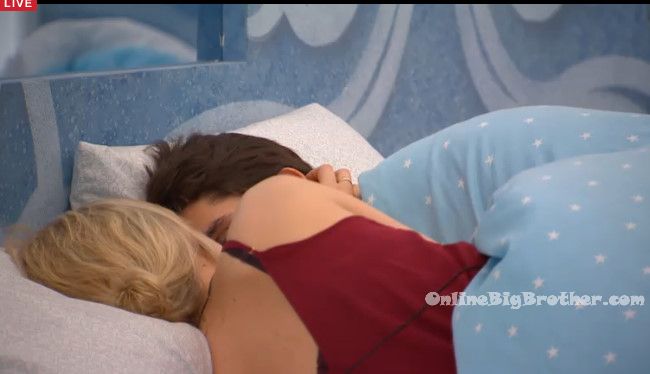 Please consider making a donation. This site is ONLY possible because of your support.
For other ways you can help – check out our How to support OnlineBigBrother.com page.
[polldaddy poll=8865390]