POV Holder:
Sarah
Next POV
May 15th
POV Used
Yes
POV Ceremony
May 10th
HOH Winner
Ashleigh
Next HOH
May 13th
Nominations:
Sarah Brittnee & Godfrey
Have Nots
Canada voted for: Sarah & Brittnee (They will compete for the Secret Power)
POV Players
VETO PLAYERS PICKED: ASH, Sarah, Godfrey, Zach, Brittnee, Bruno
HOST is Pili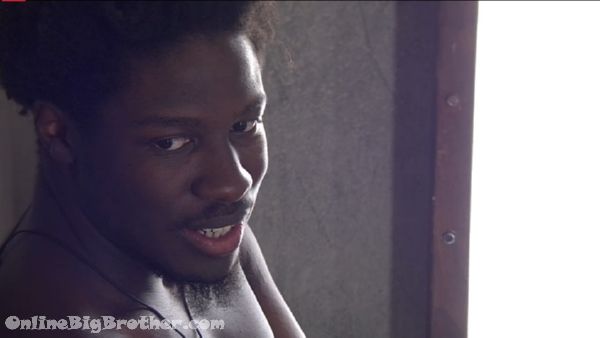 11:04pm Have nots Sarah and Gdofrey
Sarah says Godfrey is staying this week. Godfrey says that Sarah has been campaigning against him. Sarah correct him says she's campaigning to keep Brittnee. Sarah says after Brittnee goes she's all alone.
Back to talking about Zach and Bruno being realated.
Sarah brings up the hashtag on the Zach/Bruno selfie it read final 2 but they deleted it.
Godfrey tells her if he wins HOH he's putting up the people that put im up and that is not Sarah and Bruno.
Sarah – I have a feeling if I don't win HOH next week i'm going home
Godfrey – and you would be correct but if I win HOH you're not going home.
Sarah – and Bruno will be in your ear
Godfrey tells her he makes his own decisions.
Godfrey – Bruno.. he's not even planning on putting you on the block.
Godfrey tells her to stop telling Ash and pili she's going after Bruno because that goes to Zach then Bruno
Sarah says Bruno is making an emotional move if he puts her up
Godfrey points out it's not emotional if she's going around telling people she's targeting Bruno.
Sarah freaks out on him says who should she say should say Godfrey and Pili.
Godfrey stresses that Bruno's first choice is not Sarah. Explains Bruno used the veto on Zach to buy him a couple weeks it was a game move.
Sarah doesn't understand why bruno using the veto helped him she thinks they are working together.
Godfrey – Ash, Peels and Willow would have gone to you all of them go to you.
Godfrey tells her if he wins HOH he'll make it clear Sarah is not going up. The Ash, pili, Bruno and Zach will turn on each other and they'll be able to see where the order is.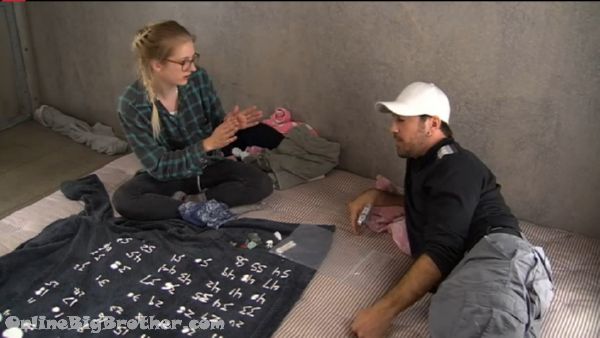 11:29pm Have Nnots Sarah and Bruno
Sarah – I just want you to know I am smart I know numbers..
She explains when those girls come at her asking who the targets are she can't the showmances.
Bruno – I know you were trying to get me on the block.. Sarah I hope we can go forward we need to go forward..
Sarah – I just want you to trust me
Bruno – I do
Sarah – were you not trying to keep yourself off the block
Bruno – I didn't feel safe but I didn't want to campaign against B, at this point of the game people's minds are set..
Bruno understands why she's telling people she's targeting Bruno "You don't have to go that extra step.. "
Sarah – Fine you don't trust me Fine
Bruno – that's not what i'm saying.. you tried to jump the gun you tried to do something.. if we would have just stuck with the plan
Sarah – I tried to do something if the veto wasn't used..
Bruno said he heard her say "Say no to Willow"
Sarah starts to get heated.. Bruno tells her he's a grown man they can talk normally.
Sarah apologizes for getting heated.
They are trying to agree that going after each other makes no sense.
Bruno – I don't talk game with anybody man I don't want people to twist it does nobody favors"
Sarah claims that when she's in a room with the other people all she's doing is campaigning for Brittnee to stay
Bruno – there's more being said than that
Sarah – I don't bullshit.. is B and Sarah really that big of threats to me
Bruno – this is the final 7 you don't get here by accident
Brittnee comes in
Sarah – I'm getting in trouble for campaigning for you
Bruno leaves "I can't do this anymore"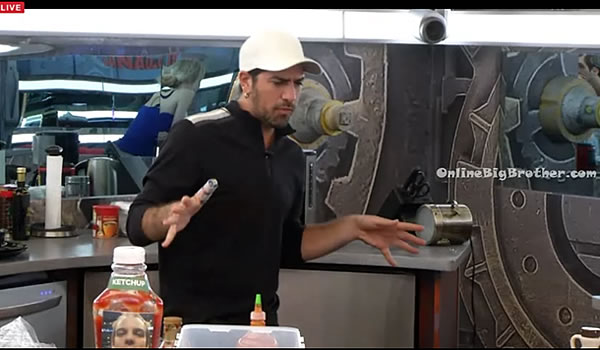 11:50pm Ktichen everyone but Sarah and Britt
Talking about Sarah having lost her marbles. Zach says her marbles are all over the floor. They all start comparing notes about Sarah some light bashing. They have a good laugh at Sarah telling everyone that Bruno and Zach are related, father/son.
Bruno – I'm 9 years older than you bud.. what am I 55 give me some credit
Brittnee comes by Bruno gives her a hug. Brittnee says she doesn't hold any grudges.
They continues to compare notes about what Sarah is saying.. Everyone laughing.
Bruno tells them next week she's not talking game to her so if she tells them something it's completely made up.
Godfrey – My mind is just blown
They agree Sarah sunk Brittnee this week.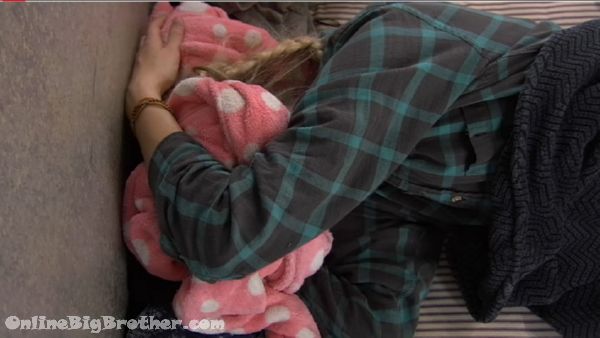 In the have nots Brittnee and Sarah going everything that happened.
Brittnee goes back to the have nots where she tells Sarah that Bruno is older than they think.
Brittnee – I will not vote for him
Sarah – me neither
Sarah – And I will try to poison the jury against him as much as I can even if it's pili
Brittnee – ya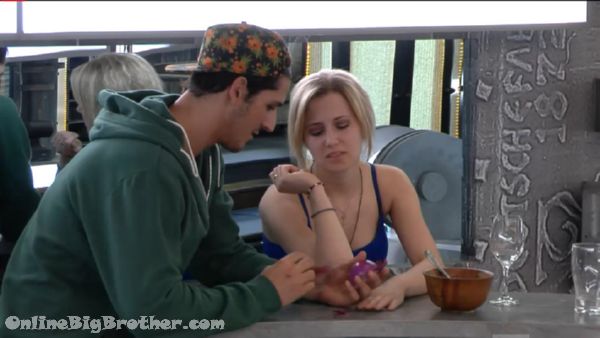 12:30am Zach and Ashleigh
Zach doesn't think Godfrey is smart enough to know the only way to get hm out is beside Ashleigh.
They head to bed. On their way Zach says to Bruno "Goodnight Dad"
Bruno – Goodnight son that's a nice girl you have
They go into the HOH room Zach has a good laugh at how Sarah almost got through to Ash and Pili today.
Zach – I'm seriously thinking about calling him Dad around the house.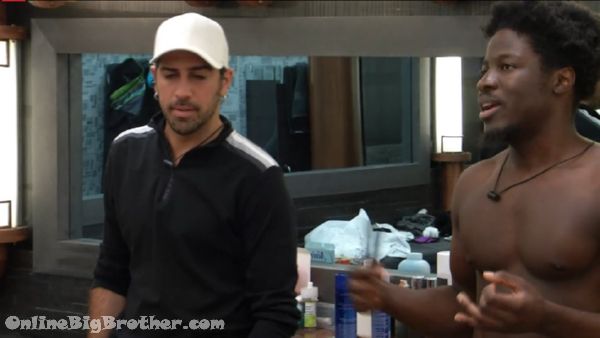 12:36am Bruno and Godfrey
Contemplating what to do with Sarah..
Godfrey – she was trying to get me out just last night.. she worked tooth and nail right to the last minute
God – she's campaigning harder than you did with Bobby
Bruno – as soon as B walks in the room She (Sarah) blows up for nothing.. maybe that's the way she acts with her boyfriend..
They agree Sarah is going the extra mile by going around telling people Bruno is related to Zach.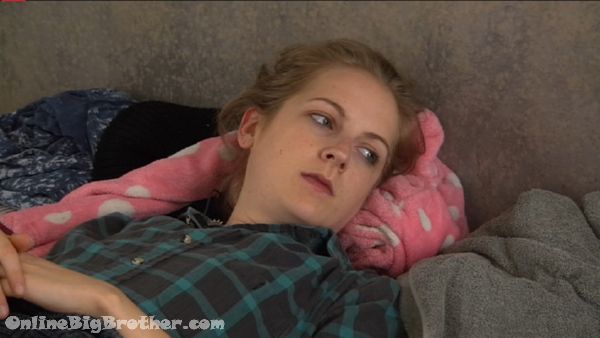 12:38am Sarah and Britt
Going back and forth who they want out if Brittnee stays and Sarah wins HOH. Sounds like they are drifting towards getting Bruno out. They are under the impression that Pili/Ashleigh will take out Zach when they get power again.
Sarah says Bruno's game is emotional and manipulative Zach's game is logical. Sarah says both Zach and Bruno are coming after them but Zach isn't lying to them.
Sarah says she swears to god that Bruno and Zach have a final 2.. "I saw the twitter picture it gave me a pit at the bottom of my stomach"
Sarah – It's bruno for sure
Brittnee – Yeah man
2:09am Zach and Ash are in the HOH talking about their lives outside of the house. I think everyone else is slseeping.
If you enjoyed this site's content please consider a donation or checking out our How to support OnlineBigBrother.com page. Any help is appreciated, this site is only here because of your support.
[polldaddy poll=8849979]