POV Holder:
Sarah
Next POV
May 15th
POV Used
Yes
POV Ceremony
May 10th
HOH Winner
Ashleigh
Next HOH
May 13th
Nominations:
Sarah Brittnee & Godfrey
Have Nots
Canada voted for: Sarah & Brittnee (They will compete for the Secret Power)
POV Players
VETO PLAYERS PICKED: ASH, Sarah, Godfrey, Zach, Brittnee, Bruno
HOST is Pili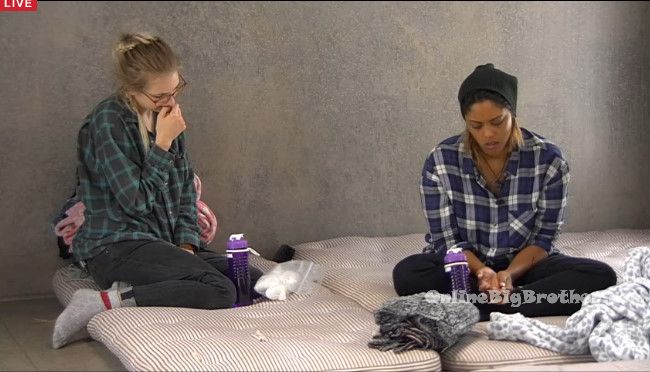 9:30am – 10:30am Big Brother wakes up the house guests. Sarah says that he's (Zach) only going to have so many chances. There's a chance that Pili could pull one out and maybe she'll change her mind and do what's smart. And this week I am going to win. Brittnee says everyone wants to take Zach to the end but how many people want to take Bruno? Sarah says Godfrey. Brittnee says I can't stop thinking. Sarah says its a toss up either way… with those guys. Britt says I know, they both have a lot of pull. Sarah asks will Godfrey really put up Burno? Britt says it doesn't really matter. Those girls will never smarten up. Its really just lose, lose. Everything is lose, lose. I don't know why it hit me like that, that Bruno needs to go. Britt says Bruno seems to have more of an issue with you than me. But still he has the ability to manipulate people. How do you have that much power of persuasion. She should have put him up this week but she didn't want to risk it. Risk sending home the person that saved her closest ally. Sarah says he (Bruno) said "Your girl power sh*t!" Britt says he has the power to persuade peoples minds. Sarah says maybe for you its best we get Zach out first. Britt asks why. Sarah says because it seems he's gunning for you and Bruno is gunning for me. If we got Zach out who would the girls go to us or Bruno? Sarah says Ash said she isn't going to go against what Zach wants. Britt says Bruno's got to go next week. Sarah says we just got to win HOH first. Sarah says its the same thing with either guy. Britt says one just happens to be sleeping in the bed with one of them.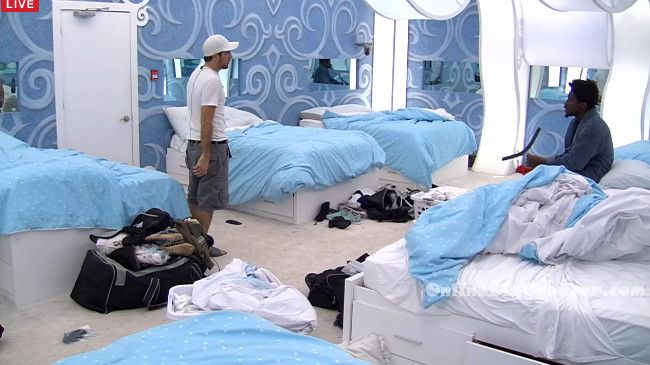 10am – 10:30am In the bedroom – Bruno tells Godfrey if Zach wasn't here they (Ash & Pili) would be working with them (Sarah & Britt). Every night he has to go in there and reel them back in. Godfrey says he has to undo all their work. Bruno lets just win this. Godfrey says even Britt was tired of Sarah's campaigning. Bruno says everyone else is more sick of it. It really sunk her game. It helped you too though. Bruno heads to the kitchen and asks Zach if he's talked to Britt yet? Zach says no, but she knows. Zach says she (Sarah) actually lost it yesterday. Bruno says oh yeah she cracked for sure. Bruno says I knew she was poison from the start! Zach says she just can't deal with not getting her way. Bruno says exactly. If she doesn't get her way she stomps her feet and cries. Bruno says the jury house is going to lose it when they see that today. Zach says I never did think about it but whoever goes can say whatever they want to the jury. Bruno says whatever they want.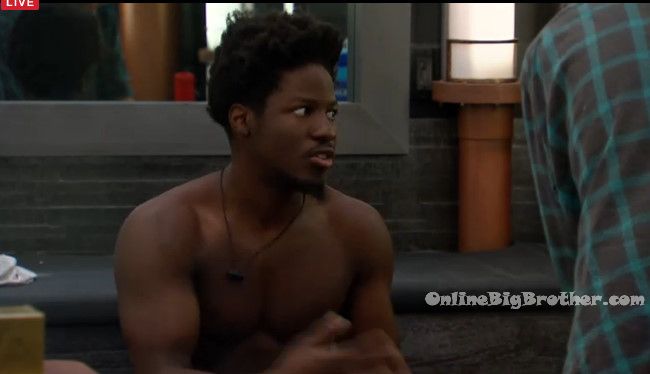 10:40am – 11am In the bathroom – Brittnee says just be careful of Bruno okay! Godfrey says I know, at this point I am forced to work with him (Bruno). Like I know I can't trust him 100% but I also know I can't trust those guys 100% either. Britt says you can't. Godfrey says the devil I know and the devil I don't. Brittnee says some times its better to just dance with the devil you know. Godfrey says if you leave you won't be seeing one of us. Britt says don't trust him. I don't trust him. Sarah says for us to work with him we need to not tell them anything and then he goes and tells them everything and gives them a veto.
In the kitchen – Bruno and Zach joke and laugh about Sarah's theories of them being related.

11:10am – 11:25am Zach tells Bruno that there are going to be five .. six girls in jury. Sindy, Sarah, B, Ashleigh, Pili, Willow. Zach says so if any of these girls make it deep that means to the point that one of them is going to win. Bruno says that's game right there. Zach says we're f**ked if we take God dude. We're f**ked if we take a girl. If any of these guys vote for a girl, we're f**ked. Bruno says that's why we have to do it we have no choice. Zach says B will vote exactly the same as Sarah. Sarah would never vote for us or respect our game. That's a sad thing, you know?! Bruno says she tried to play this game like battle of the s*xes instead of Big Brother.
11:35am – 12:10pm In the bedroom – Brittnee tells Sarah that Bruno just told me when I walked in the room last night you exploded. Sarah says actually the exact opposite happened I settled down when you walked in the room. Pili joins them. Sarah says I am f**ked if I don't win. Actually I would feel good if you (Pili) won too. Sarah says that she thinks if Bruno wins he would put up me and Ash. Brittnee asks do you think Zach would put you up? Pili says not yet. They talk about whether or not Zach and Ash have a final 2. Pili doesn't think they've talked about it but Britt says for sure they have. Pili says I don't know if Ash would take me or Godfrey? Britt asks she would take Godfrey? Pili says I don't know. Sarah says I think people under estimate God with the jury too. He was a target day 1 and made it all the way to here without having to win a comp. (He won a veto to take himself off the block.) Brittnee talks about how she doesn't think Zach and Bruno just got close. You don't use the veto on someone. Godfrey joins them. Pili leaves.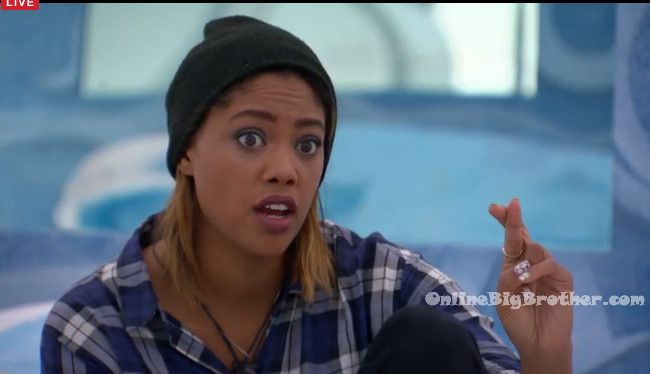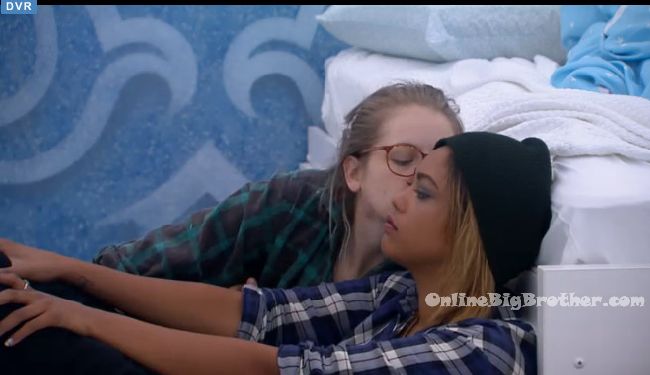 12:15pm Pili tells Brittnee and Sarah that if she was HOH the nominations would have been different. Sarah tells Pili about how Bruno went off on her and started swearing at her. Sarah says he's not going to scare me into not talking. Its not going to happen. Britt says and he said that you guys (Ash & Pili) are annoyed when we talk game to you. Sarah says but its okay because I am going to win this HOH. Britt says you guys will be okay.. just make sure when you win its the right person, you know?!

12:44pm The live feeds are blocked in preparation for the Eviction tonight.
Please consider making a donation. Any amount is greatly appreciated! For other ways you can help – check out our How to support OnlineBigBrother.com page. This site is only possible because of your support.
[polldaddy poll=8849979]