POV Holder:
?
Next POV
May 15th
POV Used
?
POV Ceremony
May 17th
HOH Winner
Sarah
Next HOH
May 20th
Nominations:
? and ?
Have Nots
Brittnee and Zach
POV Players
?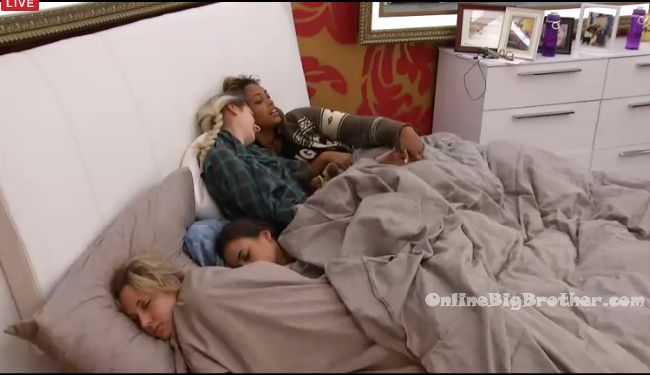 8:30am Big Brother wakes up the house guests. Up in the HOH room – Brittnee joins Sarah, Pili and Ashleigh in the HOH bed. Pili, Ashleigh and Godfrey are sleeping in the bed next to them. Brittnee tells Sarah about her conversation with Zach last night about going from top dog to bottom bunk. Big Brother calls Brittnee to the diary room. When she comes out the head to the kitchen. Sarah comments on how the living room tv doesn't say nominations. Brittnee says it could still be later. Sarah says she's nervous about nominations. Sarah says you've experienced the top dog to bottom of the back a few times. Brittnee says I think it was good for him to experience that and Ashleigh too. Imagine that day 56 you're just feeling what its like to be on the bottom. Crazy, must be nice. Feels better without him (Bruno) here! Sarah says it does. Britt says its crazy just one person. Sarah says Godfrey is such a little weasel. Sarah says everything they did to us, we can just do to them. They just lied about who was the target. Brittnee says if he goes or if she goes then there's still Zach and God
9:15am In the kitchen – Brittness says it really going to be weird to not talk to people through a mirror. Brittnee says I did not imagine them still doing havenots. I thought it would be over by now. Pili says final 6 guys, congratulations. We're near the end guys! Sarah says yeah we can definitely do it. Sarah asks Zach it sounds like they're building and not taking down right? Zach says yeah. They wonder if they'll get a luxury comp. Sarah says or they're building the veto comp already.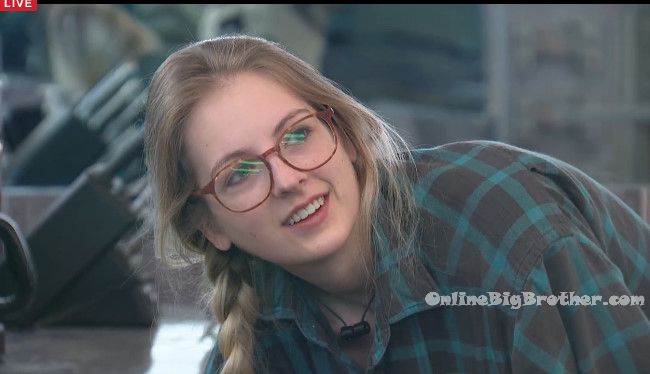 9:20am – 9:45am
Brittnee and Sarah head up to the HOH room. Sarah asks Brittnee what her parents said to her. Britt says they said they were proud of me and that they were watching. When they were saying it I was picturing them on video. Sarah tells her I really do think you're going to win HOH next week. Sarah says hopefully we can get Zach out this week. Britt says hopefully. It explains why God was so nervous ..he had more faith in Zach than Bruno. Sarah asks should I get in the bath so everyone can come talk to me.. do I get the water running? Is that how they know to come in? Britt talks about how Zach knows its either him or Ash going this week. He is really frustrated that Godfrey is still here. Britt says I though Ash was nice but she kind of has a mean girl vibe to her. The way she treated us when she was HOH. Sarah says If we can get Zach out this week. Britt says then I win HOH next week ..who would we want out. Ash or Pili? Sarah says Ash over Pili for sure. But Godfrey is not going to take us to the end. Britt says so is it better to keep Ash here because he wouldn't want to go the end with her. Pili is a beast in comps. Sarah asks so Pili didn't even know what the buzzer was for! Britt says no she thought it was who could last the longest. She really doesn't listen to the rules.
Godfrey joins them. Sarah tells Godfrey to keep convincing those girls that its Garb & the Goblins. Godfrey says I am not taking those to girls to the end. I'm taking you or Britt. You know that. Sarah says I know. But you have to get them thinking that in case they win veto. Convince Pili especially because if she wins veto. Godfrey says yeah we're screwed if she wins.
9:55am Big Brother blocks the feeds.
10:10am The live feeds return – Pili asks I wonder what the task is going to be!? Do you think it will be fun? Ash says Pili you're going down!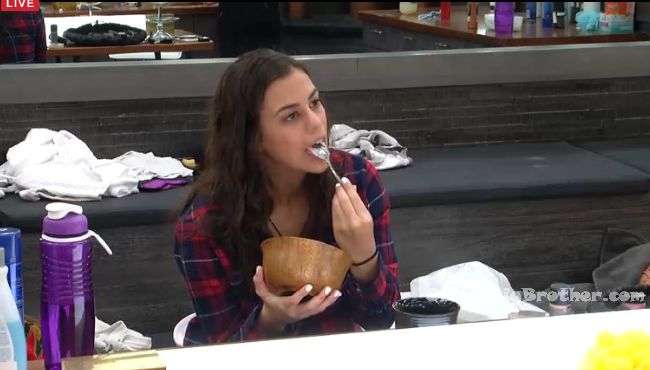 10:35am Up in the HOH room. Pili asks do you know what you're doing yet? Sarah says I think so, you can probably guess. The smart move is for he and her to be up there together so she doesn't have to make the choice to vote him out. Pili says I think its smart to take him out when we have the chance. Sarah agrees. Pili says it would suck for Ash to go home. I feel like if I won the veto people would expect me to use it on Ash. Sarah says but you wouldn't right because it would ensure he goes if she's still up there. Pili agrees. I just really don't want her to go right now. Sarah says I don't either. Pili says when we have the chance, the shot we have to take it. Sarah says exactly. Sarah says in the perfect world God goes after that. Pili says 4 girls! Sarah says yup! Pili asks if Zach wins the veto would you put me up? Sarah says I don't want to think about the negatives but I would probably put up God. Pili says and then B votes him out. Pili says as long as you're not voting Ash out .. I won't go against your decision. Sarah says I'm not.. Getting Zach out benefits all of us. Sarah says she is going to go tell Ash and Zach they're going up.

10:40am – 11:15am Sarah tells Ash & Zach that you guys can probably assume.. Ash and Zach say yeah. Sarah says there is still the POV though. I just wanted to tell you. Zach leaves. Pili joins Ash and tells her what Sarah had told her in the HOH room. Pili says with you up there at least you don't have to vote. Ash agrees. Ash says do you know what I think.. Pili asks to use it? Ash says I don't know. In the game I could never beat him in the end. Godfrey joins them. Ash tells him that she knows she could never beat him (Zach). Godfrey says well you know if it stays the same.. you have my vote. Ash leaves. Pili tells Godfrey we're all friends here but its just a game. Godfrey tells Pili that Sarah told him he better win the veto or she's putting me up. She wants 2 strong guys up to get rid of one. I want to win this veto so bad. Pili says you'll win if there's chicken involved. Godfrey asks if you win it, would you use it? Pili says I don't know. Godfrey says if you use it I go up. Pili says oh yeah you're right. Godfrey says the best thing is one of us win it, we keep it the same and then we decide. Pili says yeah.
Please consider making a donation. Any amount is greatly appreciated! For other ways you can help – check out our How to support OnlineBigBrother.com page. This site is only possible because of your support.
[polldaddy poll=8865390]