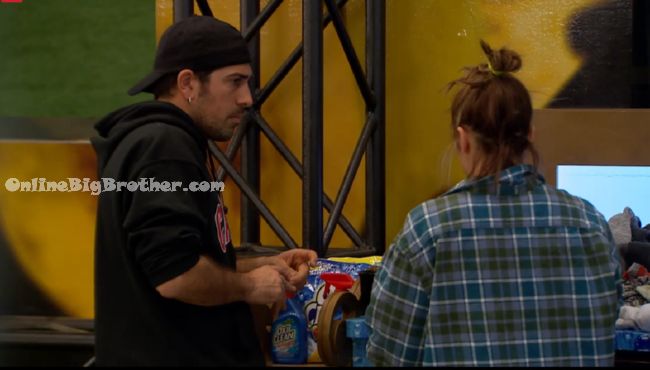 11:13pm Willow and Bruno
Willow says everyone is talking about putting Godfrey up and they like the kevin Idea. She would tell him if he had to worry.
Bruno – Willow we have to stay close it's getting tighter and tighter
Willow – 100%
Bruno – worst case scenario tomorrow
Willow – Kev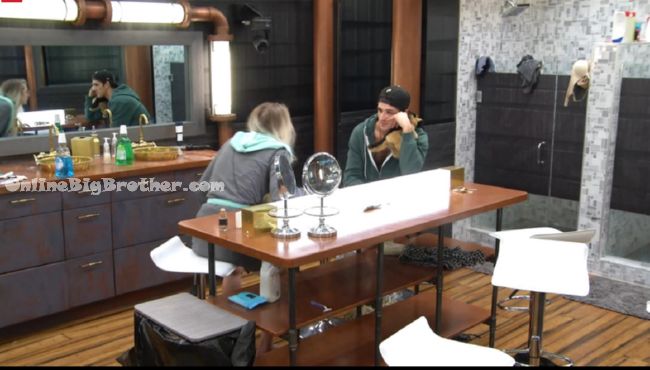 11:20pm Sarah and Zach
Sarah saying that Brittnee is jealous of him and Ashleigh. She thinks Brittnee is protecting Bruno
Sarah – He's the jiu-jitsu monster with a broken hand
Zach – He's a black belt everybody loves him.. he's got a family nobody will vote him out.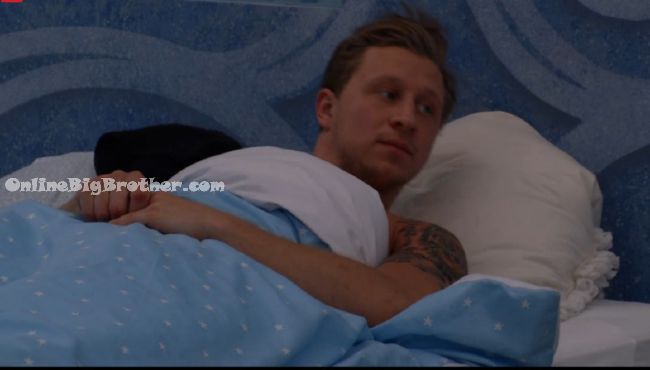 11:40pm Sarah and Bobby
Bobby tells her she's god in his books and he's going to go for that HOH
Sarah – Good you got to
11:44pm Zach and Bruno Storage room

12:14am Jordan, Kevin and Zach Hot Tub Game talk
Talking about Brittnee not wanting to get rid of Bruno after Bobby leaves.
Jordan says they need to get rid of Bruno this coming week, "Bobby is a f***g idiot"
They agree if Bruno goes Brittnee has nothing.
Zach – we might lose Brittnee
Jordan – where she's going to go.
Jordan is going to nominate Bruno and Bobby
Zach says he cannot win HOH tomorrow
Jordan – Ideal scenario we win the next two HOH's
Zach tells them how Brittnee pushed him up against the wall last night and was biting his neck.
Zach – I didn't know how to deal with the situation
Zach and Jordan agree that Sarah is too emotional of a player to come after them. Zach says the longer BObby and Bruno are in the game the harder it is to get them out.
Zach – there's only two people we have to worry about (Winning the HOH) Bobby and Godfrey
Zach – are we completely fine with Sarah winning the next HOH
They agree Brittnee and Sarah winning the next HOH is fine but after that they cannot.
Jordan says he'll be completely stunned if Brittnee wins another comp.
JOhnny walks in on them…
they tell him he's getting evicted.
Jordan – we could vote three but it'll be obvious we're going against the house
Jordan – we want you here but we can't swing the votes.. it sucks.
They asks him what they should do.
Johnny – Put Godfrey and Bruno up backdoor Bobby
Johnny wants Godfrey, Bobby out of the game.
Jordan says it's a f***g joke that Godfrey is in the game.
Johnny warns them about Sarah, Brittnee and Willow.
1:06am Sarah and jordan
Jordan tells her if he wins HOH he's putting up Godfrey and Bruno
Jordan – I was throwing it out there to Kev and Zach and they were like.. uhh I dunno.
Sarah – the lines have to be drawn.. and then we don't scare Pili and Ashleigh
Jordan – Exactly.. Britntee hates them.. HATES THEM (B hates Ashleigh and Pilar)
Sarah says Brittnee is way closer to Bruno.
Zach comes in.. they agree not to tell Brittnee anything about nominating Bruno and Bobby.
Jordan leaves.. Sarah asks Zach who Asheligh will put up.
Zach – I dunno.. she's reserved when she talks about game
Zach thinks there's remnants of that alliance and that is why Ashleigh is being quiet, "I think I can trust her but I'm easing into it"
Zach – Is there this much game talk in other seasons
Sarah tells him they cannot trust anyone in this game and that is why she is so glad they have each other.
Sarah – Johnny would have done ANYTHING for Kevin
Sarah – it's like now none of us can go up
Sarah thinks if it's Canada's HOH they will put up Bobby but not Bruno.
Zach warns if Bobby goes Bruno will build an army and go to war.
Zach – Bobby is too stupid to know what is going on
Sarah mentions once Bruno is gone Bobby will have nobody.
Zach says Pilar is close to Kevin and Zach can pull Ashleigh away.
ALLIANCES IN THE HOUSE
There are always a lot of Alliance but we've tried to make sense of it all.. Read our alliance help guide
[polldaddy poll=8797487]
[polldaddy poll=8794961]
Share it YO!!
Tweet