POV Holder:
Bruno
Next POV
April 17
POV Used
NO
POV Ceremony
April 19
HOH Winner
Bruno
Next HOH
April 15th
Nominations:
Johnny and Sarah
Have Nots
Brittnee, Pilar, Willow (Pickled Eggs & Chicken Feet)
POV Players
Bruno, Sarah, Johnny, Bobby, Brittnee and Kevin
Zach is the POV host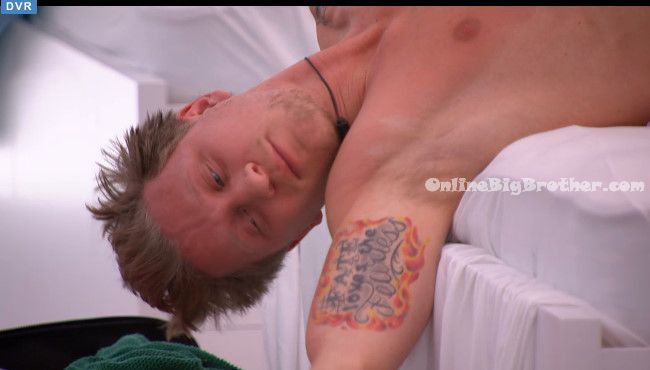 9:30am Big Brother wakes up the house guests. As they slowly wake up and start moving around. They wonder if Big Brother will give them the hot water back for showers. Bobby says well they want us to look nice for eviction right?! Bobby says I haven't showered since our hot water got turned off. Sarah says we still need to do our gender bender night? Willow ask what is that? Sarah says when you dress as the other gender. Willow says oh! Sarah says you could do a drag queen so well! Willow says thanks I think. Willow says I thought you meant you bend your gender parts, like you tuck it behind but I was like how to the girls bend their parts. Willow says that she's not going to eat slop this morning. Sarah tells her she has to eat something, we have an HOH competition tonight. Willow says I will have one piece of cardboard. I think it would be more effective if I was dying. Like as a fan I would be on the edge of my seat. Is willow going to make it? And then I run to the end and win.
Willow's live eviction outfit: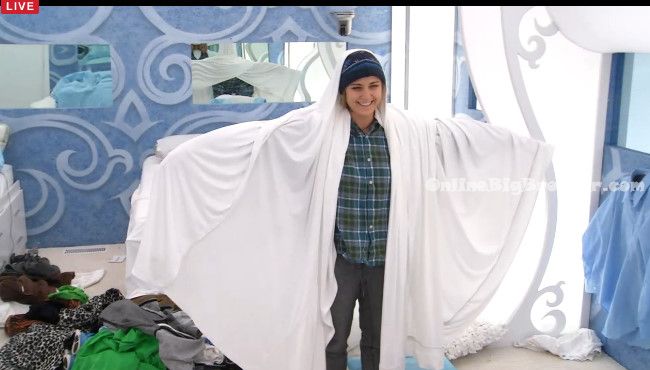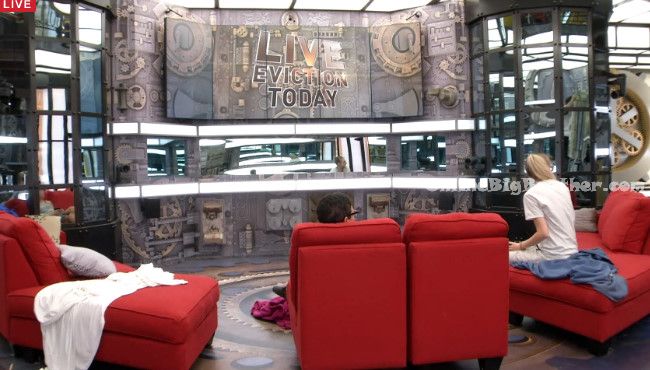 10:30am – 10:45am Big Brother has told the house guests they can have hot showers again. In the living room. Sarah says what a week! It kills me that there was a double power of veto! Johnny says I think Canada was upset about that. Sarah thinks this week might be a double eviction or Canada's HOH. Johnny says lots of people are playing both sides, lots! Sarah says I should start playing that way. I shouldn't win this HOH. I'm f**ked either way. Johnny says you could blend back into the back ground. Sarah says could you imagine if we had won the double power of veto! Johnny says that would have been ridiculous. Sarah says it would have been some witch sh*t! Johnny says damn then for taking your broom. Johnny says all we can hope for is a shake up. Twistos Twist. Sarah says come on give us something good. Johnny says something that actually gets used! Johnny comments on how there is something going on out there (backyard HOH comp building), its very quiet though.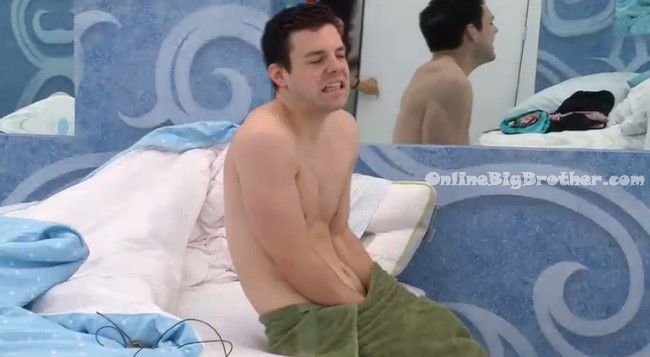 10:45am – 11:05am Up in the HOH room – Willow and Bruno are talking. Bruno says he doesn't think this week would be a double eviction week because of this week. Willow says I don't know because of the noise. Quick setup. Quick take down. Willow brings up the Jeff Schroeder clown shoe incident when he went home during the double eviction. In the storage room – Zach and Kevin are talking. Zach tells Kevin we have to votes to keep you if you were up. Kevin says but if I'm up there against P. Zach says that's tough, but we still keep you. Zach heads to the HOH room. Willow asks him its going to be unanimous today? Zach says for Johnny, yeah. Willow asks who do you not want to win it? Zach says Sarah, B. Zach says he doesn't want God to win it, he's the wildcard. Bruno says yeah. I think he would vote with us but I don't know.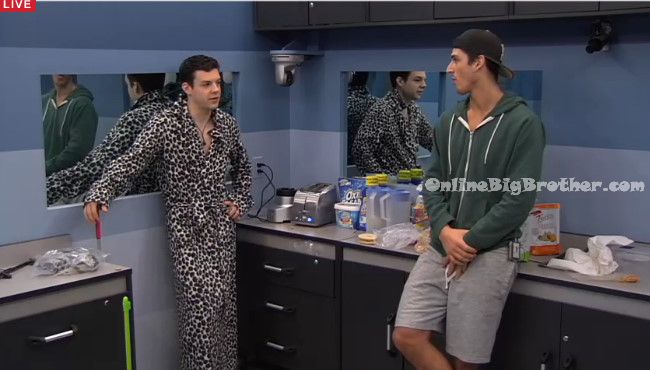 Godfrey gets called to the diary room. Johnny says "don't even bother. I don't want a goodbye from him." In the kitchen Bobby, Zach and Kevin talk about Amber from BB16. She was a knockout. Caleb was a nut job. Bobby says she's a rock climber too. Kevin says Nicole is such a cutie too. Zach agrees.
11:20am – 11:35am In the bedroom –
Willow asks Kevin what do you think is going on today?! Kevin asks what like double eviction? Willow says yeah. There's not much going on out there. They joke that if JP doesn't know what's going on, no one does. Willow says I really want to win. Willow leaves. Johnny comes in to get his bag. Johnny and Kevin hug. Johnny tells Kevin to "Make good use of my swim trunks." Kevin tells Johnny sorry, I wasn't fighting for you to stay. They talk about the possibility of him coming back. Johnny says he would play different. Johnny says I definitely don't have any hard feelings. Kevin says thank you. I love you. Johnny says those are $70 swim trunks, don't ruin them. I swear everything I said about the gummy bears is true. None of that was made up. Kevin says I believe you.
Big Brother calls Godfrey to the diary room. Johnny says I will literally die if Godfrey makes it to the final two. He is here for a pay cheque and food! Jordan says we will make it our mission he doesn't.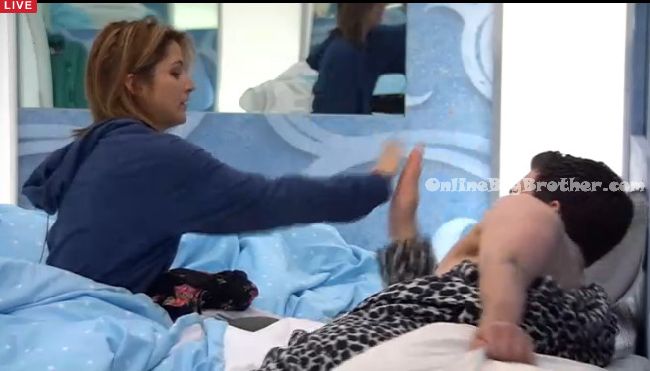 11:45am – 12:55pm Zack says You know what's idea.. Sarah wins this one. You win the before / after and I win the physical one. Jordan agrees. The feeds change to Bruno and Bobby in the HOH room. Bruno says the only person I feel safe with winning HOH is you. Bruno says I think I'm close enough with Britt to keep you off the block if she wins. Bobby says I want to make Zach not trust JP. Bruno says pretty much as soon as anything ends they (Zach and JP) walk off together. Bobby says just keep dropping hints that JP isn't trust worthy. Bruno says We need them broken up .. at first I thought it was Zach and Ashleigh but its them. Bobby says Kevin has to go first.
In the bathroom – Johnny is cutting Kevin's hair. Willow, Bruno, Pilar, Britt and Sarah are hanging out and getting ready. Meanwhile in the kitchen – Bobby, Jordan and Ashleigh are talking about the music they love.


12:55pm Big Brother cuts the live feeds..
2:25pm The live feeds are still blocked.
ALLIANCES IN THE HOUSE
There are always a lot of Alliance but we've tried to make sense of it all.. Read our alliance help guide
[polldaddy poll=8797487]
[polldaddy poll=8794961]