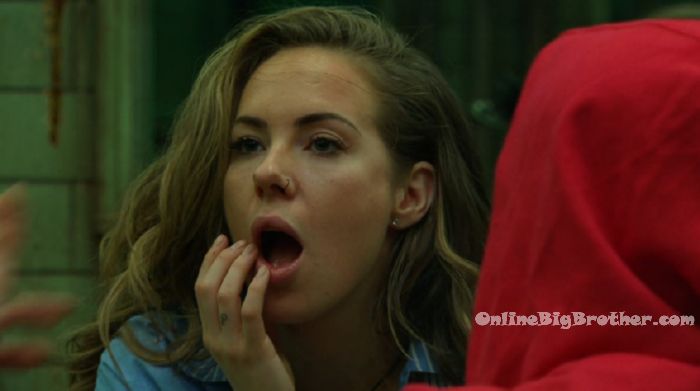 11:15pm Havenot room. Sam and Adam.
Adam – I talked to Mark and he was like I don't understand why I'm even on the block. I told you and Sam that you were good. He is clueless why he is even on the block. I don't think that he would come after you. Sam – okay I trust you. Adam – this is your week. I talked to Kyra and all I heard was me, me, me. She is not thinking about you. She is not thinking about me. Its all about her. Sam – everyone is convinced that you guys are working together that they want to break it up. I don't know if I can trust you and Dane. I feel like I'm disposable when it comes to you and Dane. Adam – where are you right now? Sam – HOH. Adam – we haven't touched the block once. Sam – you're closer to Dane because you feel like you can back to back win. And I am going to be plucked off sooner than later. If I can bring in people that think of me like that for them… instead of being down here. Adam – even if there is a guy thing.. and Mark wins. I am not going to allow you to go up. Maki said my name… gone! Chelsea started running around saying our name.. gone. Ma was trying to get us out.. done! Laura said your name… gone! Sam – do you think I can trust Anthony? Adam – 1000% and he said he wants to sit down with both of us and talk. We're here right now because of what I've been doing. And you've been helping. Kyra is thinking about herself. Kiki is going to win competitions. Adam – we're here because we're working together. Sam – who is going to vote to keep Mark? Adam – we haven't touched the block yet. Kiki and Esti.. we haven't touched the block yet. Sam – okay I trust you. If I go home in the next couple weeks I am never going to talk to you again. Adam – There was a lot of scrambling today, people were talking and someone talked about back dooring you. I shut it down right way. Sam – I just want the heat to be on other people besides us. Adam – it will be. Kyra is going to get in your head. Sam – I know, let me just tell them what they want to hear. Because if I start going against it, they'll start manipulating the whole entire house. When we start having conversations.. don't get mad. I saw how Mark bombed through that… I know that Kiki should go .. I do. I don't want Kiki to be in the jury house. Adam – kiki might have two votes. I just want you to trust in this. Sam – okay, I trust you.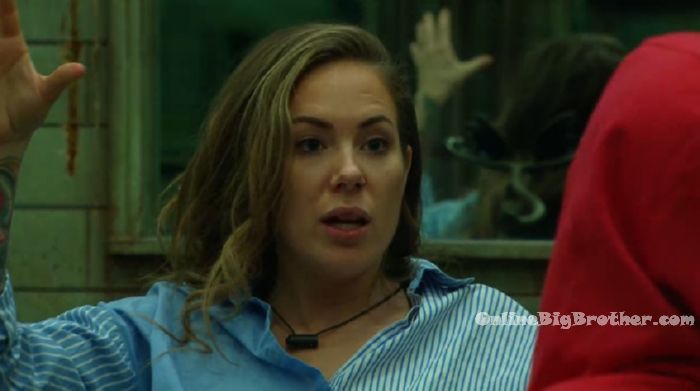 11:30pm – 12:20am Hot Tub. Sam, Mark, Anthony, Dane, Damien, Cory, and Adam are hanging out in the hot tub while its snowing all around them.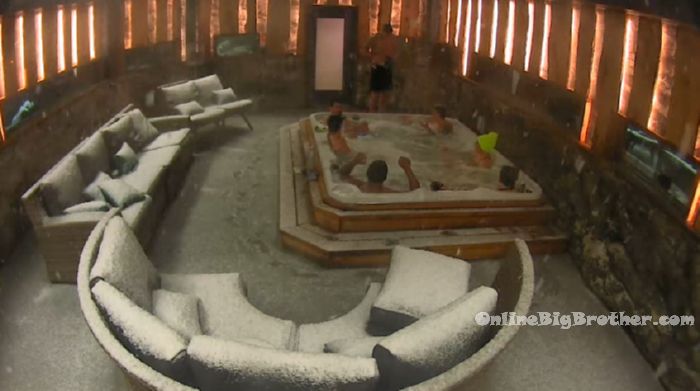 12:25am HOH room. Kiki and Esti.
Kiki – right now I need f**king votes dude. I knew it was going to be a battle but its really going to be a battle. Mark is going to schmooze and work on Adam. Talking with Dane one on one is a different vibe, then when its the three of us. Esti – I am like .. you're allowed to be worried .. that's fine but in my head I am telling you there is a zero percent chance… like zero .. I am telling you I am not worried. I am 100% certain that he (Dane) is voting to keep you. Kiki – so I have you, I have Dane, I have Kyra. Esti – you have Damien .. I am 100% sure. Kiki – I have Kyra .. unless this blood veto thing. Esti – I feel like its blood on whoever gets it .. not on everyone else. Kiki – they say that they can't play in the veto.. Esti – and they're safe for the week. Kiki – and they can't be nominated. Esti – we're going to work on Cory and continue working on Kyra. Oh my god I can't stand her voice… I can't!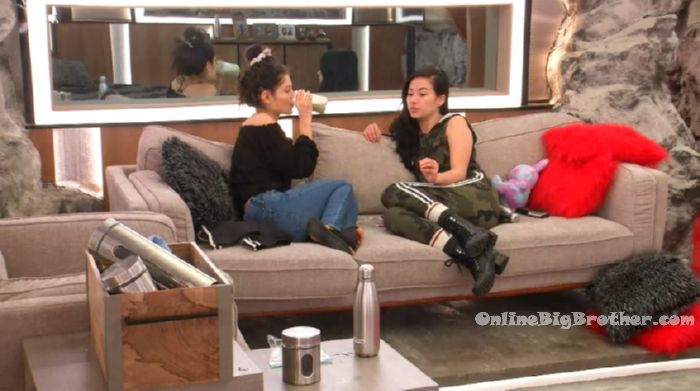 1:15am Hot Tub room. Sam and Kyra.
Sam – I'm an empath.. I can put myself in other people's shoes. You need to always remember no matter when you're feeling completely lost.. if you come to me I will tell you the truth. As much as you think my loyalty lies with Adam. Kyra – I just don't feel connected to them. It's hard when you know people are throwing your name. We have all day.. so much time. I feel like after all this sh*t .. Adam could put me up also… and like the only people that wouldn't put me up are you, Anthony and Cory .. I think. Sam – even having those three solid people are good because then you only need one more. The numbers are getting smaller. You're not going home this week. Kyra – I knew it would be hard when Chelsea left, I just didn't expect it to be this hard. Sam – you have to not rely on that type of relationship as much. Kyra – I want to trust Adam … I just know how loyal he is to Dane. At this point I realize that Kiki lies all the time. Sam – all the time. Kyra – how is she going to build trust with people when she just lies all the time. Sam – that's why she is going to go home. Kyra – I told Adam that I was going to vote out Mark and now he is going to be like why are you flip flopping so much!? Sam – they want Kiki to go.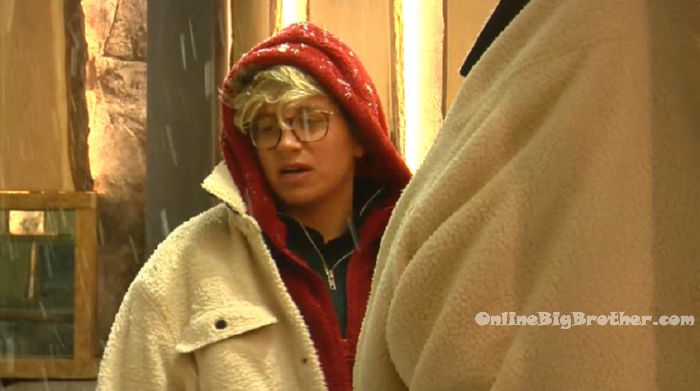 Help support OBB by making your Amazon purchases through our link below. It doesn't cost you anything and we get a percentage of what you buy.
Amazon Canada
Amazon USA