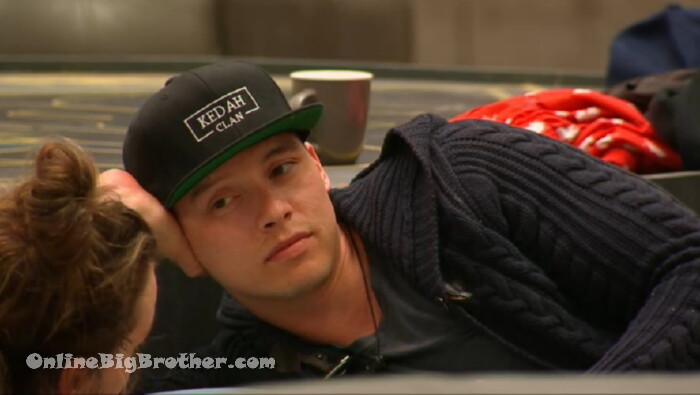 6:41pm Cory and Damien
Trying to figure out what BLOOD veto does.
Cory – because it's the blood veto Kyra HAS to use it to get Blood on her hands..
Damien – do you remember what the letter said>?
Cory – the letter said the holder of the power of veto won't compete will be safe for the week, and can't be nominated.. will be safe from Eviction..
Cory – Like can't be put up (thank you )
Cory – and uhhhh .. it said nothing about the use of it.. I wonder if during the ceremony it'll be annoyed that Kyra has to use the blood veto.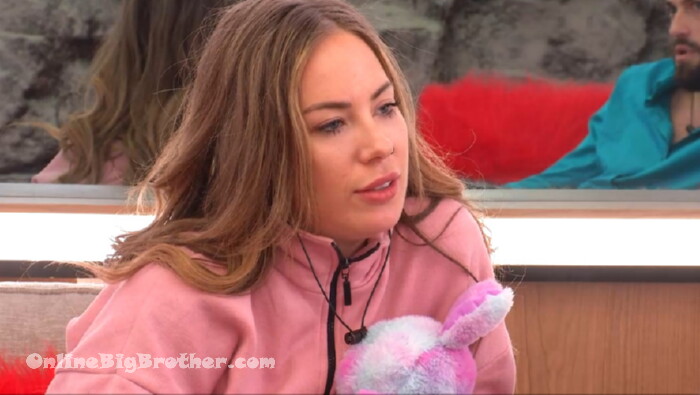 6:50pm HOH Sam and Mark
Sam – you are who I want to stay in this house.. I'm not pushing I'm wanting the house to feel you both out..
Mark says he's relaxed
Sam agrees..
Sam – you deserve to be in jury house 1000 percent more.
Sam – people are in my ear why KIKI should stay for me I'm not buying it
Mark – you want to win 20 thousand or do you want to win 100 thousand
Sam – right
Mark – if you were up against Esti, KIKI is voting for Esit if you are up against KIKI, Esti is voting for KIKI.
Mark – these are the people that pranced around on camera and bragged about throwing you on the block
Sam – I didn't know that until today
Sam doesn't want KIKI to think she's the target even though she is, "She would start lying and manipulating"
Mark says they are on the same side "we both voted Maki out we weren't manipulated by MOMMA"
Sam – they (the girls aka kiki and Esti) don't deserve to be here Mark
Mark – I know it's not fair to me.. do you know they over to me I helped them study for their days.. Their going against me. Those two girls will flip and flop to the end
Mark warns that the Girls are 2 heads and 2 votes brings up the PAC brothers being 2 heads and 1 vote and they won their season.
Mark – they will win because they have that extra vote
Sam says the points that KIKI is making "she's a strong competitor .. which you can look at either way her campaign is weak to a certain extent.. it started weak but is getting strong based on the feedback"
Mark – right
Sam – shes saying she wants to work with me Adam and Cory because were just in the room at the time.
They agree KIKI isn't keeping Sam safe.
Mark says if one of the girls win HOH the person going up is Sam it's not Dane. (kiki had once suggested)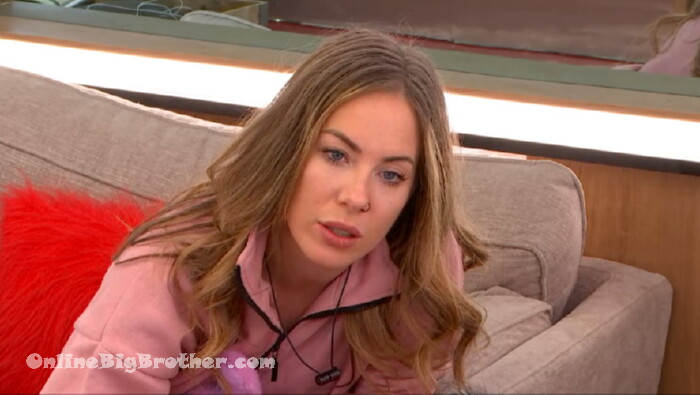 Sam – I don't think KIKI and Esti should be together in this house or even in this house at all.
Sam – Esti is riding Dane's coattails
Mark – Adam's not going to use it? (veto)
Sam – no.. not if I have any say .. I think I have a little bit of influence.
Mark points out that Dane had two times he could have put her up, "I don't think Dane is coming after you"
Sam says if she puts Esti up Dane will gun for her.
Mark – who would he gun for if you don't put Esti up
Sam – Kyra and … Damien.. \
Mark – mmmmm
sam – Kyra and .. me >?
Mark – I don't think he's gunning for you
Sam – he'll put me up as a pawn.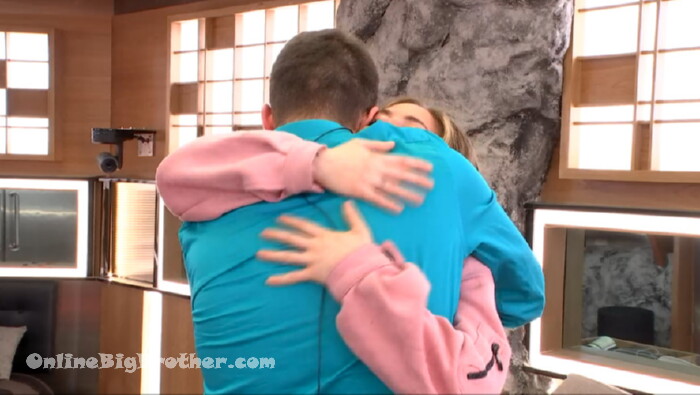 They hug it out..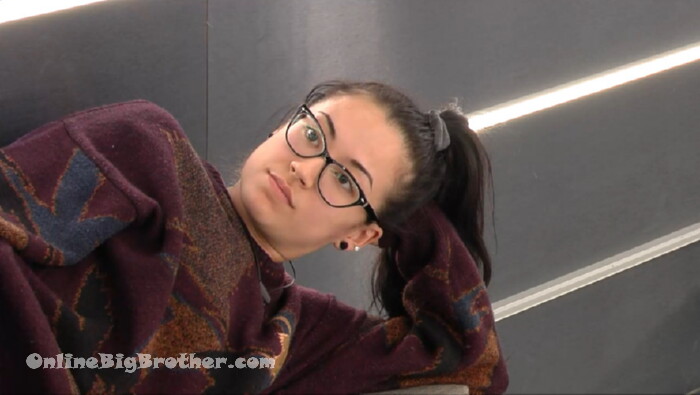 7:17pm Dane and KIKI
We enter into this conversation with KIKI saying she thought Anthony was a Solid Guy
Dane – I thought too was it something big
KIKI – I don't want to repeat it was just dumb sh1t .. we were just joking around talking about showmances .. it's just . whatever
Dane – just be careful around him
KIKI – you to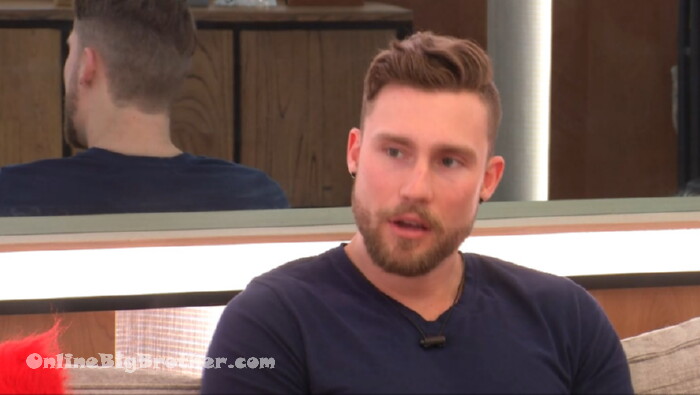 7:24pm Adam and mark
Adam saying they haven't talked as a group in a long time because theirs been so much heat. Sam is onto the boys big time.
Mark says the house is seeing him as a lone wolf in the game.
Mark – Adam, I have your back 2 million percent i haven't told this to anyone in this game .. right now theirs 10 players left in the game. that's a 10 percent chance at one hundred thousand dollars. .. there's a very good chance you are winning this f*ing game buddy .. you know that right ..
Adam – yeah
Marik – Stay calm ..
Adam – we all have
Mark interrupts.. EHEHEHEHHE lets just say there's a bit more than 10 percent chance of you winning and I want to be there for you.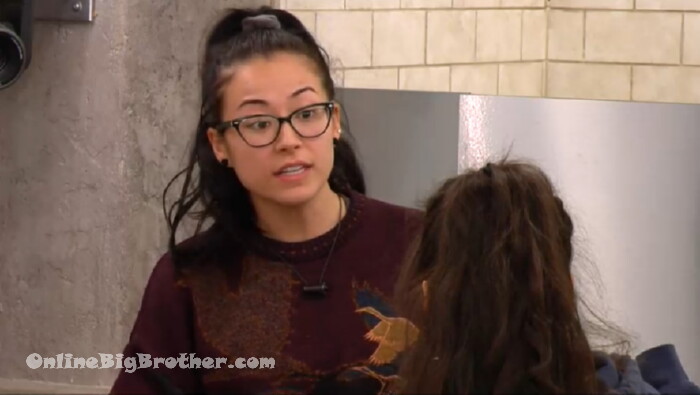 7:35pm KIKI and Esti
KIKI says Adam came up to her asking if she and esti did the gun blazing with their fingers to the cameras saying they would get the showmances out.
KIKI – he's like multiple people came up and said that
Esti – what..
KIKI – we did do that in front of Anthony .. we were being silly.. so that is obviously what Anthony is using .. I totally denied it.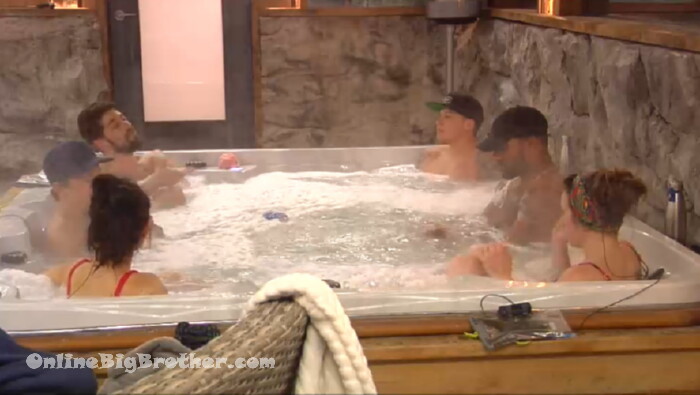 9:40pm Hot Tub Time