POV Holder:
?
Next POV
April 26th
POV Used
?
POV Ceremony
April 28th
HOH Winner:
Jon
Next HOH:
May 1st
Original Nominations:
Heather and Sabrina
Current Nominations:
?
Have Nots
?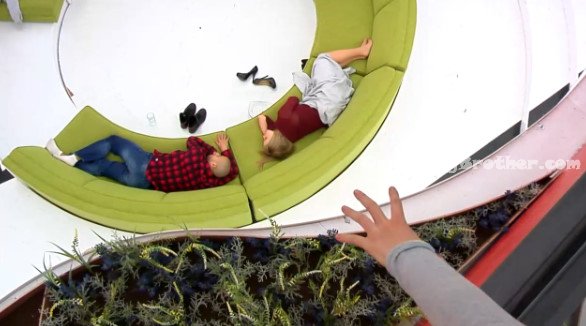 5:50pm – 6pm
Sabrina leaves the living room and Adel says BOOOO! Sabrina says if you boo me when I leave .. I swear to god! After that speech! Adel says you've been a thorn in my side! Adel laughs. Sabrina pretends to go in the bedroom but listens to the living room conversation. She then comes out and says she's been listening to them. Adel says you're a thorn in my a$$. Sabrina says I would say I would suck your soul but you don't have one! Sabrina says I'm winning the veto and you're going up! Goodbye there bud! Adel says if I go to jury house I will make you go insane! Sabrina says if I'm in jury house there's no camera's watching! Sabrina heads into the bedroom. Sabrina goes into the bedroom and then runs back out and says SUCK ON A TURD YOU TURD NUGGET!! Sabrina lays on the bed. Sabrina says how am I going to live with this person another 2 weeks! In the living room – Jon comes out of the diary room and and sees Neda sleeping on the living room couch. He looks at the camera and points at Neda sleeping. Neda wakes up and Jon starts touching her face and pulling her towards him. Big Brother blocks the feeds…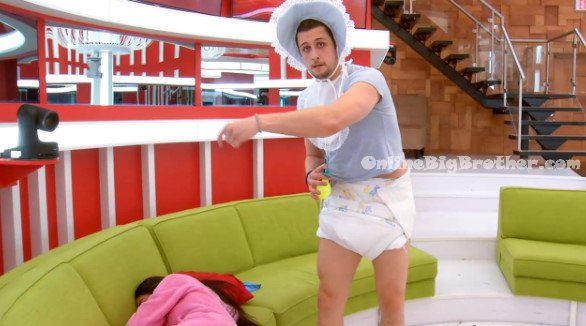 6pm – 6:30pm The live feeds are blocked..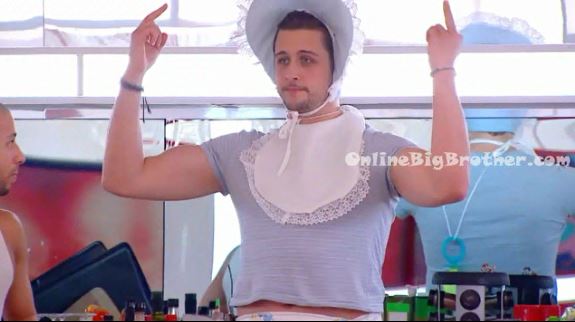 6:40pm – 7:20pm The live feeds return – Sabrina is sleeping in the bedroom. Meanwhile in the kitchen Adel, Heather, Neda and Jon are hanging out. Jon sticks out his baby belly and says I'm so fat! Adel says Neda why do you look so provocative? Neda asks what? Adel says didn't I say it right .. why are you trying to look horny? They repeat him provocative? Adel says so I did say it right. Adel says eat your heart out ladies.. its Jon and Adel in the kitchen! Adel says Jon the DONG PARDY! JOn sticks his hand down into his diaper.. Neda say Jon Jon Jon you can't do that!! Jon asks why and then pulls his hand out. Neda tells him to go wash his hand. Jon goes to wash his hands. Jon says Neda from the bottom of my heart I am sincerely sorry for my words, my actions and my a$$hole-ness! Adel says that his girlfriend is the prettiest girl in the whole wide world. Heather tells Jon to say Janelle is. Jon says no that's highly un-probable. Heather says that's mean. Jon gets called the the diary room and Adel continues to cook while Neda and Heather watch. They speculate that the POV competition might not be today since the POV sign isn't up on the living room tvs and they say that its usually started by now.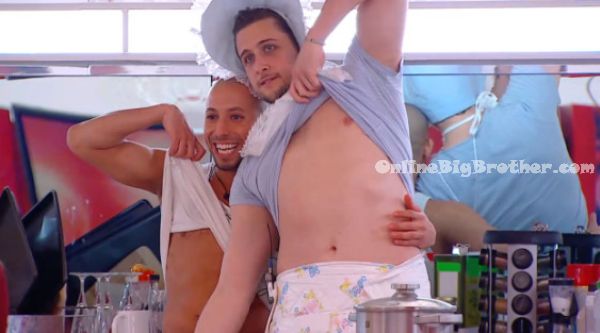 7:20pm – 7: Jon and Adel sit down eat at the table and Neda joins them. They talk about telling Heather they're voting her out. Neda explains that if it were her she would want to know she was going home. Neda says just don't drop anything right after the pov either. Adel says he won't .. she'll be like what happened to 1 billion hundos!? They all laugh. Neda says if we know and there's nothing that can change it .. its better that we tell her. Adel asks what happens if there's a twist? Neda says we can't worry about it. We will just wait until the dust settles for a bit after the POV and then tell her. The conversation turns to talking about the baby challenge. Neda says I held my baby all most all of the time. Jon says yeah by its leg.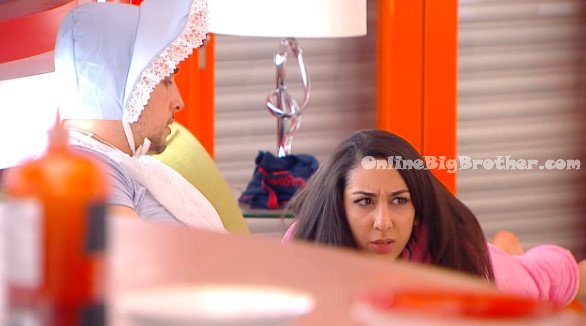 7:45pm Jon and Neda start wrestling. They have a thumb wars, foot stomping wars, and n!pple pinching wars…
7:50pm – 8:10pmJon and Heather speculate on where Neda went the week she was HOH and left the house over night. Jon wonders if the got something really cool in a secret room in the house or if she got to meet someone.. he says he doesn't think she got pandora's box because then the whole house would have gotten a punishment or reward. Big Brother calls Neda to the diary room. Jon says I am so sick of this outfit! And I have to wear it right till eviction! Heather says that bites! Do you have to wear it for the HOH competition? Jon says he doesn't think so. Heather says that's good.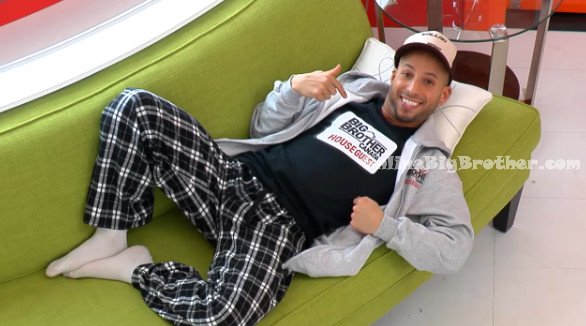 8:30pm – 9pm Adel, Heather, Jon and Neda are sitting around the living room couch talking about random things. Adel says I keep think the longer we're here the more cheddar we get but that's not true. The house guests are confused as to why the power of veto competition hasn't started yet. Adel says I can bet 1 hundo that this is a recording and Canada has the veto! Jon comments on how Sabrina's allowed to sleep but they can't. Adel says Paul and Sab's can do whatever they want. Heather brings up how she knew Andrew for a long time and he still called me a dumb b***h! Jon says you're a bright girl heads! Heather says thanks! Adel says I'm a profiler and I think you're trying to be an actress Heather. Jon says look me in the eye and tell me you're not going to pursue acting? Jon keeps pushing for Heather to say if she wants to be an actress when they get out. Heather won't answer and says its not her career. Jon says I am going to be f**king rattled if I get out of this house and you're an actress. Adel asks why? Jon says because that means she's lying to me.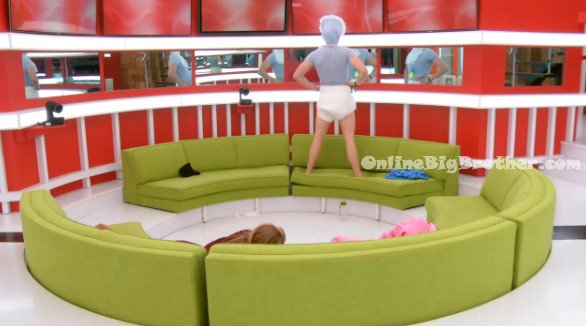 9:15pm Adel heads to the bathroom and draws x's on the doll face and then throws it downstairs. Adel comes back to the living room couch. Sabrina joins them complaining about her alergic reaction on her hands. She starts showing Adel and he tells her its okay just self-evict! F**K IT!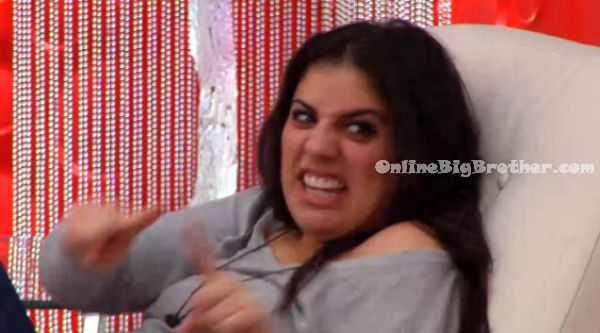 9:20pm – 10:10pm Big Brother blocks the live feeds… When the feeds return all the house guests are in the pantry except for Sabrina whos in the diary room. They're on a pantry lock down. Jon says as soon as we walk out there someone will be out there… The lock down ends and they leave the pantry. Nothing is different. They comment on how someone probably had to just run in and out. Adel checks the main bedroom door and realizes its locked. They think Big Brother put the POV costumes in there. JOn, Sabrina, Neda and Adel eat the pizza they made. They hear noises coming from the backyard. Adel says its water spraying.. he says well be on something spinning around like crazy. Neda says the POV is either something spinning really fast or water spinning and spraying. The house guests move up to the landing by the front door. They continue to hear noises from the backyard. Jon asks if they've ever done an endurance POV before? Neda says it might have been possible it happened before. Neda says I am going to take a wild guess .. that the building is done..
10:15pm In the bedroom – Neda tells Jon that Sabrina is acting too safe.. I think we need to tell her something to make her not feel so safe. Jon says we could tell her that Heather better win the POV or its a whole new ball game. Neda says yeah that's good. Adel, Heather and Sabrina join them. The house guest are laying around talking about how late it is and how they wonder when the POV will start. Everyone leaves the HOH but Jon. He calls Sabrina into the HOH room.. The cameras turn to them but the audio is off at first and when the audio gets turned on Jon says "..She's (Heather) already gone before so f**king… Big Brother cuts the feeds… (Jon was basically telling Sabrina that prior to the POV competition Heather is going home but if Heather wins it she would be the one going home, so Sabrina better try and win the veto.)

10:30pm Big Brother blocks the live feeds.. Looks like its time for the power of veto competition..
12:35am Still blocked..
1:05am Still blocked..
1:55am Still not back yet..
2:20am Big Brother tweeted out "Yes, feeds will return tonight. Your patience is appreciated."
3:15am The Live Feeds are still blocked..
3:40am The live feeds have now been blocked for over 5 hours…
4:25am Still nothing ..
4:50am The live feeds return with no mention of who won the veto .. all house guests are too exhausted and head straight to bed..
HELP keep the spoilers coming.. Show your support by making a donation. ANY amount is greatly appreciated! Simon and I work 24/7 all season long to keep you updated on everything that happens inside the Big Brother house. Your donations go directly to paying the fees required to run this site.
Stay connected and interact with other Big Brother Fans on our Facebook page.
And Follow: @BigBspoilers and @Dawgsbigbrother on Twitter for the most up to date spoilers.