POV Holder:
?
Next POV
April 26th
POV Used
?
POV Ceremony
April 28th
HOH Winner:
Jon
Next HOH:
May 1st
Original Nominations:
Heather and Sabrina
Current Nominations:
?
Have Nots
?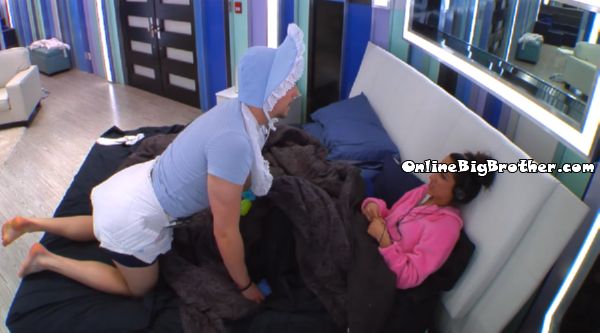 1:15pm HOH Neda and Jon
Jon going over his conversation with Heather earlier in the day.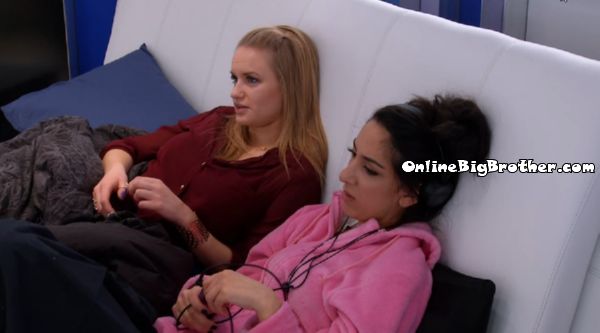 1:27pm HOH Neda and Heather Heather says she was packing earlier because there's clothes she doesn't plan to wear anymore.
Sabrina joins them and they start speculating what the competition is going to be. Sabrina thinks it's a buzzer based one because there isn't much construction going on outside. Heather thinks it might be the reward/penalty POV.
Heather goes to the washroom. Sabrina asks her if they are going to tell Heather or if it's going to be a blindside. Neda says thy'll have to see after the POV, it's up to JOn because she didn't want Heather to go.
Sabrina – "Who did you want to go.. the other one" (Adel)
Neda – "Yes"
Heather and Jon join them..
Random speculation about what the next competitions will be like.
2:12pm Nothing going on random screencaps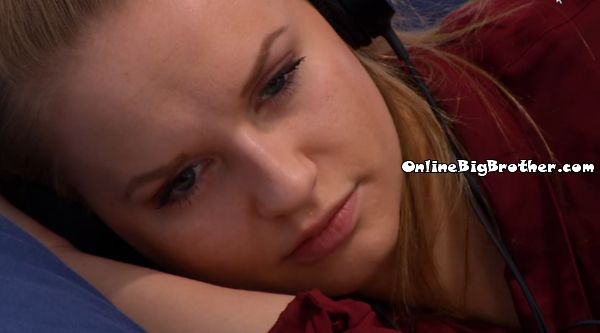 2:30pm Heather in the HOH listening to music JOn and Neda in the kitchen. Adel joins them in the kitchen says "It's 3 o'clock we still have 5 hours"
2:40pm Kitchen House is collected around eating pizza and salad. Jon presses the point that Sabrina ran RAchelle's game. Rachelle would do whatever the f*** Sabrina said. Sabrina tells them it was the night before Arlie went home that Allison decided to vote out Arlie.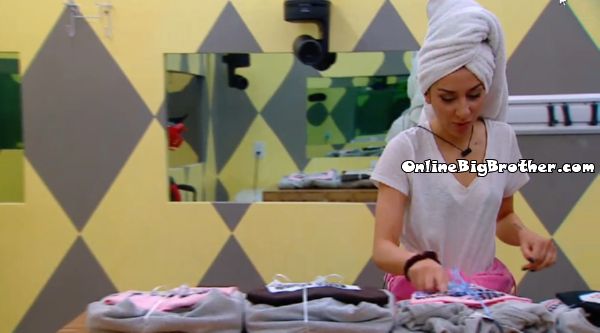 Big Brother Gives them a Big Brother "Hoodie" and "tank". Jon can't wear anything he's not allowed he's Baby Jon.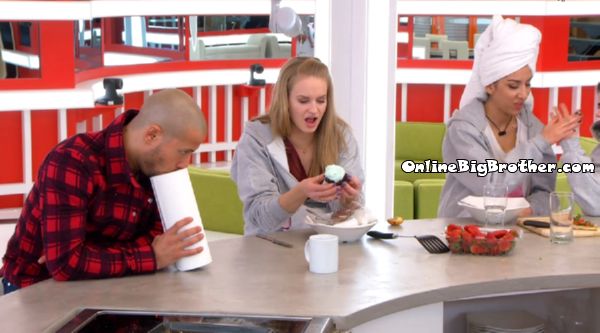 I'm really hoping that the POV is a cupcake eating contest
3:00pm Heather and Adel in the bedroom
Heather asks him if there is anything she should be worried about. Adel says no, "1 billion zillion zillios you don't"
Heather – "Well you and Neda are the only ones voting"
Adel – "You have nothing to worry about cause.. literally.. you or Sab wins POV i'm in the same situation"
Heather says she will never vote for Adel to leave.
Sabrina joins them.
heather- "I f*** love this hoodie this is my favorite hoodie of all time now"
3:12pm HOH Jon and Adel
Adel walks in
Jon – "PLAYA"
Adel – "What's up playa"
Jon – "Listening to some tunes"
Adel says Gonads (Neda) keeps mentioning who will win at the end who will have enough votes.. I don't know if she is building up to it.. It's the third time today.. Once in the main bedroom, once downstairs and once in the washroom.. I don't know what it means yet I'm just trying to soak it all in "
Adel – "she knows she has all the votes… her or Sabs"
Jon agrees says the only votes he'll get two votes Allison and Canada.
Adel – "I'll get Arlie and Canada"
Adel – "She thinks she's so fu***g smart eh"
Jon – 'Ya i know"
Adel – "Pisses me off"
Jon – "She the least physical competitor"
Adel says she's trying to get them to turn on each other.
Adel – "She's been campaigning for everyone's Jury votes since they left"
Adel – "F*** Sh1t tard pi$$es me off"
Jon – "She's f***d"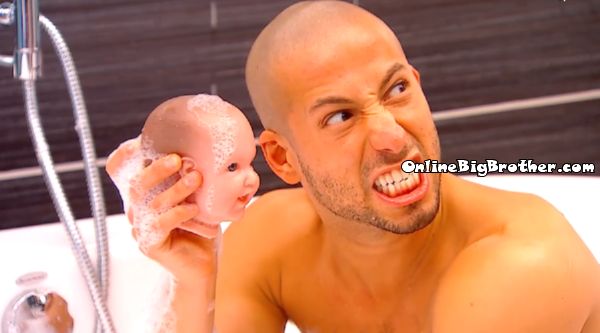 3:30pm Adel in the hot tub messing around with the doll heads
Jon comes in says he's in the baby outfit until Thursday night.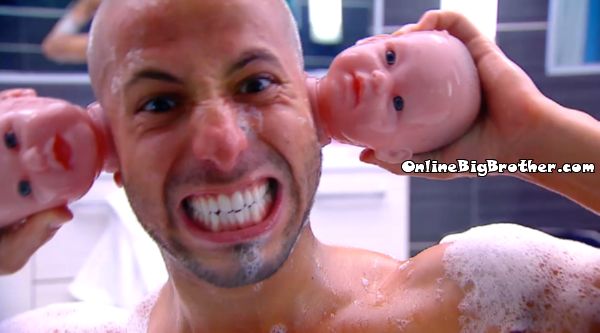 3:58pm Jon fills the giant soother with water and starts spraying Heather and Neda.
The girls fill jugs up with water and corner Jon in the bathroom. A water fight starts.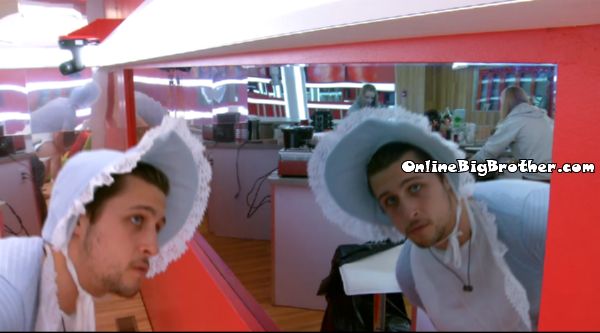 4:41pm nothing much going on.
Jon moans and groans about missing Janelle.
Heather – "Janelle's v@g1na is only two weeks away"
4:48pm Storage room Adel and Neda Adel tells her if they win POV they have to keep the nominations the same.
5:30pm random chat waiting for the POV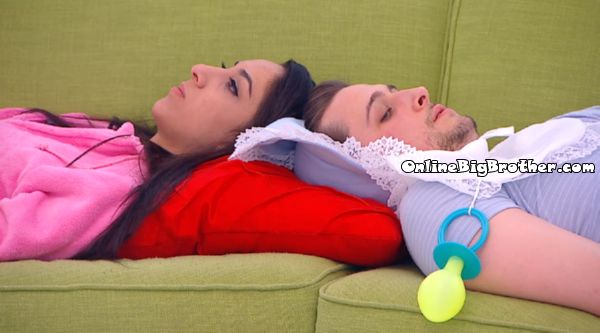 5:45pm nothing changed