POV Holder:
JON
Next POV
?
POV Used
?
POV Ceremony
?
HOH Winner:
Sabrina
Next HOH:
Next HOH is final HOH
Original Nominations:
Jon and Heather
Current Nominations:
Jon and Heather
Have Nots
Jon & Sabrina are on slop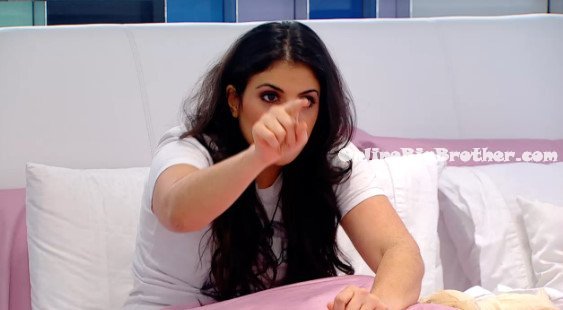 11:45am – 12:10pm Sabrina, Neda, Heather and Jon are in the HOH room hanging out. Sabrina says I am going to win the final HOH. Jon says I would be proud of you if you won but you're not going to. I'm going to win. Jon, Neda and Sabrina break out into an argument of who would win depending on takes who. Sabrina says that if Neda wins the final HOH and takes JOn then she will vote for Jon to win, but if Jon wins and takes Neda then Sabrina says she will vote for Neda. Jon asks so if I win the final HOH and take Neda you wouldn't vote for me? And if Neda wins the final HOH you would vote for me?! Sabrina then changes what she's saying and starts saying that Jon will win either way. Sabrina realizes her argument doesn't make sense. They continue to argue and ask Sabrina to explain what she means. Sabrina then says I know you both won't bring me.. put that in the garbage.. I will win the 2 comps and take myself. I really do think it will be 50/50 if you take each other. Jon says that's fair. Big Brother blocks the feeds and then comes back. Sabrina says I think keeping an alliance to then end and keeping it is a risky move. Jon says I don't think so.
Jon leaves the HOH room and shows his frustration with talking to Sabrina..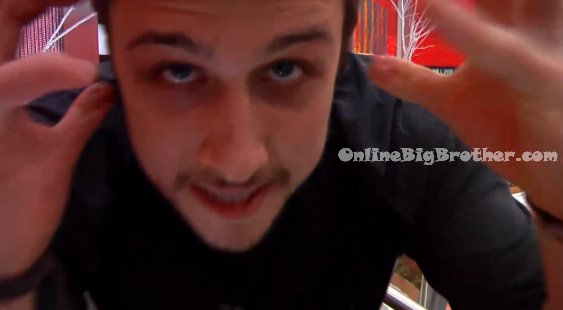 12:15pm – 12:30pm Jon and Neda head into the main bedroom and talk about the conversation they just had with Sabrina. Both Jon and Neda don't understand Sabrina. Jon says she is the worst at campaigning. Jon says she made me so angry in that conversation. She was basically saying if we don't take her we don't get her vote. Neda says I think she was saying that but I don't know. Jon says she can't call herself a super fan .. she should call herself a watcher. Sabrina joins them and they talk about cruises and music…
Jon says Sabrina can't call herself a super fan .. she should call herself a watcher. @bigbspoilers #bbcan2 pic.twitter.com/xQpOVlWuih

— Dawg (@DawgsBigBrother) May 4, 2014
12:40pm Jon comments on how he just wants to start the final HOH already. Jon says so we'll beat her in the first two comps and go to the final. Neda says as long as Sabrina doesn't make it to part 3 because she will do well at that. Jon says its kind of crazy its like a fairy tale. Jon says I'm still frustrated with that conversation .. she looks stupid and tries to make me look like a big d**k. Neda says well she's been playing the victim this whole time because its worked for her. Jon says yeah so might as well keep doing it. JOn says I am just mind blown! Neda asks how far you got? Jon says how far we got. Jon says I just wouldn't be content with beating Sabrina. I hope you feel the same way. Neda says yeah. Jon asks how have I made her feel like she's done nothing. Neda says you just speak the truth. Jon says I'm not a liar. Jon says she really didn't want me to win that veto. Jon says I really do think it would be a toss up between you and I. Neda says I don't know. Jon says if you win final HOH and take me I think you would win. If I win and take you I think I will win. Jon says I like it .. we both have the opportunity to win. Neda says I still wouldn't have wanted to be in the final 3 with Heather. Jon says definitely not. Neda and Jon join Sabrina and Heather in the HOH room. Jon is surprised that Heather would put Ika in the same category as Andrew. So you would put someone who called you a "pimple faced b***h" the same as Andrew who called you a "dumb b***h"? Jon says I just think Andrew is a bad person. I dont think Ika crossed the line the same ask Andrew I just think Ika has a bad temper.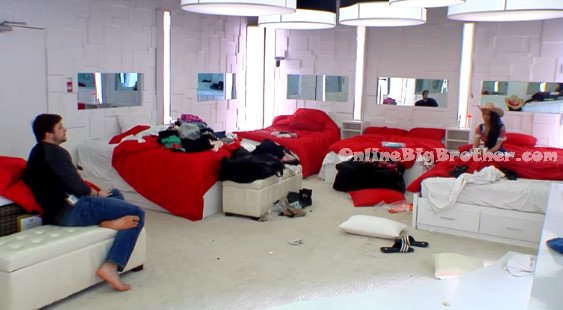 1pm Big Brother blocks the live feeds.. it looks like the live feeds are now over for the the season.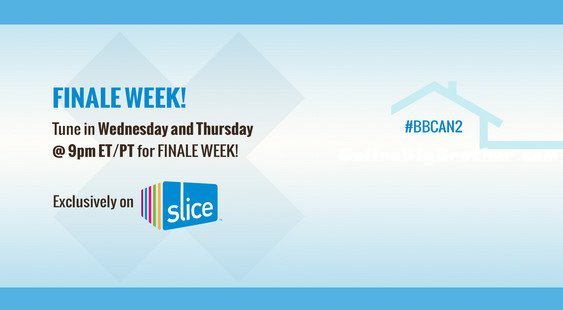 Final 4 break down
Sabrina won the head of household and nominated Heather and Jon for eviction.
Jon won the Power of Veto and will use it to take himself off the block. This leaves only Neda as a nominee choice and giving Jon the sole vote to evict.
The final HOH has 3 parts the losers of part 1 compete in part 2. THe winner of Part 1 and Part 2 compete in PArt 3. The final HOH decides who goes to the final 3 with them.
**** Simon and I want to personally thank all of the amazing OBB fans that have once again helped make this another great season. We are sad to see the end of the BBCAN2 Live Feeds but we can't wait to see what the remaining TV episodes reveal in the final days. After having once again being hugely popular for the second season in a row, I have no doubt there will be a third season starting early in 2015.
Although, it's sad to see the end of Big Brother Canada 2 drawing near we're EXCITED that it means the Big Brother 16 is that much closer to premièring (June 25, 2014). Simon and I will be covering the live feeds for Big Brother 16 so make sure you bookmark us! 😉
If you've enjoyed the Big Brother Canada Spoilers this season, show your support by making a donation. ANY amount is greatly appreciated! Simon and I work 24/7 all season long to keep you updated on everything that happens inside the Big Brother house. Your donations go directly to paying the fees required to run this site.
[polldaddy poll=8014722]
Stay connected and interact with other Big Brother Fans on our Facebook page.
And Follow: @BigBspoilers and @Dawgsbigbrother on Twitter for the most up to date spoilers.