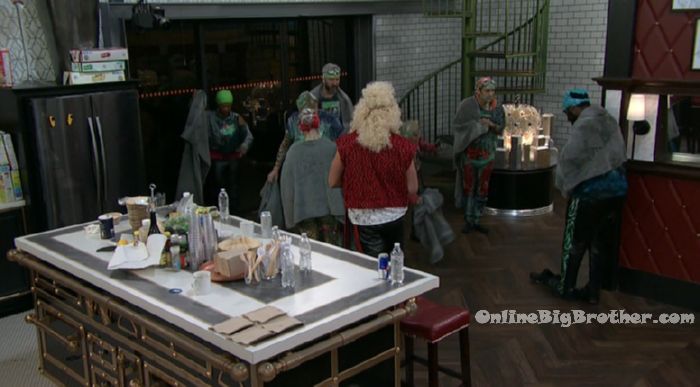 10:10pm The feeds return with the house guests coming into the house. They congratulate each other. Tom – who wants to go work out?! I am kind of concerned that I couldn't go that long and that everyone else went a lot longer. The house guests start clean themselves up.

10:37pm Ryan comes in to the bedroom to congratulate Kato on winning HOH. Ryan – I know I am probably a big target. Kato – I want to get your feel on how you feel about things. Ryan – I am just going to say my thing because I am mostly likely probably going to go on the block. I just have a feeling. Kato – I haven't even figure out who I would put on the block. Ryan – if you don't I would be a good ally for you because I am going to try and go and win every competition. Kato – yeah .. and you will. Ryan – but what do you mean my feel? kato – you said earlier that you wanted to see your family.. Ryan – oh I want to see them but I want to stay. I want to stay as long as I can. Kato – we'll figure something out because I want you around. Ryan – in the beginning we had an alliance with the girls.. me and Jonathan. .. and that got screwed up. They have their own alliance with whoever I don't know I guess the whole house. Kato – we'll figure out a plan. Ryan – you keep me around and I will be a good ally for you and I will work with you. Kato – I will talk to whoever .. but I want to keep you on. Ryan – we'll talk. Ryan leaves the room.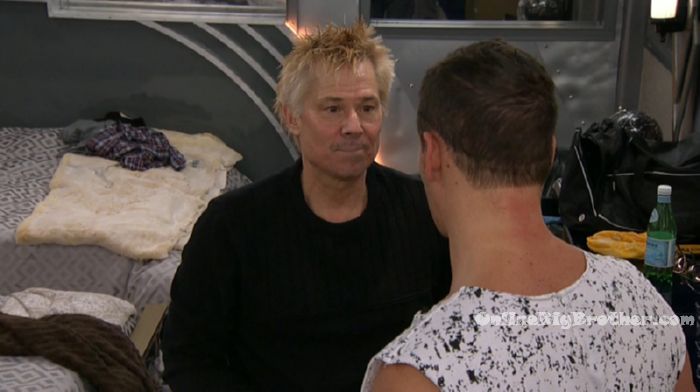 11:30pm The house guests are still showering / eating. Lolo asks Dina why here hair isn't green. Dina says she doesn't know. Lolo- I'm about to lose my motherf**king mind! Tamar – No you're not! No you're not! Lolo – she (Dina) has no green hair. Why does my sh*t look like a f**king ninja turtle!? Tamar – you might have had an organic chemical in yours. You never know what other chemical mixed. Lolo – Just tell us! Just tell me?! They warned her about her high heels. And don't have me in the diary room with cold hair.. like you know how cold it is in there. That's when I lost it. Having me chilling in the cold diary room when I've been sick.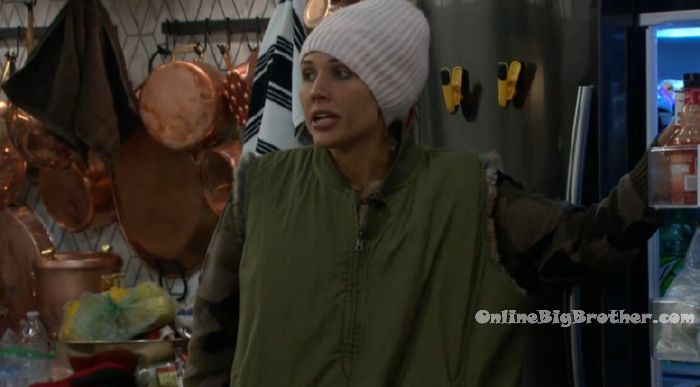 11:50pm Kitchen. Natalie tells Ricky / Ryan how she is 6 years sober. Ryan talks about how when he would drink it would be bad because he would mix it with an ambien. He talks about getting help. Natalie congratulates him on getting help.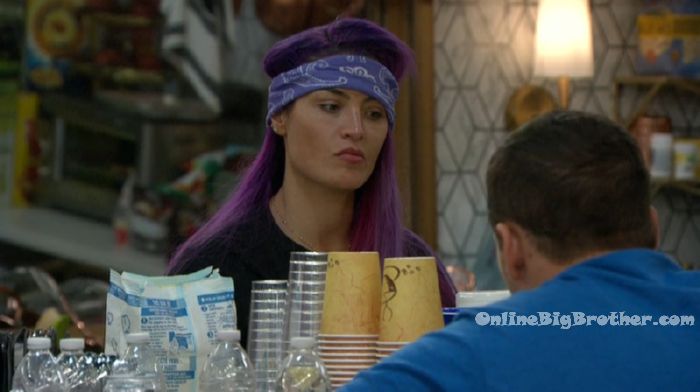 11:50pm 12am Bedroom. Lolo and Tamar. Lolo – they're on a roll now .. their confidence is going to be real high. Tamar – it was just a bad idea. I saw it. Lolo – no they're cool, I like em. Tamar – roll with it. You roll with it when you're in an alliance. Lolo – I like them. They're underdogs and I like underdogs. They're not putting you up this week. You're good. Tamar – I don't see why they see me as such a threat. Lolo – I don't want to talk game .. my hair is green.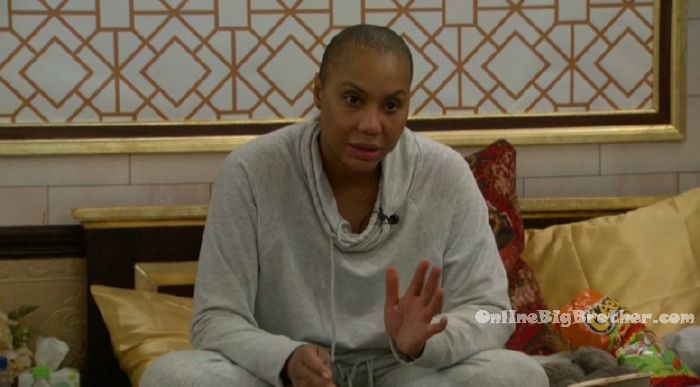 12:30am Cards..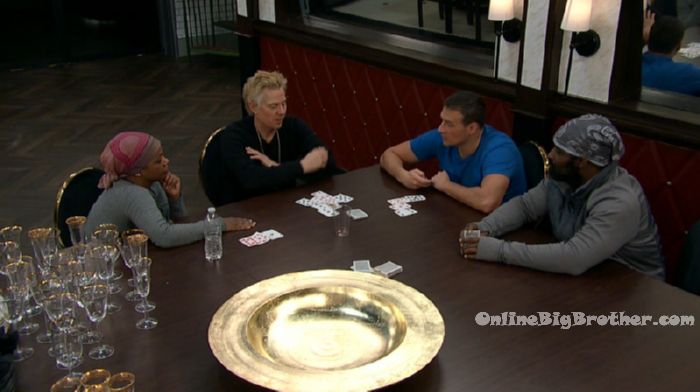 1am Dina and Kandi playing cards. Kandi – so Dina .. why didn't you vote for me? Dina – Ugh… it was a sh*t fest. (lol) They said oh Kandi's not going to go up but if you vote there then it will be even and then Ryan can take Jonathan off the block. They lied! The girls lied! Because they were voting for him.. and one for you know who by the way. And I knew there would be too many numbers. So I said Kato who are you voting for .. and they didn't let me in on anything because I guess they figured I was friends with Jonathan. They all lied to me. Everyone of them. They told me you were safe. I knew your numbers weren't going to be anything. I didn't know he would be zero .. because they lied ..the girls. They're all f**king liars. Dina starts to cry. Dina – and Kato doesn't tell me sh*t. Kandi – don't cry. Dina – all those girls… I don't like f**King people like that. 'I'm just not used to people doing things like that. Ask Joey .. get him up here.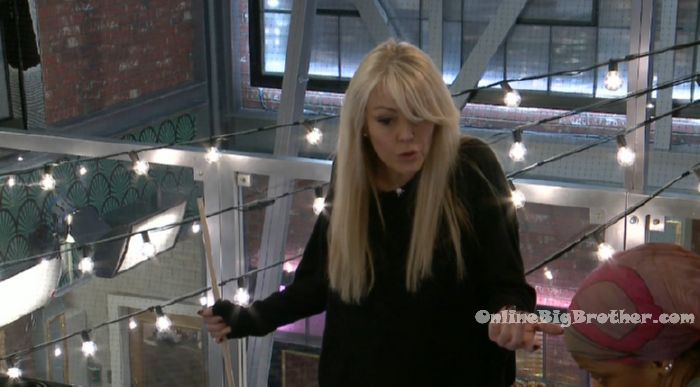 1:23am – 1:40am
Kato gets his HOH room. They all rush into his HOH room. Natalie – you have a girl friend? Kato – yeah. Natlaie – She's hot! They check out his HOH basket. Kato reads his HOH letter from his girlfriend.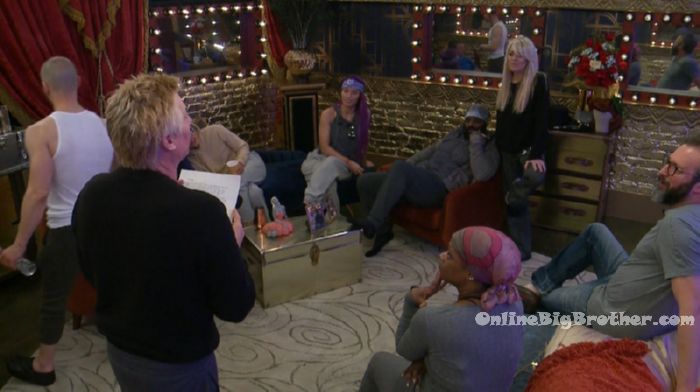 2am
Ryan and Joey. Joey – Tom played the part perfectly. Like he couldn't have played it more perfectly… like the way he fell off .. the non-threat. He will be one of the last ones because he is such a non-threat to do anything. Ryan – yeah. And I love him but they don't view him as a threat. Ryan – we have to think smart now. But I am gunning for them. I will say it to their face. Joey – dude we have to break them up somehow. Ryan – and the way you break them up is if you put Natalie and lolo on the block. Joey – that would be genius. Ryan – it would be the best move ever. Joey – they would turn on each other in 5 seconds. Done! Ryan – it would be over.. it would be done. Joey – is there a way we could sugar that into Kato without him thinking.. like this is a growing monster here.. Ryan – I planted the seed. I said he needs me because I am going to try and win all of the competitions. Look he had an alliance with them and those three girls ..we had an alliance with them and they turned on one of them. I said those three girls have an alliance. That's a pack that you have to watch out for. Hopefully its in his head. Joey – They made everyone think that Kandi was the sacrificial lamb .. and people believed it. Ryan – he is not going to put up Natalie because he promised her. And hopefully not us two. He likes Dina. Ryan – I would obviously put up Lolo and Natalie. I should have done that. Joey – yeah .. could'a, should'a, would have. Joey – it has to be a principle thing where they have to go first. It is going to go f**king fast now dude!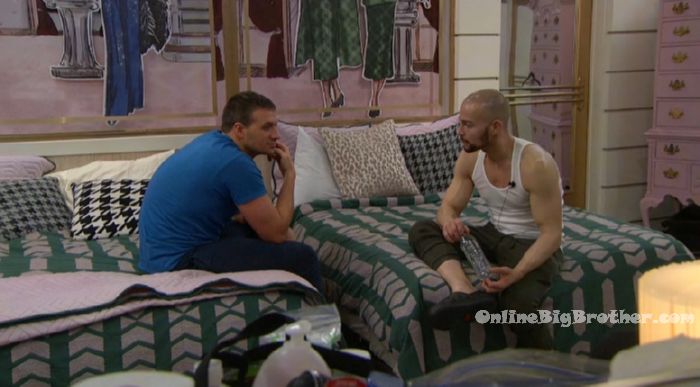 3:55am All the house guests are sleeping..
If you plan on buying anything from Amazon. Use this link Amazon home
It doesn't cost you anything and we get a small cut.