POV Holder:
Liz
POV Competition
Aug 15th
POV Used
No
POV Ceremony
Aug 10th
HOH
Liz
Next HOH
Aug 20th
Original Nominations:
Johnny Mac and Becky
After POV Nominations:
Johnny Mac and Becky
Have Nots
Vanessa, Johnny Mac, Steve
2:28pm Jmac and Austin are working out
The twins and Becky are pool side. Liz is throwing stuffed whales at Austin. Austin is getting mad because he's working out and could get hurt. Says if he's doing a lift and gets off balanced he could "Slip a disc"
Austin – Liz, this is how I look good for you… you can't disturb Work out time
Julia and Liz continue to throw stuffed whales at him between his sets.
Austin is all sweaty and hairy Julia tells him to give Liz a Hug. With Julia's help Austin conners Liz Julia pushes him into her. Austin hugs and kisses her Liz as she screams and squirms.
Liz – "Sweaty man sunscreen"
Austin – Some People think that's an honour
Julia – You deserve to get hugged by sweat man
Austin "Now you know what it's like to have a wrestling match.
[envira-gallery id="128986″]
"Sweaty man sunscreen" "Now you know what it's like to have a wrestling match" #BB17 @DawgsBigBrother pic.twitter.com/W0B2jEGbyh

— OnlineBigBrother.com (@bigbspoilers) August 17, 2015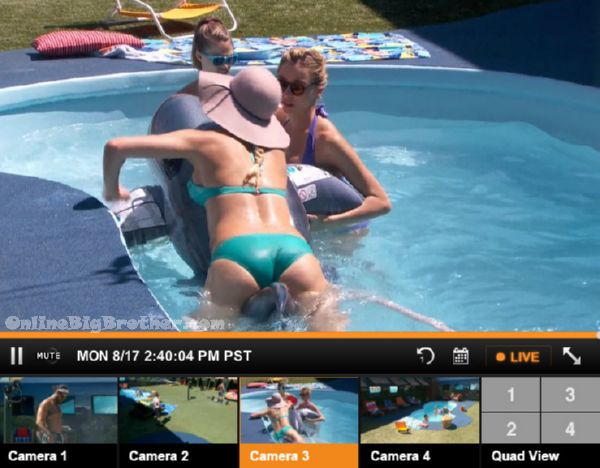 2:40pm Th twins molest the shark
Shark Ride #BB17 @DawgsBigBrother pic.twitter.com/1kuanPK3Ou

— OnlineBigBrother.com (@bigbspoilers) August 17, 2015
3:18pm A real fun game they are playing…
Austin trying to guess a colour if he guesses wrong Liz dunks him in the pool..
What a fun game! #BB17 @DawgsBigBrother pic.twitter.com/94oVL8k0UB

— OnlineBigBrother.com (@bigbspoilers) August 17, 2015
3:26pm Vanessa, Liz, Julia and Austin Hot Tub
Talking about Dreams. Vanessa asy in her Dream Becky freaked out after the Veto Ceremony. James started running around in the cat hat because he was fighting with Becky.
3:36pm Julia and Steve
Julia asks him if he's still thinking keeping Johnny Mac is the best play. Steve says by taking out Becky and Jackie they guarantee those two will not both be in the house together. Even after the buyback. Steve believes these two together are the most dangerous.
Julia asks Steve to give her some Chess lessons.
Steve – you like chess
Julia says she was on the chess team in grade one "I want some pointers.. I sucks it's embarrassing"
Steve says he's never played chess before coming into the game.
Julia- I don't think Meg and JAmes are mad at you for what you did
Julia – Meg will know if anyone is up against Meg She's not going anywhere.
Austin joins them they start talking about the construction that is going on in the yard beside them. They see Leaves blowing over the wall so they think the next competitions will involve Leaves.
Austin – I think it'll be another question one.. or chance
Steve – we've had Chance
After some Chit chat Julia goes inside. Steve and start comparing notes. Austin says the whole house is against Vanessa.
Ausit – the biggest worry we know is Julia hasn't done anything in the game..
Austin explains they are trying to help Julia play the game more. Austin adds Liz is worried people will want to take Julia over Liz because LIz has a better chance to win the HOH than Julia.
Steve says Julia needs to win HOH's
Austin – Right now Vanessa is a pretty Big Shield..
Steve – I'm telling her everything she wants to hear
Austin says he's doing the same thing
Steve – I think she's going to throw HOH
Austin agrees says Vanessa mentioned throwing it to Julia
Steve again – Julia needs to win HOH
Austin wants Steve to talk to Julia about how important it is for her to build up her resume
Austin – She's played in no Vetoes as Julia,
They agree they have the numbers as long as a threesome doesn';t form again.
Steve asks if there's something he can do about John so people aren't sketched out so much
Austin says The goblins have bought the story that Vanessa is the reason Steve put up Jackie, "They bought it hook line and sinker"
Steve – Jmac doesn't know about Scamper squad / Freaks N Geeks
Steve He's suspicious because I didn't back door you
Steve doesn't want Ausitn to worry about him and Johnnymac being close.
Austin says he trusts Steve and has since very early in the season.
Austin and Steve are now talking over making a separate 5 person alliance with Johnnymnac.
Steve says they have to wait until after Becky leaves.
Austin says ideally Jmac puts up Vanessa and A gremlin.
Steve is worried people in their group will start throwing the HOH because they have the numbers.
Steve says the best people Jmaes, Becky, Jackie and Shelli
Austin – me, twins and you final 4
Steve – I'm not opposed to that
Steve – you know the twins are final 2
Austin – Yes I know that… I'm not coming between sisters
Austin says he's fine with going out third, Still goign to fight hard to win that final HOH.
Austin "I won't necessarily take them over you"
Steve – they will take each other
Austin – it will be a interesting Final 4
Steve says Meg and James will be goign after the HOH hard. He's worried he'll go up with Vanessa.
4:26pm Vanessa in the backyard resting in the sun. Twins, Austin, Steve (AKA boy) Chit chatting in the kitchen
James and Meg (Aka Grandma) are waking up, they join the rest in the kitchen. James jokes that him and "Grandma" spend so much time together their bowel movements are synchronized.
ALLIANCES:
"Goblins/Gremlins" = James and Meg
"The Generals" = anyone allied with Becky
"SOS" (Students of Sound) = Steve and Vanessa
Rockstars = Steve and Jmac
AUS-Twins = Austin, Julia and Liz
"Austin's Angels" = Austin, Liz, Julia, Vanessa
"Brass Tacks" = Gobins and Austwins
The new "Brass Tacks" = Aus-Twins, Meg, James + Vanessa
"Freaks and Geeks" "The Scamper Squad" = Aus-Twins, Vanessa, Steve
[polldaddy poll=9025485]