POV Holder:
Liz
POV Competition
Aug 15th
POV Used
No
POV Ceremony
Aug 10th
HOH
Liz
Next HOH
Aug 20th
Original Nominations:
Johnny Mac and Becky
After POV Nominations:
Johnny Mac and Becky
Have Nots
Vanessa, Johnny Mac, Steve
They're doing a cooking competition tonight
4:46pm
James and Julia are one team Liz and Austin are the other team .
James and Liz have been it the hammock room talking about what they will make.
James – we're going again the dream team were gotta bring the heat in the kitchen
I know one of the Judges is Meg.
5:01pm James and Julia scrambling in the storage room trying to figure out what to make.
James – I've watched a lot of cupcake wars and this cupcake has won.. butter cream frosting.. put the kiwi on the cupcake
Julia- Cupcakes are out of the question
James- we can make cupcakes.. with the pancake batter.. THrow a kiwi on top..
Juli a- NO NO we do chocolate banana on top.. I like the cupcake Idea we'll blow them out the water.
Julia – we're going to make crepes
James – what's creeps.. I don't know creeps
Julia- Crepes it's french..
5:15pm HOH Steve, Liz and Julia
Talking about the cooking competition. Starting at 8 so it's shown on After Dark.
Steve – why did you make me a have not this is my third time
Liz says everyone's next turn is their third try she's just following their plan. Liz points out this is the best have nots they get pork chops.
Liz – have you promised Johnymac your vote yet.. she's gotta do it today
Steve – like 2 days ago.. ASAP
Liz yells at Julia who's in the showers tells her to talk to Jmac ASAP
Liz – "She says it's hard because Becky is always around.. she's sleeping right now
Steve says even if Jamc is sleeping she needs to go tell Jmac soon.
5:21pm Backyard Vanessa and Austin (Austin tells Vanessa what she wants to hear)
Austin likes Vanessa idea
says she has an idea "Stakes" where they have a final 2 and the winner pledges a certain amount and they split the winnings.
Vanessa – how much would you be willing to guarantee
Austin – 1/2, I'm nuts
Vanessa- I could do that
Vanessa – I'm pretty sure you're OK financially outside of here
Austin says she's not playing the Jace card
Vanessa – With that much money straight up with Gmailing I can make so much money you have no idea
"I'm telling you I did it profitably for a long time"
"I do some sports betting my most profitable game is poker by far"
"I'm telling you straight up we could do something with TV"
"The house takes on the house"
Vanessa goes on telling him how good she is at gambling with 1/2 the Big Brother Winnings she can make unbelievable amounts gamilbing.
Talking about how they're in a really good spot. Nobody picked up steve as an ally and he is now
Austin says the house is thinking Checkers when they need to think of Chess.
Vanessa – Steve will become the king give him enough time
Austin – he's 2 weeks away
Vanessa says Steve is really close to Jmac
Austin – he's his shield
Austin – She (BeckY) did everything wrong in the HOH..
Vanessa says Becky made a big move and didn't have any defensive plans.
They talk about getting rid of Audrey so soon was risky for them they could all be home right now.
Vanessa says they need to make deals with Jmac tell him they'll give him their vote if he doesn't nominated them.
Vanessa- that was the solution I thought of for him
AUstin – once he feels safe with us he might throw it again
Austin says Meg and James are good for their until someone come back. He thinks the goblins are hoping for Jackie to come back.
Vanessa asks if they should knock the goblins down another member so there's no chance they're three of them in the house.
Austin agrees says that is why they want Steve to win it he's going after the goblins
Vanessa- what do you think of Julia winning
Austin – she needs to win she hasn't done anything
5:38pm Liz and Julia
Liz says Julia needs to start winning and getting more into the game.
Liz – you really need to win one.. people are not threatened by you they're threatened by me
Julia – I'm trying to be really cook with everyone
liz – me too, Chelli's downfall they were too into themselves..
Julia – you guys weren't obnoxious
Liz – Shelli put all her eggs in one basket with Clay.
Julia – I literally never had a conversation with im
Julia – someone needs to take out James
Liz – we can't win against Meg..
They agree to split the winnings.
Julia is nervous about having Johnnymac win the HOH. Julia adds the only reason she wants to keep Meg and James is because they will go after Steve.
Julia is having fun with everyone in the house but Johnnymac, "Vanessa is also really annoying"
Liz – Becky is so Phony… I'm sorry I Can't"
Julia – There's sides on this house and you are on the losing side
Liz – that's what happens when you play a floater
Julia – she royally f*** up her last HOH..
Julia says it was laughable that Becky backdoored Vanessa and her group never voted Vanessa out. (Gotta love those goblins)
The twins say they are disgusted that Becky tried to grab names out of AUstin's hands while doing the POV competition.
Julia – Me you and Austin till the end..
She wonders who else.
Liz says Meg is great for the 4th person.
Julia now saying Johnnymac might be good for them to take to the end (ZOMGS!)
Austin comes up "I just had a long conversation with Vanessa outside"
Liz – I like you hair curly.. don't' straighten it
Austin says Vanessa is really good right now she. Vanessa was telling him she's a professional gambler if she wins the jackpot with Austin she'll take 1/2 the money game it and they will split the winnings.
Austin – you know me I love gambling.
They agree Vanessa is starting to be like her old self.
Julia says she doesn't want to take Vanessa out next week.
Austin – Talking to Steve he doesn't think she should go this week but next week. Steve is worried that the goblins will form up a threesome. (And we all know the juggernaut the goblins are in this game)
Liz and Julia agree
Austin tells them if they backdoor Vanessa next week then Jackie comes back..
Austin – I think the idea is she and Johnnymac are the shields.
Austin says Steve is convinced he can get Jamc to work with them by the end of the week. So if Jmac wins the Veto he'll put up Vanessa.
Austin – Steve is super loyal to us he's our final 4 he's the guy
Austin says Vanessa has gambled millions she has no financial issues. "Maybe she doesn't have money anymore.. she's not playing for money she's gambling she loves it"
Austin goes into the shower. The twins can see on the HOh screen Vanessa And James talking. They are both pissed that Vanessa is going around telling people she's gambling 1/2 the money to split with the final 2.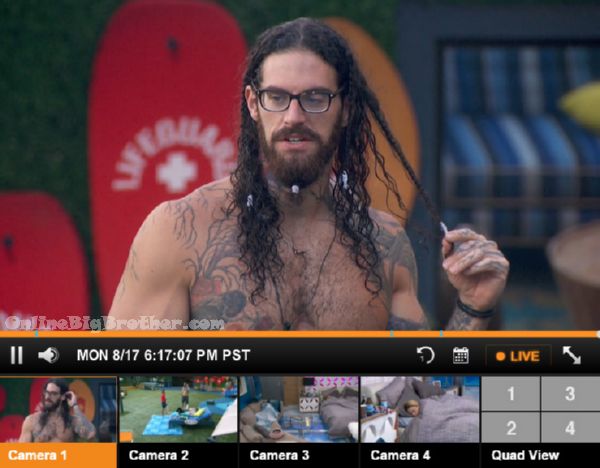 6:14pm Goblins and Austin
James – what is everyone deciding for Thursday?
Austin – Becky, unless she comes out with some serious Johnnymac sh1t
Austin warns them that Vanessa is starting to work the house again.
Austin says Jmac is ready to take Vanessa out.
Austin says Vanessa is always saying she doesn't know where Megs head is at, "She only talks to James"
Meg – Oh my god
Austin – She wants to offer Jmac her vote so he won't put her up next week
Meg – that's what she always does
Julia joins them "I just thought of something.. It's about the COOKING show"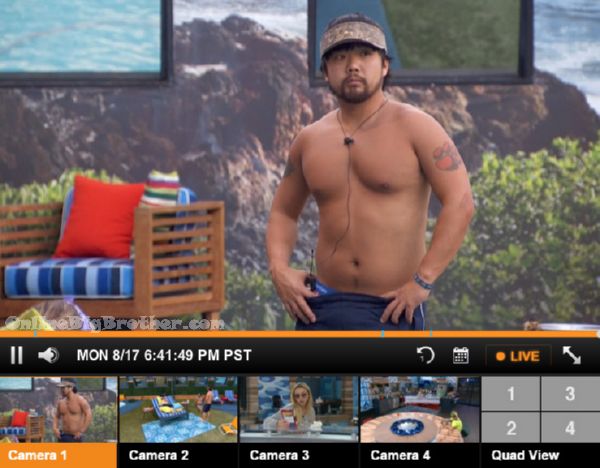 6:35pm Backyard Meg, James and Austin
Austin about Vanessa "Game Game Game Game Game"
James says he wants America's favorite so bad
Austin – I think Steve will get it.. He's the quirky underdog
Jame s- I have to go balls to the walls in the Diary room
Meg – James why not try to win
James – Right now, I just want to go for the small prize
Austin agree says winning the season doesn't sink in until final 4
Austin and Meg tells james it's really based on how the show portrays them whether or not they win America's player.
They laugh that Jace will win America's favorite.
Vanessa joins them they tell her about Jace winning America's favorite because after the show his music became number one hit
Vanessa – "His number one hit Long hair don't care"
6:55pm Vanessa and Meg Chit chat
Vanessa tells her she's guaranteeing Meg final 4.
ALLIANCES:
"Goblins/Gremlins" = James and Meg
"The Generals" = anyone allied with Becky
"SOS" (Students of Sound) = Steve and Vanessa
Rockstars = Steve and Jmac
AUS-Twins = Austin, Julia and Liz
"Austin's Angels" = Austin, Liz, Julia, Vanessa
"Brass Tacks" = Gobins and Austwins
The new "Brass Tacks" = Aus-Twins, Meg, James + Vanessa
"Freaks and Geeks" "The Scamper Squad" = Aus-Twins, Vanessa, Steve
[polldaddy poll=9025485]