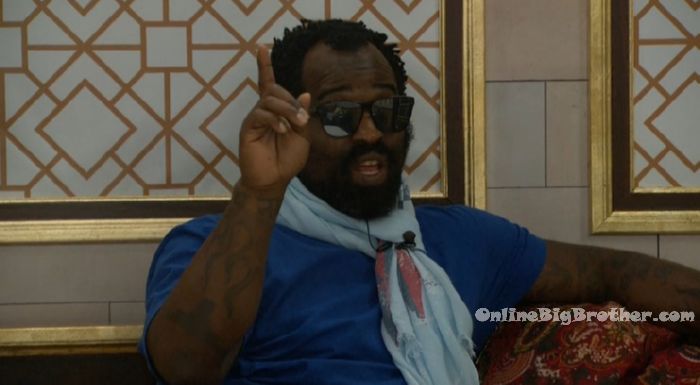 8:05pm Bedroom. Jonathan, Ryan, Lolo, Natalie, Tamar, Ricky.
Ricky to Jonathan – do you feel safe.. or? Jonathan – I think its up in the air still. It could go either way, you know? Ricky – have you talked to Kato and Tom at all? Jonathan – I told them to do what's good for their game. Ricky – when you say do whats good for their game … you're giving them permission.. Jonathan – In a way but I also tell them flat out that I want to stay. Ricky – when Kato talked to me he said that you told him to do what is best for him so he felt that was pretty sh*tty. Jonathan – really? Then I need to rephrase that and re-talk to him again because that's not what I meant. To be honest though being on the block for this long .. is like screwing with your head. Like I don't even know what is going on anymore. Its been a rough ten days. When I talked to Kato and asked them to keep me safe .. they said they've already made a decision. Ricky – to keep you safe? Jonathan – no they wouldn't tell me what their decision was. Ricky – if you're going to play heart-strings.. it might actually work with Tom. He's the one that seems the most susceptible to personal stuff. Jonathan – well thank you for that observation. Jonathan & Ryan leave.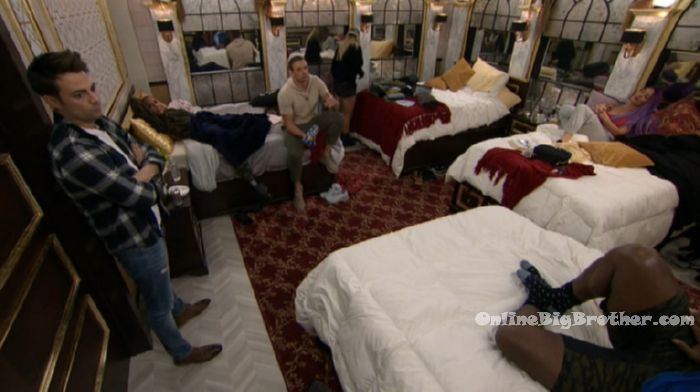 Tamar – why are we voting for someone that is gunning for me?! I don't understand that. I'm just curious. Ricky – because she doesn't have enough pull to do anything. Tamar – okay then when are we getting rid of her then? Ricky – next! What .. why are you shaking your head no? Tamar – because that's not true. Ricky – Why? I guarantee if I win I'm putting her up. Natalie – I guarantee too. Ricky – you can't get personal. Tamar – I say she is gunning for me. Ricky – but she don't have enough power to do anything about it. Tamar – but its not personal because I was willing to work with her. Ricky – its not personal but we have to think long game. We agree we have to backdoor Ryan right? Natalie – yes because if we don't he could potentially win and we can't take that risk. Ricky – what are you thinking Kandi is the most dangerous? Tamar – I think you're underestimating her. Her intuition is serious. Its not entry level. Ricky – you think she is more of a threat than Ryan is? Tamar – Jonathan ain't win nothing. Natalie – neither has Kandi. Tamar – but have you seen her outside of the challenges? When she is playing cards and chess. And when she is playing she does not like to lose. Ricky – she didn't manipulate me. Tamar – I feel like her manipulation game is on steroids. Ricky – but when it comes down to the people that are going to save themselves before her. If we have numbers we can threaten them. She has Tom .. she don't have Kato. Kato is looking out for Kato. Tamar – who is he going to vote for? Ricky – Jonathan. And I try to make Kato think that it was his idea. Tamar – Jonathan is good for her game.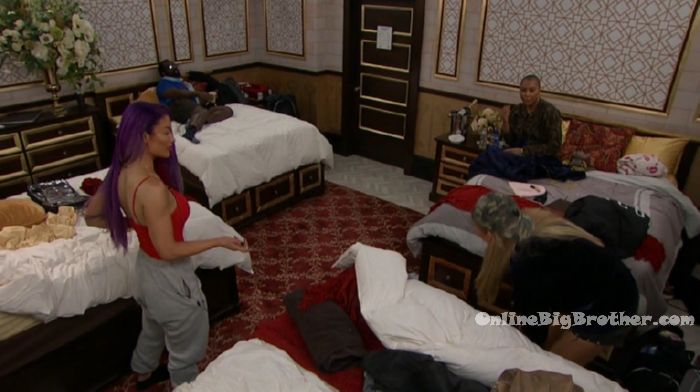 8:50pm Tom and Kato talking in the bedroom. Tom – right at this very second I could take Ryan and Jonathan into the train lounge and say here is what is about to happen… Ricky, Kato, Lolo, Natalie and myself are voting out Jonathan. What do you think about that?! What could you give me in return? For making that not happen. If they say we could give Kato, myself, Ricky, Lolo, Natalie full loyalty. Then we have a different 6 person alliance. Me, you, Jonathan, Ryan, Natalie and Lolo. I walk out of the train room and then walk down the hall and say to Lolo and Natalie I need to talk to you two privately. I say listen you want to save Jonathan.. we what Ryan to stay on the show for more than three weeks and we want him to be on our team winning head of households for us. And then we go 6 episodes in and then maybe he won't be walking in the room saying you're condescending and talking sh*t to me every time I f**king say something. I am afraid to talk around the guy. He is taking the fun out of this for me. Every time I talk Ricky make me feel like some kind of a … why did you say that?! Do I really need to deal with that? You know!? We have power here. We can make anything happen here that we want. Frankly it would be interesting tv too because Ricky would be pissed. Peoples sh*t would blow up like a f**king powder keg after the f**king vote. Everyone would be f**king freaking out. I'm just saying stop talking to me like that .. you know?! Do you like that? Kato – no. Tom – what are we doing here? Are we just going to let him run the game until he kicks us out? We run the game. Then the other strong guy in our alliance is Ryan and he knows that we made it happen for him so he is going to be loyal to us. Ricky just told us now that he is not loyal to us. He doesn't want to call ourselves hashtag team fun. Think about that?! Is he just going to blow us out of the water in two weeks? What is the point of that?! Kato – yeah we should talk to him. Tom – he is showing his cards man. Its a big move. The easy thing to do is to just sit back and do nothing but he could be bluffing the sh*t out of us too. He could have a side deal with them too. We don't know what's going on. Are we just lambs to a slaughter?! He is trying to intimidate us. If I am wrong then tell me I'm wrong and we will vote how we were going to and this guy Jonathan who is super positive, likes us, is fun and would probably work with us. You know!? And of course he would work with us if we went in there and was like we're saving your a$$ right now.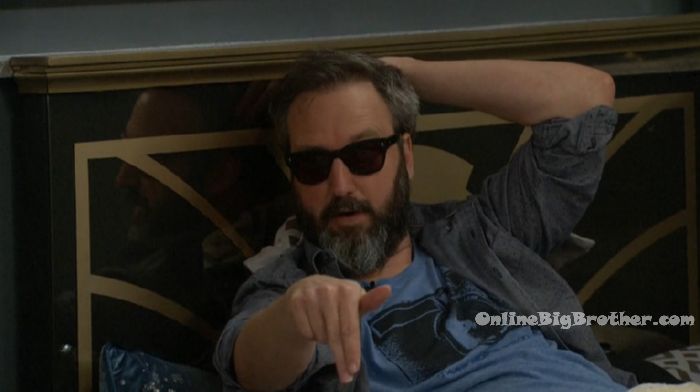 Tom – Ricky comes in here and says that he doesn't what to be in an alliance with us but he also says they're not changing their vote. Well who the hell are you to tell me that I'm not changing my vote. You don't even want to be on team fun! Kato – yeah. Team no fun. Tom – yeah he is team no fun. Kato – we better talk to him. We have to go talk to him. Tom – that's another option we have to say this isn't cool. Tom – I think he will get really mad and then we will be forced what we want to do. But I think the only way to pull this off is to not talk about it and do it without anyone knowing. It has to be done totally under the radar. Tom – lets go play pool and bounce that sh*t around in your head for a bit and then we'll talk about it.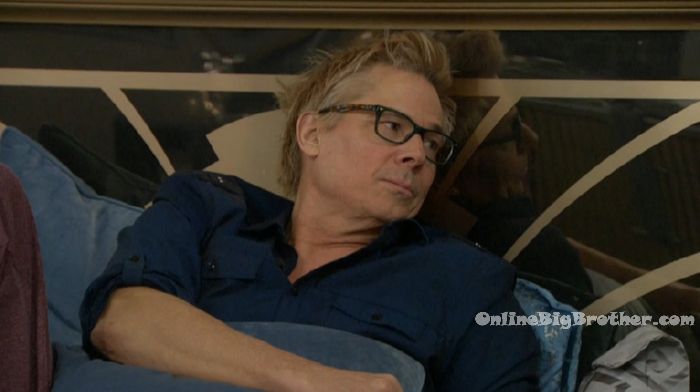 11:20pm Backyard. Tom, Ricky, Ryan and Kandi. Ricky tries to get Tom to do stand up comedy for them. Tom starts and stops and number of times and then says he can't because its too political. Tom – I mad a conscious decision to not get political in here and just now I realized it. Ricky – he's just scared. Tom – Why don't you go play some football right now. Ricky – if we had a field.. Tom – get up and perform for us. Ricky – I'm not very talented. Tom – when you do stand up you have an audience. There isn't an audience here. Its not the same in front of three people. Ricky there are millions of people watching. Tom – that's not how it works. You need to have a crown and people are there laughing. You don't do it for 3 people in a quiet room. Ricky – you don't!? Or can't?! Or won't?! Kandi – He doesn't feel comfortable doing it. Leave him alone. Ricky – say that then! Don't make bullshit excuses then. Tom – MMMmhhhhmm.. its not a bullshit excuse. Ricky – its my opinion. I can have my opinion. Tom – alright cool! Well.. Kandi – this is getting uncomfortable. Ricky – this is what I do. I perform. Tom – how so? Ricky – like getting people to talk. Trying to get some real conversation out of people but its like impossible. I guess I should have expected that coming on a celebrity show.. expecting celebrities to be real. Its hard for them to be real. I am talking about just being genuine. Tom – I can explain to you what the issue is but you have to listen. Ricky – sure but I don't have to agree right?! Tom – no you don't have to agree. Ricky – perfect! Tom – stand up comedy is harnessing the energy of a large crowd of people. There is an energy when you come out in front of a 1000 people. And you take that energy and you build on it and build on it. You can't do that in an empty room. Its like telling someone to go play football with out a football and no other players. You don't have all the tools. Ricky – I need another analogy that that… I can poke so many holes in it. Tom – well that's what it is. Ricky – we can go in there and get a soda can and play football. That's easy. I didn't know that comedians needed things to be funny. I don't know. That's just me. Tom – that's right. You don't know. Ricky – I sure don't. But I am learning now that comedians need a crowd to be funny. Got it. Tom – you need a crowd to do stand up comedy. Ricky – you need a crowd to be funny. Tom – yes. Ricky – got it. Tom – its also that I just don't feel like talking about the president. Ricky – that's it .. now we're getting real. Tom – I've already said that. I don't want to make this a moment to go out and attack the president. Ricky – that's fair.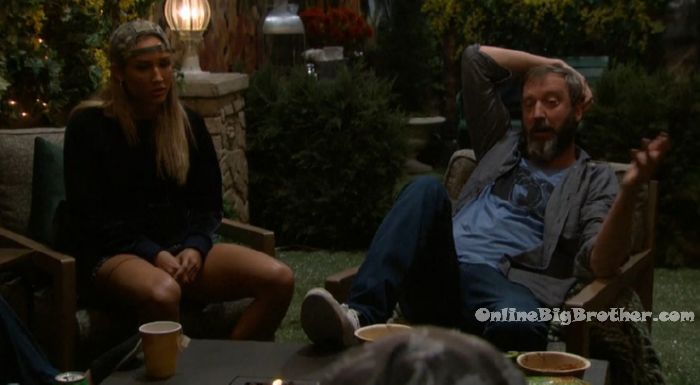 12:04am Kitchen. Tom is talking to the cameras. Things are going to start happening now. Obviously you've been following along with my conversations with Kato and whether or not we should do it. But I think I'm going to have to do it. Set the wheels in motion. I am waiting for Kato to get out of the diary room so I can let him know that I am going to set it off. Set the wheels in motion. Probably going to blow up in my face but sometimes that kind of stuff is hilarious too. I've been spending my whole time talking with Ricky, playing chess, talking about astrology .. but he keeps picking away at everybody. Not just me. Its like he is trying to psychologically test us. I have a tacit agreement with the guy to vote with him. But I don't even want to vote that way. I won't start this in motion until I talk to Kato. It is definitely going to be hilarious and crazy. I really didn't want to get dragged into that. The whole point of the game is that someone has to get evicted.. I don't think it was to be Jonathan. Jonathan is awesome! I reward positive energy.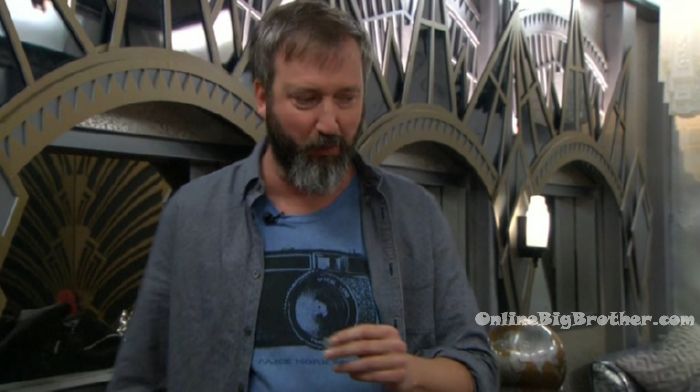 12:20pm Bedroom. Natalie and Tamar. Tamar – the way they're going about things in this house is rude. Natalie – not only that.. but where is the discretion. Its not good game play. Tamar – its rude. Its very rude! What happened outside? He must have checked him. Natalie – but that makes me think that Tom and Kato are going to swing their vote somewhere else. Tamar – I told you that. I think they're going to vote Kandi. Tamar – they are. That is the better play. Natalie – I do not trust Ryan and Jonathan. They lied to me again today. Tamar – so?! He (Ricky) lied. He lied too! Natalie – but they were never in our final alliance. Tamar – this are not alliances… come on now! He lied to me in front of you.