If you plan on buying anything from Amazon. Use this link Amazon home
Doesn't cost you anything and we get a small cut.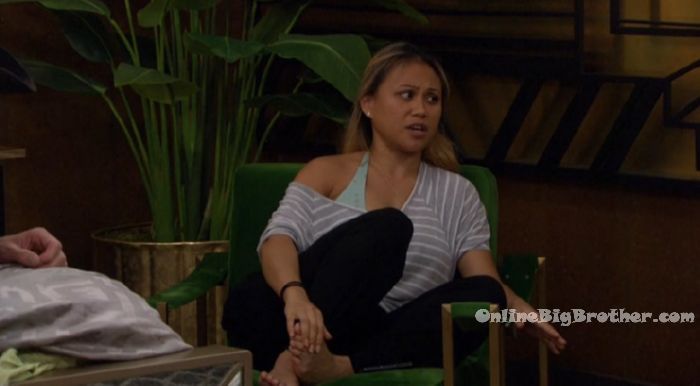 12am Matt and Raven in the hammock.
Matt – if he does take you off and I stay we should not tell Josh and Christmas that we're planning on throwing it to them because I don't want them to think we're taking advantage of them, which we're not. At this point with game play we just have to be very strategic. Raven – but at this point Paul and I were talking. If he does that after telling the whole house that he was going to do it… and he doesn't do it ..his game is.. Matt – toast. Raven – I don't think he wants that many people going ballistic. Jason and Alex should realize they're going to have all the blood on their hands. I agree we should throw it to Josh and Christmas.. what is the lesser of two evils…. the person that puts you up or the person that votes you out. Raven – well the person that votes you out because you don't have a choice. Matt – tomorrow should be pretty chill. I don't know if tomorrow will be chill. If you go with the house agenda and I don't bite his head off. Matt – your accent goes away when you're pissed. Raven – there are roller coasters that I can't go on. I can't go scuba diving. I can't dive below 10 feet of water. I can't have an MRI. Can't go through a metal detector. I can't put my phone on my belly. I used to not be able to be in front of a microwave. Jason – it would just turn it off? Raven – yes.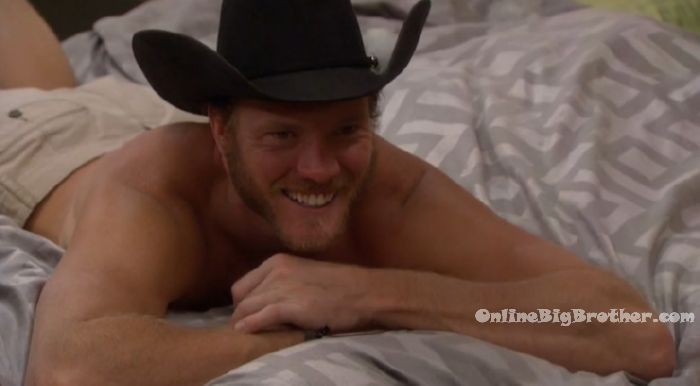 12:05am Jason and Alex
Alex – her (Raven) behavior for someone that has a terminal illness is very strange. The things she does if very strange. I was going to give her the benefit of the doubt because if it is real I would say eat whatever you want but it is obviously not helping this week. Christmas – she said anything that was easily digestible. Christmas – Mac and Cheese is not easily digestible. Alex – like she couldn't eat my Sheppard's pie but she made tacos the day before. Jason – with the same meat. Christmas – she had the scalloped potatoes before too. Alex – I feel like she does it just because she doesn't like something. They talk about the veto comp. Alex – I think she has a mean streak. Christmas – oh my god are you serious did you see her (Raven) attack Jess? Jason – she called her a c**t like 3 times. She turned red and called her .. she personally attacked. Alex – I think it was her that came in first. Alex – we can send him out, then Raven out next and then Kevin. Josh – yeah.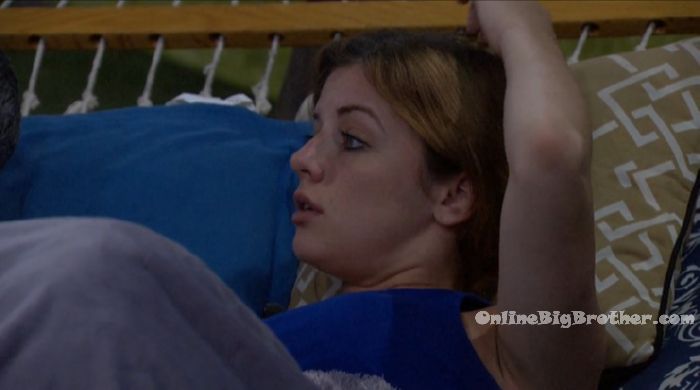 See what they can't show you on TV Try the live feeds for FREE!
Paul to Matt and Raven.
Paul – the only person I am worried about is Kevin. He has been glued to Jason. But whenever I have alone time with Jason, he sh*ts on Kevin. So best case scenario is what we do. Matt – worst case scenario you send me home. Paul – do you think we should have Josh blow up on Kevin tonight?! I could make that happen. If we do that it could either go really good or bad. Matt – if he doesn't take Raven off .. he has made it very clear that he is taking Raven off going into a week that he can't compete for HOH. As of right now I have no reason not to trust Jason.
12:45am Josh to Christmas – Why do they always was me to do everything? Why don't they do it? Christmas – because they don't have the balls to do it. Josh – why is the heat always on me? Christmas – keep that in mind. Keep that in mind! Josh – f**k that, they can do it. Christmas – yeah they can blow up on Kevin. They can call Kevin out. Josh – who am I, I'm not playing someone else's game.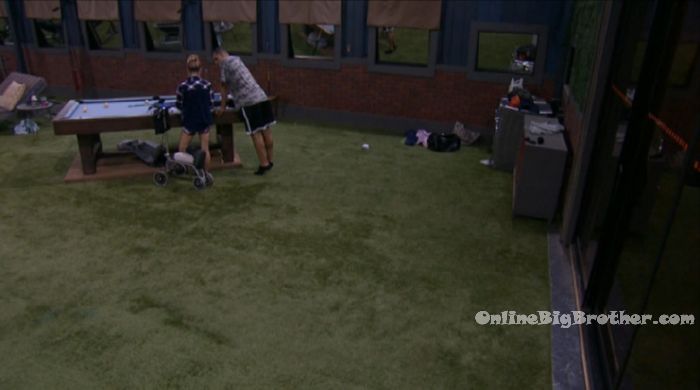 1:20am Christmas wants to give Josh a hug.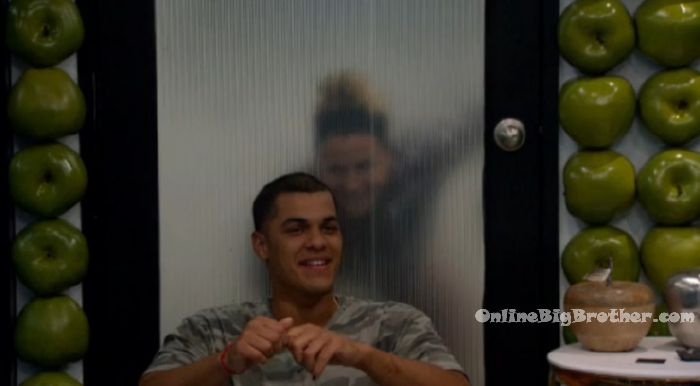 Backyard – Alex tells Paul how they should bust Kevin. She and Jason will hid in the havenot cabinets. Paul will be talking to Kevin and say a secret word to get them to jump out. Once you feel like you have enough you say the secret word. Paul – gumpy.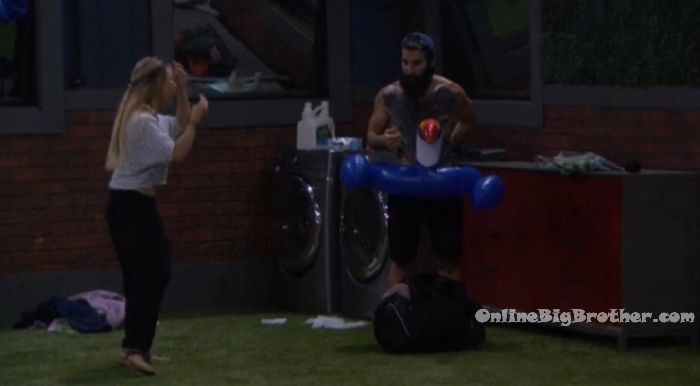 1:33pm Backyard. Josh and Alex.
Alex says next week Paul is going to befriend Kevin.. Jason and I are going to hide under on of the cabinets. Josh – oh no! I need to be in there. I'll f**king hide in a cabinet. Josh – that will be crazy. Alex – it would be the best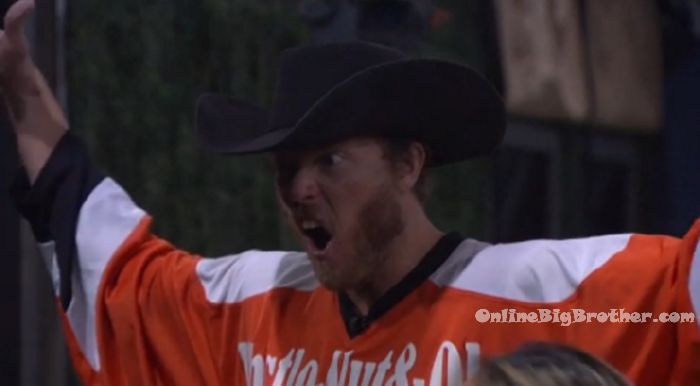 2:05am Josh and Christmas are studying the days / events of the season. Paul – I talked to Raven and asked you guys don't feel anything weird right? Matt was like worst case scenario just vote me out. He says he will just eat regular food so that he vets penalty votes against himself. I was like okay. Raven said that if Jason doesn't use the veto on her she is going to go ballistic. They were like we just take a shot at Jason and Alex and get those f**kers out. I was like okay. Raven was like if we can even throw it to Josh or Christmas that would be even better. Christmas – no we need to throw it to them. Alex joins them and they talk about random stories.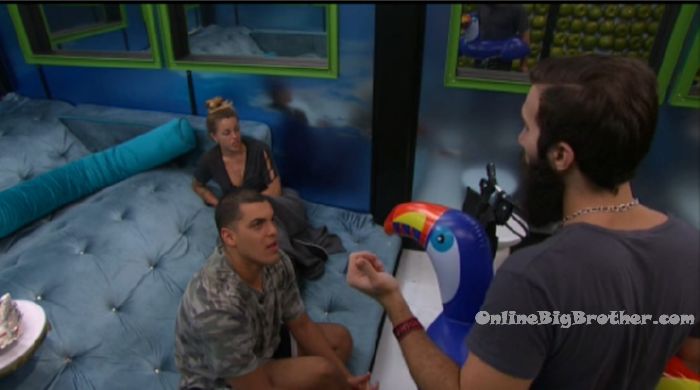 3am All the house guests are sleeping..
FLASHBACK & watch everything you missed: Live Feed 7 day FREE Trial!
Donations help keep the lights on. If you would like to support the site please consider donating.
Links to the ranking system
Rank your house guests here
For those of you that like Statistics here are some expanded reports.