Head of Household: JED
Nominations:Tera and Tina Kiefer
The Power of Veto Players are: everyone but Breydon
POwer of Veto Winner: Tera
Power of Veto Ceremony: Tera used the power of veto and Kiefer was the replacement
Big Brother Spoilers – Kiefer is now staying.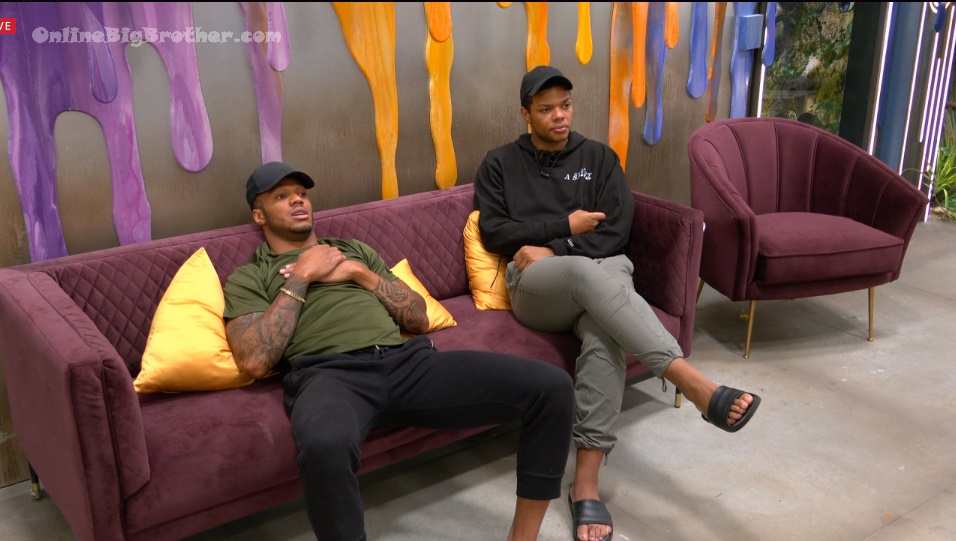 10:30 am Ty and Breydon
feeds flip breifly to these two talking about the Vote. Ty says at the end of the day it's the three of them voting. He needs to talk to Jed to see what Jed wants.
Feeds cut again.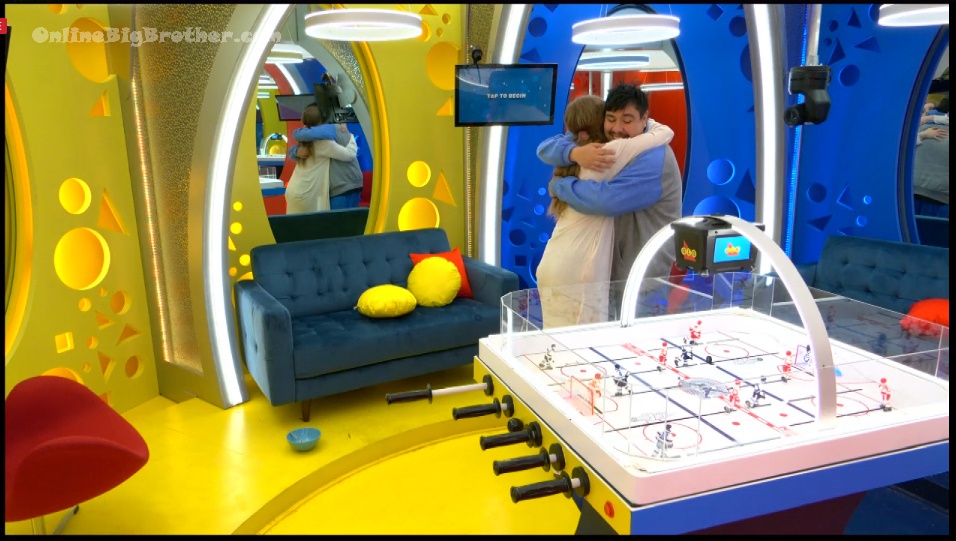 10:45 am Kiefer campaigning to Beth
Kiefer – I want to be in the greatest alliance of all time If I leave tomorrow I won't be the greatest alliance of all time
Keifer – the double was 6 days ago BETH
Kiefer says whether Tina stays or Goes Tera will play the same way.
K – I know you guys are tight it'll be a 3v1
Beth says his best chance is against Beth
Kiefer agrees points out that Ty does not have a chance to win this game unless he wins out.
Beth says the reason he was on the block was because Jed got carried away with making a big move and the three of them "F***ed up" because they never had a final 4 talk with the remaining core sunsetters.
They hug it out.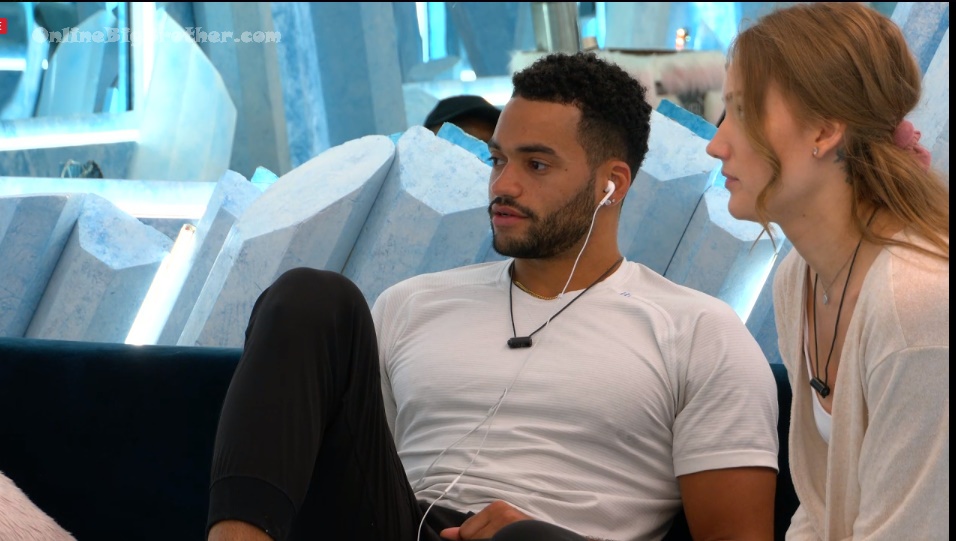 11:00 am The wafflers meet.
Going on about how Tera is trying to pin them against each other.
Beth says with Keifer in the game her chances of winning the Head of household goes down. She personally has a better chance to beat Tina and Tera over Kiefer.
Beth points out that moving forward competition wins mean everything.
Beth – with him (Kiefer) in here he's still a target for BReydon that is Breydon's big move or whatever.. if Tina survives this week she's going to the four
Jed agrees about BReydon and Tina
They mention how Breydon won't like this move but they don't care.
Jed brings up Tera saying that she would never put up Tina. They say this "sewered" Tina because it means Tera would put up the three of them.
Jed somehow thinks they can use this as the reason to Tina. Jed wants to throw Tera under the bus.
They bring up Breydon and Tera not talking to each other
Jed – Tera will be alone.. Keeping Tina will strengthen her
Ty – she's confident (Right now)
Jed says Tera's head BLEW up when she won the veto.
Ty – I don't want her going into this HOH with confidence. She's going in there believing she can win I don't want her
Ty – she doesn't deserve any money
Jed – she really doesn't
Beth – she's playing harder than RBeydon but still, you don't start playing day 41
Beth reminds them they've been playing BIG BROTHER since day 1
Ty – I just don't want them to have any money I would rather lose then they get the money
Ty keeps repeating "I don't want them to have any money"
Beth – yeah, I already said we get to final 3 we've won
Ty – I don't want any of them to have money
Jed – that pisses me off to the max
Ty – Kief winning money that's ok.. nobody else man.. nobody else but us nobody deserves it
Ty – Tina, and Tera lied to us they lied straight to my face (About voting out LT the horror)
Beth – are you serious
Ty – then they flipped.. Tina is supposed to be working with us
Ty – I think we should take out everybody on the other side that's a statement one by one.
Ty – think about that. That is history in itself.. one by one
Ty – none of them deserve to stand next to us.. if you aren't with us you are against us.. they chose their side.
Beth says Breydon brings nothing to the conversations "He doesn't know what is going on"
Jed – Kief is going to stay
Ty – he will vote with us but we don't need him to
Jed says they need to talk to Blueline
Ty – are we keeping Kief final decision?
Jed – yeah
Ty – Ok
Ty – I'm willing to draw the line with Tera like Tera I am done with you.. I am tired of you. if you don't win that veto sorry you are going home DONE
Ty says Tera "Genuinely irritates me"
Ty – she always acts like we owe her something
Jed – every time
Beth goes on about how Tera keeps telling her the only way she will win is against her.
Jed – she wants to be taken by a strong woman she hasn't done anything to build up to this.
Ty says he wants to sit Tera down and be like "YO you are next"
11:37 am More campaigning by Kiefer
Jed – We fully believe you man I have full faith in you
Jed – I wasn't putting you up as a target
Kiefer – I'm back and ready to chill in the HOH room. this will be another proof of loyalty sitting on the block.
Jed – we know you are so loyal
Kiefer goes on about how the sunsetters are loyal and his best chance going into final 3 with Beth and Jed.
Kiefer says he'll win if he stays in the game or if he leaves.
Kiefer – I'm getting a cooking show and I'll be speaking all across Canada
Jed says putting him up was an emotional experience.
Kiefer – Ty's time to win is almost basically over he has to win all the comps to have a chance to win this game. If his goal is to win this game it's not against any of us
Jed – that makes sense
Beth – that stays in this room
Kiefer says if Breydon wins HOH he will tell him to put him on the block against Tera and they'll battle for Veto.
Jed says he would rather roll the dice with you then win against those people (Tnt, Breydon)
Jed – I'm not here for the money I don't need the money to survive.. I'm here for this I don't need to burn my best relationship in the house.
Kiefer – the greatest alliance of all f***ing time nobody will be better than us..
Kiefer says they are better than the pretty boys.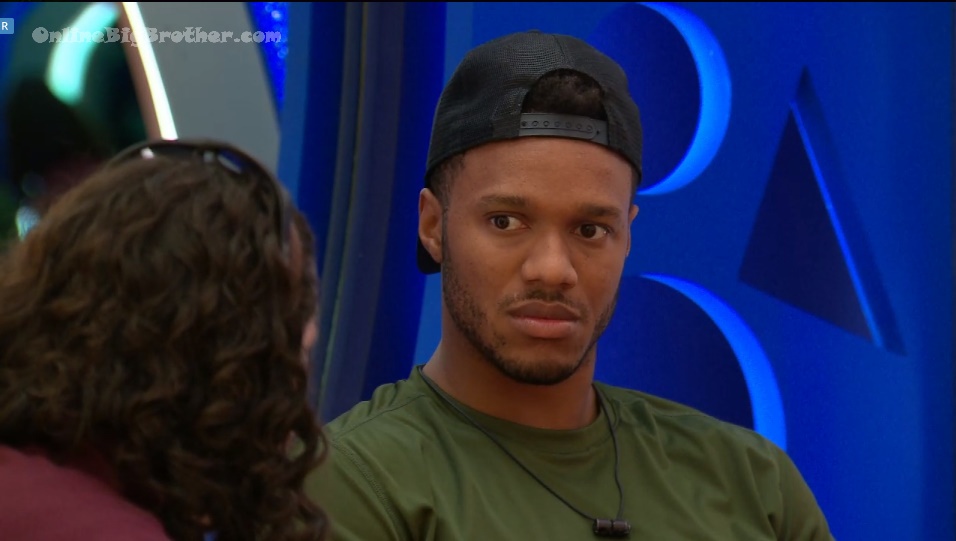 11:45 am Tina and Ty
Ty says she's good for his game.
Tina – at the end of the day who are you going to win next to?
Ty – yeah it's uhh… interesting conversation to have.. cause uhh.. it's getting tighter and there are people out there with more wins. Keifer and Jed.
Tina – do what's best for your game..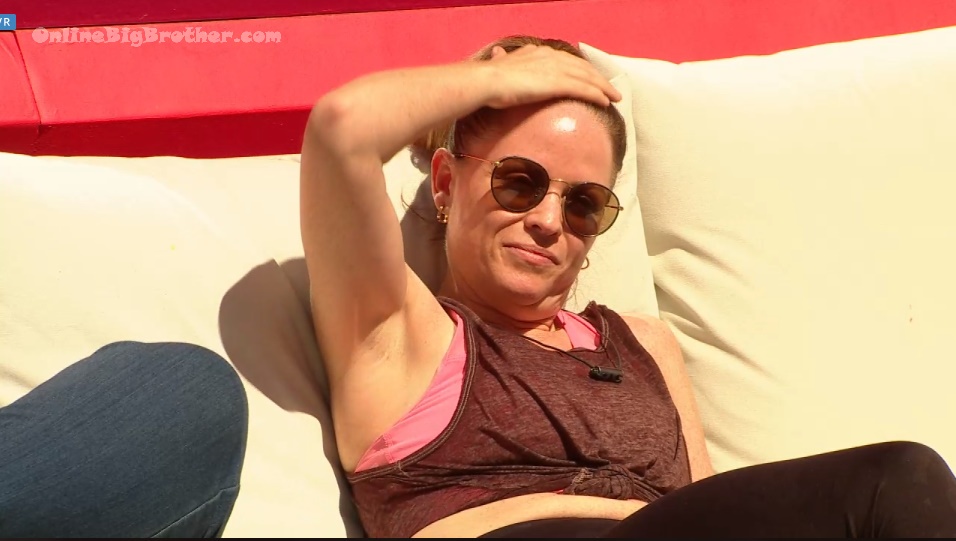 12:25 pm TnT
Tera – he's in a toxic relationship he's literally the girl that gets cheated on and keeps going back.. keeps going back thinking they will change..
Tera – I don't know why he's so enthralled with them.
They agree the only way forward is for Tera to win HOH and take one of the Jed/Ty out.
(I may fill in the conversation with Kiefer congratulating himself for being the greatest Big Brother player ever. Maybe not hard to listen to.. lol )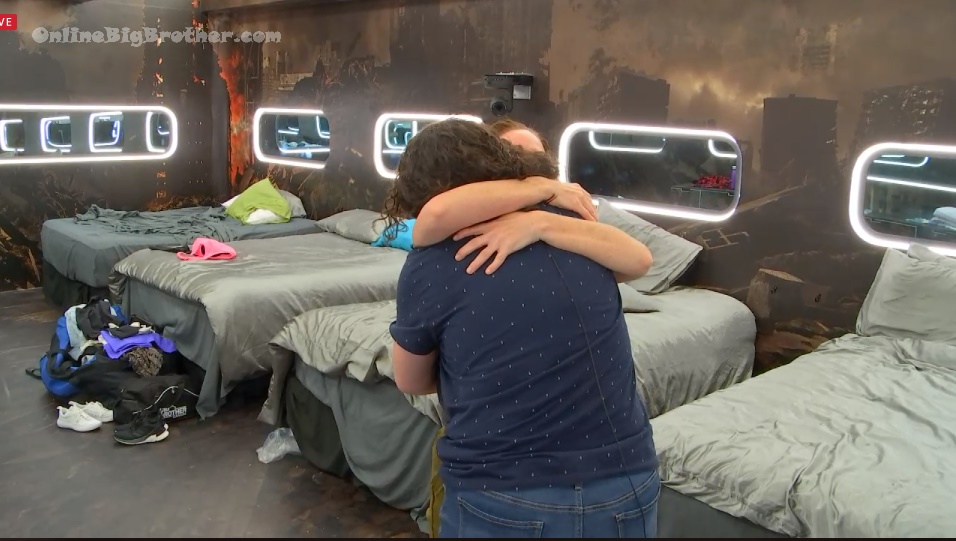 2:47 pm Tina and Tera
Tina says beth told her she's leaving..
Tina – It's done
Tina – it's fine really.
Tina – I knew yesterday.
Tera – well let's go have our last dart.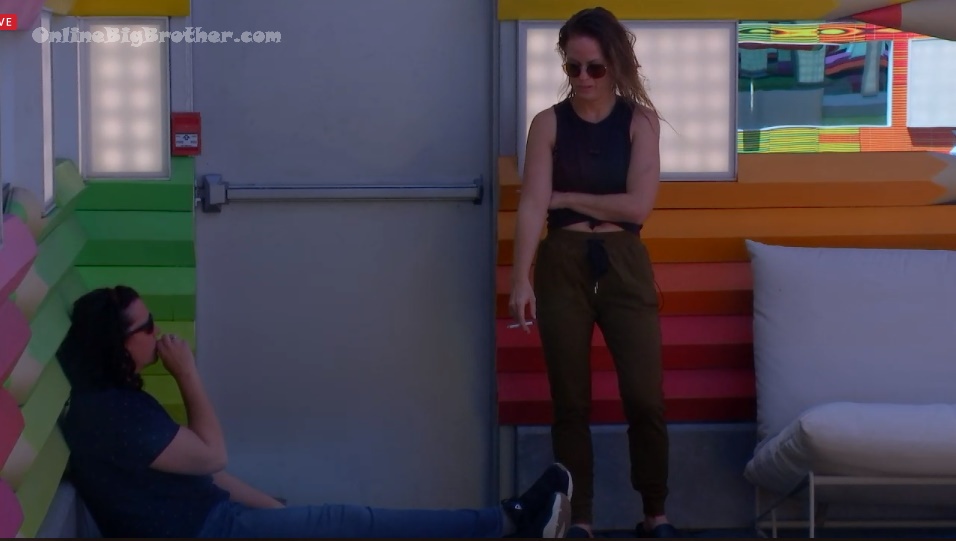 The last dart
Tera – if I don't win I'll follow you
They agree Kief is going to go right back with them.
Tina – it is what it is. I don't think it is the right move.
Beth joins them. blames the boys. Says Kiefer offered a lot to the boys. "swearing on family"
Tina says for Beth's game it makes no sense to keep Kiefer.
Tina – I don't see you going to the end if Keifer is here. Just based on the conversations I'm hearing. I'm just being honest.
Beth doesn't think Kiefer will take the boys.
Tina – Kiefer is not playing the game to take you to the end Keifer wants to take the person next inline
Beth – that is offensive to me
Beth says Keifer sees that she's the best and will want to take her.
Tina says she's talking from a jury standpoint.
Beth – if he goes home this week that is something on your resume not Jed's
Tina really pushing the aspect that Beth can't win against the boys.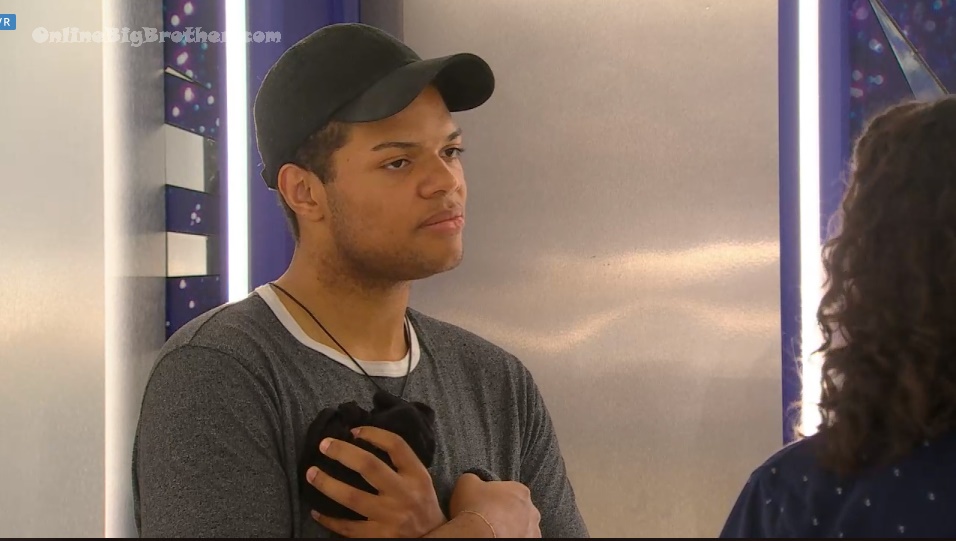 5:43 pm Tina tells Breydon to trust Tera she has his back..
Breydon says the trio keep saying Tera is coming after him. He knows this is BS.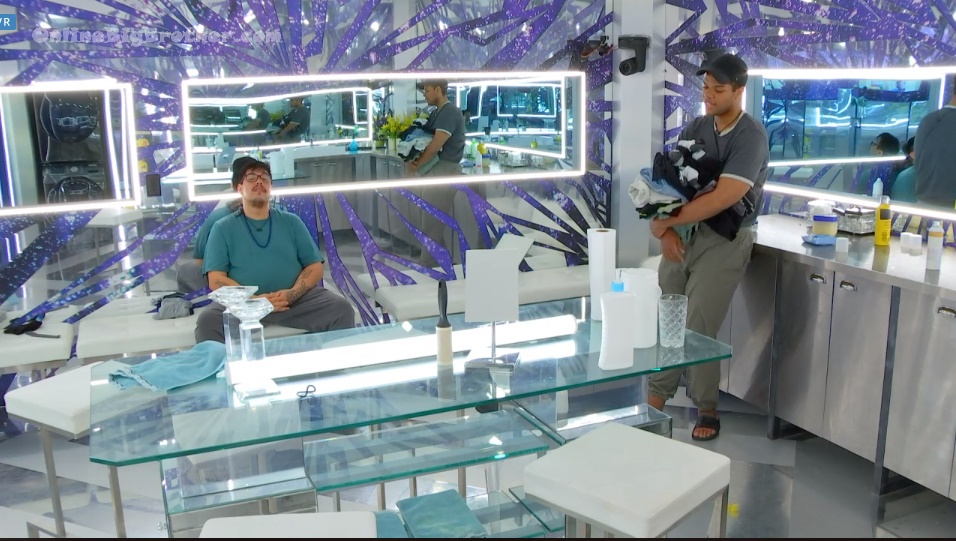 6:00 pm Kiefer tells Breydon if he wins HOH he has to put Tera and himself up.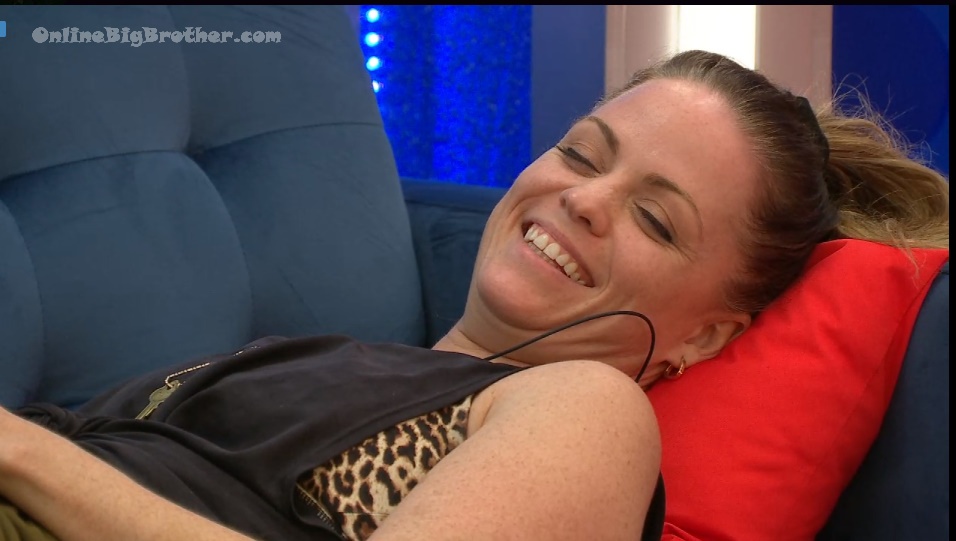 9:25 pm TnT
Tera is fantasizing about winning HOH putting up Jed and Kiefer. She continues the story by saying Jed wins Veto and Kiefer gets evicted.
Tina – not unless you put one of them beside Kiefer
Tera – they would have the votes.
Tina suggests she puts up Jed and Ty.
Tera says she realizes now that Kiefer has been playing her for a while. Tera lists off a bunch of things that happened which shows Kiefer was working against them the entire time.
Tera – it's all making sense now.
Tera brings up how Kiefer would come into the room telling them "I'm doing work for you". When she talked to the trio about that they laughed at her. "They laughed they were like no man.. Kief was pushing for Vic because Vic was better for Kiefer"
Tera – I thought the pre-'90s were legit. I thought it was for real
Tina – I don't think Kief will come here for late-night chats..
Tera – Kief is playing both sides. They are CRAZY for keeping him
Tina – you can only tell them so many times.
Tera – I wonder if they'll actually go for him or will they take the shot at me and Breydon.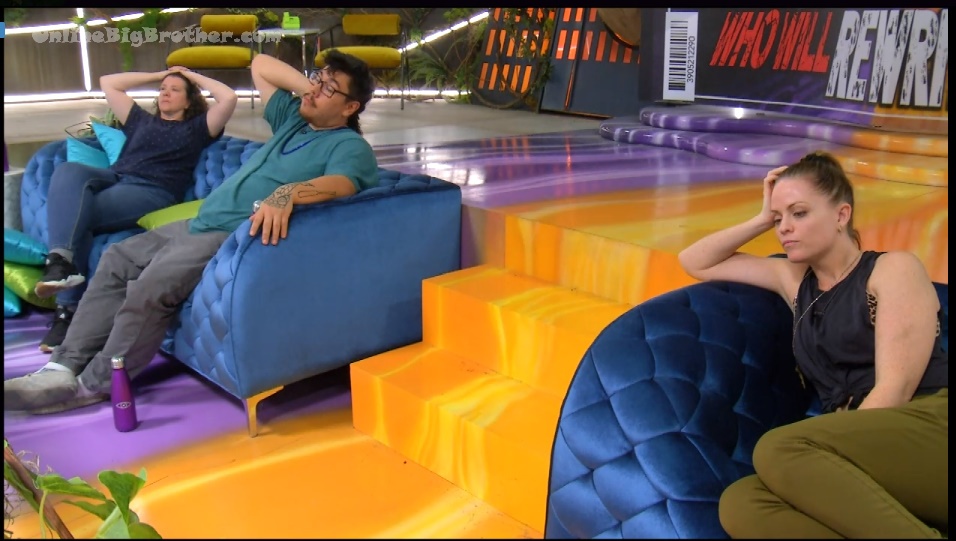 10:22 pm Silence..
Tina tells them they should get out their beef so they can enjoy the night.
Kiefer – I made a game move Tera. If I don't make a deal I go home.
Tera – you've put me in a position that I have to go after you. you didn't have to swear that deeply you could have just lied
K – there was no other choice, I don't think you go next week no matter who wins.
Kiefer – this game changes week to week anything can happen
Tera – it's fine, they're not very nice people to you
K – I didn't come here to make friends
Tera – I know, they're still going to come for you
Tera – you have a final two with Jed and a final 3 with Beth
Tera – I don't think Jed and Beth will be loyal to you
Kiefer agrees "I just bought myself another week.. I'm still on the block I still could go home"
Tera – they've been treating you like sh1t you don't know what they've been saying about you
Tera – I know you can't trust them.
Kiefer – If I can get to the final four I can win the game that's all I gotta do
K – you know every move I made was with them
Tera – I know, I thought you were waiting for this point. I honestly don't see any bringing you
Tera wishes Kiefer would have worked with her. Is upset he swore on his family that he would stick with the trio. Kiefer tells her it would mean the two of them win every competition to survive in this game.
Tera and Kiefer agree Breydon's act with the trio is bullsh1t. Tera says Breydon will work with them.
Kiefer knows says best case for Kiefer is if Tera/Breydon win HOH.
K – what's Ty's path to victory?
Tera doesn't think he would turn on Jed, Ty will take Jed.
Kiefer says his only road to victory is to win the next HOH, POV, HOH, HOH
K – I have to win out
Tera says even if he has a better resume than the trio the trio will win this season. She points out his the moves he made were to help the trio. They manipulated him.
Kiefer – at least I got second place at least I tried.. I survived the backdoor.. I've been on the block three times. Unfortnulety I picked people to stay loyal to that you don't like.
Tera – they're not going to be loyal to you they won't. They've shown you over and over again.
Tera – the only reason they're keeping you is they're scared of me taking a shot at them and Tina is a vote.
Kiefer – someday it will all make sense
Tera leaves.. "It all makes sense now. I'm not an idiot in this game I know you've been lying to me it's fine. just stop saying you're going to win cause you're pissing me off"
Kiefer laughs
Tera – and you don't know if you have my vote in a jury
K – I don't….
Kiefer laughs "Ohh I hate this game"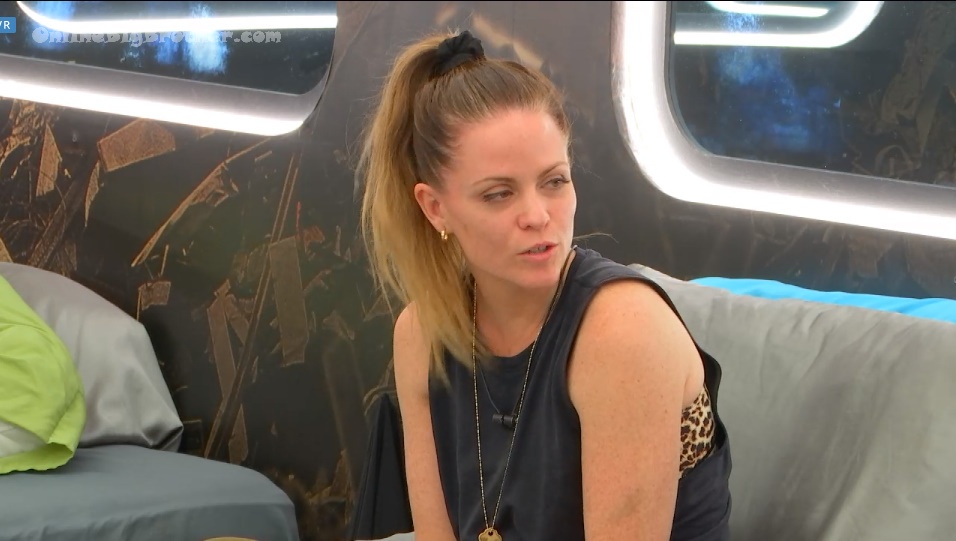 10:46 pm Tera iand Tina
Tera is pissed after her convo with Kiefer.
Tera – your resume looks better for them you made their moves, Kyle wasn't coming after you, Ro wasn't coming after you, Vic wasn't coming after you. Why do you just assume these people are voting for you in the jury. I am not If I'm voting in jury F*** no
Tera – and he's not really speaking too highly of Ty. I was like how does Ty feel bout your final 2 with Jed and your final 3 with Beth
Tera impersonates Keifer – Well if Ty wants to tick around he'll have to start winning things anyways.
Tina – Jesus christ… and yet Ty thinks it's best for his game.. whatever
Tera – he said he actually wants me to win so I take a shot at them.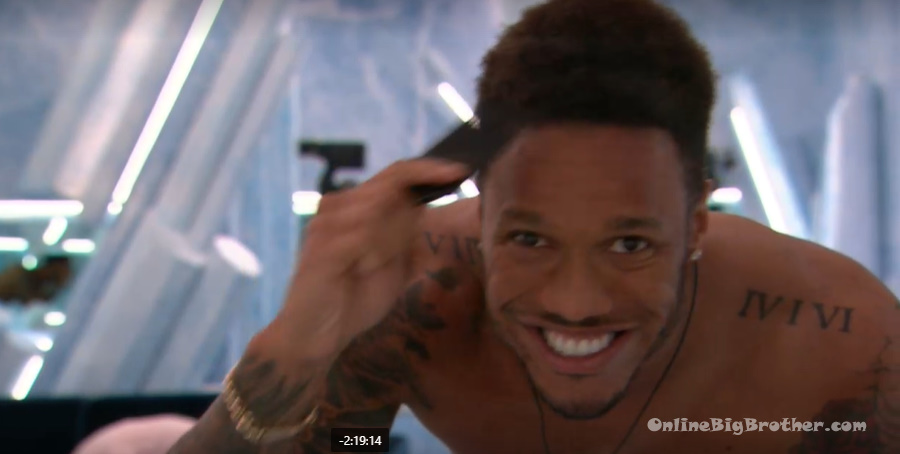 11pm HOH room. Ty and Breydon.
Ty – someone is going home tomorrow. Breydon – shut up. Ty – not like that.. I don't want it to seem like I am being insensitive because I am not. Breydon – you're not. I get it. Ty – because I actually care. It could easily be me next week. You just never know. Breydon – More likely me than you.. realistically. Ty – I mean I guess .. sure. It depends what happens. I don't even know these people. Breydon – you don't know these people .. shut up! Ty – Going to be every night being like f**k these people. I will need therapy after this .. no if and's or butts. Breydon – like they said the lying .. that will be the hardest for me.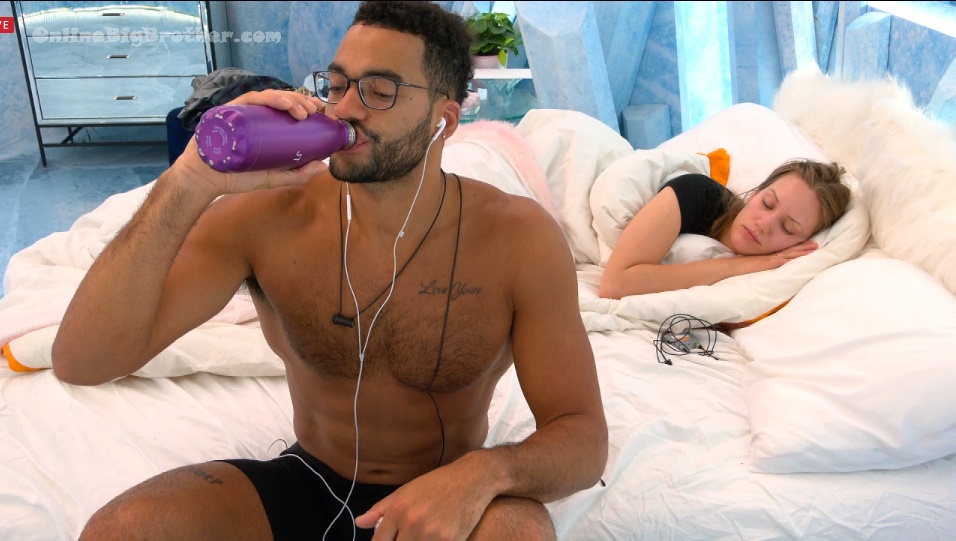 9:10 am Thursday morning. Houseguests getting up.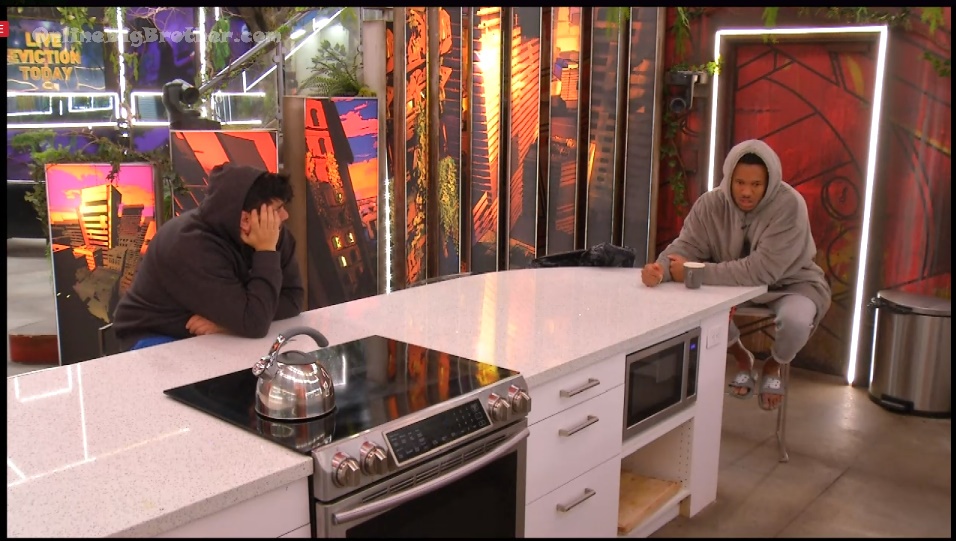 10:01 am Kiefer and Ty
Practicing Tik Toks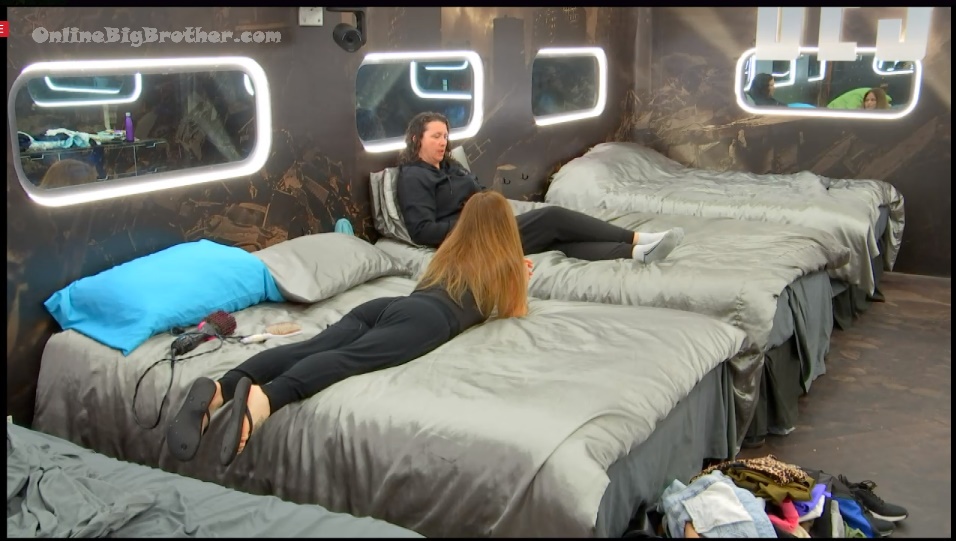 10:02 am Tina and Tera
They're agreeing Kiefer and Breydon want Tera to win this next HOH to take a shot at the trio.
Tera – if Breydon doesn't do anything he'll be the one that wants to go to the end.
Tera asks what her best move is. Says it's obvious to go with Breydon and Keifer
Tina – the trio has to be split up regardless. Do what you have to do
Tera – it'll come down to who wins the veto.
Tera says she would put Jed and Ty together. She doesn't see Kiefer or Breydon trying to win the veto they'll want to have the boys fight it out. "nobody wants to use the veto it'll show their cards"
Tera would want Ty to win the veto.
Breydon joins them. They start studying tik toks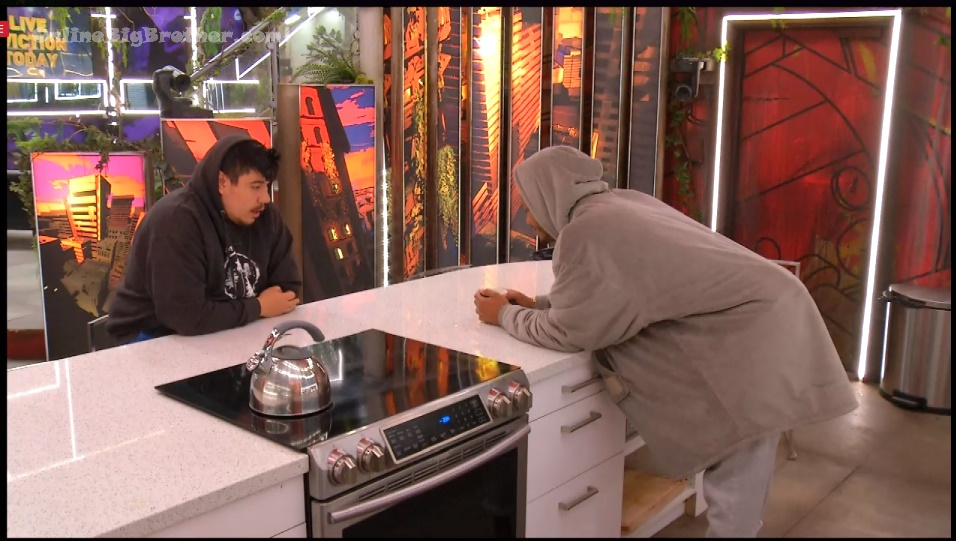 10:10 am Kiefer and Ty
Kiefe r- between you and me she doesn't want to be the one that takes the shot but she wants it to happen soon (Beth?)
Ty – what?
K – A big shot
Ty – who her? I agree
K – the game is different now. The way I see it is the only way I am safe is potentially you win or if I win. I don't know if I'm safe if you win
Ty – you don't think you are safe with me?
K – I dunno
Ty – Of course, you are safe with me. Kief, I feel like we need to work together me and you
K – I did what I have to to to survive and that's all I can do from here on out. If I have to pick somebody it's you I've had all those talks with you all season. When it comes down to the four I don't give a f*** what I swore on.
Ty – the reality is there's somebody left that is not good for us
K – Ty we get cut quick.. they'll cut me next then you after then it's them vs Breydon and Tera
K – I am down to make another move for us if I win
Ty – If someone goes it'll be better for us and as much as we think someone would be mad at us they wouldn't
K – no they wouldn't .. (Jed won't be mad if they cut beth?)
Kiefer – the game is different now that they put me up
Ty – I know this..
Beth joins them.