Big Brother Spoilers.. Today a big blowup happened. LoLO and Kato lost their cool. 🙂
10:04am Dina and Natalie
DIna – trying to wrap my brain around this.. I just want to have fun.
Dina says Joey says he wants to go home.. "he's tired.. you know.. i'm tired this .. I don't know"
Nat – I think he wants to have a good time and not get crazy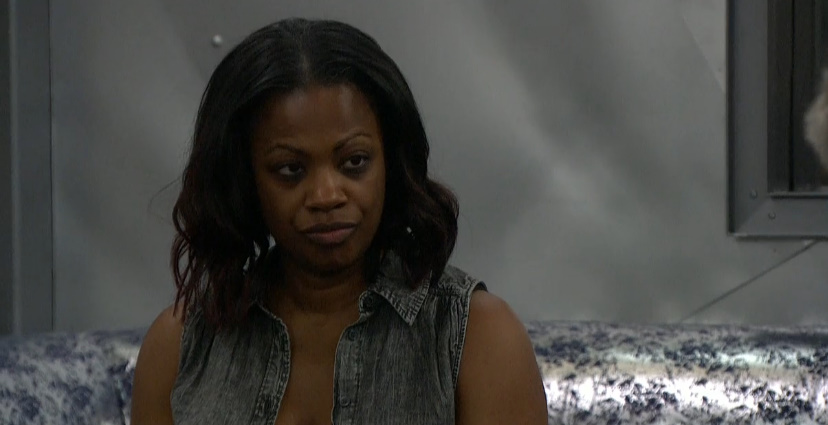 10:04am Tom and Kandi
T – when I put you and joey on the block my plan was to backdoor Ricky.. I thought I was in a solid alliance with LOLO and Natalie, Kato and I.
T – Turns out that it wasn't so solid.. Natalie had a side alliance with Ricky
T – yesterday when I lost the veto.. I was curious what LOLO and Natalie would do with the veto.. They still think I'm in the alliance with them.
T – yesterday when Natalie had the veto they didn't come talk to us the whole day.. Kato was trying to talk to LOLO she was sick..
T – Sorry… I didn't intend for you to be in this situation. They didn't use the veto I wanted them to use the Veto So I could put someone else up.. There was two plans .. I thought Tamar had the power.. Obviously Ricky
Tom says Ricky knows now that he was targeting him from LOLO/Natalie.
T – your only shot this week of not going to eviction is find out who has the power and get them to use the power.. Even if they use it to take Joey off the block. I am going to put one of them up.
Kandi says she was pissed last night because she felt that Kato was trying to turn Dina against her
Tom – NONO Kato is just upset because LOLO turned on us.
Tom – unless Dina or Kato wins HOH one of us is going home (tomato.. He's assuming Kandi is going home)
Tom says he thinks Tamar has the power. Kandi doesn't think so.
T – In about an hour or so I'm going to Natalie and LOLO I know what they did and tell Ricky I don't want to be in an alliance with him anymore.
T – And basically telling everyone we are winning HOH next week and we are knocking them off
Kandi doesn't know if this is the best idea.
Kato comes in.. Says he was trying to save Kandi "I told you from day one I would never lie to you"
Tom goes on about Kandi needing someone to use the power on her. Says if it's a tie he'll keep Kandi but right now the votes need to shift. "I think they are going to try and vote you out"
Kandi says she can ask Tamar and Dina.
Tom – you need Natalie to be safe.. Ricky said yesterday lets vote out Kandi
Kandi – Damn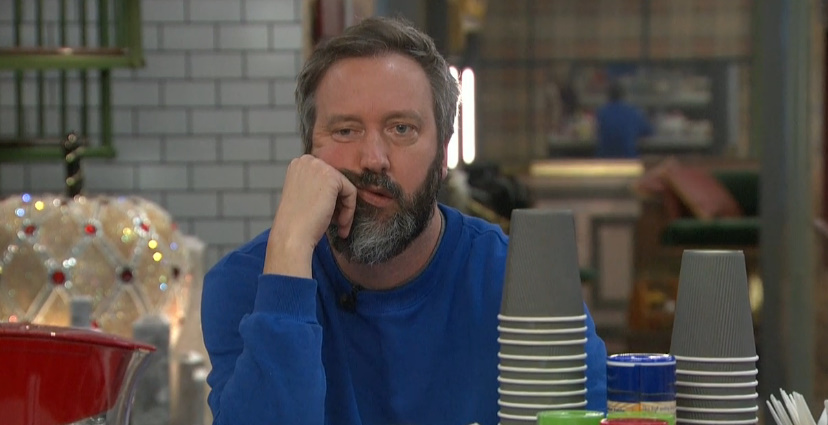 10:34AM Tom, Kato, LOLO, Joey, Natalie and Dina in the kitchen
Tom – whats up..
Nat – Kato
Tom – Ohh Kato is upset.. Well .. what do you want to do about it
Nat – a boxing match I fear for Kato's health
Nat – he said I'm not safe..
Tom – Kato .. are we talking about this now..
Kato – I was saying about the opportunity yesterday..
Kato says we were going to meet yesterday and You (lolo) were out cold
LO – what does out cold mean..
Kato – sleeping..
LO – it's just funny that the day before you guys were talking to us and yesterday you really couldn't talk to us and blame it on us
Nat – and tell me I'm not safe..
T – maybe we should clarify
Lo – over it
Lo – you guys can feel whatever the f* you want to feel literally y'all come to my room at any point yesterday.. I'm not for this bullshit.. I've told you guys this yesterday.. I'm not for this bullshit..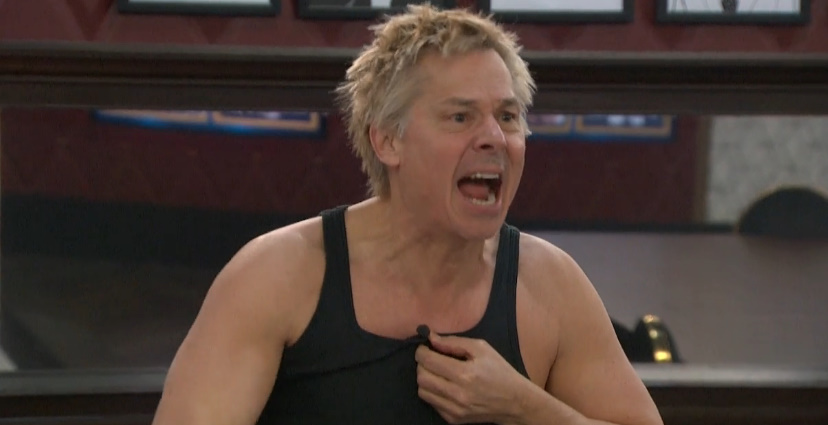 Kato – you're what.. (OMG)
Lo – I'm NOT FOR THIS BULLSHIT
Lo – you want me to spell this out for you
Kato (screaming)- no.. have you ever taken an acting class.
Lo -Screaming I'm not a f*ing actor you mother f*er I'm an athlete
Kato – i can read (you)
Lo – you can read whatever the f* you want you know what you want to read? The whole f*ing house you guys keep pissing off and blowing off..every f*ing day..
LOLO starts accusing kato and Tom of blowing sh1t up every day while they just want one easy day.
LO – you have had veto, Head of household what else do you guys what us to bow to you
Lo – what is your guys deal.. Why do you want to piss everyone off it's it not me it's Kandi, Dina.. you want to pick somebody and piss them off
Lo – what is the point of that you are making people that use to like you hate you guys
Tom – you know what you guys did
Lo – you guys are pieces of sh1t for ruining everyone's morning
LOLO goes into the bathroom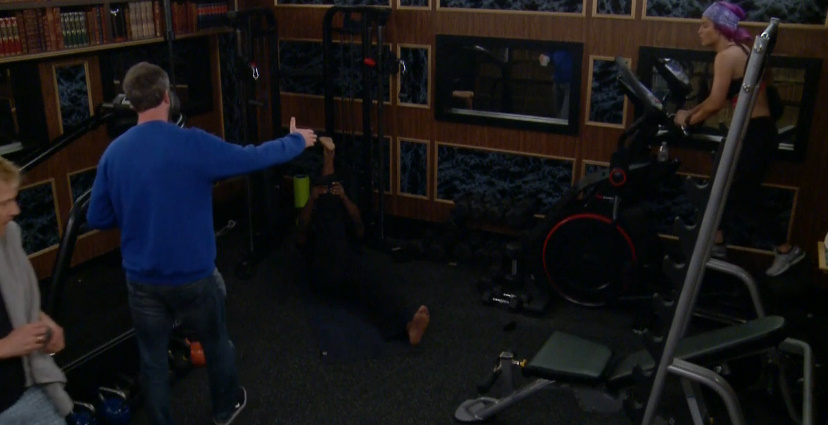 10:40am Ricky, Tom, Natalie and Kato
Tom – whats up Ricky.. So you probably know i've been trying to backdoor you for the last couple weeks. Lets get that out in the open so we don't have to do this fake walking around
T – everybody is playing a little game here..
R – you said everyone you guys started it
Tom explains they thought they were in an alliance with LOLO and Natalie. Mentions that they asked Ricky but he said no.
Nat – you brought him in..
They argue about whether or not Tom/kato asked him
Natalie and Ricky leave.. Tom and Kato talk about Ricky asking them to be in the alliance after Tom asked him and he said no.
Ricky comes back "hey can you guys go somewhere else so I can do my yoga"
Ricky – please .. please … Thank you
Tom starts talking
R – you guys can have this conversation later I'm not trying to talk to you tom..
Tom – Cool
Tom leaves.. On the way out Ricky yells "Dumb ass.. You messed up everything"
Rick – all because of you to (points to Kato)
R – some friend you are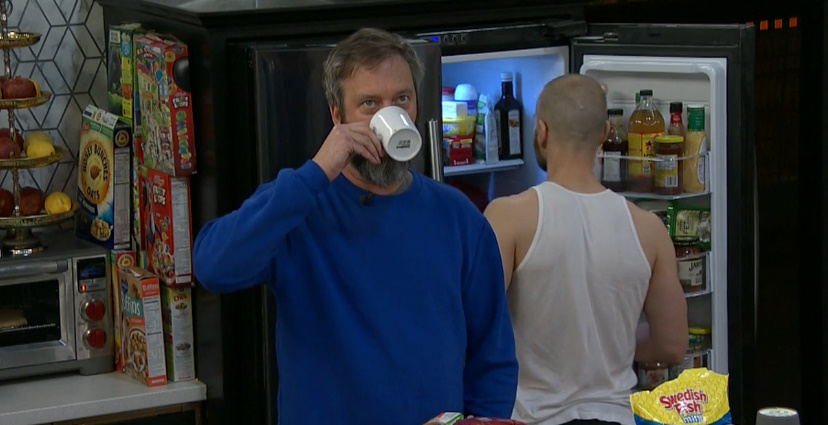 10:44am Cam 1 Tom, Natalie
Nat – you're head of household..
T – if you would have found us yesterday
N – I was in the bathroom with Kato ..
T – I was making pasta here for 2 hours..
T – our interpretations is you three are trying to make me think we're in an alliance
N – Ok sure tom.. Sure that's good
T – We just saw through the acting that's all
N – that's great .. awesome. The house sees you guys for what you are so it's good..
Natalie leaves..
Joey is there with Tom now.. Tom says Ricky kicked him out of the gym. Tom adds that he never wanted to be in an alliance with Ricky that is why he was trying to get him out. Tom points out that LOLO and Natalie must have been in one with Ricky for them to turn on Kato/Tom.
Tom – the good news is Kato and I are good at competitions.. He'll win the HOH and I'll win veto..
Tom – I don't give a f* if I go home..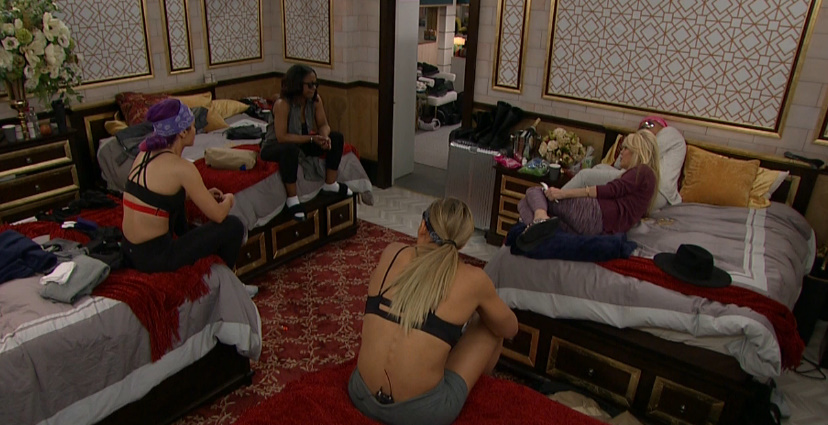 10:52am Lo, Dina, Natalie, Tamar, Kandi
LOLO and Nat are saying Kato and Tom "threatening people" is not how you play this game.
LOLO keeps adding how Tomato threatened Tamar and her and once that started she wanted out.
Lo adds that every hour Tom had a new plan or idea to take someone out.
LO – you can backdoor my a$$
Nat says backdooring Ryan was Tom's work
Natalie says Tomato is unraveling because she didn't do what they wanted her to do with the veto.
Nat – how am I supposed to follow something if I don't know the master plan..
Lo – how can you follow something where there's threats.. I've played with a ton of people some of them I Don't like.. I respect them. I don't respect this at all (all the "treats" )
Lo – just threatening the women. He hasn't threatened Ricky
Nat – because Ricky would KNOCK HIM THE F*K out ..
Nat – I don't like people that get into leadership positions and walk around like this..
Nat says Tom has changed a lot since he got power. (this is true)
Lo says that Nat gave Kato the HOH win
Din a- what win..
Nat – the HOH.. Dina I need you to get it together..
Nat says Tom was banging pots and pans at 5 in the morning
Tamar – Thought I heard that
Nat – to put on a show..
LOLO mentions how she though Tomato were the good guys.
A bunch of the other girls agree.
Kandi – are you so desperate to win
Lo – we'll Tom needs the publicity for his comedy show
LO – that's what he said.. Kato just wants to win because he likes to win shit I don't know he needs the money
They break up the meeting..
11:02am you can hear LOLO screaming at TOm in teh background .. (Self Control)
Lo – you male chauvinist pig.. Good bye.. f* you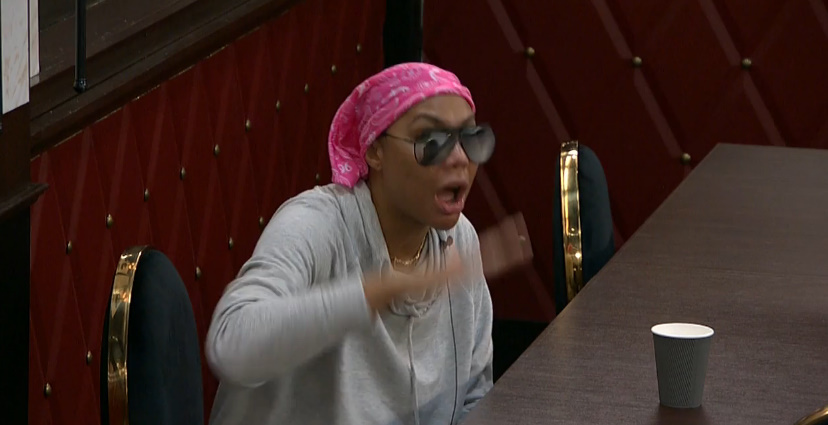 11:12am Kitchen, Joey, Nat, Dina, Lo, Ricky
Tamar going off about a guy not having self control says it makes her uncomfortable. Mentioning "that slap on the table"
Ricky – I gotcha Ta
Tamar – I got me too
Tamar – that slap on the table is crossing the line.
Nat – it's super immature..
Ta – there's no boundaries here..
Nat – they wanted their chess move to work and now they are pissed off..
Nat says if "he" had gotten in her face it would have gone physical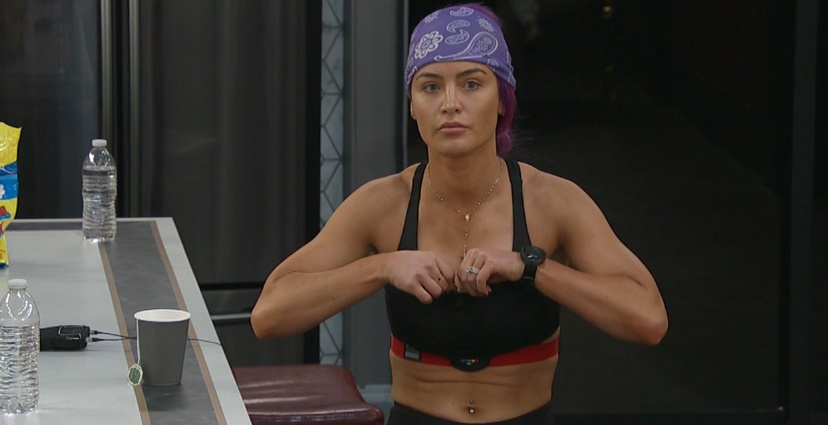 11:21am LOLO, Joey, Ricky, Dina, Tamar and Nat
Natalie – If Jonathon (her husband) saw that f*ng dude knock on that table.. .. see you later sayonara..
Nat – they better not let that out..
LOLO – they'll edit that out. They're not going to make anyone look bad.
R – Tom and Kato are making it hard.
LOLO making to bringing up Tom threatening her saying her and Nat are safe unless they use the veto.
Lo – Ta got Threatened.. This is the first time I felt like a dirty Grimy person ..
Lo – i'm a team player I fight for the team
Joey points out there's only 12 days left in the game and there's 9 of them.
Joey – the average is a little less than 1 of us are going out every day.. we're all going except for one person .. lets play it right and fair..
Joey finds a way to bring up a prayer "I was at a dead end lord what do I do"
LOLO – you know what my Tweets going to be.. whoever is controlling my twitter please unfollow Tom and Kato.. Unfollow and Block..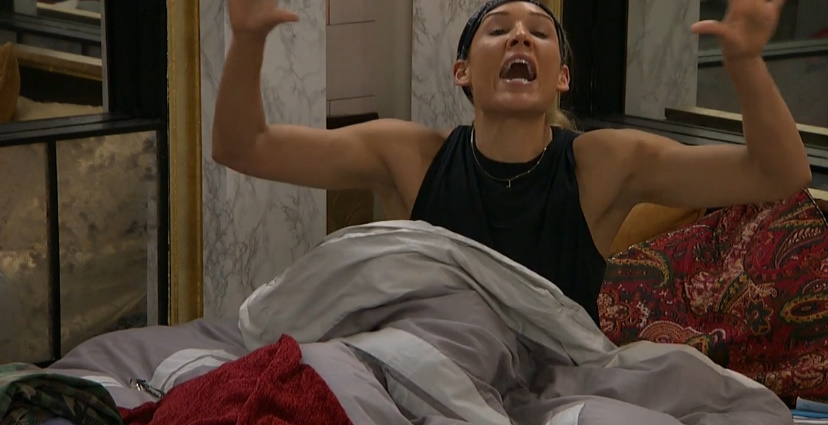 11:30am LOLO and Ricky in the bedroom
Ricky saying he doesn't feel grimmy " I was getting information from them.. that's my game"
Kato comes in
Lo – KATO I CAN'T talk right now
Ricky – PLEASE GET OUT OF OUR ROOM
LO – RICKY GET HIM OUT OF MY ROOM
LO – Production get him out of my room I am not ready to talk to him now..
Feeds cut..
Feeds cut..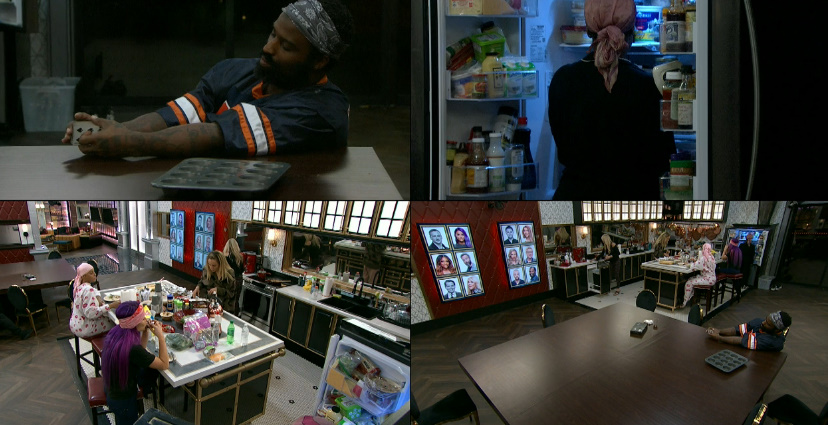 1:38pm
Feeds have calmed down.. Except for self medicated Tamar… she's ramping up 🙂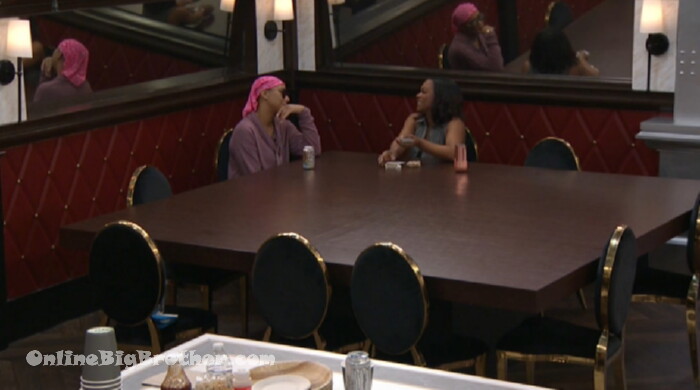 3:02pm Tamar and Kandi
Playing cards…
After being asked Tamar tells her she's voting to keep Kandi "no matter what"
Kandi says she knows if it's a tie Tom will keep her.
Kandi – Kato feels like I'm easier to beat
they laugh..
Tamar – what an a$$hole..
Kandi – I'm probably easier to beat .. whatever..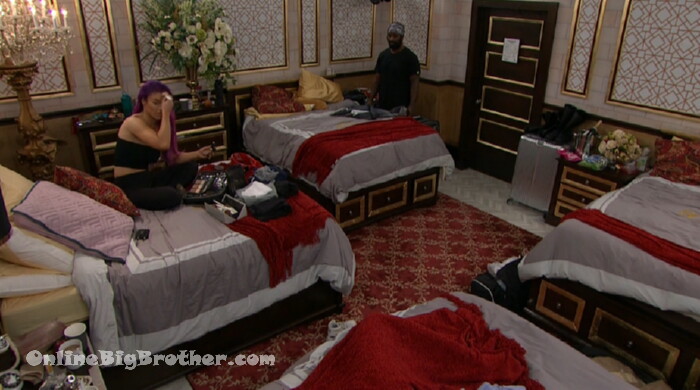 3:04pm Ricky, LO, Nat
R – you guys sure Tamar is going to evict Kandi
Nat – why
R – because if she doesn't
Lo – we're f*ed
R – we're f*ed
Nat – Really?
Lo – guess who is on who's side..
R – TOM
Lo – have you had a talk with her?
R – with Tamar? .. I'm not doing it
Nat – wait.. Dina is going to evict Joey
R – Dina is going to evict Joey ..
LO – you should work on Dina than
R – To turn Dina against Kandi?
Nat – she's not going to .. not after all of that
R – the only thing I can think of is have Joey convince Tom and Kato if they save him he'll be with them..
Lo – Ahhh ..
Nat – yeah
R – it's going to be hard for her to vote Kandi off.. you guys have to work on her
Nat – Yeah .
Lo – you have to do the other angle.. with Joey..
Lo – even if Kandi stays.. she doesn't play the game and she's easily swayed
R – her backs against the wall right now.. she's anti alliance.. but..
Nat – but wants to stay
R – Whats to stay for what.. she says I want to stay to win..
R – Do you really think you can win this..
R – but that wouldn't have been nice so I didn't say it
Nat – we need to tell her that's what has to happen just like that..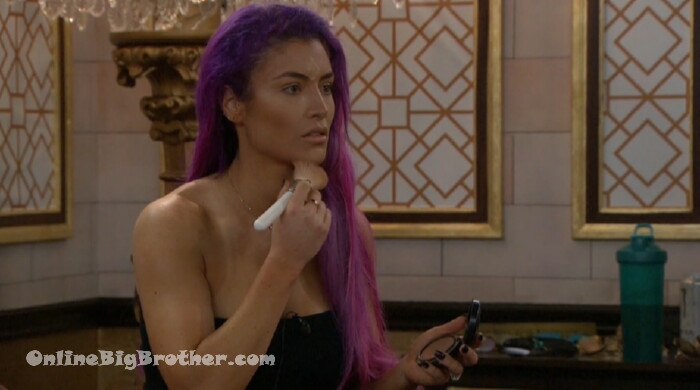 LOLO and Nat say their preference is for Joey to stay because he came to them and Kandi spend way more time with Tomato
Rick y – She's really clueless kinda..
Lo – she thinks she knows the game.
R – she thinks she knows but she doesn't
Nat – I don't like Tom and Kato .. Liek at all
Lo – do you care who stays or goes
R – not really.. I care.. I go back and forth I can flip a coin.. we gotta be on teh same page.
nat points out that Joey has a better chance of winning the next HOH over Kandi
R – point that out to Tamar..
Lo – If you keep Joey he has a better chance to win in teh long game to .. he hasn't made enemies with anyone in the house..
Lo starts questioning if Joey is going to really win the HOH next because he hasn't won anything yet.
Nat – look at his effort.. Kandi was the second one to fall off in endurance.. Kandi couldn't hit a ball with her toe..
Lo – we're going to start moving to the point where it's memory
R – yeah
Nat – we already kinda told Joey that we're going to save him .. So we go back on that TO
R – you guys gotta flip Tamar or Dina
LO mentions that Joey gave a hell of a speech and being the athlete she is she wants to play against the best and Kandi hasn't even come talk to her yet about a vote.
Ricky again says he doesn't care what they do they just have to be on the same page.
LO – I was just on a keep of snakes..
R – Kandi's not a snake.. she doesn't understand the game .. She hasn't learn't the game like Joey has..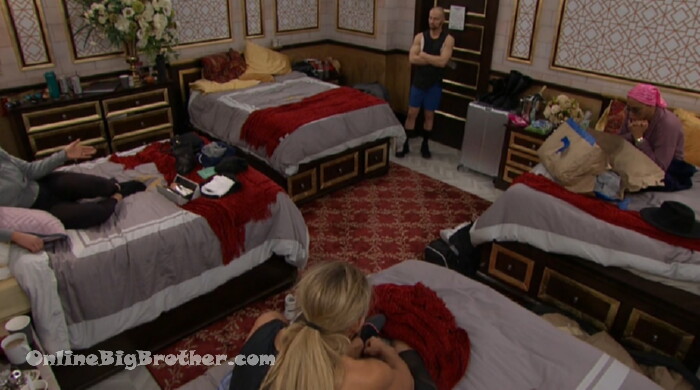 4:08pm Joey, Natalie, LOLO, Tamar
Natalie and lolo going off about Kato and Tom.
Nat – they pride themselves for being these amazing chess and game players and poker players
LOLO interrupts about tomato not strategizing with them
Natalie – me not using the veto has basically crushed them
Natalie – they don't get one move and they're having a heart attack (true)
Joey – they belittled the both of you guys
nat – yup
Joey – and you guys were young ladies that they can manipulate which is why they brought you into an alliance that's how they described it.. we brought them into out alliance.
Nat – I don't know what Female they are use to talking to but my husband can a testify I DON'T like being told what to do
Joey – it's because they are not just playing a game it's become personal
Joey says tomato has crossed lines "it's very upsetting when somebody doesn't know how to play the game"
LO "they thought they were manipulating me the whole time when I was basically countering their moves and they didn't even know
Nat – that's true to
Nat brings up when tomato asked her if she went to acting academy "clearly our acting is on point"
Lo – they didn't get it..
Nat – Hook line and sinker
They agree Tom and Kato don't have the power
Joey – this would go to PSYCHOPATHIC if they had it (he's hatching)
Joey – it would be beyond arrogance..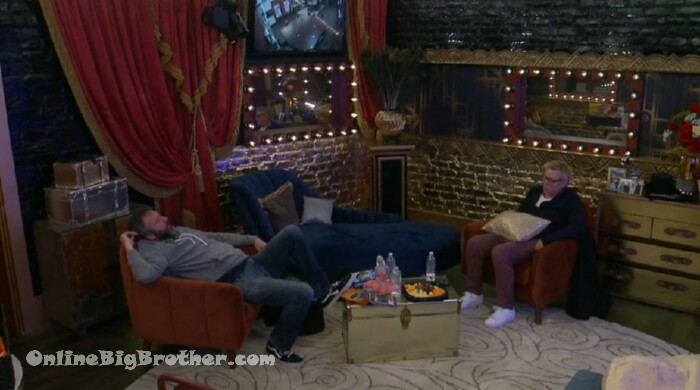 6:00pm Kato and Tom
trying to figure out who the house will vote.
They don't see there's a reason for LOLO/Nat to keep Joey.
Kato brings up Joey coming to them telling them not to trust those two girls
Tom – I never trusted them..
Tom – part of me wants to be a sh1t disturber..
Kato says he's not ready to go downstairs yet.
Tom – they can all get together and listen to Joey talk about astrological myths.. and Greek myths.. wrapped around in amazement..
Kato calls them weak
Tom – you almost have to enjoy his stories or you get yelled out.. they'll have fun..
Tom – maybe the idea is to totally avoid them.. not sit down and get in some bullshit reality TV argument..
Kato – yeah..
Tom – play pool.. go to the gym when they're not there..
Kato – yeah
Tom – Kinda unbelievable how fast it shifts.. just because we decide to say ohh we know you are in an alliance against us.. it's like a powder keg..
Kato – especially LOLO they are Grudged..
Support this site by purchasing your Amazon goods through our links below. It doesn't cost you anything and we get a small commission off your purchase.
Amazon Canada
Amazon USA