POV Holder:
JohnnyMac
Next POV
July 11th
POV Used
?
POV Ceremony
July 13th
HOH Winner Team 1:
Vanessa
HOH Winner Team 2:
Austin
Nominations 1 :
James & Johnny Mac
Nominations 2:
Jason & Meg
Battle of the Block Winner
Jason and Meg
Next HOH/ Next BOB
July 16th / July17th
Original Nominations:
James & Johnny Mac
Current Nominations:
?
Have Nots
No HAve nots this week
TRY the Big Brother 17 Live Feeds FREE for 1 WEEK:
Click here to ensure your live feed subscription supports OnlineBigBrother.com at no extra cost to you.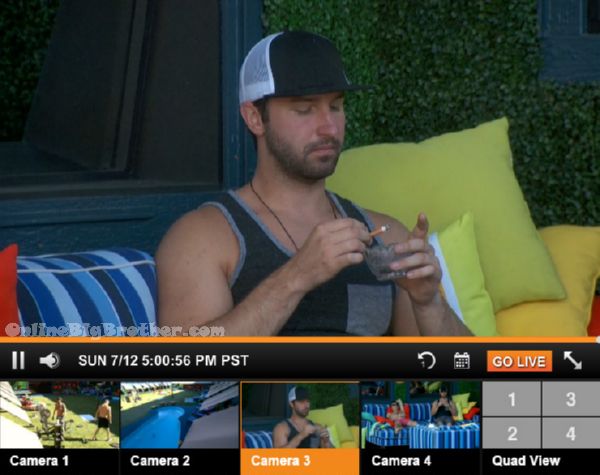 5:00pm Jeff, Jason and Meg
Jeff down on his luck smoking cigarette butts
Jason tells him he's not no advice he doesn't know what they can do. Jeff – I gotta talk to James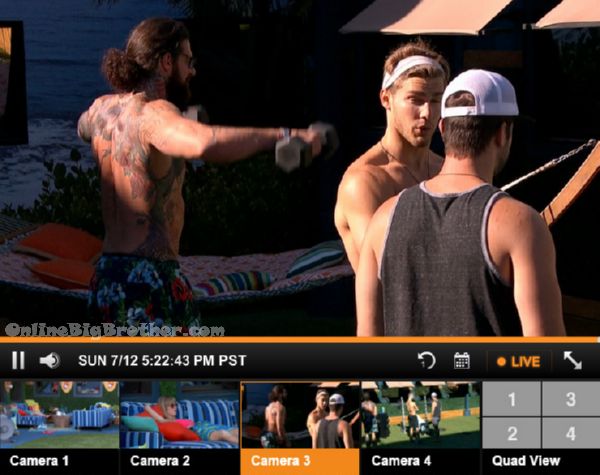 5:18pm Austin, Clay and Jeff
Jeff – People are playing us dude.. and someone is playing me bad bro
Jeff – Dude like.. clay like.. the biggest thing dude that I want to mends over dude.. Regardless if I leave or not dude is last night dude my conversation with you and shelli was sincere I should have told you guys what I said it doesn't make it any worse or any better than what james said
Jeff – why is vanessa so gung ho not putting Audrey up why is she against me .. I get it, I threw Vanessa under the bus I get it.. We all made mistakes I never made a mistake that jeopardizes Vanessa's Game.
Jeff is wondering what is going on with James
Jeff – I'm about to blow up so many people's spots.. I don't want to go against James I have too much information not to
Clay tells him Shelli and him are not turning their backs on Jeff they are pulling back because of the drama.
Jeff tells him james puts no trust in Clay or Shelli, "Something is weird with JAmes now"
Jeff – Bro I could go home I don't know if I have the votes or not
Clay – it's going to be split .. I have a possibility of going up
Austin – I dunno her mind is set
Jeff says it's mind blowing that VAnessa is saying the majority of the house doesn't want Audrey up.
Jeff leaves..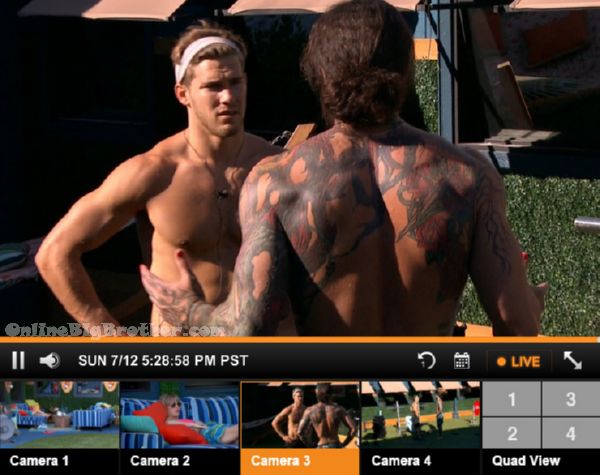 5:28pm Jeff and Austin
They agree Jeff is really good.
Clay – he is a salesman
Clay says James told him Jeff throw up the idea to convince Vaneesa to put up CLay or Shelli
Austin – He threw up Shelli BIG
Clay – he told me in the room last night you cannot trust Austin..
They agree Jeff was pulling people aside and forming alliance with everyone. He so good with his words they feel like they can trust him again just from their conversation. Austin points out how he cannot compete against that level of persuasiveness.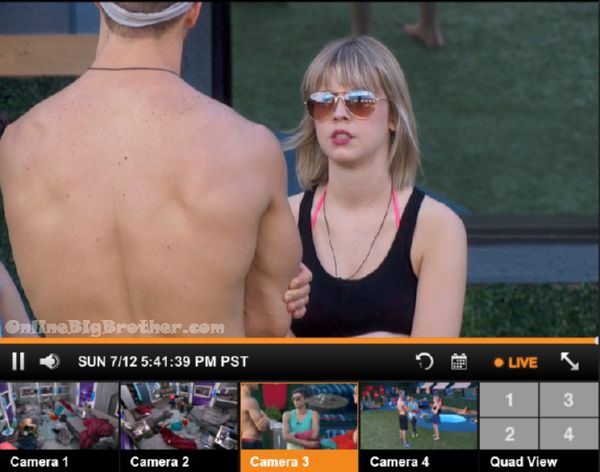 5:38pm Clay, Austin, Meg, Jason
Meg – I'm so uncomfortable living in this house with Audrey
Clay plays it up that his side wants Audrey gone to.
Meg says if Jeff goes up James is staying for sure. Her and JAson will vote to keep james.
Clay asks her who she trusts, Jason?
Meg says she trust Jason, Clay and she's talking to Austin more
Austin says he promised James his vote last night admits he was angry at the time.
Meg cannot believe all of Audrey's BS is being forgotten now
Meg mentions that James doesn't deserve to go home that is why he's staying.
[envira-gallery id="120949″]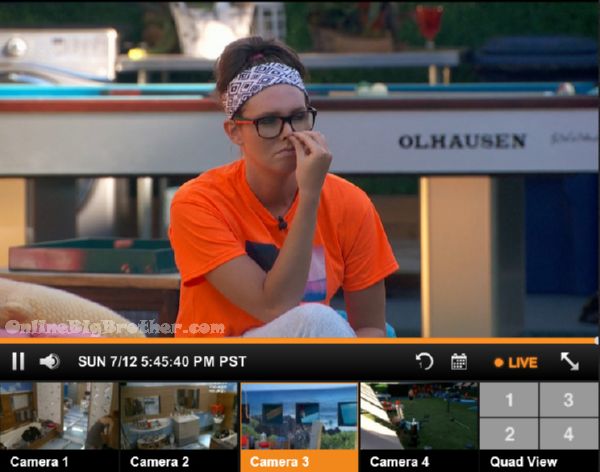 5:45pm Clay, Asutin and Audrey
Talking about Jackie being the only vote to keep Jeff. Audrey says it's best if her or Shelli win the HOH.
Clay leaves
Austin says Jeff is spreading the rumor that they are forming a triangle, Austin, Audrey and Vanessa. He's going to distance himself from them starting tonight.
Audrey says Jason is going to come after her, Becky is going to listen and talk behind closed doors, Meg is going to smile and do nothing.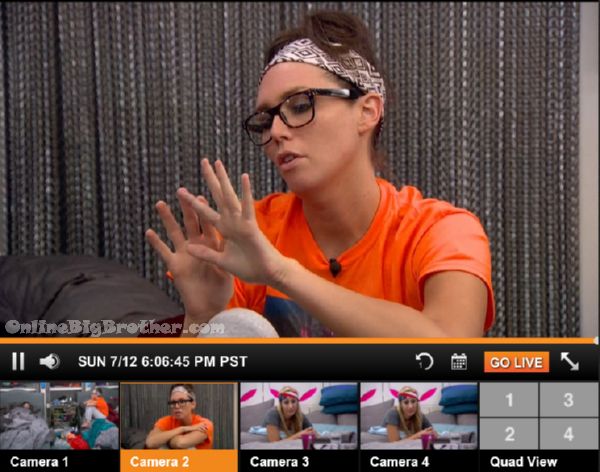 5:55pm Audrey and Jeff
Audrey tells him to lay low there's a lot of attention on him right now. She adds that the same people that blew his game up are the ones that blew her game up.
Jeff – you staying in this game doesn't affect me in a bad way
Audrey tells him "Someone" exaggerated the events around Jeff because they are scared they are at the bottom of things.
Audrey – this week and last week was a little poetic.. I had a conversation with James in the living room. if he was backdoored he would respect that move.. he was initiating what's going to happen happens because i'm criminal and i've done theses things now I have to pay my debts..
Audrey – I don't feel included you guys were part of that collaborative getting people fired up against me and now everything has come back full circle
Jeff says he never said a word when they were all in that room (The time Da called Audrey out which exploded her game)
Audrey – JohnnyMac told me about the conversation that happened and that is what got Vanessa upset.. you are the person that told John about about the meeting I had upstairs.. when I pulled everyone upstairs and freaked out about Vanessa .
Jeff – what
Audrey – at 5 in the morning I pulled you james,. jason, Clay, shelli out of bed
Jeff – how does johnnyMAc know that.. .me and Johnnymac that literally never talk.. that's funny
Audrey – Johnnymac said he trust you, steve and becky the most
Jeff – that's weird
Audrey – I'm on the outside I would love to know where the truth really is.. I want justice served against person that started all this mess against me
Audrey tells him she has to go with the house this week with her vote.
Jeff- how many votes do I need.
Audrey – 7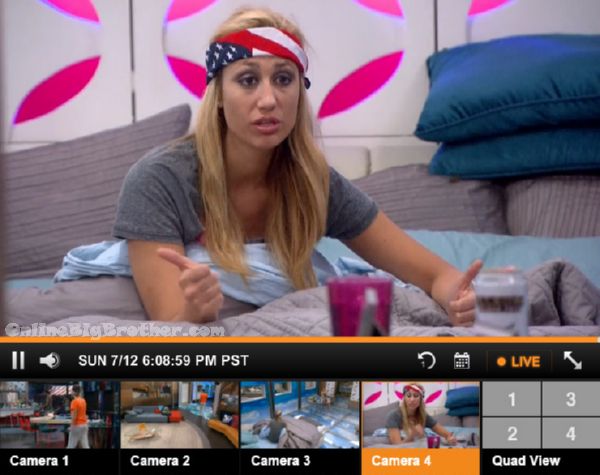 6:10pm Vanessa and Shelli
Vanessa saying she doesn't fully trust LIz. Mentions the cigarette Julia had and the alcohol. Says Jason is all over her having that Cigarette. Vanessa thinks there are too many slips ups.
Vanessa would have never shared so much information with her but Austin was Co HOH and wanted her to stay in with them.
Shelli doesn't think Liz will throw them under the bus. She understands how difficult the game must be for a person playign that game.
Vanessa stresses that Liz/Julia are on the bottom of their alliance, "I'll trust her as far as I can and I'm loyal as far as I can go. At the end of the day I have serious concerns about that one. Serious.'A' they are going to be the most loyal to austin and 'B' they have shown immaturity in the game play.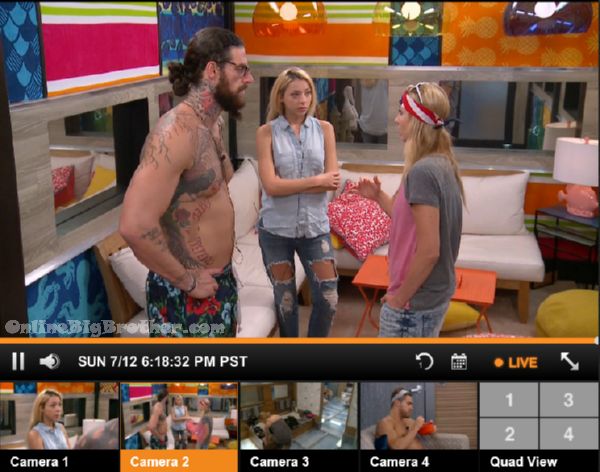 5:19pm Austin, Julia and Vanessa
Vanessa tells her that Shelli knows that Steve knows about the twins. Julia apologizes for slipping up. Vanessa says they will say they told him in the morning.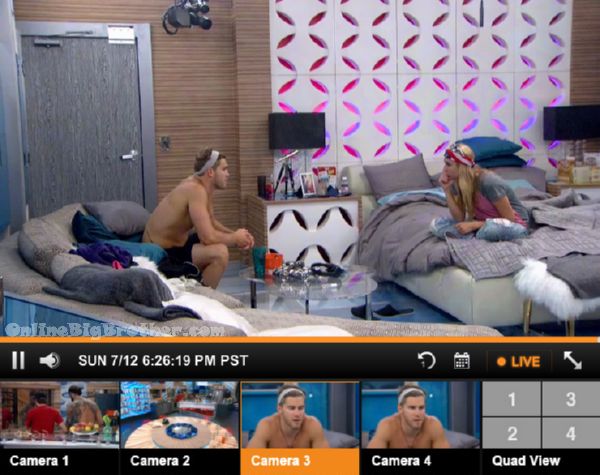 6:22pm HOH Vanessa and Clay
Vanessa says they should tell Steve Clay and Shelli know about the twin and they can bring him closer. THey can lock his vote.
Clay says Jason and Meg told him they are voting out Jeff 100%
Vanessa says Julia is terrible at "keeping her shit straight" so it easier that everyone knows within their group.
Vanessa – Julia told Steve because he point blank asked her
Adds that Julia then told Shelli that Steve knew. Now vanessa is wanting to make sure that Steve know Clay/Julia know about the twins.
Clay thinks Steve will assume they are working together. Clay doesn't think they need to tell Steve this week. Clay says Steve is smart he will suspect something, "Leave him in the dark about who knows"
Clay says Jason needs to go next.
Vanessa agrees, "James and I are good"
Clay – Jason is the next one he's going to shake shit up
They start to complain about Audrey spending too much time with them.
Clay tells her the numbers are going to vote out Jeff.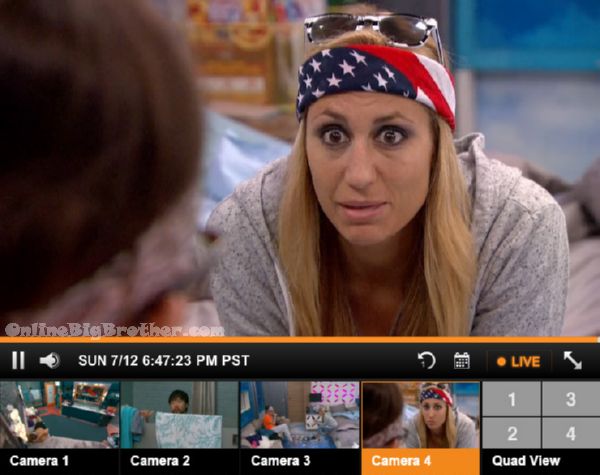 6:45pm Audrey and Vanessa
Vanessa tells her she never wants more than two of them in the same room for more than a couple weeks. Vanessa warns her they think that her, Austin and Audrey are working together they have to deflect that.
People are figuring out they are all working together they have to pull apart this week.
Vanessa stresses Audrey has their loyalty 100% She working hard on improving Audrey's image but she's gotta back away a bit people will start trusting her.
VAnessa Tells her they want jeff to go James is not a threat to them at all.
Audrey says jeff came up to her and said 'People are calling me the male you"
Vanessa says she's HOH Audrey is allowed to talk to her once a day but everyone else she cannot talk to. Vanessa instructs her she talks to Meg, Becky, Jason, JohnnyMac, Steve.
Audrey says those people don't want to be seen with her.
Vanessa – Fine.. hang out with Jason.. you should be out in the public areas doing that.. you have the ability to change minds and hearts.
Vanessa – If Jason wins HOH he's not going for you he's going to Shelli and Clay..
Audrey says she had a feeling that she was going to win POV this week but she didn't. She's getting the same feeling for next week she feels good they will win HOH. She wants to win HOH and call the people out that need to be called out.
Vanessa – that will be the bomb.
JohnnyMac comes in..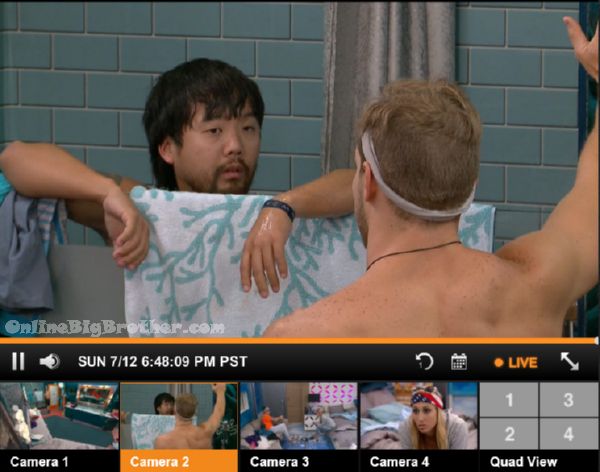 6:49pm James and Clay
Clay telling him it's looking like it's going to be James against Jeff and James is going to stay.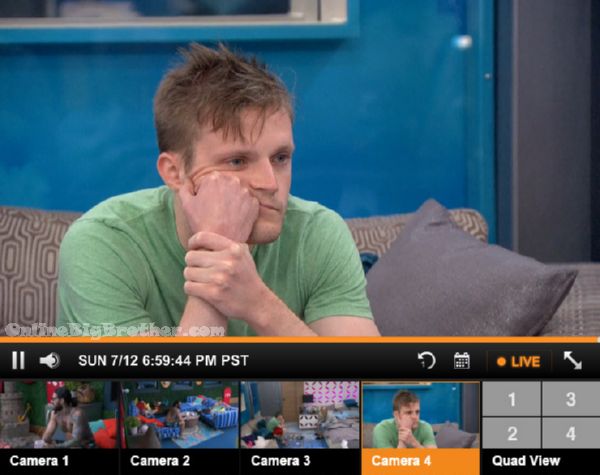 6:58pm HOH Vanessa and JOHNNYMAC
Vanessa – dude you slept threw world war 3
Vanessa tells him what happened..(She rambles on a lot make little sense) She found out it was always the plan to backdoor Jace from day 2. James told her the plan to backdoor to jace happened the day of the eviction based on what Audrey told him. He threw Audrey under the bus blaming her lies on jace's eviction.
(Vanessa has a convoluted reason to put Jeff up. The simple reason he's a game risk to her and her alliance. Her and her Alliance want him out becuase he's the strongest person on the other side of the house. Jason is the second strongest they are targeting him next. )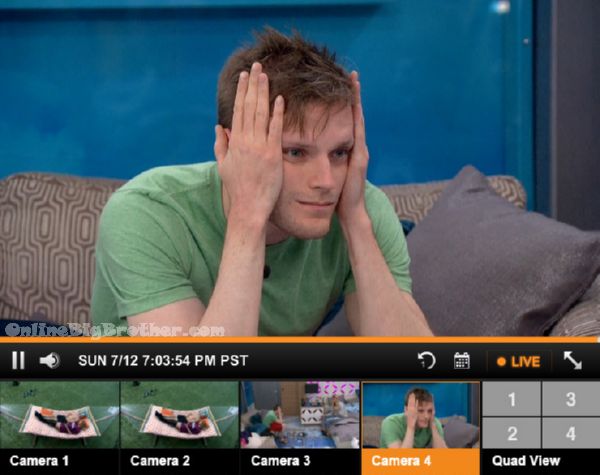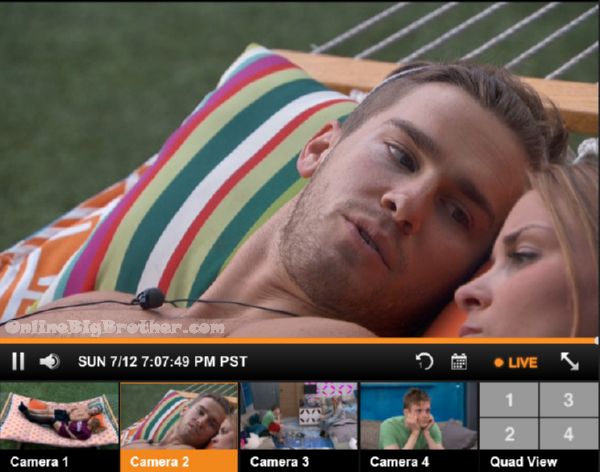 7:12pm Shelli and Clay
Talking about Jeff. Shelli says she'll miss him. Clay will to says the whole dynamic of the house will be different.
Clay says they have been discussing getting rid of Audrey during the double eviction.
Shelli wonders if Audrey really is loyal to them.
Clay – She's not.. She's not.. She's lied about WAY too many things.
Live Feed subscription gives you CBS All Access thousands of archived shows. Live Shows like Big Brother, all the Big Brother Seasons, and 24/7 coverage of what is happening inside the Big Brother House. Plus there's flashback that lets you go back to any second of the feeds and rewatch what happened. Simon and Dawg will index the season just watch the parts worth watching. All this for $5.99 a month try it out 1 week free. Support our efforts and get your feeds via a link on this site. Live feed subscription Sign up
[polldaddy poll=8972565]
Share it YO!!
Tweet