POV Holder:
Paulie
POV Competition
Aug 6th
POV Used
?
POV Ceremony
Aug 8th
HOH
Victor
Next HOH
Aug 11th
Original Nominations:
Michelle AND Zakiyah
After POV Nominations:
? AND ?
Have Nots
Bridgette, James, Corey
Watch the next week of the feeds for FREE – 1 week Trial!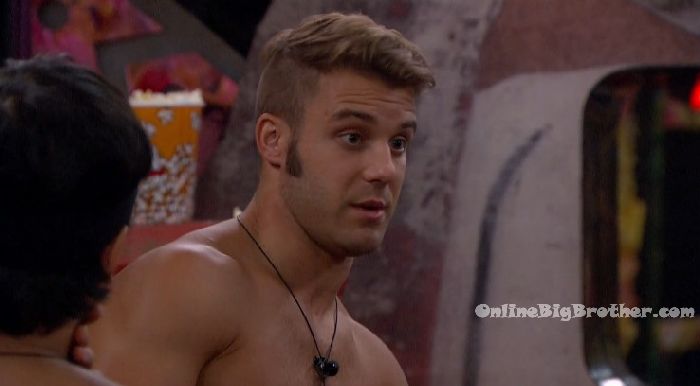 8:20pm Havenot room – Corey, James and Paulie. Paulie says I am not using the veto on Monday. I'm keeping them both up there. Ya'll have to help me with Z being a f**king wack job. She will f**king want to kill me after that. Paul and VIc want Z gone. I don't want to cause crazy tension between our group. But at the end of the day Z is better for our game. James says I told Vic we probably want to keep Z. Paul joins them. They talk about talking late at night. Paulie says Z is going to follow me around all day. We'll talk about it and make a decision together and iron this out.

Nicole says that Natalie is acting so weird she thinks she is going up as a pawn. Corey says he's not going to use it and Z is going to be PISSED! Nicole says I was going to find my own but I didn't know if I was allowed to. Corey says I would pull you off. Nicole says if you didn't I would be PISSED! Corey says I didn't think it was legal to put it up there. Like I thought I was the only one that could get up there.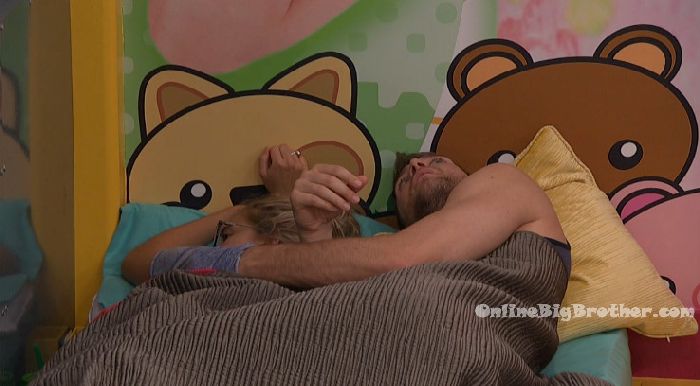 8:50pm HOH room – PP! Paul asks PP talk? Paulie says yeah. Paul says everyone is pissed at James. Especially Natalie. Paulie asks for what? Paul says just for f**king sh*t up. She was like that was unnecessary bla bla bla. SH*TTING ON HIM! He is scared shitless. Even Vic was pissed at him. He is scared bro. Here's the thing Z f**king goes. You keep noms the same. Paulie says oh I am keeping noms the same. Paul says if you do that it is in your best interest for her to go because she is going to be f**king PISSED! Here's what we do we reel in Meech. Meech is so over James. Like so over it. Vic is so over James. James is over Vic. Then we have Bridgette in the mix who is over all three of those people. We keep those targets in the house so they go after each other. We just fuel the fire!! We just fuel the fire. Paulie says we just have to get Bridgette out next week. Paul says we will. Vic wants to keep the noms the same. Paulie says I just feel like I'm caught in the middle. You and Vic want Meech gone and James and Corey want Z gone. You know what I should do .. talk to Z tomorrow and see how she reacts. Paulie says I'm going to sleep up here so I don't have to sleep next to Z and talk to her. Paul says she's going to know something is up. Why did you hide it so good!? Paulie says I want everyone to put everything on the table so we make a decision together. I'm okay either way. Paul says but Z is going to be PISSED! Paulie says I don't like how after Vic won she (Z) asked me why I dropped off and if I wanted her gone. Paul says at the end of the day Exec (Vic) will always be a ibigger target than you and I ..especially if we keep fueling that stuff with him and James. Paulie says we're cruising! Paul says We're f**king cruising!
FLASHBACK and watch everything you missed: 1 WEEK FREE Trial!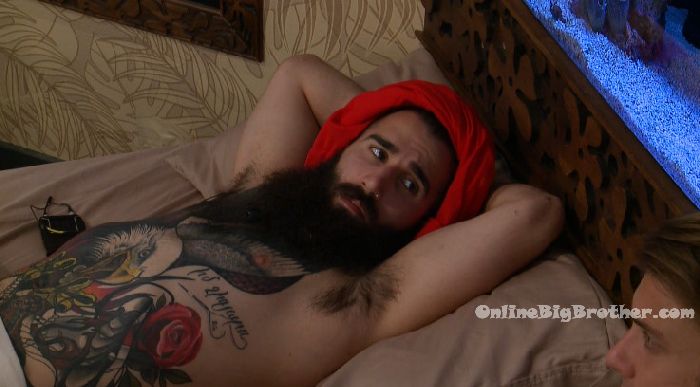 9:15pm Natalie is still complaining about how during the veto someone took her underwear that was inside a ziplock bag and broke it open. I can't wait to see who it was! (I bet it was James.)
Vic "They washed my clothes .. granted this is my underwear smell!"
Natalie "AMAZING!!" @bigbspoilers #bb18 pic.twitter.com/cGVW1VFsQk

— Dawg (@DawgsBigBrother) August 7, 2016
9:30pm Hot Tub – Natalie and Meech chatting about random things. Natalie asks do you think he's going to use it? Meech says I would be surprised if he didn't. Natalie says when I get to jury, I'm going to run on the treadmill straight we have to look good for finale. (Why not set your goals a little higher like try to win the 500K?!) Meech says I think you're going to go far. Meech asks doesn't James tell you stuff? Natalie says no we don't talk game.
10:15pm – 10:25pm In the HOH room, Paul goes to bed. Vic listens to his music. Corey and James playing pool with Bridgette watching. Natalie and Meech are in the hot tub chatting. James says Natalie is acting weird with him.. Corey says you think she would be acting nice just in case she did get put up to get two votes blocked. James says whatever I'm over it. They head inside.
11pm – 11:10pm Bathroom – Paulie, Michelle and Nicole are talking. Michelle asks Paulie when he was contacted to be on the show. Paulie says in June. Paulie says he was working and had to make the decision right then and there. Michelle says that people were saying Ian's (Ian Terry) younger bother Kirby was going to be a potential too.

In the kitchen – Nicole tells Corey that if he hides Paulie's veto card she could find it. Corey says okay. Nicole goes to the storage room to wait the 3 minutes for Corey to hide it. Paulie gets his veto card and Corey hides it inside the couch cushion. Nicole goes out and they give her the same rules and a 10 minute time limit. Nicole runs to the havenot room and starts looking. She checks a bumper car and is scared when she realizes James is sleeping in it. Nicole checks the london bedroom and then the living room. She says this is way harder because I can't make a mess.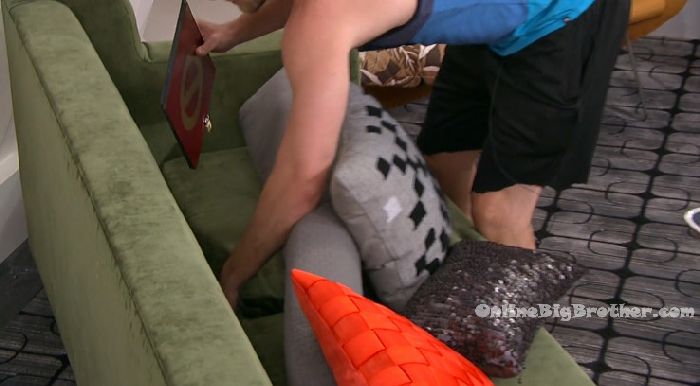 Bridgette says tells Natalie with all his comp win he (Paulie) is putting a big target on his back.
Natalie "Hey baby come here!"@bigbspoilers #bb18 pic.twitter.com/HEywRNZz0A

— Dawg (@DawgsBigBrother) August 7, 2016
11:40pm
Nicole finds Paulie's veto card that Corey hid with a minute 34 seconds left.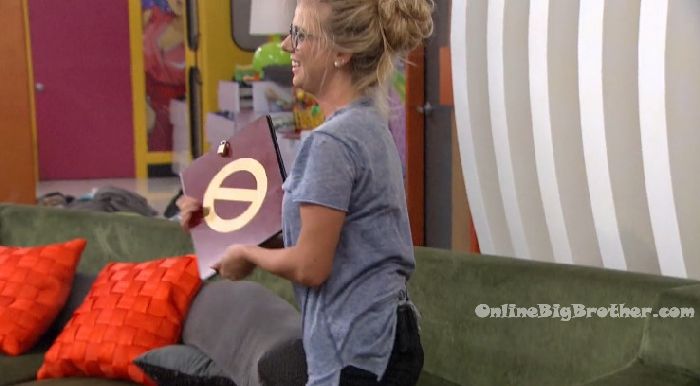 11:50pm – 12am Paulie and Bridgette. Paulie tells Bridgette I dont know which would be best. They're both the same in my eyes. Paul and Vic are pushing hard for Meech and everyone else is pushing hard for Z. Either one that stayed I don't think either would come after you. Paulie tells Bridgette if she stays friendly with both girls on the block .. I think the one that stays will end up going after Vic and Nat. Paulie says I know for a fact that Z lied to me. I know she is going to lose her sh*t when I don't pull her off. Bridgette asks are you definitely not going to use it? Paulie says definitely not. I really want all of the emotional players out. So that things just come down to logic and not emotion. Bridgette says I know if Michelle wins she would f**k some sh*t up. Honestly if she wins it might be you and me up on the block.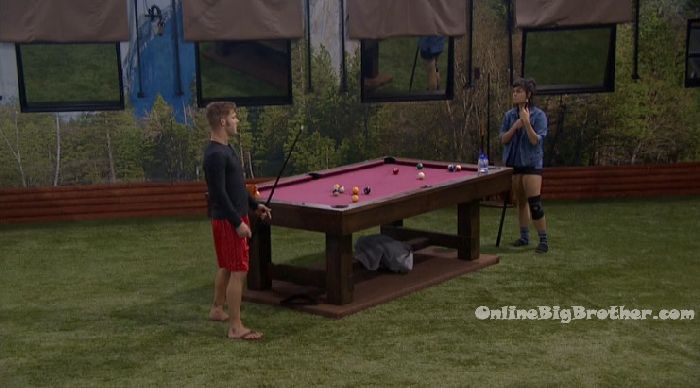 The NEXT America's Care Package
"SUPER SAFETY"
WEEK 3 – August 7th to August 12th
The good news is the holder of this care package will be safe for the week. The bad news is the house guest must also wear a "Super Safety" costume all week long.
[polldaddy poll=9491180]
Tip Jar
Show your support and help keep the spoilers coming ;)