POV Holder:
HEATHER
Next POV
April 26th
POV Used
?
POV Ceremony
April 28th
HOH Winner:
Jon
Next HOH:
May 1st
Original Nominations:
Heather and Sabrina
Current Nominations:
?
Have Nots
None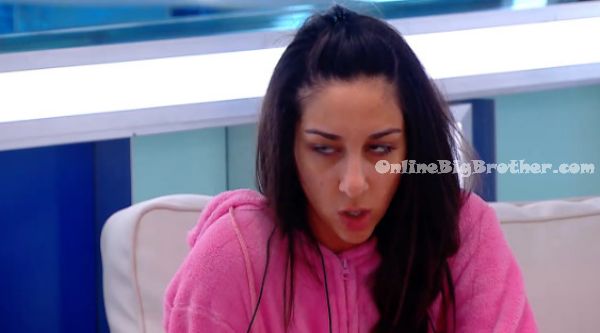 8:15am – 8:55am Big Brother wakes up the house guests. Jon says so Heather is called in an hour 15 and then we get locked in here? Neda says usually its a bit longer, we get ready, have breakfast and then she gets called in there. Neda heads to the bathroom. Jon and Neda go into the HOH room. Jon asks so what were you and Heather saying last night. Heather joins them and says that she thought she heard her name. Jon and Neda say no. Neda says I can't believe he (Adel) made up a complete lie. Heather leaves. Jon and Neda talk about who is better to keep Adel or Sabrina. Jon tells Neda about how Adel thinks Neda has the votes hands down. Jon says Adel thinks you're manipulating me and that you'll win against anyone. They start talking on the pros of keeping Sabrina over Adel. Neda says I will only give Sabrina credit for manipulating RO and getting her to put up IKa. Jon says I am honestly leaning towards keeping Sabrina. If I didn't trust you I wouldn't. Neda asks what does that matter. Jon explains that no matter who wins I go. I have to win the veto no matter what. Neda agree. Jon comments on the noises Heather makes when she wakes up. He says if I had a girlfriend that wakes up and makes those noises I would lose it. What does she wake up with a lot of flem or what?! Neda says she doesn't know. Jon says I would never give my vote to Heather, unless you screwed me over then I would probably give my vote to her. Adel joins them and Jon leaves to go to the bedroom with Adel. Jon says that he and Neda were just talking about the benefits of Keeping you over Sabs. Adel asks what Neda was saying. Jon says she said it would be stupid to get rid of you (lie). Adel tells Jon that it is 1 billion percent they have something going on. I am going to need to do something sooner than later.
In the bathroom – Sabrina tells Heather that later she will tell her something. Sabrina asks Heather what they were talking about for so long last night, were you talking about me? Heather says no and then says yes. Sabrina asks if they were talking about keeping me? Heather says possibly.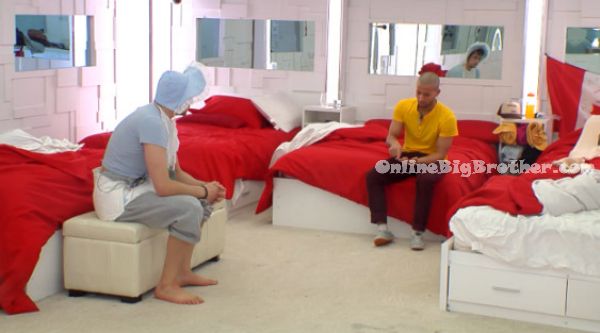 In the bathroom – Jon, Neda and Heather discuss who is better to keep Adel or Sabrina.

9:10am – 9:30am Out in the hot tub room – Adel says that he is going to cause trouble all day today and that he'll stay up all night. If I don't get put up on the block I will still cause trouble. He then stops himself and says no I can't cause trouble because I need their votes. Meanwhile in the bathroom – Neda talks to Sabrina and tells her not to tell Heather that Adel doesn't have the votes in jury.. Sabrina doesn't understand why not. Neda says because Heather might want to keep him over you. Sabrina says oh right, I am so stupid!

9:35am Jon goes into the bedroom and asks what to tell Adel when I put him up? Neda says tell him that you've already made a promise with me that you won't put me up and that I will set sh*t on fire. Jon says okay and leaves. Jon heads into the HOH bathroom and takes off his diaper. He says look diaper burn.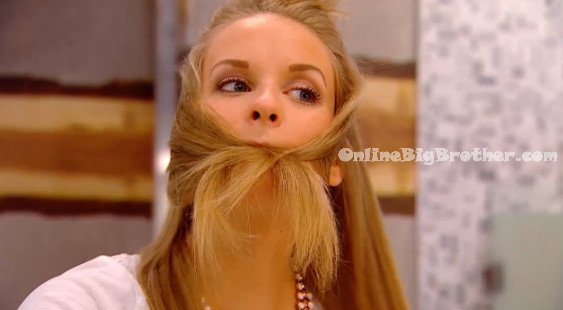 In the HOH room –
Jon tells Adel that he is going up but that if I thought you would go home I wouldn't put you up. Adel says okay if that's what you think. Adel says this is already preplanned .. they are going to get rid of you next. I think they are going to be all caddy and then try and be all nice before eviction to try and get my jury vote. No matter what they're going to get rid of me. Jon says Neda won't vote to evict you this week.. I don't know what Heather will do but it doesn't matter. I won't vote to evict you. Adel says okay bro.
Out in the backyard – Adel walks around the backyard talking about Sabrina, JOn and Neda's house guest photos. Adel then heads out to the hot tub room and says that he is going to start promising Heather final 2 so that she doesn't vote to evict him. Adel goes inside and asks Jon if its a good idea to start promising Heather final 2. Jon says oh hundo! Adel goes up to tell Neda. Adel tells her he's going to promise Heather final 2 but no matter what it doesn't mean anything because I would never go against our deal. Adel then changes his mind about doing it. He leaves and then comes back and says that he will tell her and and see if Heather tells Neda about it.

10:10am Big Brother blocks the live feeds for the Veto ceremony to take place…
11:30am Still blocked..
[polldaddy poll=8001357]
Stay connected and interact with other Big Brother Fans on our Facebook page.
And Follow: @BigBspoilers and @Dawgsbigbrother on Twitter for the most up to date spoilers.
HELP keep the spoilers coming.. Show your support by making a donation. ANY amount is greatly appreciated! Simon and I work 24/7 all season long to keep you updated on everything that happens inside the Big Brother house. Your donations go directly to paying the fees required to run this site.