Click here for your CBS All Access – Live Feed 1 Week Free Trial!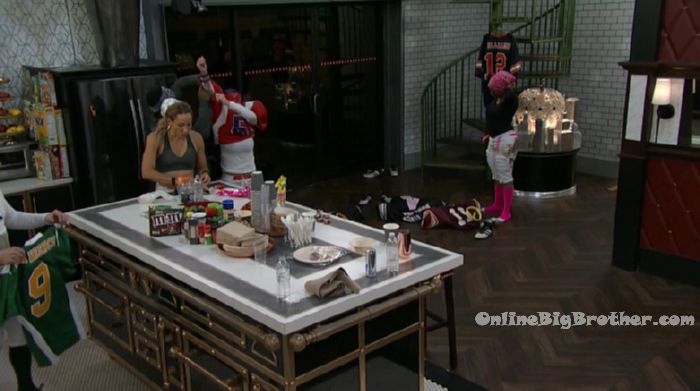 POV WINNER: Natalie
9:15pm The live feeds return from being blocked for the veto competition. They're wearing football gear and jerseys. Lolo complains of having a stomachache. Lolo – can you believe this!? I have mud in my hair! Kato – great job guys!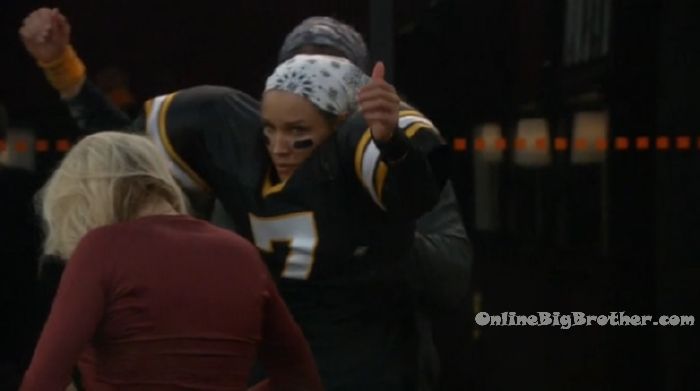 9:20pm Storage room. Natalie and Lolo. Natalie – I am not going to lie… If I didn't win that my parents would have been like What The F**k?! Lolo – why? Natalie – I was a soccer player all through college. Lolo – I am just going to let you know that I could have totally bit that pain and won but I… Natalie – I know you could have. It was a fun competition for us. Lolo – I just feel that I would have got it more from Kandi. Natalie – agrees. And if anything we're in this together. That was fun for me and it was win win no matter which way it goes. Lolo – I was definitely feeling sick. If my a$$ was on the line I would have f**king.. Natalie – of course. You only stopped because you were playing against me. We're the first girls to be at the end… why? Because we're bad motherf**kin b***hes! I guess we're running it! Lolo – that was cool though. I just really wanted that win.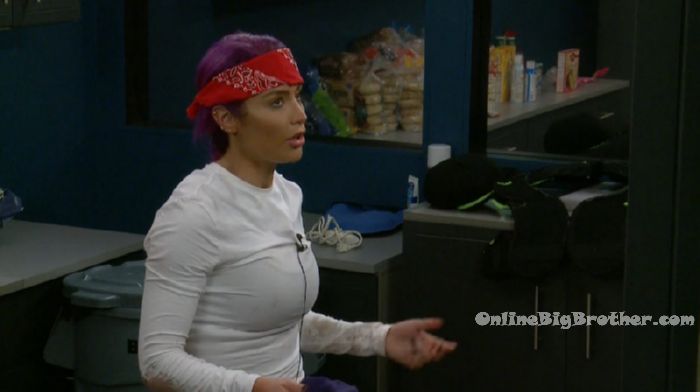 9:30pm Bedroom. Lolo and Ricky. Lolo – you know I could have won that one right? Ricky – yeah I saw you guys talking too. Lolo – did you see that I kick with my left and not my right? Ricky – I knew the first time you went up .. you were throwing it. Lolo – she (Natalie) was kind of too at the beginning. But then I was like we can't both be throwing it. I said this is a team thing. I am not setting you up to get murdered by them. I've got your (Natalie) back. And that is true. Honest to god I her her back and your back. Ricky – so what is the plan now? Get it 3-2? Lolo – we are trying to get it so that they don't know. Ricky – I don't want them to know. I want them to be surprised. Lolo – the problem is that now Natalie has a very hard thing to do ..they're going to ask her to use it. They're going to hound her to use it. How do we get her out of this pickle? Ricky – worst case she just doesn't use it. Lolo – I told Nat that if I win this thing they're going to come at me harder because I'm close with Kandi and she is going to ask me to save her. They trust Natalie .. they don't really trust me. Natalie for some reason is very cool with Kato. If I had taken that win… I would have been about to execute but they would have known instantly. But with Natalie winning, they're not going to know. Natalie joins them. Ricky – thank you. Natalie – I'm not going to let them run this. Lolo – what are we going to do? Natalie – they're going to ask me to use it and I'm going to say no. No one f**ks with me. I'm going to attach myself to you. I am going to say that as a part of this 5, I am not comfortable back dooring my own teammate. Period! Done! how are you going to question that? Ricky – they can't! Lolo – when Natalie asked Tom why are we turning on our own team? He said he (Ricky) was never a part of our team. I never agreed to that. Ricky – I am going to try and keep being friendly. I want them to be shocked so bad! Ricky leaves. Nalalie – I want you, me or him (Ricky) to win.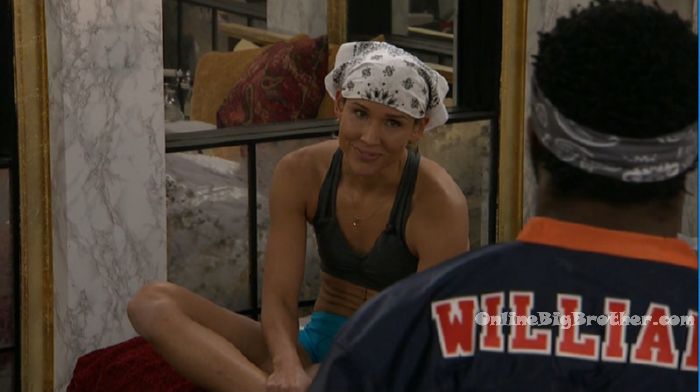 9:48pm Bedroom. Lolo, Natalie and Tamar. Natalie tells Tamar that she is not using the veto and keeping the noms the same.
10:55pm Kato and Ricky playing cards and then chat out in the backyard. Natalie and Lolo showering. Joey cooking.

11:37pm Natalie and Lolo doing their hair in the bathroom. Tom and Dina chatting about the Mooch and Dina's memory wall photo.
12:10am Dina and Kandi playing cards.
Support this site by purchasing your Amazon goods through our links below. It doesn't cost you anything and we get a small commission off your purchase.
Amazon Canada
Amazon USA