Head of Household Winner
n> – Dani
Have nots – Da'Vonne, David, Ian
Nominations – David Tyler and Kevin
Power of Veto Players are – Ian, Kevin, Dani, Tyler, Enzo, Da'Vonne.
POV Host: – Nicole
Power of Veto holder – DaVonne
Power of Veto Ceremony –
Powers – Christmas, Dani, David
Live feeds —-> Grab your Live feeds here. Try it free.
Rank the houseguests —-> Big Brother 22 Ranking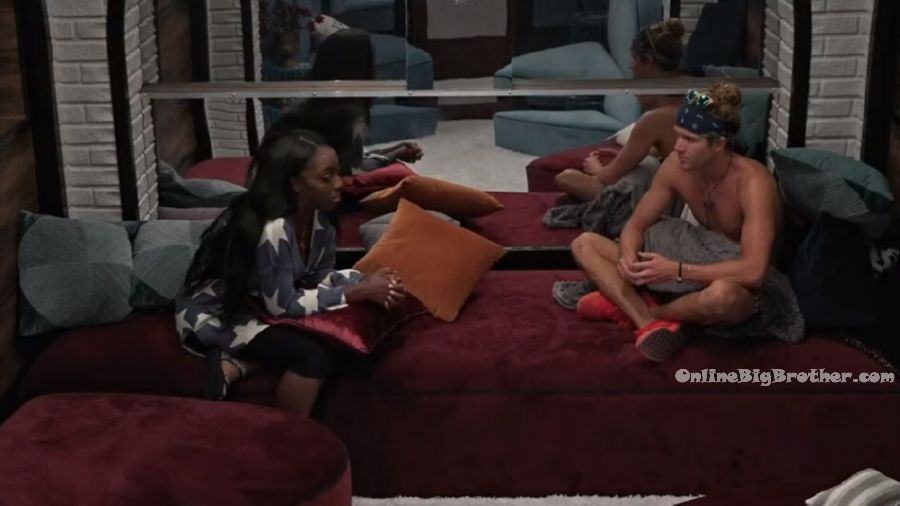 6:27pm Lounge room. Tyler and Day.
Tyler – what up champ!! Day – I am so excited. Tyler – that is crazy .. three seasons!! Congratulations. Day – thank you. Tyler – I have to do my pitch though. I know you're in a tight spot. I don't want to go. I am not dumb .. I know the game. If I'm on the block I know I am out. I've got the stink right now. Day – I though you had the numbers to stay. Tyler – I need five. Dani won't break a tie in my favor. Cody, Enzo, like David? You? That is four.. Day – are you close to Christmas or Memphis. Tyler – I am okay with Christmas .. I guess .. she is trying to build off last week not putting me up but I don't have any game relationship with her. She life talks me and Memphis no. I feel like they're in tight with Dani. I am okay with it though ..at least I didn't get back backdoored. I got sidedoored. With you my actions have spoken to you ..like when we were in an alliance I told you who was coming for you. Even last week with Bay .. I voted for you to stay. I didn't want you to feel like you were less on my list. I feel like my actions have been there for you. My intentions have always been there but I do understand how tough of a position this is for you. Day – this is just hard across the board. Tyler – do you know what you're going to do? Day – I don't, I want to talk to Dani because this will be 4 people that she will have had to nominate. Tyler – and if you're trying to repair that for your game .. I see that. Day – but according to you she was trying to get rid of me so should I really care how much blood on her hands. Tyler – but if you're able to build that with her. I'm a realist I look at all situations .. not just mine. Day – I want to play this game with you. I want to have a deep deep conversation with her to see what she might have in her pocket. Kevin obviously wants me to use it on him. I don't know what to do. I will talk to Dani and go from there. Tyler – I understand and I won't hold anything against you or her. Day – can I be transparent? I thought you had a power? Tyler – no, I swear on everything that I don't. And if I did I would tell you because my back is against the wall. Day – I think you have the votes though Tyler. Tyler – no, I don't. I was outside for 45 minutes and no one talked to me. Day – I can promise you this .. before the ceremony I will tell you.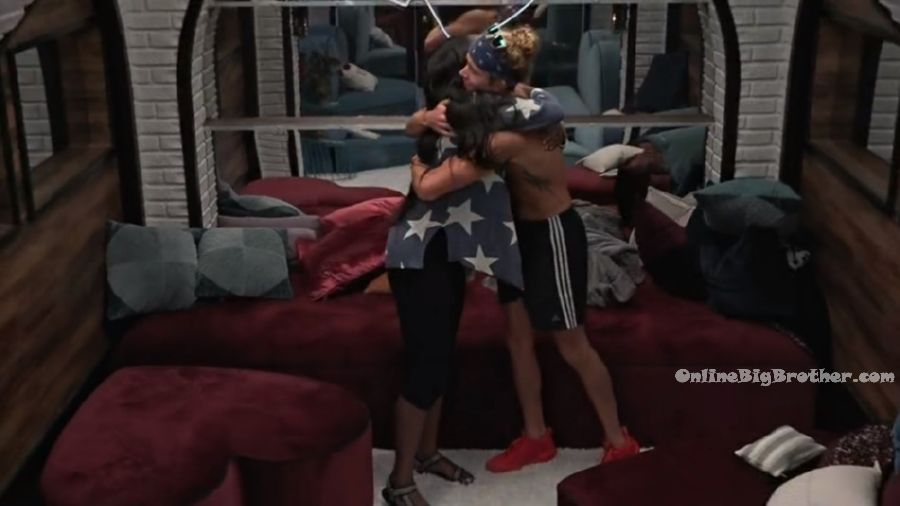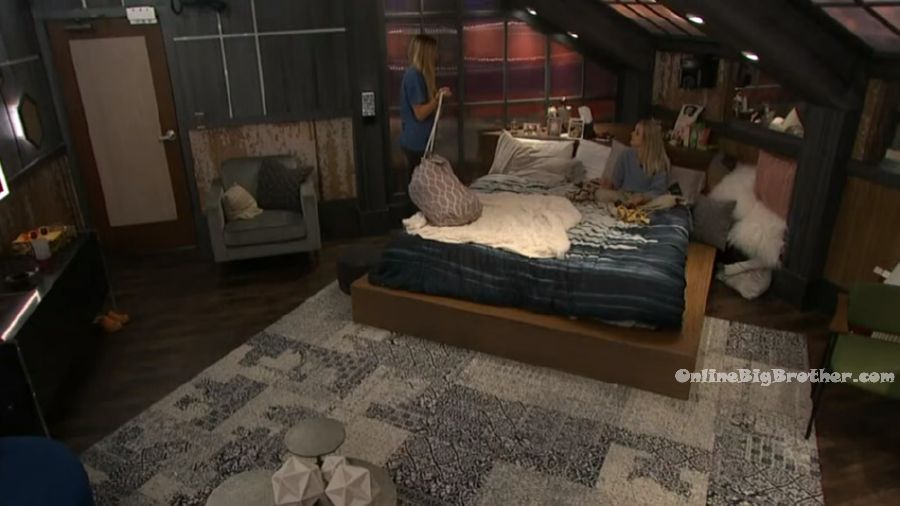 6:52pm Lounge room. Christmas and Memphis.
Christmas – I have already told Kevin he has my vote if he stays on the block. (lie) Memphis – but how do we convince Devon.. DeVonne to not use it. We can all tell her that the plan is to keep Kevin and then blame it on some bullsh*t. I think if its me, you, David, DaVonne and Enzo.. we convince Day that those five are locked to keep Kevin.. then we keep Tyler. Christmas – we need Nicole on board. Memphis – Nicole is on board to say that too.

HOH room. Dani and Nicole.
Dani – she(Day) feels stupid if she doesn't (Use the veto). And I'm not going to tell her not to. Christmas is freaking out. Which is annoying the hell out of me. She came up here and said well if she uses it you only have two options. You have to do it. I was like go away! Nicole – I thought she just told you earlier she wasn't going to use it. Dani – she did. Nicole – what if she uses it and someone else has a power. She shouldn't want to put you in that spot. That's why I am confused. Dani – she doesn't want to look dumb. Nicole – if Kevin stays and wins he is putting up Cody and I ..100%! Dani – Nicole, what do you want me to do? I put him up. Nicole – I think we can make her not use it. Dani – if we make her not use it, then we have to vote out Tyler. That's what it comes down to otherwise we lose Day's trust completely. COMPLETELY! She knows that there is a big alliance in the house. Dani – This is my plan.. the best case scenario would be I convince her not to use it because I guarantee Tyler goes home. The only way I can do that is if I get Memphis .. which he is already almost here. I convince him that Tyler went against our group. Nicole – I don't think its a good ideal I would rather lose Day than go against the comity. Dnai – the only person I can put up is Ian. Nicole – yeah he would be shocked. Dani – I am not doing it. I have to convince her not to use it. I am not here to make Day look stupid. That is not why I am here. I will not tell her to not use the veto and then screw her over and everyone vote out Kevin. I will not do it to her.. I cannot do it to her. Nicole – she has more number 1's. She has you too because you won't do this. Dani – I swore I wouldn't tell .. she knows 100% that Christmas has a power. She was next to her when she got it. Nicole – this is so bad.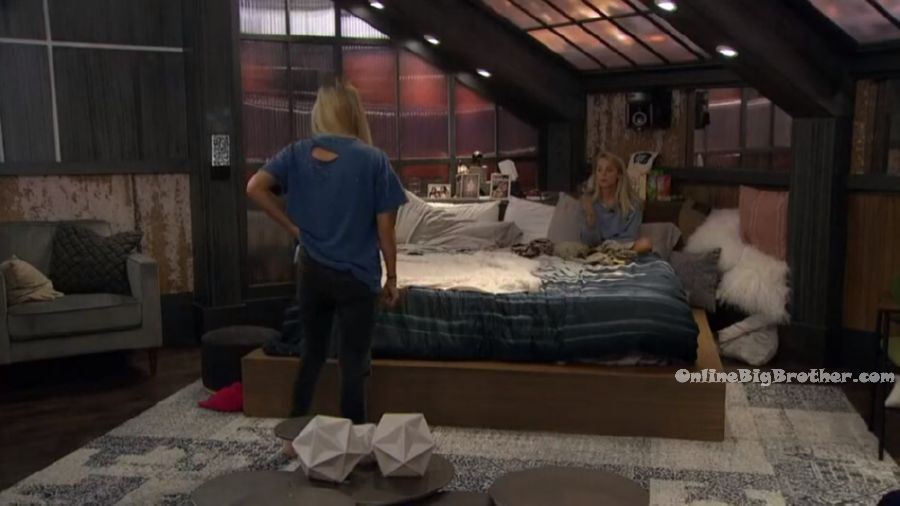 7:20pm – 7:45pm
Dani – and I guarantee her power is better than mine. MY power was the trash power! I don't even care whos stays because I'm frustrated now. Dani leaves. Nicole – I have one ally I trust and now she is going to get him. Cody has to cover for me .. she will forgive him .. she won't forgive me. Dani comes back. Nicole – I don't want you to ever not trust me. Dani – its not about that its like why would she say that. Nicole – I did say it to Cody. Dani – that is freaking me out. This is a strike two for Cody so this is a big problem. BIG PROBLEM! Nicole – I am just trying to think of what the motive would be because he knows that you would tell me. Dani – if we get rid of Tyler too that would cut that off too. Nicole – I would do that. I don't like Tyler. They talk about how Christmas is freaking out. Nicole – what is the plan with Tyler .. is he going to blow everything up. Dani – I don't know. I talked to Memphis about this.. Nicole – do you think he is a saboteur? Dani – no I think he is very messy. He is a terrible player. Nicole he is caught in everything and everything leads back to him. Dani – if we can find out the powers last for three weeks ..then guess what week four Christmas you're going home. If we get out Tyler, you and me and no one else have to do mad damage control with Christmas. Girls to the end .. whatever we have to tell her. I kind of what to put it on Memphis. Nicole – at this point I would put Christmas up. Dani – she has a power. We can't do it. We have to wait. Nicole – during a double I am not going for David or Kevin.
8:28pm – 8:37pm Lounge room. Day and Nicole.
Nicole – Congratulations. Day – thank you. Nicole – I feel like you're in a weird spot because Dani obviously doesn't want to put someone else up but Kevin is your good friend. But I wanted to let you know that whatever you do I support you. Also I .. if you don't use it .. obviously that would be good for Dani's sake to that I would do whatever you want me to to promise not to vote Kevin out. I was a little worried that Kevin would put me up because he picked me and Cody. Day – No! Nicole – but I feel like I would rather .. if noms stayed the same I am scared of Tyler. Day – I know that Kevin is not coming for you or Dani at all. Nicole – I am not going to vote him our because I am scared of Tyler. But it would be nice to know he is not coming after me. The only reason I think that is because of that one thing. Day – no he isn't coming after you. Nicole – I think you, me and Dani should talk at one point. I am telling you straight up I will not vote out Kevin. I will pinky swear, give you my ring, Janelle style.. not vote him out. I just don't want to compete against Tyler and the fact that he is at the center of all these things.. I don't trust him. But I just wanted you to know that I respect whatever you do. Day – as a viewer what would I be screaming at the tv for me to do. Nicole – if Dani is fine with it .. Day – I don't have a pact with him .. we're close but I'm not in an alliance with him like am with you.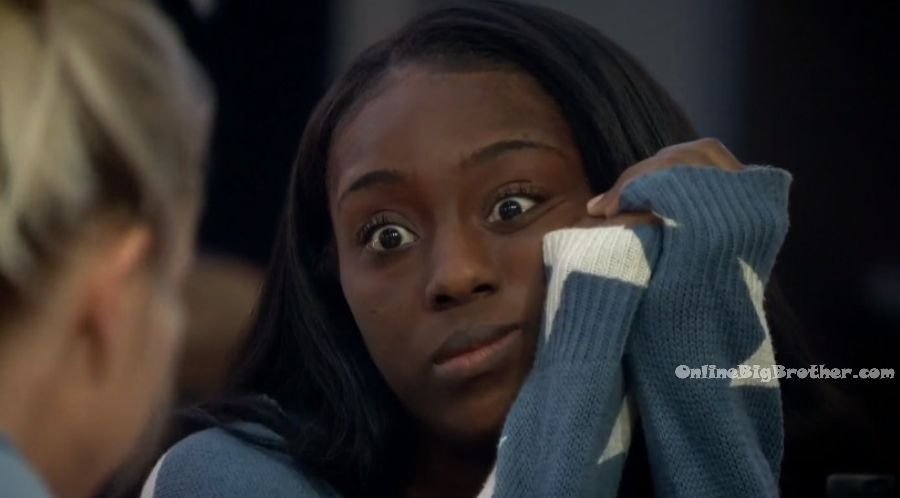 9:10pm – 9:25pm Bathroom. Day and Kevin both talk about how David told them he won the disruptor power and used it on himself. Day – He [plays weird. Why would he not tell you that he told me? he does unnecessary stupid sh*t. Kevin – you're right. Day – there is no logic. He is dumb. Its dumb. He could have told you that he told me .. we're good. Kevin – when did he tell you? Day – right after I won. Day – he asked me what I was doing with the veto. I looked him dead in his eyes and said I don't know. Don't ask me sh*t! I ain't telling you nothing. I am not telling him anything that he can report back to Tyler.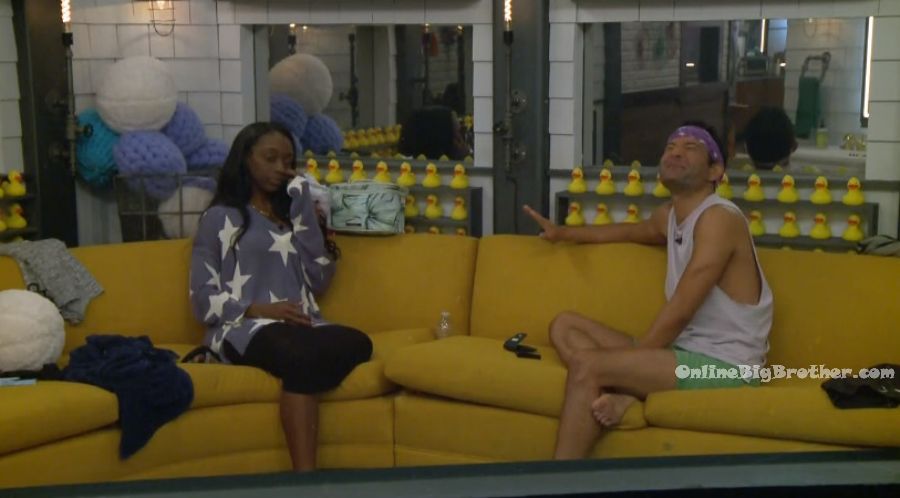 10:10pm Bedroom. Christmas is telling Kevin all about Zeb and when they first started dating. Meanwhile up in the HOH room. Cody, Ian, Enzo and Dani are chatting about random things.
10:25pm HOH room. Ian and Dani.
Dani – I am over being HOH. Ian – at lease you're safe during this crazy time. I don't think it will be used and if it does.. Dani – then I'm screwed. Ian – there is the chance that you wouldn't even make the noms even if it was used. Dani – I don't think that will happen. But I would much rather someone else pics the noms instead of me.
11:16pm The live feeds switch to the kitty cam.. somethings happening..
12:53am The feeds are still blocked..
Show your support by making a donation.
If you're enjoying our live feed updates this season, please consider donating.
Any amount is greatly appreciated! Your donations go directly to paying the fees required to run this site.