Head of Household Winner – Cody
Have nots – Kevin and Enzo
Nominations – Kevin & David
Power of Veto Players are – Cody, Kevin, David, Tyler, Enzo, Nicole
POV Host: – Memphis
Power of Veto holder – Cody
Power of Veto Ceremony –
Live feeds —-> Grab your Live feeds here. Try it free.
Rank the houseguests —-> Big Brother 22 Ranking

5:34pm – 10:58pm Big Brother blocked the live feeds for the Power Of Veto Competition. Cody won the Veto! David won 10k. (People are pissed that David felt safe enough that he didn't need to go for the veto)
The house guests are coming into the house with loads of pool toys. Tyler – that was the best comp ever!
Bathroom. Nicole – I am pissed. I am pissed because if it had been regular OTEV I would have been able to get up that .. and I knew the answer. This is bullsh*t!
Bedroom. Memphis and Christmas. Memphis – that worked out perfect.
HOH room. Cody has the veto around his neck.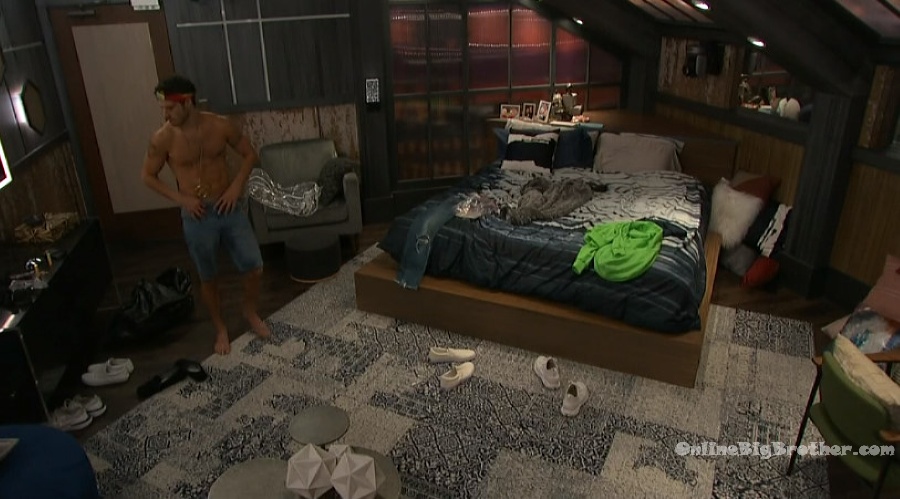 Storage room. Cody and Christmas.
Cody – now Dani is going to use that (David winning 10k) because she's been wanting him out. Yo now she is going to try and run around and make it seem like. She is so f**king dumb! Christmas – you told him he was a pawn. Cody – so now he makes himself look bad. Its so stupid. Christmas – it makes people think you (David) should be out. I'm still good getting Kevin out. Cody – Dani is going to push hard now. I just feel some type a way about it. Christmas – I do too .. I just don't express it. I am just so pissed at David. I am livid that he took that money! He f**ked up! He f**ked up! Christmas – leverage it.. let him know that you're sending him home and then get something out of it. Christmas – FOUR times I have heard my name come up with other people from her. FOUR times! And none of it is true.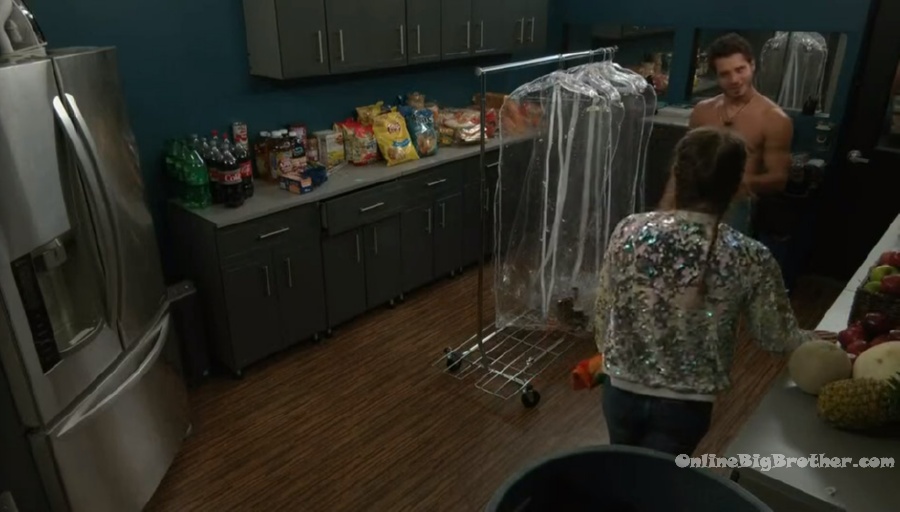 Bedroom. Tyler and Enzo.
Tyler – Don't tell Cody but there is a curse… No one that has won OTEV has won the game. Don't tell Cody though! Enzo – that makes me feel better. I won't tell him. I feel better.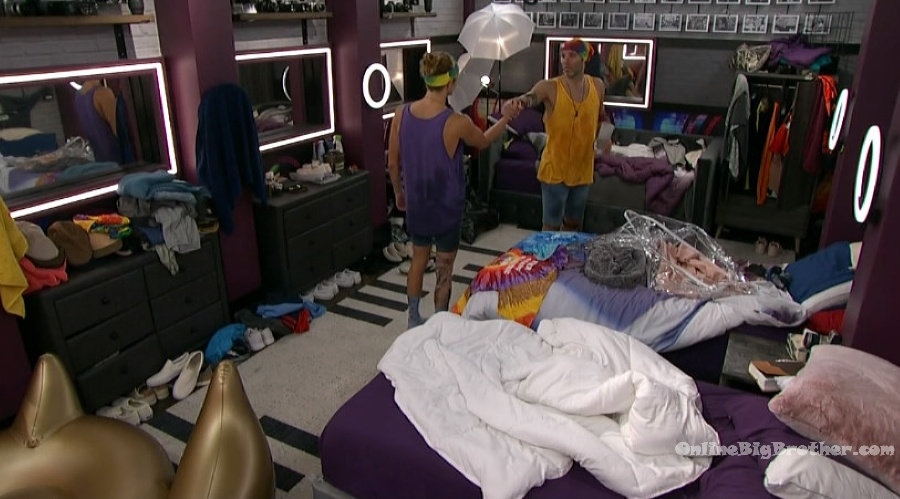 Bedroom. Memphis, Dani and Christmas.
They talking about how David went for the 10k and not the veto and why he felt safe enough to do that. Dani – on the first round I said do you think Cody told him he is a pawn? Why would he ever do that? Memphis – no Cody might have told him that. Dani – that is the only thing that I can think. Memphis – if everyone was leaning towards Kevin which I don't know if everyone was .. because we haven't even discussed it. Dani – Why the hell would he do that. Either you feel safe or you don't care if you go. Dani – I was shocked! Memphis – that is the craziest thing I have ever seen .. you're not even going to play for it .. you're going to cash in the first 5 seconds ..I'm talking .. in FIVE seconds you're like boom! Christmas – even when I was on the block with Kaysar .. I packed my bags, got a speech ready.. I respected the game! Memphis – we need to have a serious talk. Dani – I don't want to vote for him (David) to stay. Memphis – I don't either. I am not voting for him to stay. Are you kidding me!? Are you!? Christmas – I want to talk to Cody .. its not my decision. Dani – Ah.. we vote! Christmas – he's HOH. Memphis – yeah we should talk to Cody because that is f**king crazy! The only way that it is not pure disrespect to the game .. unless Cody told him to go for the 10 grand. I am baffled and dumbfounded. Dani – or he is so confident that Kevin is going. Memphis – I don't .. there is no way David gave up. Maybe he just thinks that he is not going to make it (to the end) so why not take it. Even if Cody said go for the money.. that looks so bad! Christmas – you can take chump change over power. Memphis – that was the most bizarre thing I have ever seen. Way to make things interesting.. Christmas – good tv! Dani – I have ZERO respect for him ..in this game.. after that! Memphis – what the f**k are you doing .. you're not going to fight!? Memphis – I think he thinks he is safe.
11:35pm Bedroom. Cody and David.
Cody – WHY DID YOU GO FOR THE 10G'S RIGHT AWAY!?! David – because I am donating any money I get to the… Cody – oh okay.. f**King say that. EVERYBODY NEEDS TO KNOW THAT!! ALright! He is going home! I am tired of it. I am tried of this sh*t with him and Day. TELL everyone that's why you did it! Dani is threatened by it. David – why?! Cody – just sit and chill. You have to let me tell you stuff and not let it get to you. I am not going to let people flip and want to send you home.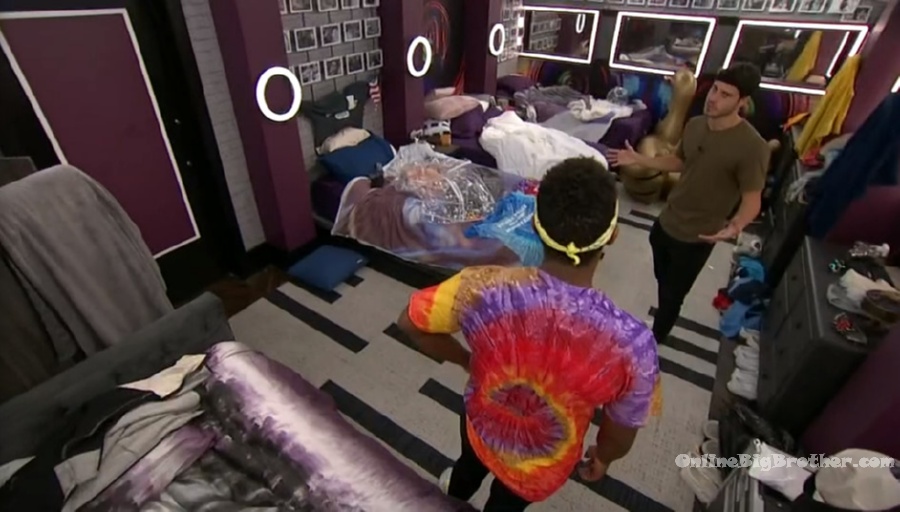 11:40pm – 12:50am HOH room. Cody, Memphis and Christmas.
Memphis – I feel like I am in the twilight zone! What is so weird is obviously Cody wants Kevin to go. You think that Cody didn't tell him to just fight for it. Christmas – I think he thinks that he is going to be evicted in the next one or two .. so why not just take it. Memphis – that is the dumbest thing.. like why are you even here?! Christmas – is he like America's Player or something?! Memphis – f**k that .. America would be throwing stuff at their tv's. Sorry America ..I tried not to call him an idiot for a week and then he goes and does something like this. He is not an idiot in real life .. just in this house. America probably hates me. Cody joins them. Cody – I just went up to David and asked why did he do that?! And he said that any extra money he wins he is donating to this cause. I told him do you not understand that is a BAD look. That is such a beginners thing to do. Now Kevin is brutally talking sh*t about me to Nicole, Dani, Enzo.. like brutally. Memphis – Obviously its a bad look. YOU'RE ON THE BLOCK! Cody – its a really bad look. I know that Dani thinks that he is coming after her so she is going to be using this hard! Memphis – obviously the goal is to send Kevin home but.. Christmas – he is making it impossible! Cody – I was like LOOK DUDE WHAT ARE YOU DOING!? Memphis – what if Kevin had won the veto.. then this dumb dumb would have been sent home! Cody – right!! I didn't tell him that Kevin is the target and he is the pawn. Memphis – what in your brain is not working!? Its not like Kevin got kicked out and then you went for it. So we're going to have to .. I think Dani is a lost cause. We have Christmas, me .. we will have to talk to Enzo.. If Kevin is the one we want to go home.. then we need to make sure we get the votes. Memphis – it just makes him the easiest target next week. Memphis – I don't like how Kevin is playing the game. Cody – he (David) is just going to be an easy person to nominate. Tyler joins them. They continue talking about David taking the 10G's.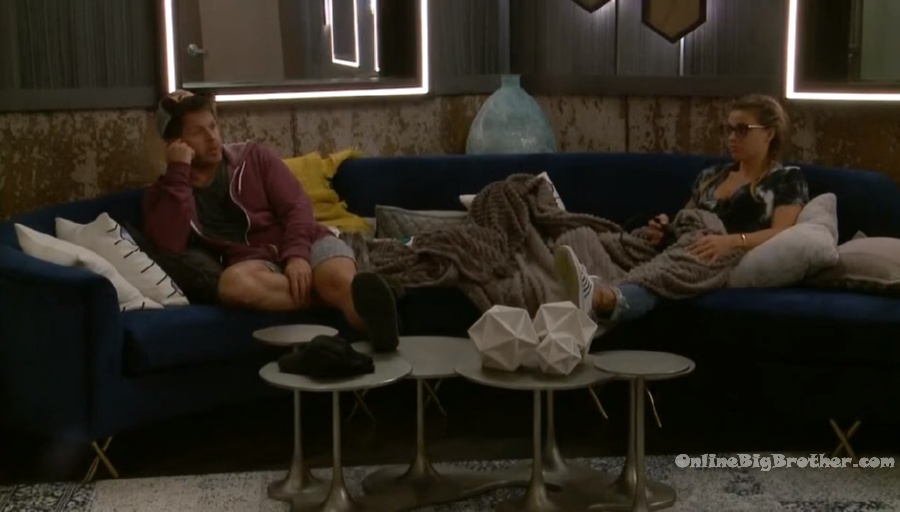 Show your support by making a donation.
If you're enjoying our live feed updates this season, please consider donating.
Any amount is greatly appreciated! Your donations go directly to paying the fees required to run this site.