Head of Household Winner – Cody
Have nots – Kevin and Enzo
Nominations – Kevin & David
Power of Veto Players are – Cody, Kevin, David, Tyler, Enzo, Nicole
POV Host: – Memphis
Power of Veto holder –
Power of Veto Ceremony –
Live feeds —-> Grab your Live feeds here. Try it free.
Rank the houseguests —-> Big Brother 22 Ranking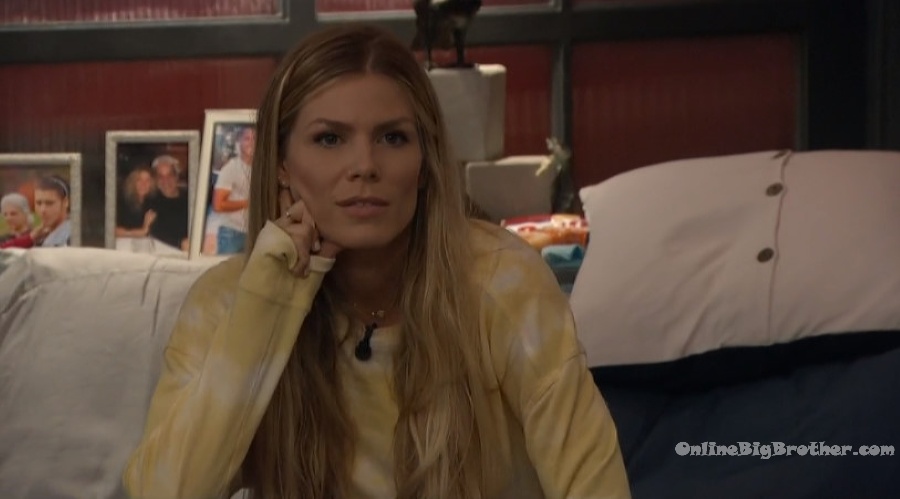 1pm HOH room. Cody and Dani.
Cody – I am more focused on the veto and keeping it the same than anything because it is going to be a tough conversation. Granted we can do whatever we want .. I don't want to do what we want ..lets split it 3/3 and then I have to .. Like I don't know how Nicole is going to be about it. I don't know how Tyler is going to take it. Dani – no Nicole doesn't care. I've already talked to her. Cody – I know she doesn't care. I've had that conversation with her. She will do whatever she has to do. Dani – she wants Christmas gone. Cody – she doesn't want Christmas gone. Dani rolls her eyes – okay! I literally talked to her about it for an hour yesterday. Cody – when I talked to her it was not like oh we need to send Christmas home. Dani – alright?! Cody – maybe she is just telling you what you want to hear. Dani – Maybe she is telling you what you want to hear. Cody – I didn't say I want Christmas gone. Christmas is going to be the replacement.. like there is no one else for me to put up. She was like are you really going to want her to go home. And I was like Nicole .. I don't know. I think she would do it because she is willing to but I also think she is tried of sending people home that she is close to. Like she was pretty pissed about Ian and that is something she doesn't just get over. Dani – it just sucks because I feel like everyone is going to be coming after Nicole and I.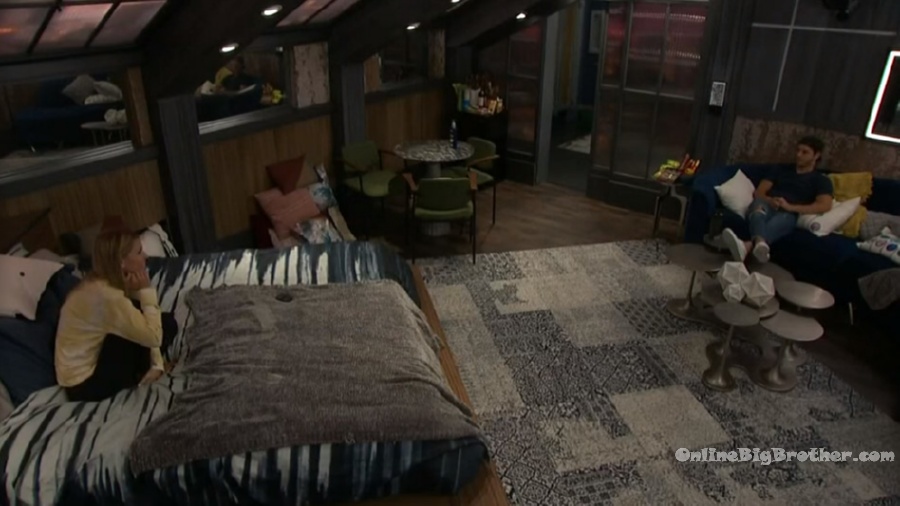 1:33pm – 1:50pm The feeds are blocked to pick players for the Power of Veto competition. Dani to Christmas – Its just me and you kid! Christmas – I know.. maybe if I'm here in another two weeks I'll get to play. Christmas goes into the diary room. Dani – comments on how pissed Christmas was that she doesn't get to play. (Christmas is pissed that she never get picked to play. She heads into the diary room to vent and cool off.) Cody – I feel like Kevin plays in them a lot. (LOL yeah because he's always on the block!) Dani – as much as Tyler.
Power of Veto Players: Cody, Kevin, David, Tyler, Enzo, Nicole
POV Host: Memphis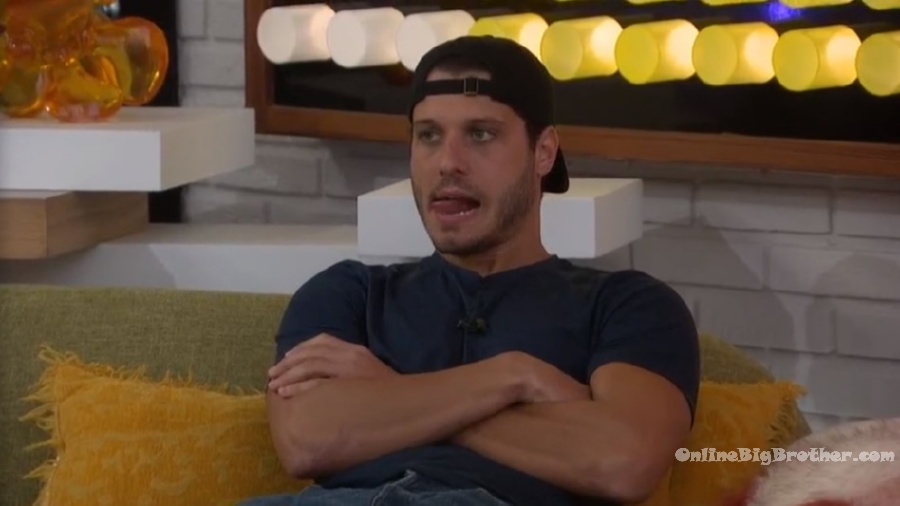 2:40pm Havenot room. Memphis and Enzo.
Memphis – I have a sneaky suspicion that he (Cody) might put Christmas up as the replacement. So this is the issue .. say worst case scenario Kevin wins. Or David wins… If Kevin takes himself off the block.. and he puts Christmas up … because he doesn't know anything. Then that would mean… me, you and Tyler are voting to keep Christmas. That leaves Dani, Nicole and Kevin or David to tie it. And if its David .. I don't want f**king Cody .. he would slit a tie. And would be keep David or would he Keep Christmas. Enzo – I don't know. Memphis – if David wins I would be less concerned .. I think everyone would vote for Kevin to leave. I think its fine but my concern is Dani and Nicole. Enzo – I'll just go for the f**king veto. Yo! Memphis – if its 10G .. and you have to split it .. what the f**k is that especially compared to 100 or 500G.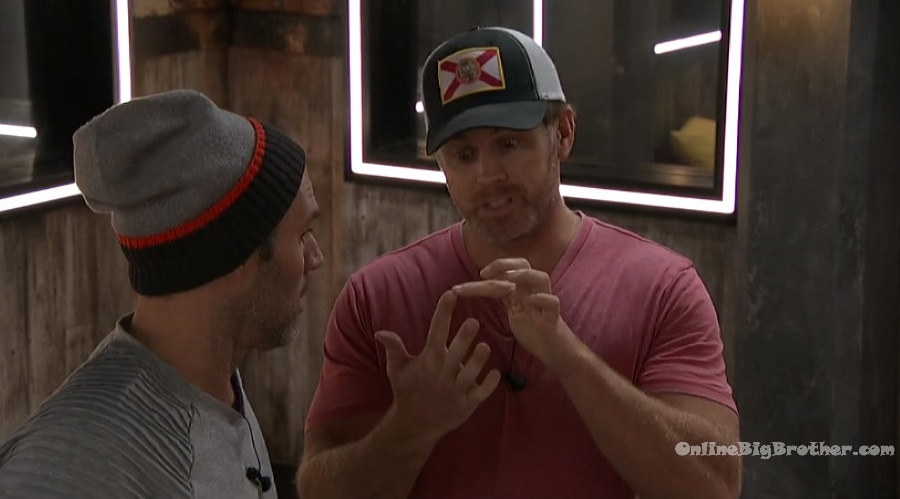 3:10pm HOH room. Cody and Enzo.
Enzo – Memphis is worried. He was like go for the veto because he might be putting up Christmas if Kevin wins veto or some sh*t. Cody – but why is he saying I might put up Christmas? Enzo – how does he know you might put up Christmas? Who told him.. f**king Dani!? He f**king dragged me into the havenot room. He said if there are rewards… you have to go for the veto. Maybe he knows that there are only two options. I don't trust Dani. Cody – I don't trust Dani either. The only people that know that I might put up Christmas .. are you, Dani and Nicole. Enzo – it was f**king Dani then. Someone must have f**king .. Dani is playing all of us.. she's been doing it since the beginning. Cody – I am not telling Tyler about Christmas being the replacement because he will tell her. YO if Dani did slip up and said something .. I will put her on the block! Enzo – YO she has been putting us in bad spots since the beginning. Cody – the only reason why I wouldn't want to put her up is because everyone is targeting her .. so why would I pull that fish out of the pond.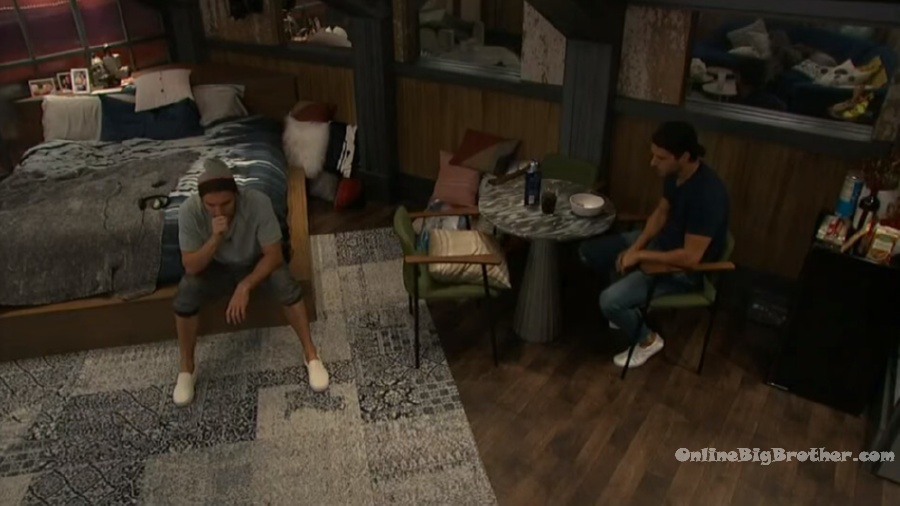 3:30pm – 3:50pm HOH room. Enzo, Memphis and Cody.
Memphis – for us to get the wise guys to the final three we need the noms to stay the same. We need to get Kevin out and then we move on. Cody – I don't want to have to f**k around with putting up a replacement nominee. I don't want to have to do that .. That would make me f**ked YO! I would be screwed. Memohis – everyone .. I talked to Tyler too.. Like f**k the money. Cody is your boy .. make the noms stay the same. Cody – if its prizes and punishments .. once you take a prize you are not in the running .. like you're playing catch up for the people that are only taking punishments. There are only some four weeks and some change left so if there are punishments ..like f**k it. They continue to speculate on what might happen next week. Christmas joins them. They talk about what veto it might be.
4pm Bedroom. Dani and Kevin.
Dani – I freaking want you here. I don't want you to leave .. and I mean that too. Kevin – It's going to get super interesting after this week. There is no one that is obvious anymore. People are going to have to show their cards. It could happen if one of us wins veto. Dani – do it!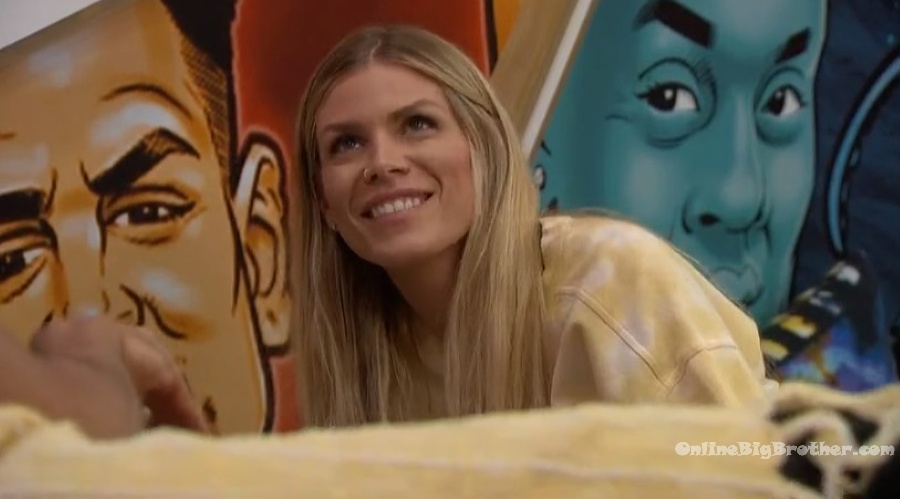 4:35pm – 5:10pm HOH room. Tyler and Cody.
Cody – I just want these f**king noms to stay the same because I don't want to be in the position to put a f**king replacement up. Tyler – I know. I was just joking with you yesterday. Cody – I know, I trust you like crazy. Dani is trying to point and do sh*t. She is always trying to say that don't you think Tyler is going to come after you? Tyler – what?!!?! Cody – I just want the noms to stay the same and for her (Dani) to be targeted. But it would be stupid for me to target her. Dani will step on anyone she is close with. Tyler – well she is at the bottom if you think about it. Cody – I just want the noms to set.. then I'll have a conversation with David.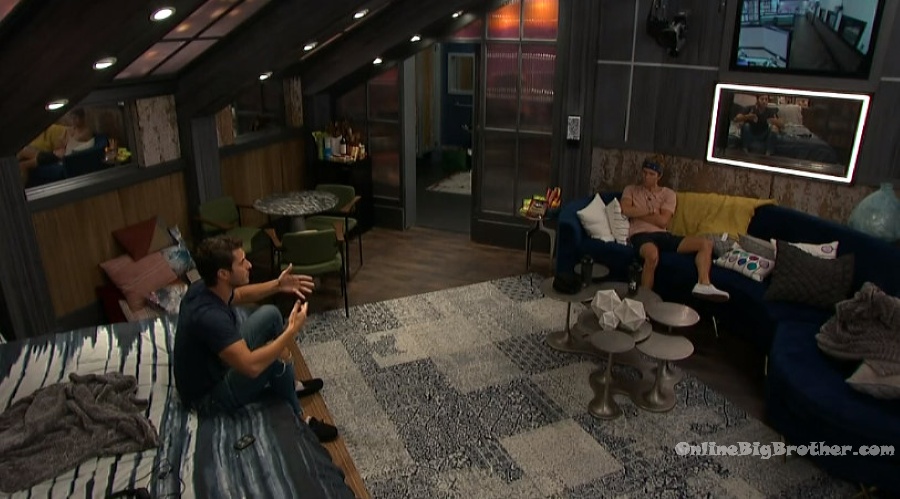 5:34pm The live feeds switch to the kitty cam.. The Power of Veto competition is starting now…
8:20pm Still blocked..
Show your support by making a donation.
If you're enjoying our live feed updates this season, please consider donating.
Any amount is greatly appreciated! Your donations go directly to paying the fees required to run this site.