Head of Household Winner – Cody
Have nots – Kevin and Enzo
Nominations – Kevin & David
Power of Veto Players are – Cody, Kevin, David, Tyler, Enzo, Nicole
POV Host: – Memphis
Power of Veto holder – Cody
Power of Veto Ceremony –
Live feeds —-> Grab your Live feeds here. Try it free.
Rank the houseguests —-> Big Brother 22 Ranking
Spoilage = Cody doesn't plan to use the veto and Kevin is still the target. David taking 10K was committing a war crime on the house.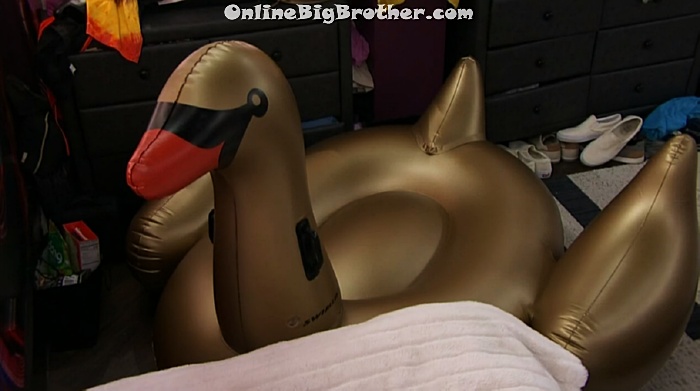 12:30 am Dani and Nicole
Nicole says she's going to get up and walk around Doesn't want to wear makeup though. They complain about the show putting them when they were wearing makeup.
Nicole – I'm so annoyed at myself.. (Winning comps)
Dani – What are you known for Dani.. I'm kind of known as a comp beast
Nicole – I'm known for showmances and costumes
Dani – all you need is a showmance.. you got me
They laugh about the giant golden inflatable swan Dani has in the room from the competition. She's putting it outside tomorrow.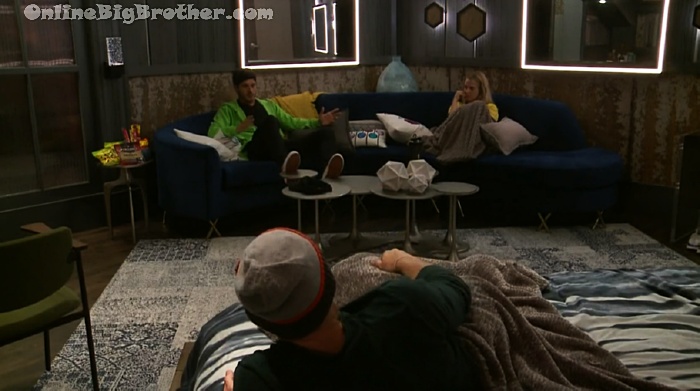 12:50 am Enzo, Cody, Tyler and Cody
Talking about people being pissed at David.
Cody – I went off on him. What the F*** are you doing. I was like why would you do that. dude you are on the block it looks bad for you
Coins – what did he say
Cody – he says he's donating any extra money to charity
Nicole – ohh .. he told me he's not good with his arm strength and he knew he was going to lose
Cody points to enzo "He said to him he panicked.. he's all over the f**INg place.. he's clueless.. he's so clueless"
Nicole – he's clueless
tyler leaves..
Cody says if someone was going to come off the block this week he was going to put Enzo up he's the most liked in the house nobody will vote him out.
Cody – you'll get America's favorite
Nicole – Enzo or Da'vnone
Enzo – I'm not getting America's favorite
Cody – she's the underdog.. she's got you beat.
Cody says he found out he's not winning the game not that he's won OTEV (it's never happened that the OTEV winner wins the season)
Cody – where's Dani? she's going to get so pissy with me
Cody – do what you want to do on your HOH Dani.. I'm not switching and if she's the solo vote to save him what are you doing?
Enzo – she's not
N – She told me she's voting David out 100% but she won't go against everyone.. but I will get everyone to flip.
Cody – good go for it
N – Don't say I said this stuff (SSSSSSSsssss)
N – Honestly David going is better for my Game but I still .. I'll send out Kevin it is what it is It's not my HOH I'm just happy to be safe
Cody wonders what Dani will do to try and flip the house.
Ezo – I'm so tired of the mind games.. I go brush my teeth and Christmas is talking..
Cody says he already told Christmas and Memphis that Dani is saying that Memphis doesn't want to keep David he goes 'I never said that"
Cody – I was like that's that she said
Nicole says she doesn't want to break Dani's trust but they area all core four so whatever.
N – She said to Memphis and Christmas she wanted David out and Memphis said he had to see what Cody wanted sand she said Cody doesn't get a vote we get to vote
Cody – she said that to them
N – To Memphis
Cody – Ohh my god.. YO
N – She said she did I don't know why she would make that up.
Enzo – between Dani and Christmas I'm F***ing … I've had it YO I'm done
Cody – Cody doesn't have a vote we vote.. I do have a vote you need four votes. What four people are going to do what you want Dani. Three votes I still get a vote.
N – I don't trust Kevin H heard Nicole Flipped (wall yeller) I don't think he'll ever get that out of his mind. so I don't trust him .
Enzo – Kevin is done he's been on the block 5 times what are we goin got do put him on the block 6 times.. that's enough yo.. I don't even want to see it anymore. I'm done I feel bad for him ..
N – I feel so bad seeing his face pop up
Cody – Tyler is not voting David over Kevin. Period end of story
N – David is coming after me and Dani
Cody – this is us three information David is going after Memphis
N – ohh good
They all want Kevin gone this week.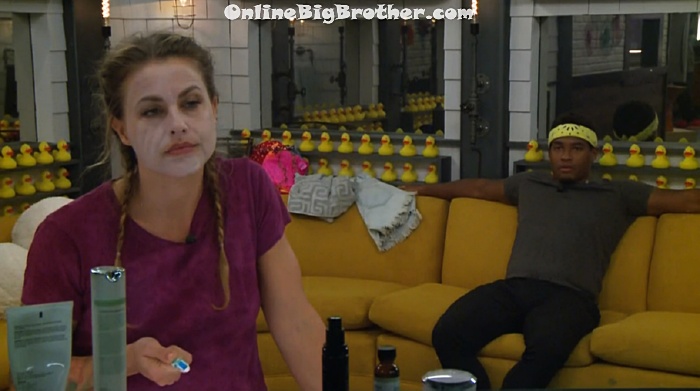 12:53 am Christmas and David
Christmas – when you are on the block and you have a chance to win the veto and you take a prize over the veto it causes pause
David – Yeah I can see that..
Christmas – I'm not saying that to be an $$hole I'm saying that because I think it's good for you to have clarity
David – I get it.. as soon as I walked over and no one wanted to talk to me. I get it.
David – for me it's frustrating because I feel like I'm going to keep getting targeted I'm going to keep either on the way out the door or my days in here feel sort because they are always .. (snaps his fingers) I'm always there what else can I do .. if not win something instead of trying the odds that are increasingly against me.. if that makes sense.
David – it wasn't something that was planned it was something like BOOM look up.. I'm just like either I can keep trying to find the veto round by round take the luck based comp .. you know finding it at the right time all the things you can't control in this game. OR I can take control of my game right now that this.
David – that's why I went for it..
David runs to the kitchen to grab his pizza in the oven. Christmas shakes her head at David disapproving.
When he comes back Christmas going on about when you are on the block and in the veto "You fight for your life"
Christmas – people see you give up that is what they will perceive. You don't care to be here that's why you took cash because you think you are going home eventually
David – I get it it's fine..
Christmas – it's not just the perception David.. you are a crossfitter. you fight even when you know you are dead last (LOL get my barf bag)
David – what I want do to in terms of other things is bigger than that (exactly)
Christmas – well ok.. it just kills your time here what's the point of being here .. this is like crossfit to me I love this game I respect this game and I just .. I see and understand why you did what you did but I'm still going to express my frustrations about it.
Christmas brings up some story from a 2010 crossfit games where some guy could climb a rope and came in second.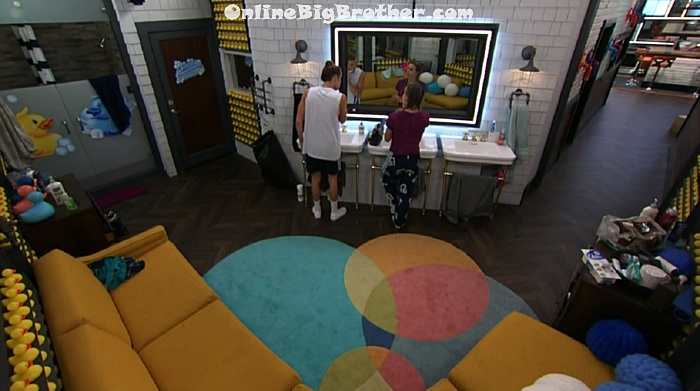 1:03 am Christmas and Tyler
Christmas going on about David taking the money.
1:10 – 1:30 am Enjoying pizza ..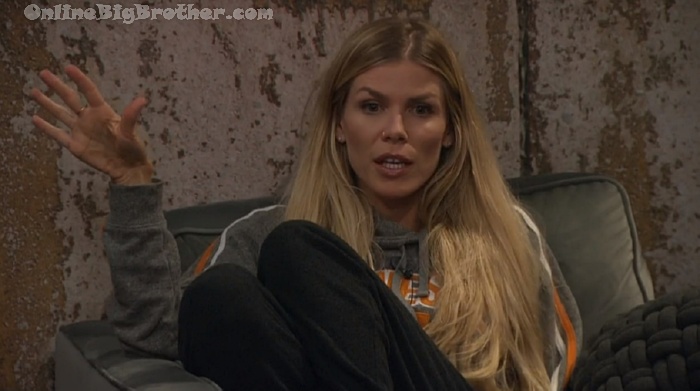 1:31 am Cody, Dani and Enzo
Cody going on about David picking the money "He's clueless in this game.. clueless" 9we all know if David had won the veto they would be gaslighting him to not use it and when he did use it they would all act shocked and betrayed about it)
Cody – after this week he's got nobody..
Dani says that David also has 5K from the HOH.
Dani – it's so insulting I have zero respect for him in this game.. (LOL)
Cody – I'm so mad at David.. what you doing you have no right being here. It's so frustrating being the HOH with that..
Dani – I'm SOOOOO mad about it
Enzo – I'm livid.. I'm fighting for this POV for no f**Ing reason what are we doing here.. I told him I'm going for the money that's what I told him
Dani – it's like you're insane to me like.. I'm sorry.. he's literally downstairs with me crying about his mom and how she needs money and blah blah blah.. so you are telling me you're here for reasons.. personal reason to help your mother and you are just going to throw it away for 10 grand like.. I don't know.. my mind is blown.. we were flabbergasted..
Cody – I went off on him I couldn't hold it back
Dani – I couldn't even be in the same room as him
Enzo says Kevin and David are done. "I just can't see Kevin on the block anymore"
Dani – I want David gone he's coming after me.. He'll put me up against Nicole
Enzo – he'll do that.. ohh sh1t..
Enzo says David not going for Veto when on the block was "Ballsy"
Dani – it's wasn't even Ballsy it was stupid
Cody – it's pure stupidity in this game..
Dani – I lost all respect for him in this game.. not as a person in this game.
Cody – I'm blown away it happened on an allstars season..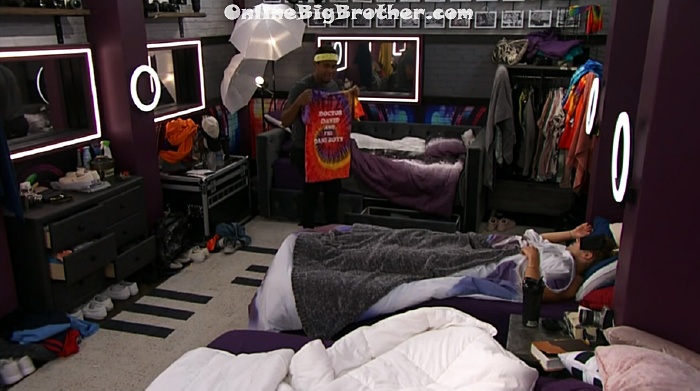 1:37 am David and Tyler
David says when he took the money people show their true colours. If they are with me they're like good job you got it nice.. if you don't ride with me you show it.
David talks about the veto says he was about to throw the money but had a second thought "10 thousands f*** it"
Tyler – I feel that.. I was thinking about it too bro
David – My fear was like if I don't get the money now and I don't get the veto.. and I'm back on the block like..
David – at least I got this i'm already in a better mood and being in a better mood is going to help me
Tyler – help you stick around.. I'm with it. Don't explain yourselves to nobody.. gamewise YES.. if you actually feel like you need to f** that
David – I got 10 K that's dope..
Tyler – yeah you can say you one 10K on OTEV forever
David – Cody was like why did you do that.. I'm like it's the only control I got
David says he's not sure what Cody will do "I can't read it"
Tyler – you're alright man just don't do anything crazy
Tyler asks him if he also got the 5K on the HOH. "For real"
DAvid – no .. my last shot was a 7
Tyler – everything will think it was yo now because you did this
Daivd – they can think what they want to thin
Tyler – F** them
David says Cody and Enzo won some money and Probably Tyler too
Tyler – Who knows.. it's a secret
David – my sh1ts out there
Tyler – you got to fight hard people use whatever reason they can bro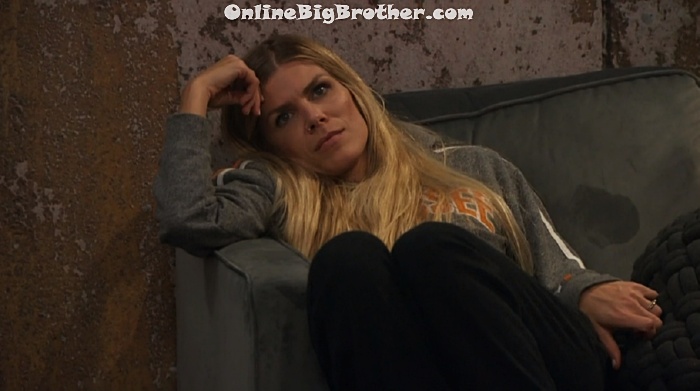 2:05 am HOH Dani, Enzo and Cody
Cody brings up Caleb always talking about getting a break for his singing career by being on Big Brother.
Dani – Enzo you get it because you are old school.. nothing ever happens like this back in the day reality TV was so different nowadays people go on reality TV to try and Become somebody or whatever like.. it was never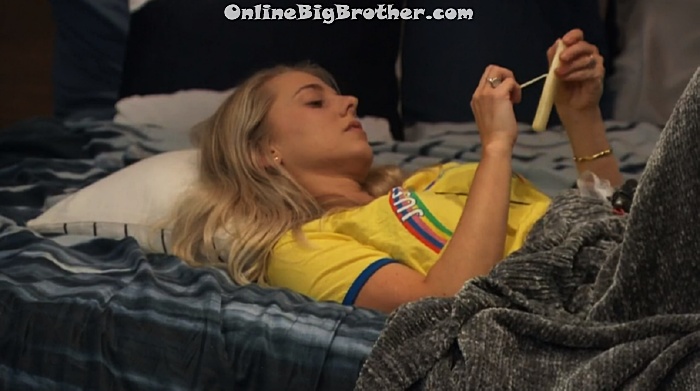 2:49 am Cody, Enzo and Nicole
Eating cheese chit chat.. Cody and Nicole talking about being Instagram friends.
Of course they mention putting David on slop because he took the 10K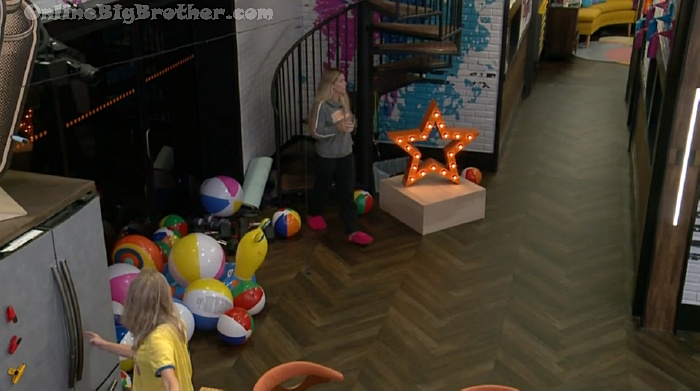 3:20 am tons of inflatable toys for the pool party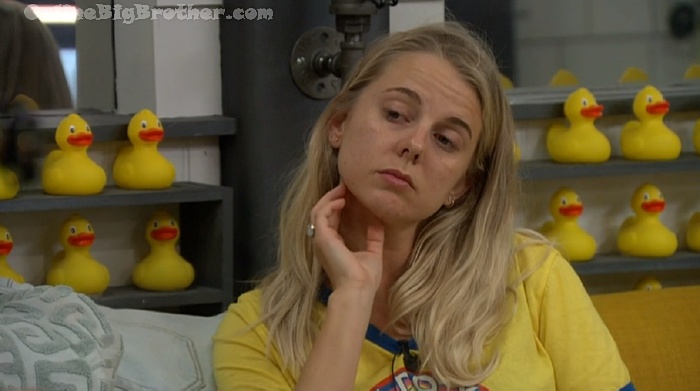 3:30 am Nicole and Dani
Whispering..
Dani – I'm really nervous about Thursday though. Like I'm really nervous. I don't feel confident..
Dani says they have to take David out next "we have to win .. win we have to"
They run some scenarios about the double.
Dani suggest they both push on Christmas "oh my god we're almost the final 6 with the committee if we make it we will go down as the best Alliance in Big Brother history no alliance has ever done that before.. we have to push that have to.. that will trigger her if she's thinking of something else.. that's all she cares about is stuff like that"
They talk about David not going for the veto.
Dani – he's not very safe.. very strange.. I hope there's no nonsense this week.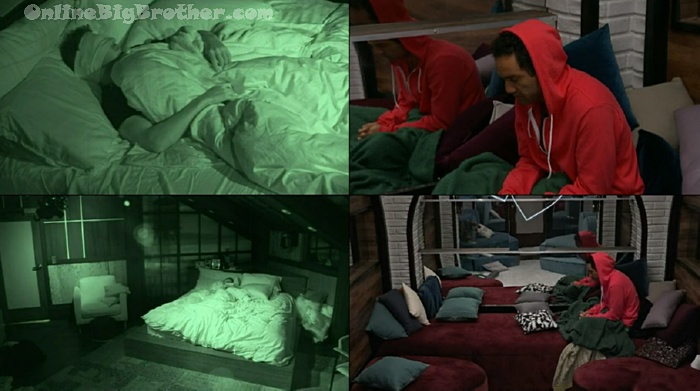 6:41 am Kevin talking with the brain worms everyone else sleeping.
8:27 am Sleeping YO
10:08 am Sleeping YO