Head of Household Winner – Memphis
Have nots – Cody, Christmas
Nominations – Kevin & DaVonne
Power of Veto Players are – Kevin, Tyler, Dani, Da'Vonne, Memphis, Nicole
POV Host: – Cody
Power of Veto holder – Tyler
Power of Veto Ceremony –
Powers – Christmas, Dani, David
Live feeds —-> Grab your Live feeds here. Try it free.
Rank the houseguests —-> Big Brother 22 Ranking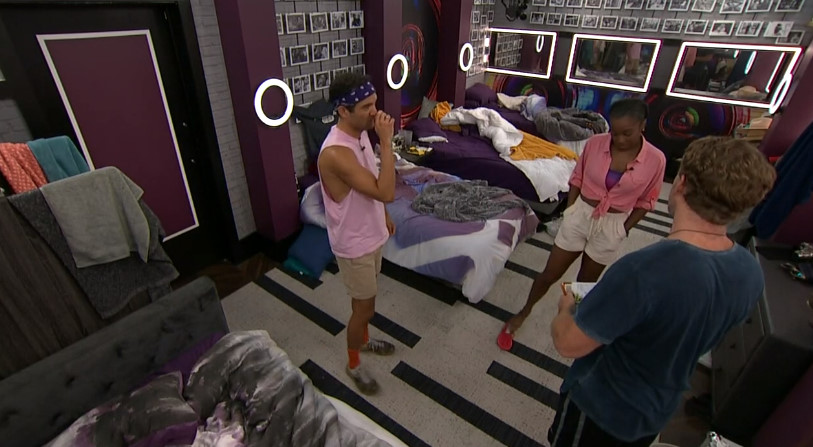 1:05pm – 4:27pm Big Brother blocked the feeds for the Power of Veto Competition. It was the ZINGBOT Veto.
Bedroom. Day, Kevin and Memphis.
Memphis – well they definitely didn't throw it like they said they would. But I am still planning to do this thing. Day – are you sure? Memphis – Am I sure? Well I have to talk to Tyler to make sure but .. It has nothing to do with .. like I made a deal .. you guys are safe but David is who I want to see go.. so unless you want to see yourself up on the block you've got to do this for me. There is no reason for him to keep David.. not that I am aware of. Memphis leaves. Day – BULLSH*T BULLSH*T! I am not kissing nobody's a$$ Kevin! I don't have it in me .. I can't do it. I know him.. as soon as his name got pulled up I was like something isn't right. And then when they pulled me to the side I was like .. when I was reading my bible I was like ahhhhghgg.. come on!! Kevin – this was the comp that he (Tyler) played in too. It was stacked! Day – its alright..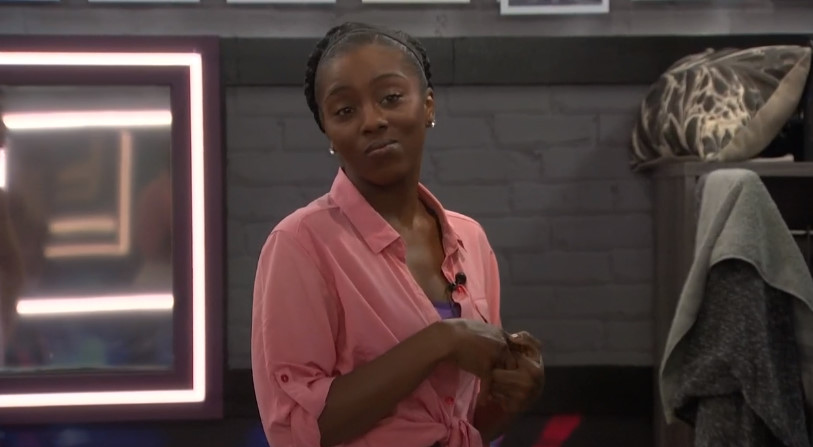 Bedroom. Day and Dani.
Dani – if it stays the same by Thursday I will do everything I can to keep you here. You know I have been fighting for you. I swear to you. I can't believe he won of all people.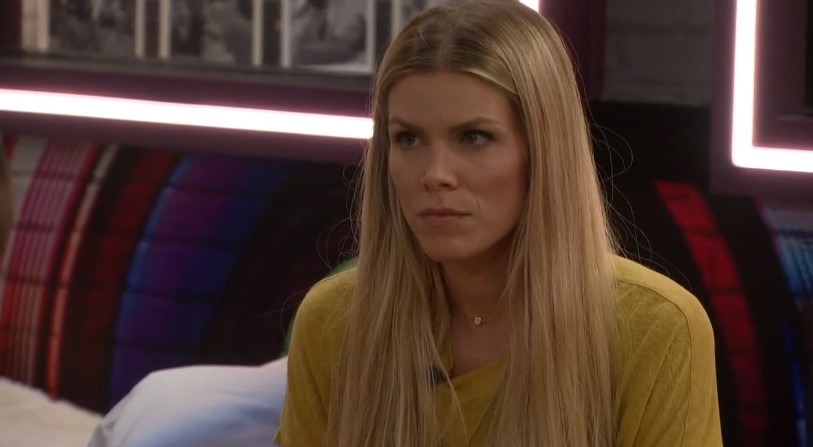 Lounge room. Memphis and Tyler.
Memphis – I will tell you that Dani and Nicole told me to my face that they weren't going to go for it .. and they definitely went for it. They didn't throw it. Dani knows I know. Tyler – Dani knows you know she didn't throw it? Do we want to talk to Christmas and them and see what they think? At least see what everyone thinks. Memphis – if we don't get rid of David .. then I should have just f**King put David on the f**king block. It wasn't the point. The point was to get rid of David. At this juncture if you guys don't want to do that obviously .. then I look at that as why the f**k are you keeping David around!? Tyler – okay .. yeah then can we talk to them about it? And see if its a good move?! David is sitting on an island right now. Memphis – I know but at the same time .. you guys are going to do whatever you want. At this point Dani looked me in the face and said its fine do what you need to do .. and Dani is the one that .. something is going down between her, Day and Nicole. Tyler – she said that? Memphis – no I am not saying that .. I am SEEING that. Why would she not throw it?! Tyler – but are you going to take this as I have something going on with David?! Memphis – no. I am not but I am saying ..everything we have done in conjunction to right now .. and as soon as I say I want to get rid of David .. you f**king won and all of a sudden its a hiccup?! That is not cool! I don't look at that as cool .. I look at that as a problem. That's the way I look at it. Tyler – I am looking out for you. Memphis – its not even looking out for me .. I'm looking out for the six people that I made a pact with. I don't mind that you won.. I wanted to win. Its fair. It is what it is… what concerns me is that Dani almost beat us too. At the end of the day I want David gone .. and if we don't see eye to eye on that… I would have just put him up in the beginning. Tyler – you didn't even tell them what you're doing.. Memphis – yeah that's the point because everyone talks too much. Tyler – we could have mapped this out better .. that's all I am saying. Memphis – we can talk to everyone and get everyone together. Tyler – I am fine with whatever. Memphis – I am not telling anyone sh*t because these girls are full of sh*t. I didn't want David to f**king chirp.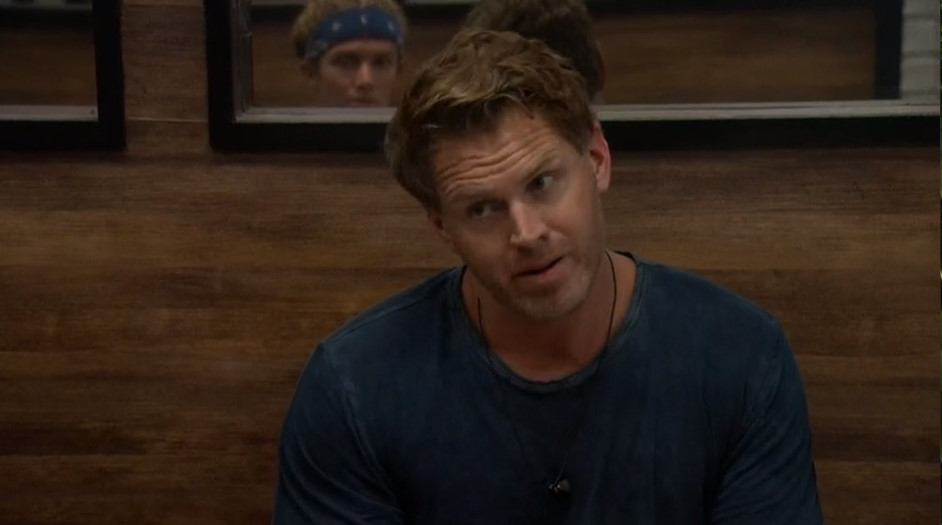 5pm HOH room. Cody, Christmas and David
Memphis – they're acting like they would go the other way. Christmas – I believe that they would. Memphis – so lets just block them in the corner and box them out. We still need to tread lightly. Cody – we still have to hear the conversations. Memphis – if that is the play .. that we are still basically not blowing them up .. which we basically are. That rubbed me the wrong way. To see them talking… Christmas – I did hear that Nicole said that she wouldn't be able to put up Day. Memphis – what kind of sh*t is that. Then maybe we talk to Tyler and say lets not use the veto. Cody – then you should cover yourself with David. Memphis – no .. if they say I was trying to backdoor him… I will say bullsh*t. Cody – I have to be honest I didn't think anyone was beating your time. Memphis – that means that they want Kevin gone so bad.. Christmas – or they want Day to stay. Did you tell Tyler to throw it? Memphis – no. Cody – but Tyler is someone that you can tell someone I want to do this and he will do it. Tyler joins them. Memphis – I am trying to sort out if the girls .. If they wanted Day to stay .. wouldn't they just do that (throw it) because that would guarantee her to stay. What the f**k are they??!?! Cody – because they want to be the hero. Tyler – I definitely don't think they are trying to pull anything against us.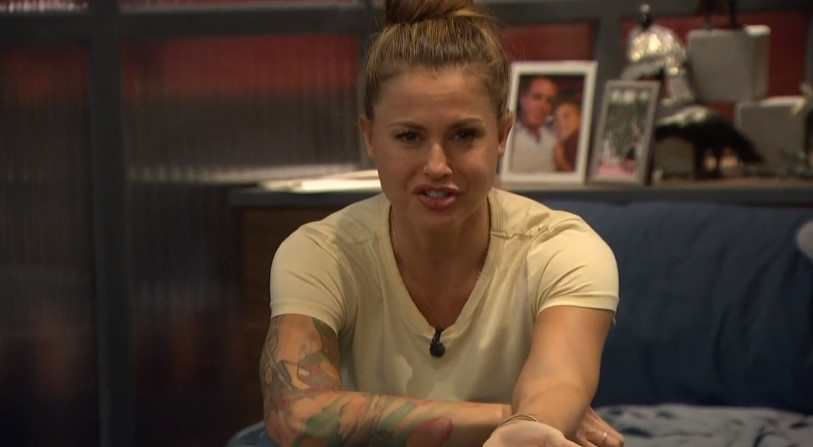 5:33pm HOH room. Day and Memphis.
Memphis – well that didn't work.. they all flipped. Tyler, Nicole, Dani.. I called him out on it. I am just as annoyed at him as I am with Dani. Dani almost beat my time. I was running f**king fast .. you know what I mean!? What the f**k Dani! I get it.. I get upset for a moment.. I am not into throwing comps either.. but I try to look at it from the angle of why wouldn't you just let it ride!? Did you talk to them? Day – no. Memphis – it was so bizarre. Day – I was just letting it happen as it happened. Memphis – I want to talk to all of them.. I had a plan .. but now they have the power .. well Tyler does … and they have the votes. They're not cohesive. Day – everyone is just grasping at straws at this point. Memphis – you're due. But Kevin with these POV wins is dangerous. I need to continue to talk to Tyler.. I am going to play the angle.. you have the pov .. I want to do this .. what is your disagreement with this? Day – I think he thinks we were the two votes against him. Before the vote David came up with the plan to slit the votes. I don't trust David. I didn't go through with that. I think David is trying to get David to think I was a vote against him. And that is why Tyler needs to know that I played no part in that. Memphis – well I am going to work on Tyler and see his angle. I am going to try and still do what I was going to do. I don't need him to convince him to do it. I need him to convince me why not to do it. Day – I will talk to him too. He will look like a fool .. if he thinks he (David) has his back in any form. And that doesn't help you because dude (David) is going to be coming for you. Memphis – oh I'm not worried about that. I don't understand why Dani but Tyler too .. All Dani had to do was back off.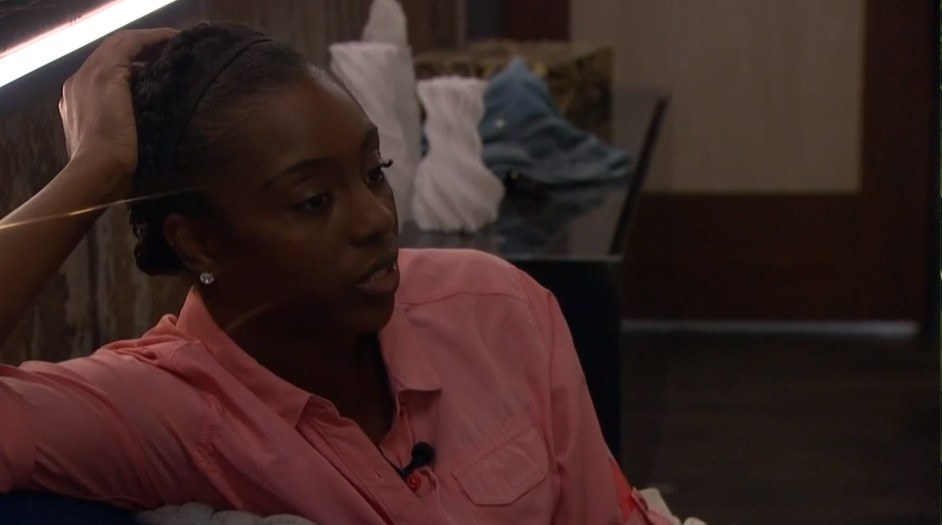 HOH room. Christmas and Memphis.
Christmas – its in their best interest to keep Day. Memphis – I get it .. it makes zero f**king sense (for Dani & Nicole not to throw it). Christmas – to leverage.. remember these girls are sophisticated players .. leverage not using the veto or and making sure Kevin is voted out or if you ask them to use the veto .. then they use the veto on Day to make sure David goes up. Either way they get major brownie points for keeping Day in the game and safe. Memphis – it just seems a little risk / reward.. Christmas – their argument would be that if Nicole wanted to prove that she could win something and Dani wanted to prove that she could win something else. Especially now that you have a second HOH .. they're feeling the pressure to win. So that would kill two birds ..one stone .. show you that they're capable of doing that and two give both of them major credit with Day .. so that if she is here next week and she does win .. they're absolutely safe. Memphis – I wanted everyone to throw the veto. Christmas – you could ask them. Memphis – yeah .. I'm not mad about it. What annoys me is where is the angle. If Tyler doesn't care which one goes home.. they why would you try and win it.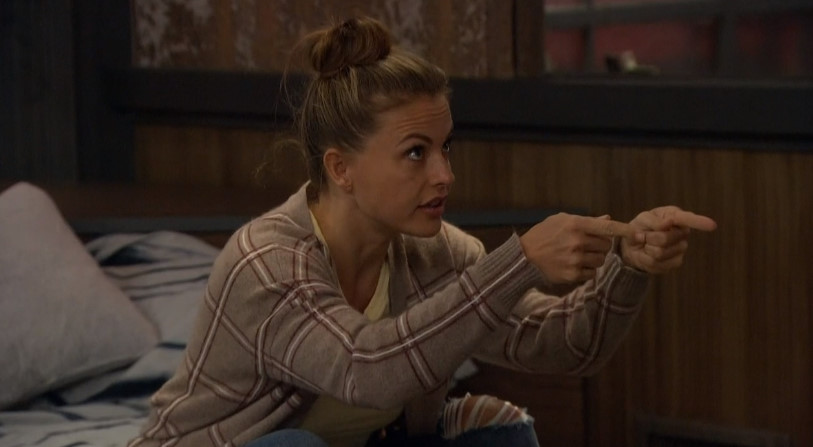 5:42pm Lounge room. Tyler and Day.
Day – one .. I approached you day one and said that I wanted to work with you and since then I have never faltered from that. Two .. last week when Kevin was on the block I took him down so that I could save two friends.. to save him and put up a bigger target so that you could possibly be saved. Tyler – and look where we are. Day – Three .. I voted to keep you in this house. Four .. I convinced Kevin to keep you in this house. Five .. I'm on the block. And you tried to sabotage my game. Tyler – I did.. I tried to sabotage my game. Day – but you used me to do it. And I haven't stuck back at you. I get it.. I don't but I do. I haven't talked bad about you. Memphis told me his plan. I know how much you adore the guy he wants to take out but I do want to go on record that he tried to get you put out Thursday. Tyler – I have not forgotten that. Day – I did try to defuse that. I don't have any issues with you. Anything with Bay has nothing to do with me. Memphis wants to use the veto on somebody. If you used it on me I would be grateful. If you did use it on me .. we could count ourselves even. I don't want to have that with you. I never did. Tyler – my reason for gunning for it was to save myself.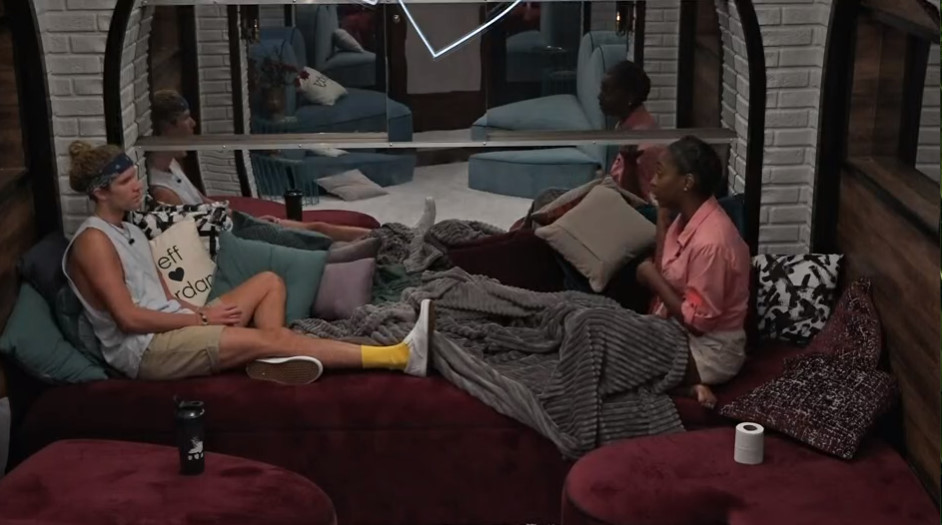 5:50pm Bedroom. Dani and Memphis.
Memphis – I am telling you from my first initial conversation .. it doesn't look like he is going to use it which is obviously not good. Dani – no. I will try to feel out Tyler and you try to feel out Christmas .. because she has sway with him. I think she is pouting over zingbot right now. Memphis – I don't think she has anything over on Tyler. Dani – they're really close .. trust me on this one. Memphis – if he doesn't use it .. we need the votes. Dani – we have the votes. Memphis – but who do we send home? Dani – Kevin. But we'll get him (Tyler) to use it. Memphis – I don't know .. he just didn't seem like he was going to use it. Dani – well if he doesn't ..there is a double coming up. Memphis – yeah. I don't know we will see.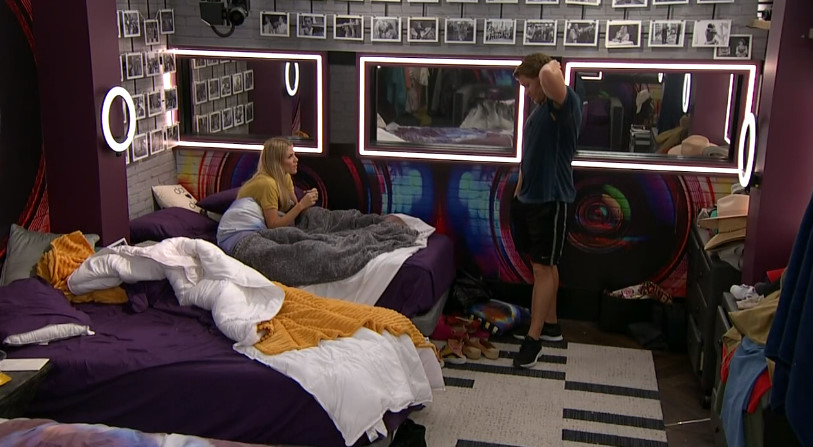 6:05pm HOH room. Tyler and Memphis.
Memphis tells Tyler about his conversation with Dani. Memphis – she (Day) was sitting here and I was like I just don't understand why Dani didn't throw it. I was like why didn't Dani just throw it and let me do what I wanted to do?! So now she (Day) is going to be like what the F**K Dani!? Tyler – so if Day goes to Dani.. Memphis – I know .. so if Day gets sent home .. I was making it seem like it was on Dani. Dani didn't throw the event. Why wouldn't she just throw it. It is going to cause this big rift. It is so crazy dude! I just want to see if Day says anything to her. Tyler – she will. Tyler – Day told me that she voted to keep me. Memphis – no she didn't. Whatever we decide to do I want Dani to be caught in it… its like an easy target for even us. Tyler – they're obviously trying to use Dani as a warrior against us. And we have David as a warrior against them. Memphis – I just don't trust David. Plans only work in this house if you win. Tyler – for the record I was not trying to win to f**k your sh*t up.. I was trying to win to win every veto.
7:10pm Cody, David, Dani random chit chat in the bedroom.
7:05pm – 7:30pm Lounge room. Christmas and Nicole.
Nicole – if I put up Kevin .. I want Kevin gone .. just so you know if its a double elimination. I will tell everybody but hopefully everybody listens. Christmas – yeah I think we've been pretty good at taking the direction from the HOH. Even Memphis is asking what is best for the committee now. Nicole – that is good. I will tell you what this morning I did not want Day to leave .. that is how much things change. This could happen next week .. she could drop the ball and I'm dead to her. Christmas – It will happen .. she already tested you. Nicole – I am 90% sure she told her the plan. I am going to ask to see what she says .. if she told Day the plan. I could ask Day too. Christmas – yeah but you have to fact check it fast.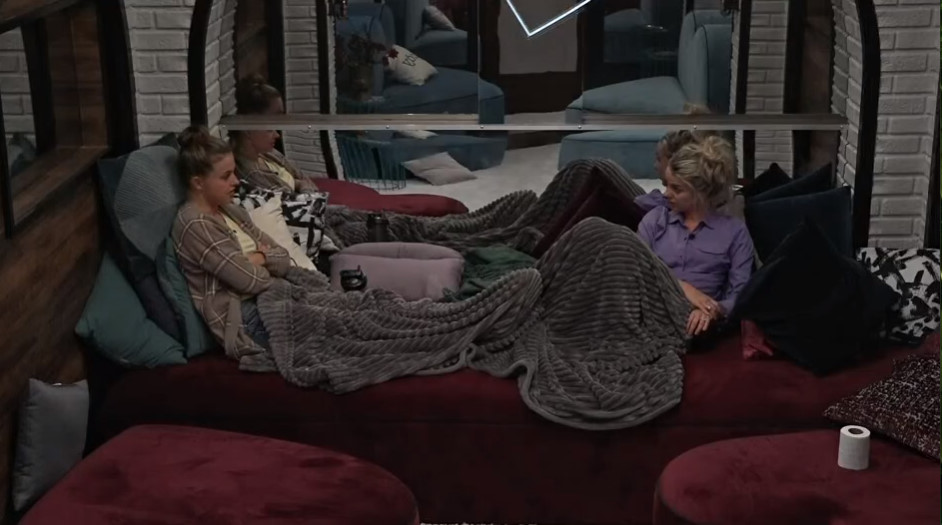 8:08pm – 8:40pm The house guests are showering / lazing around the house. Christmas and Tyler play backgammon. Memphis talk about if he plays 18 holes of golf he will drink a beer a hole. Then have some hard alcohol before he heads home. Cody – If I drank a beer a whole I would be hammered by hole 8.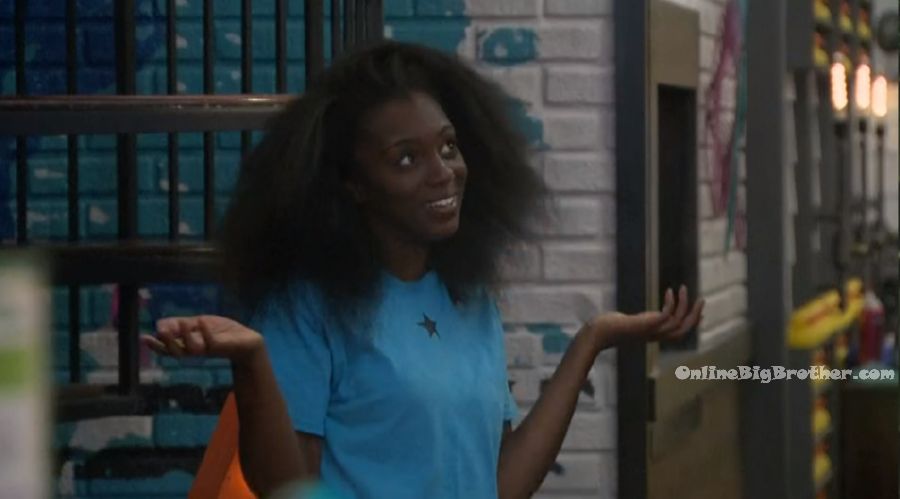 8:43pm Kitchen. Cody, Enzo and Dani.
Cody is talking about when Christine was evicted from his season she got crushed from the boos. Ezno – oh you could hear it?! Cody – you could hear it from the backyard! Cody – she got crushed!! Enzo – is she still maried? Cody – no! That didn't end it. Dani laughs. Cody – I tell myself that everyday! Dani – oh god.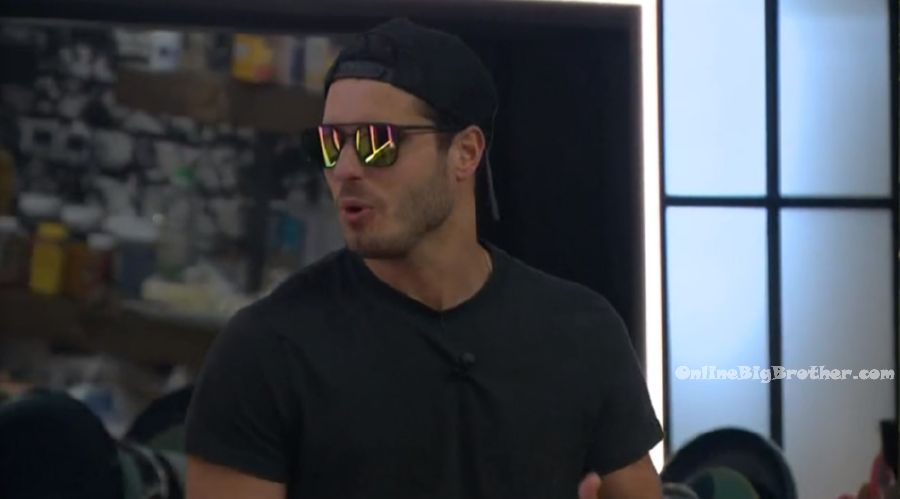 Show your support by making a donation.
If you're enjoying our live feed updates this season, please consider donating.
Any amount is greatly appreciated! Your donations go directly to paying the fees required to run this site.