Head of Household Winner – Memphis
Have nots – Cody, Christmas
Nominations – Kevin & DaVonne
Power of Veto Players are – Kevin, Tyler, Dani, Da'Vonne, Memphis, Nicole
POV Host: – Cody
Power of Veto holder – Tyler
Power of Veto Ceremony –
Powers – Christmas, Dani, David
Live feeds —-> Grab your Live feeds here. Try it free.
Rank the houseguests —-> Big Brother 22 Ranking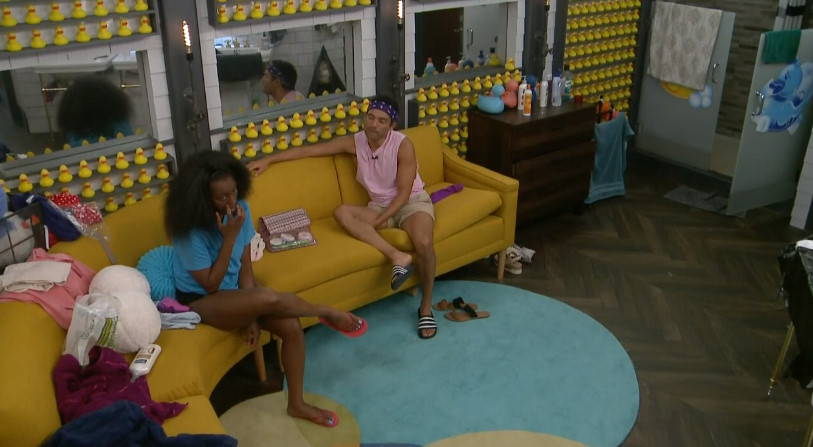 8:50pm Bathroom. Kevin and Day.
Day – if they give us the hammock tonight .. I want to spill a lot of tea to you! Brace yourself! I am going to burn your tongue, your throat, your nose, your esophagus.. you're going to be on fire! Kevin – I desperately need the outside. Big Brother switches the feeds.

Bedroom. Dani and Nicole.
Dani – I think Memphis is mad at all of us. Nicole – Why? Dani – because he wanted all of us to super throw it I guess. Nicole – he told me I could go for it because I suck at comps anyway. Dani – I said Tyler didn't throw it .. and he goes NONE OF YOU DID! I said Memphis I swear to you I did not try my hardest .. I did not. I just didn't want them to think I threw it. I went decently quickly. Nicole – you did it really fast for not… like I tried my hardest and that was my time.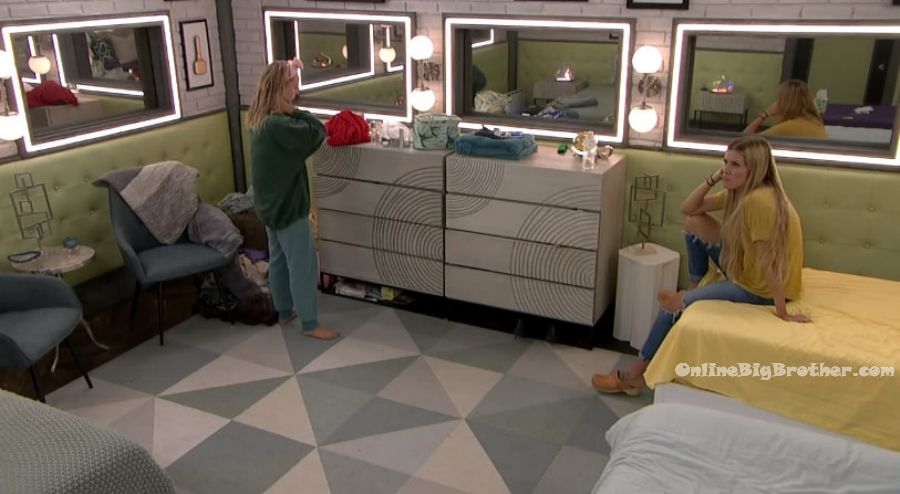 HOH room. Christmas and Memphis.
Christmas – she believes that Dani told Day and Kevin that you asked them to throw the comp. Memphis – I did ask them. Christmas – she thinks that Dani told Day and Kevin. Memphis – oh I don't give a ..why would I give a f**k. Christmas – that's why they weren't worried about it because they believed you still had a plan to backdoor David. Memphis – whether that is true or not .. that doesn't really matter to me. Dani is either just getting messy. Christmas – that is hard for me to believe. Memphis – me too because I feel like she is a really really smart player. But it got messy today.. I got real messy! And I had a plan .. and I didn't tell anyone my plan. And I didn't tell anyone because I wasn't sure David wasn't going to get picked and even at the end of the day I made a deal with David that if he played he couldn't use it. Christmas – good. Memphis – we all suspected this Dani thing.. but watching this go down shines a light on it. Dani screwed herself. She was going to use it but it blew up in her face. I asked her who are we going to vote for .. and she said Kevin. This girl is sloppy as F**k.. how do you just come out and say that. Obviously this backfired for her big time. If it is a double on Thursday .. and it is a double we have to make sure everyone is on the same page to put David and Kevin on the block. Christmas – Dani won't put anyone in the alliance up. She is too terrified to. She wants to keep Day .. because Day will.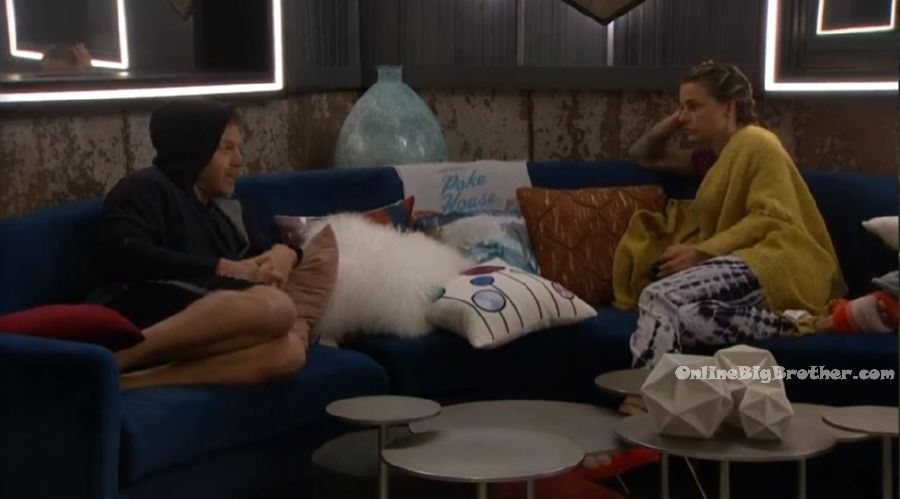 8:56pm Storage room. Enzo and Tyler.
Tyler – Dani and Nicole are still trying to keep DaVonne. Enzo – F**K THAT! I want DaVonne out! Tyler – you, me, Cody and Christmas. Enzo – that's it! Its Done!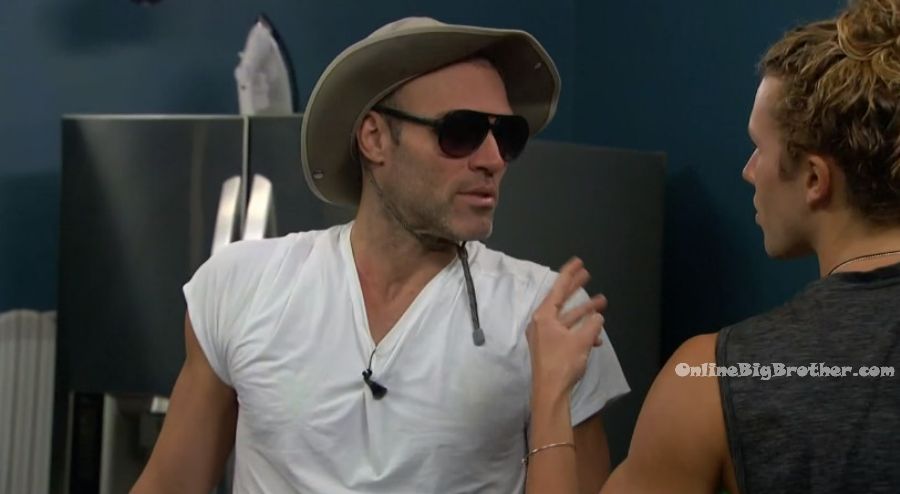 Dani tells Nicole that Christmas's zing was about how she is just like Christmas.. Cold, Annoying and Stress Inducing. They talk about how Tyler's was calling him a liar to the whole house.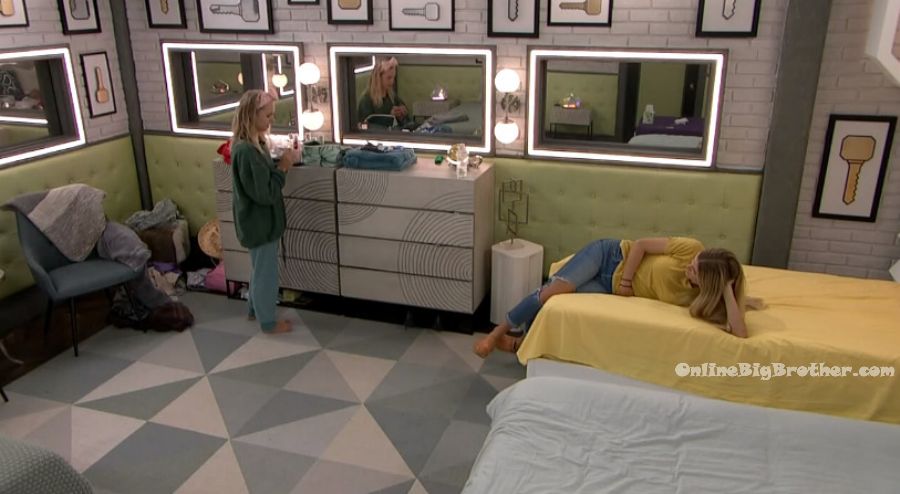 9:45pm Nicole and Cody are playing backgammon.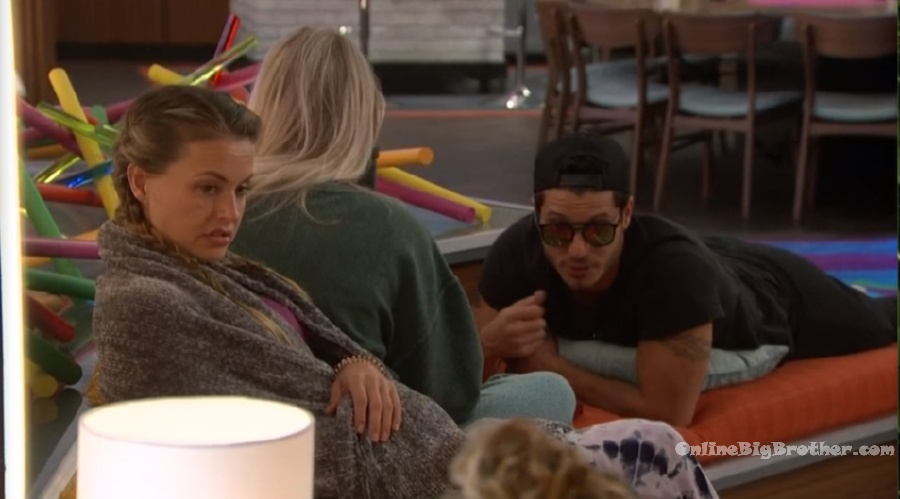 10:35pm Bedroom. Nicole and Dani.
Dani – You know he is saying that the vote was you. Just be aware about it. I think that I am going to work hard on Tyler to get him to use it (Veto) so that we can backdoor David because realistically you and I are safe with Day and Kevin. Then we are good for a week or two. Get Kevin out Next. He would put up Cody and Tyler. Then we vote Tyler out. David doesn't trust you, me or Memphis so why are we keeping him here. Nicole – right. Cody is going to try and get him not to use it. He (Memphis) is mad because he thinks Tyler isn't going to use it.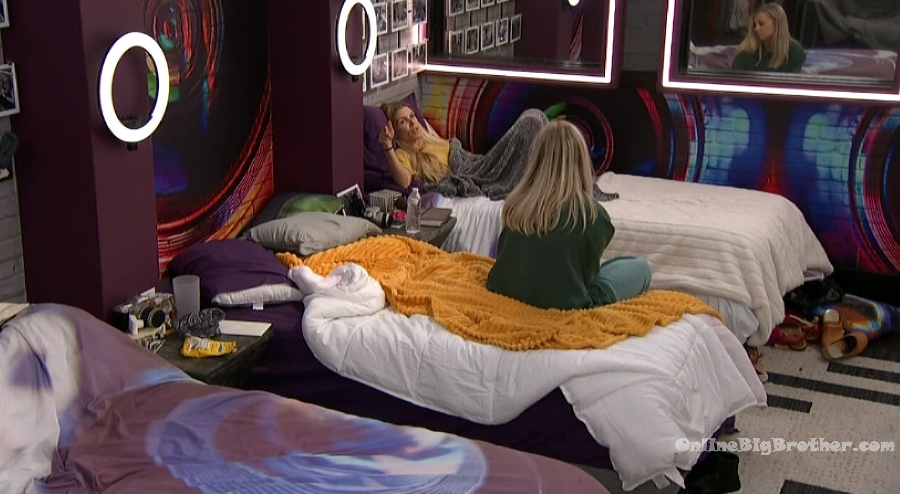 11:40pm Havenot room. Cody and Christmas chatting in bed about random things.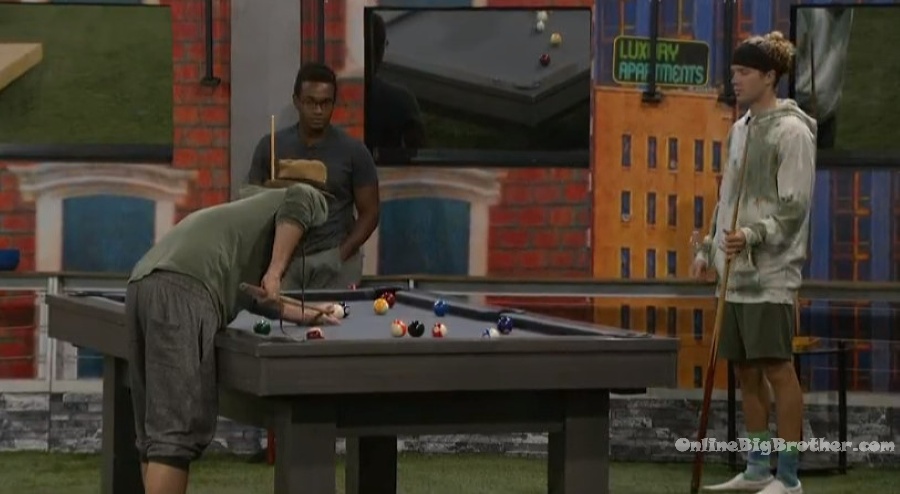 12:10pm – 1:05am David, Enzo and Tyler play pool. David heads inside. Tyler – Memphis was about to backdoor his a$$. Enzo – after this you and I have to go after Nicole and Dani Yo! Tyler – I know. The only reason they want to keep around Day is so she'll come after us. Enzo – yeah, I'll who the f**k you with. I don't give a f**k! Christmas – is a f**king lose cannon too. She is out of her bird! Tyler- poke that sh*t! Enzo – we'll have her go after Dani. Tyler – she will .. I've already started planting seeds. Enzo – David better f**king win HOH next week. Tyler – Yeah, I told him you know what happens if I use the veto right!? Enzo – he wants to win so bad YO! Because he will go after the other side of the house Yo! Lets go Yo! I've been hoping you (David) would win something to go after the other side! Tyler – She (Day) has been lying straight to me face too… that she didn't vote me out this week too. She does it to my face every time. David comes back and the conversation ends.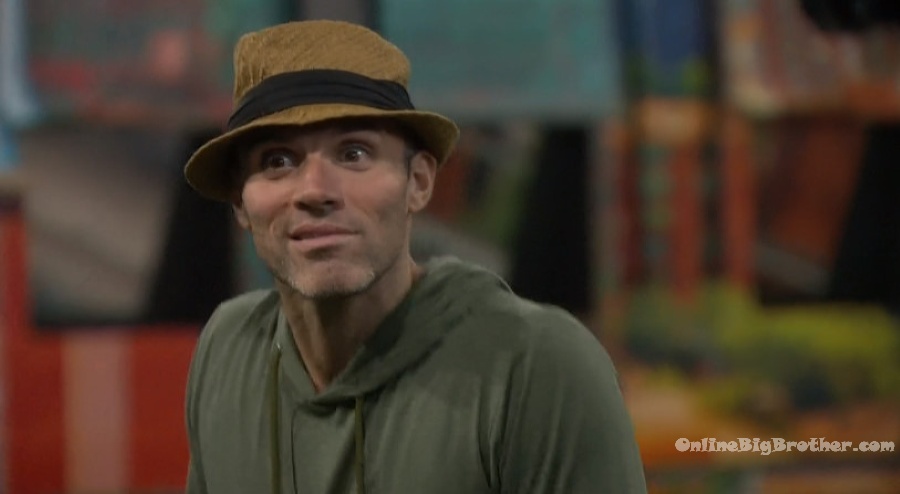 1:37am – 2:05am Kevin and Day.
Kevin – it seems as if people are in multiple alliances. Day – of the same people that is what I am trying to tell you. We had the connect with me, Cody, Enzo and Bay. And we had the slick six with me, Cody, Enzo, Bay, F**king Tyler, and Dani. And then when Bay left they tried to do the sly five with me, Enzo, Cody, Dani, and NICOLE! And I'm like .. they just keep trying to mix in the same people. The core is the core. Kevin – so I think David is getting lulled into an alliance but what he doesn't realize is that there are 20 billion alliances. Day – yeah there are and everybody being recycled and sh*t. Kevin – and I am realizing I don't know how to play this type of Big Brother. Day – its a new version. I think your downfall was that you wanted someone to approach you. You didn't go on the hunt. Kevin – I did I literally asked Janelle. Then I went to Dani and Nicole. Day – A or F? Kevin – F. Day – really!? When I go to someone I say lets lock something in and work for the duration of this game so that there is no room for the bullsh*t! Which is why I am telling you .. no one in this house can take a shot at me. except Christmas and Memphis. So Memphis is taking the shot .. I am on the block… now they can vote me out because I had to go but none of them could take the shot because I was linked to them all. Kevin – girl this is exhausting! Day – I walked in here and was like f**k you ..we're on an equal level ..so lets talk. You put a lot of these people on pedestals.. and it infuriated me. That is why I was calling you a fan because I don't think you realized how iconic and legendary you are to US. But in your era for the true fans you're my Tyler, you're my Cody, you're my Janelle, you're my Kaysar… you know what I mean!? I was like Kevin do you know who the f**k you are?!! Kevin talks about how the one person he didn't want to see in the house was Tyler. He is on another level.. but in 10 years there will be people better than Tyler. Dan would not survive in here. He got beat by Ian.. IAN! Kevin – this game has progressed out of control for me.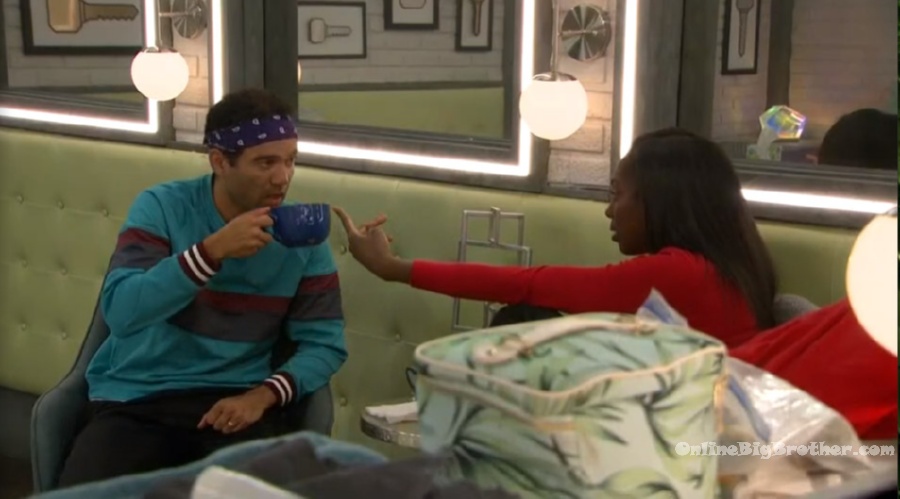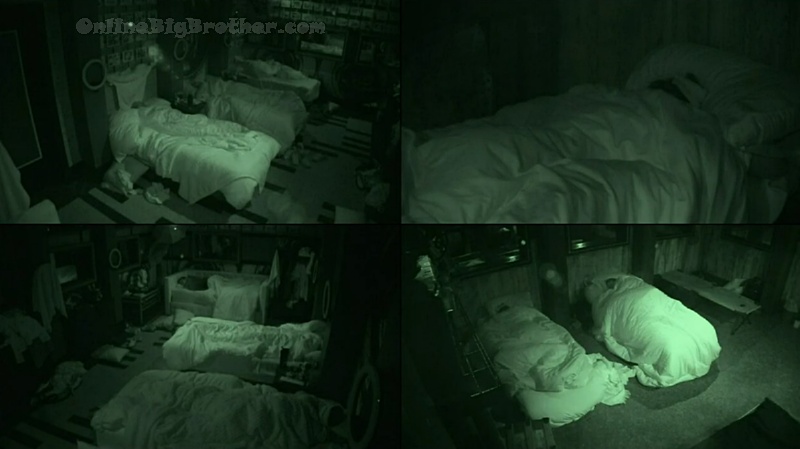 8:01 am Sleeping yo.
Show your support by making a donation.
If you're enjoying our live feed updates this season, please consider donating.
Any amount is greatly appreciated! Your donations go directly to paying the fees required to run this site.