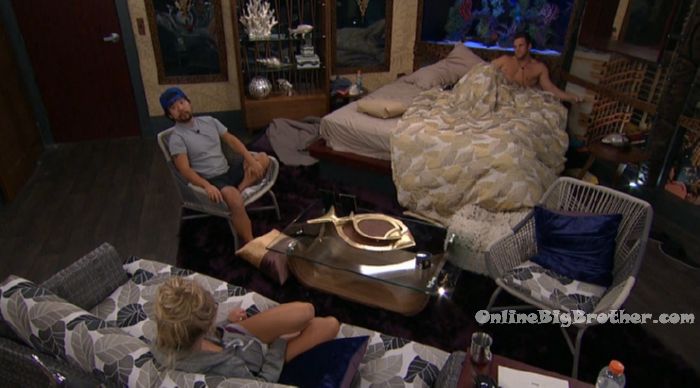 9:15pm HOH room –
Nicole and Corey. Nicole asks Corey who do you want to go home this week? Corey – I don't care. James joins them. Corey tells James – Nicole wants Paul to go home, she has a thing for Vic. Nicole – no I don't have a thing for Vic. Nicole asks James who do you think should go home. Its about to be mental comps from here on out. Who do you think is a threat? James – mental comps.. honestly I think James is a threat. James has been killing it. James laughs. Nicole – this is a big deal .. who we send home could literally bite us in the butt next week. Who do you think we can beat in HOH next week. James – I definitely think Paul. Vic is definitely going to win next week. Nicole – you think so.. he had 29 minutes. And he was the only one of us that wasn't sore. Nicole – you guys can out rule me if you want. We'll get rid of him (Vic). James – I think we'll be able to handle Paul. Nicole – if its the days comp who should we be more scared of? Corey – Vic .. I don't know. Vic is good under high pressure situations. Nicole – from here on out they're going to be mental (comps) and Paul is smarter I think. Corey – Vic is always rattling off questions and Paul is like I don't know, I don't care. Nicole – I'm good with what every you want. We can get Vic out. James I think we don't give him any more chances. Nicole – I agree if he makes it through this week he is going to be in the final 2. Nicole – I definitely don't want to sit next to Paul he can talk circles around me. James – whoever makes it to the final 2 its going to be a popularity contest. And there are a few people that don't like us. Nicole and Corey laugh. James – we're going to have to make them like us.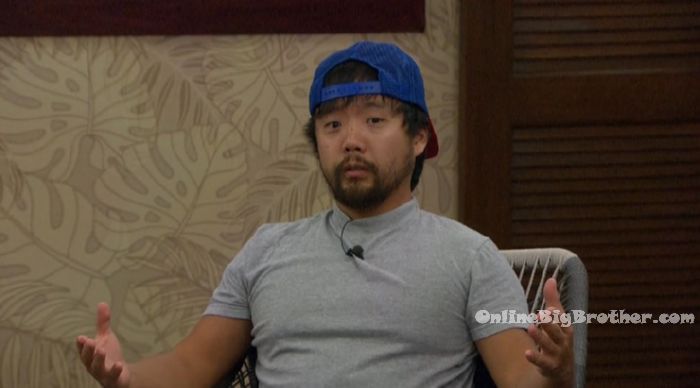 10:05pm – 10:15pm Paul talks to Nicole in the HOH room. Paul – the only thing I can ask unless its a surprise tomorrow eviction can you just drop a hint. Unless your strategy is to f**k one of us over. Vic already thinks its him going. Don't expect us to If its a longer one .. it would be nice to know so we can enjoy the week. Nicole – we definitely will. Paul – I appreciate you being cool. Nicole – you too. Paul – hey, we're not big Meech! Paul heads back down stairs.
1-month FREE with promo code: FALLACCESS
Watch the next month of the feeds for FREE – 1 month free!!!
– Watch the end of BB18 and the beginning of Big Brother Over the Top – Fall edition!
10:20pm – 11:10pm Nicole – I need to win HOH really bad. I just know Paul is a good talker too and you and me are going to take each other .. and that he can promise to take James. Corey – But James knows that if he took Paul .. Paul would win. Paul & Victor join them. Vic takes a shower. Paul, Nicole and Corey talk about the comp and then Paul starts talking about tampons and how he doesn't get how girls forget about them and they get stuck inside. Vic and Paul head back down stairs.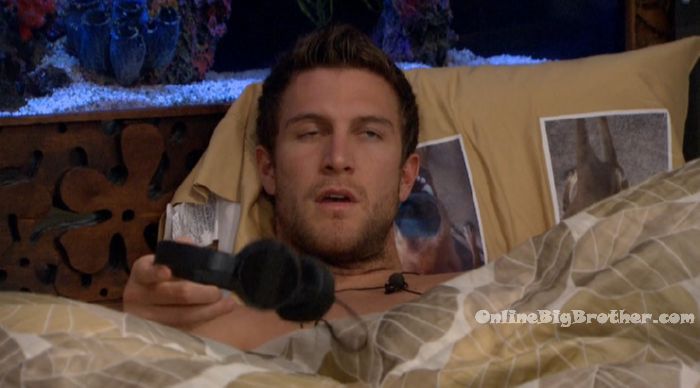 11:15pm – 12am In the HOH room – Corey is shaving and then they shut off the lights and go to bed. Meanwhile in the living room – Vic is talking about personal training to Paul. James – what's the oldest lady you've hooked up with? Paul asks boned? James says yeah. Paul says 24. Vic says mid 40's. James says mine was 48 mother of 2. I woke up and her kids were playing beer pong. Paul asks how old were they? James – One was 17 the other was 19. Big Brother switches all the feeds to Nicole studying alone in the HOH bed.
Vic and Paul alone in the living room – They talk about America's Favorite. Paul – considering we didn't get a care package ..I don't think we're getting it.
[polldaddy poll=9517035]
Show your appreciation by making a donation.
Donations support this site more than anything. If you dig our spoilers please find a way to support us.
Share it YO!!
Tweet