POV Holder:
Nicole
POV Competition
Sept 10th
POV Used
?
POV Ceremony
Sept 11th
HOH
Corey
Next HOH
Sept 15th
Original Nominations:
Vic AND Paul
After POV Nominations:
? AND ?
Have Nots
?
You can now get 1-month FREE with promo code: FALLACCESS – expires 9/16/16!
1-month FREE with promo code: FALLACCESS
Watch the next month of the feeds for FREE – 1 month free!!!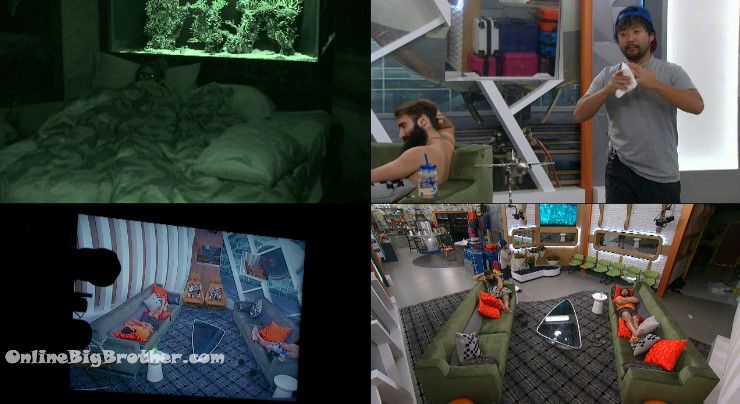 12:01AM Vic, Paul and James
Victor – 9 days and a wakeup left
Chatting about the remaining schedule
James- all I know is we have 9 days left and we need to get rid of 2 people to stay on track.
James says Austin was only in the Jury house 1 day before they had to "Pack up their Shit"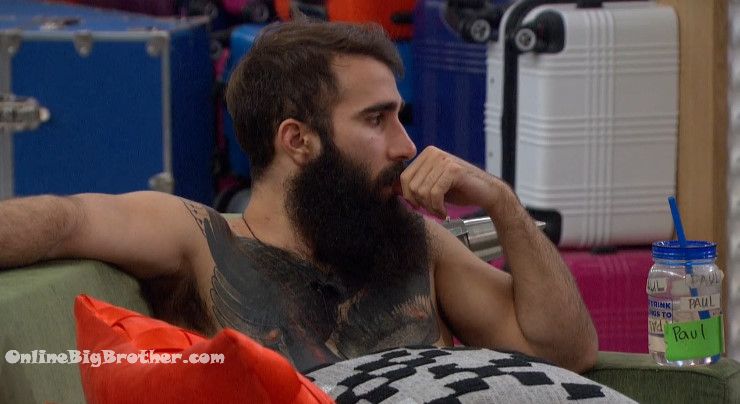 12:36am Paul and Victor
Paul – I feel like goign out fourth is lame..
Victor is pretty positive he's going home
Paul – bro if one of us win the next one… F*** YOU
Vic – trust me I know
Victor says the round table idea is cool he thinks Natalie is talking James up like crazy and the round table will be a time you can point out James hasn't done anything in the game.
Victor – I want to see after the show what happens with them
Paul – Oh nothing
Vic – I know I just want to see what happens with them.. their relationship
Paul – who cares
Vic – you don't get what I'm saying .. will they hate each other will he talk to her at all.. like all this in here for what.. secluded themselves from everyone else for what.
Paul – hey they're here..
Vic – everybody else hates them
paul – true
Paul Says Nicole and Corey may be portrayed well on the show but the super fans wouldn't like their backstab.
Paul – technically they haven't done anything
Vic – the seclusion of the couples.. that annoys me. I don't like that
Paul says sarcastically that Nicole and Corey will get married..
Victor says no way "they way he talked about that girl shawn.. was it shawn." feeds cut
Victor thinks the fans hate them because they never got the care package.
Paul – who did you hate the most this season
Vic – I got a real bad taste in my mouth for Natalie after my goodbye message.. It was uncalled for.
Paul – it was a left field comment
Vic – tiffany was just weird
Paul – I didn't ghate Tiffany just thought she was weird
Paul disliked Michelle the most.
Vic was disappointed in Michelle.
Paul – her personality is some kind that I dislike a lot.
Paul says he gives Michelle too much credit, "that girl awww man"
Vic – that girls she did not make sense..
Paul isn't going to interact with Michelle after the show. Vic will give her a chance he thinks her personality would be different outside. Paul disagrees.
Paul – I'm just going to go into a I don't give a f*** mode..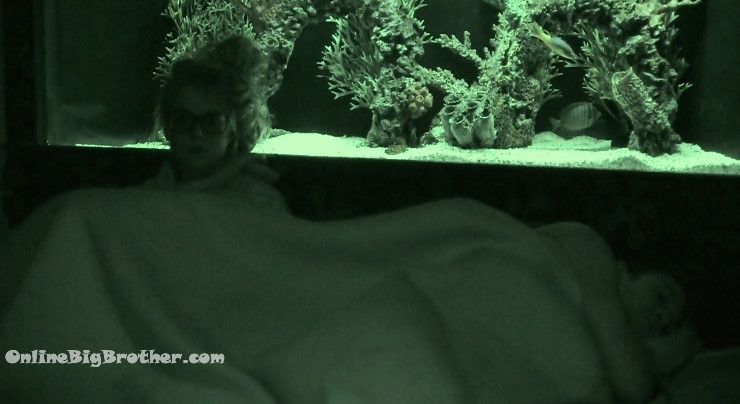 12:55am HOH Nicole and Corey
Nicole says Paul's ideal final 3 include her and James.
Corey – we have to have all our bases covered.
Nic – I'm not making any deal with anyone.. If I thru that HOH and went home.
Nicole Says if Paul and James win the next HOH/POV one of them are going home, "We have to suck it up"
Nic – we can't predict if James is winning that Veto or not..
Nic – if James pulls out a HOH and Veto we're fine
Corey – he's not going to .. It all seems to good to be frickin true
Nic – don't go do something crazy making some deals with Paul to take out james.. If i wanted to somete against someone in a mental comp it'll be James.
Corey is is wondering if making a deal with Paul is a better play because Paul has a better chance to win that next veto.
Nicole says the jury doesn't like James, he's not good at comps and he's not good at speaking those are the reason they should take him over Paul final 3.
Nicole – this is was Derrick did he made sure the person he sat next too had no votes.
Nicole – do whatever you want to do if you want to make a deal that fine I don't want part of it
Nicole – I do understand what you are saying because if I win HOH you lost my vote.. You'll need James.
COrey says they could make a deal for them not being put up together
Nicole says nobody will hold up to that deal, "They would be crazy not to put us up.. IF they cant' get you they'll get me"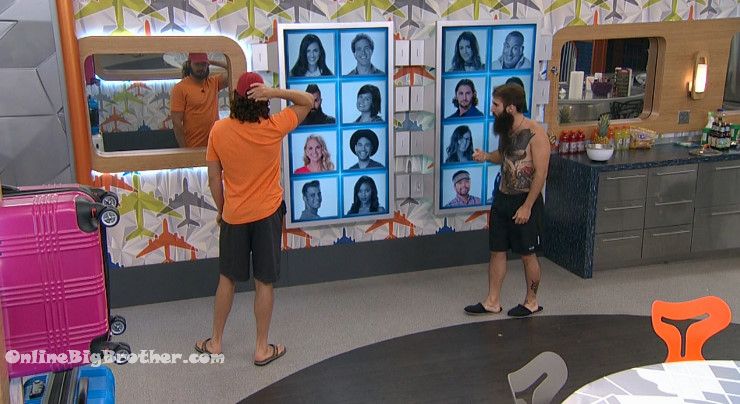 1:07am Paul and Victor heading to bed
Victor says he hated the shirt he wore on his memory wall picture. Says production made him wear it.
Feeds cut.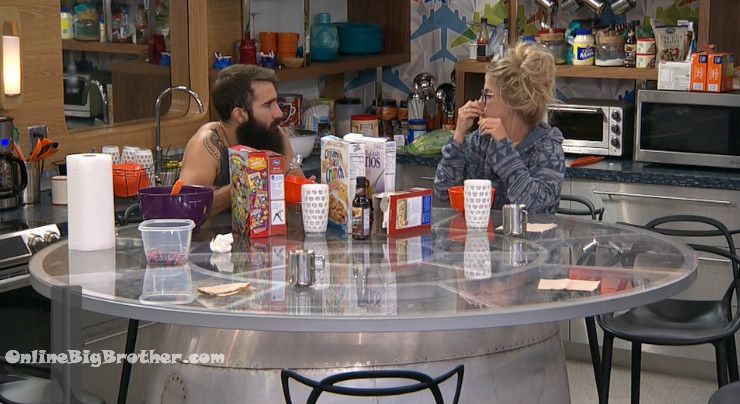 1:17am Cereal Nicole is explaining how the 3 part final HOH works.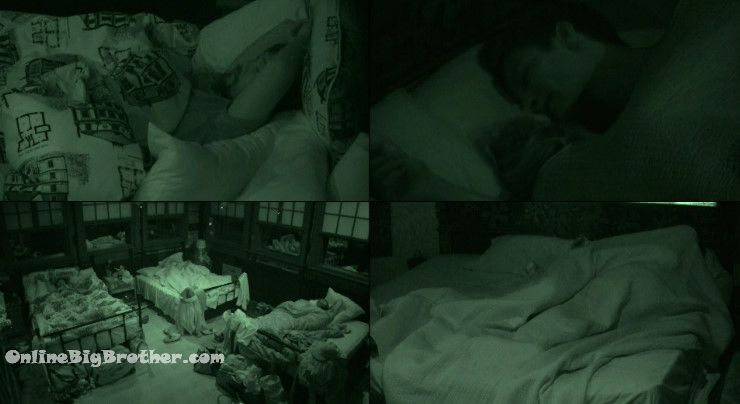 1:37am Corey and Nicole going over scenarios. . In the London room James is telling Paul and Victor a story abotu a girl that asked to stick a figner up his a$$.
James – you're never going to stick your you know what in my booty hole again
Paul – no girl has asked to stick their finger up my a$$
James- it's not that bad man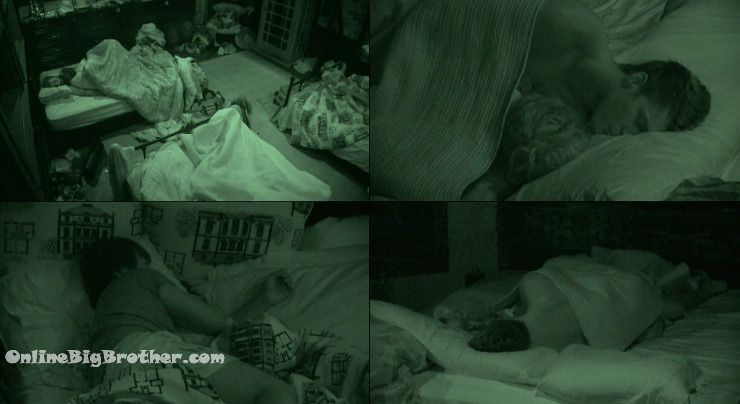 2:36am London room James, Paul and Victor Chit chatting
James is talking about Natalie. brings up telling her "you are not the centre of attention"
Paul says Natalie hated him because he would call her out on the stupid shit she would do.
James says he told Corey and Nicole to vote him out, "I told Natalie about it and Natalie said I did it with Victor and Paul and sealed my fate"
JAme adds that Natalie wasn't happy with what he did so he offered to throw himself onto the sword to Victor eventhough Victor was the one that put him and said he was Victor's target. At that point Natalie told James if he really cared we would have done that already.
James – at that point I knew .. because she said You woulda done it by now.. trying to make me feel obligated and guilty.
Victor – not only that the fact she only came to talk to us after the veto so sound like the hero because she knew she was going home
Paul – Dude I was tearing her apart.. don't make it seem like you were coming to me to get me to vote you out was voting you out already .. don't act like a hero like you are rolling over to die for James when the day before you were shitting on him
Paul – I'm voting you out because you are shitty not because you are telling me to (Fries never forget)
James- Like I said Victor when I was up there with you I was trying to keep her off the block as long as possible..
Vic – ya
Paul – Natalie dug her own f****g grave
James says after his last argument with Natalie he realized. "You straight up played me"
Victor and Paul says they saw it early that James was gettign used by Natalie but didn't say anything.
James – I don't know why she would do all that in the end
Vic – if you think about it that's what Paulie tried to tell you
James says the entire season people were trying to tell him.
James says if Natalie is trying to be sweet to TV but really doggy him out "that's the evilest thing"
Paul – I don't want to be the dick head to say it but I really think that's what she did
Paul and James bring up Natalie saying that her an Lauren are 'Polar opposites" … "she's so sweet"
Paul – Natalie had a lot of inconsistent statements
Jame s- we were supposed to be in a damn showmance
Paul – you slept in that bed more than you slept with her
James- she was very distant
Paul – I don't know dude..
James- action speak louder than words
James adds that Natalie hasn't shown any action in a long time, "I've been waiting hand and foot.. making sure everything is good for you.. following you around"
Paul says Natalie was playing for America's sweetheart
Paul – I tell you that last taped package before eviction ain't going to get you sh1t
James- I don't care honestly if I don't win AFP it is what it is but I don't want to been seen like I was shit on by Natalie (CBS has your back you got this in the bag)
Paul and Victor bring up Natalie's bullshit reasons why Victor went out on her HOH, "It was a mistake"
Adds the day Natalie came up to the HOH to talk to Vic and Paul about her HOH reign and putting Victor/Paul up.
James- she waited until I was sleeping
James- when we get to this wrap party.. I'm not going to be running up to her.. she better apologize.
Paul – dude you best believe she is a f****G firecracker outside this house if You think she's all sweet she's not..
Paul says the real Natalie is like how she was when they had their "Kumbaya" with Natalie and Michlele and Natalie would say "I'm a bad b1tch"
Paul – that's the real Natalie.. that's when Natalie came out .. when she was like YO I don't give a f*** that's Natalie
Paul – you feeling me.. that's what you are going to get out of the show
James- if that's the way it is go back to Texas
3:13am .. still talking about Natalie
Paul – the vaginal is a strong thing ..
James is thinking that Natalie played him.
James is hoping that Big brother put some good clips together
Paul- I'm really curious whose America's favorite will be it can't be Michelle .. it might be Bridgette.. she's a sweet chick and she's feisty
James going on about gettign in a showmance and getting 'Played out"
James says Natalie cares for him and has feelings but it's not the same page. She's more friend level.
3:30am they start talking about Nicole and Corey. Paul tells James that they will probably want to take him to the final 3 because they'll think they can beat them.
Vic – the best bet is splitting them up if you have the chance.. that way everybody has a 33% chance of going
James agrees
Paul – you are fighting 1 instead of 2
James – they are going to steam roll
Paul – it's a HOH and a veto next week
Paul – James if you or I don't win that HOH
James- 1 of us is f***d
Paul – yup.. no Veto
Vic – you still have the veto..
Victor explains as long as one of them can win the Veto they can get 1 of the Nicole/Corey out.
Paul – James will get to 3 no matter what.. unless me or Victor win HOH and James doesn't win the veto
Paul – well James better turn the f** up
James – i'm trying
3:54am Still chit chatting.. Jame is talking about getting on the show the second tiem and having to keep it all a secret. james adds that he had to lie to a lot of people because if word got out they would drop him and go with the alternate. (lol the one time we want you to not keep your mouth shut and you don't)
4:24am Zzzzzzz
5:00am Everyone sleeping..
6:00am Everyone sleeping..
6:45am Everyone sleeping..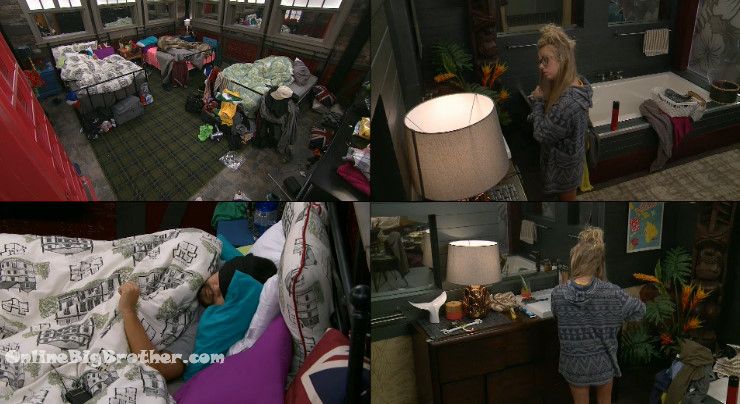 9:30am LIghts on but not much going on.
[polldaddy poll=9517035]